website  watertownhistory.org
    ebook  History of Watertown, Wisconsin
Frederick Misegades
Misegades Building
Watertown Gazette, 09 14 1916
<![if !vml]>

<![endif]>
1866 Watertown City Directory ad
Death of Frederick Misegades
One of Watertown's Oldest and Most Beloved Residents
On Tuesday morning, September 12, 1916, Frederick Misegades, one of Watertown's oldest and most beloved citizens, died of general debility at the home of his daughter, Mrs. Fred Zipfel, 307 Montgomery Street, at the advanced age of 89 years. 
Since the death of his wife in 1900, Mr. Misegades made his home with his daughter, Mrs. Eli Fischer, and a few weeks ago went to visit for a time with his daughter, Mrs. Zipfel, and it was while there that he was taken ill and died.
Deceased was born in Duldorf, Hanover, Germany, on December 6, 1826, and in 1847 he came to America, landing in New York City, from there he came west to Milwaukee via the Great Lakes, and in 1848 he came to Watertown and found employment in the wagon shop of the late Richard Jones, where he learned his trade and was afterwards taken in as a partner. 
In 1859 he was married to Miss Christiana Schonfisch.  
<![if !vml]>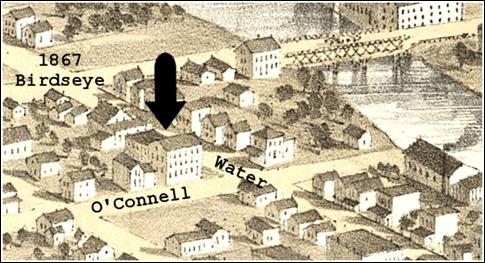 <![endif]>In 1862 he built the brick shop at 200-206 North Water Street, now occupied by the Otto Biefeld Co., and carried on a large wagon industry for years, his place being known far and wide as "Freddie's Shop."  In company with other members of his family he conducted a flour mill a number of years at Boomer's dam. 
Mr. Misegades was one of Watertown's most enterprising and public-spirited citizens in his younger days and took an active interest in politics.  He was a prominent member of the Union League that was organized to fight the payment of the railway bonds, and he served his ward as alderman and supervisor a number of times.  He was a charter member of the Concordia Society and for many years was a member of St. Mark's Lutheran Church.
He is survived by three daughters and one son, Mrs. Eli Fischer and Mrs. Fred Zipfel of this city; Mrs. F. Paeske of Milwaukee and E. R. Misegades of Chicago.  Six grandchildren and two great grandchildren also survive him and one brother, Dietrich Misegrades of Talmadge, Nebraska.  This afternoon the funeral services of the deceased was held at the home of Mr. and Mrs. Eli Fischer, [217] North Water Street, the home which Mr. Misegades erected thirty-six years ago and resided in many years, and of late has been the home of Mr. and Mrs. Fischer.
The funeral services were private and were conducted by Rev. Julius Klingmann of St. Mark's Lutheran church.  The interment was in Oak Hill Cemetery.
In the death of Mr. Misegades this city has lost one of its very best citizens, and but few men enjoyed the confidence, esteem and respect of his fellow citizens as did honest Fred. Misegades.  He was honest in his business dealings with others, kind and good-natured to everyone and always a friend to those in trouble.  Devoted to his family and friends, he led a pure and simple life, and always strove to make all around him happy and contented.  For such as he, there is certainly a place in the Heavenly Kingdom.
c.1875
JOHN B. MAY PHOTO
<![if !vml]>

<![endif]>  
1881
03 03       NARROW ESCAPE
Miss Jennie, daughter of F. Misegades of the 4th ward, had a close call last Monday.  It seems that before the great storm set in, the cistern near the house was left open.  On Monday morning, not knowing the cistern had been left uncovered, Miss Jennie went out to clear away some snow and doing so fell into the cistern.  Fortunately, the mouth of the cistern was so clogged up with snow that she had time to cry for help before sinking further than up to her heck.  The timely arrival of her father with a ladder resulted in bringing her out safely.   WD, R
1891
04 03       CHEESE BOX MANUFACTORY
O. J. Angus, of the wholesale cheese firm of Angus & Humphrey of Oshkosh, was in Watertown last week with J. Hackett, of Milwaukee, and looked into the matter of manufacturing cheese boxes.  They found the prospect for the demand for cheese boxes better than last season.  Mr. Hackett had charge of the box works here last year and will again this coming season. 
He has rented a part of the Misegades building [1] on the west side, and will get ready for work this week, which by the way, is a month earlier than last year. 
The location is much better than where he operated last season [2] , and a larger number of hands will be employed.      
______________
     [1] Misegades bldg would be 200-206 N. Water
     [2] Davies bldg, 311 S. First, possible previous location
1898
08 24       NEW WAGON BOX FOR WOODARD & STONE
The new wagon box has just been completed for the Woodard & Stone company by Fred Misegades, which for high-grade workmanship and excellence of material is hard to beat.  Mr. Misegades is a veteran in this line of work and his latest production speaks well of his ability.  The cost of the box for labor and material reaches nearly S100.   WR
1965
-- --           FREDERICK MISEGADES HOME (traditional name)
<![if !vml]>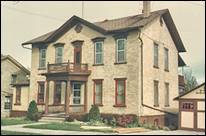 <![endif]>  
This was the home of Frederick Misegades, a wagon-maker, between c. 1885 and at least 1915.  Misegades had a long-time wagon-making shop across the street from this house. 
Cross References:
WDTimes articles:    Article 1;  Article 2  (need subscription to access)

History of Watertown, Wisconsin