website  watertownhistory.org
    ebook  History of Watertown, Wisconsin
Otto Biefeld Company
200-206 N Water
<![if !vml]>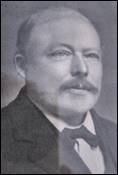 <![endif]>
Watertown Historical Society Collection 
1862
Frederich Misegades built the brick shop at 200-206 North Water Street for wagon making.
1893       PARTNERSHIP BETWEEN OTTO AND RICHARD BIEFELD
1899
07 14       CEMENT TESTING MACHINE
A cement testing machine has recently been added to the outfits in the civil engineer's office in the city hall.  It is "loaded" with very fine bird-shot, a fact the city treasurer Began and Otto Biefeld have found to their sorrow.  In investigating the mysterious-looking machine, they pressed the button, and the machine did the rest – thousands of shot being scattered all over the office floor.  Both gentlemen have been diligently at work for the last week gathering up the fragments, and if they have good luck, expect to have the task completed in time to take part in the carnival next September.   WG
c.1900
<![if !vml]>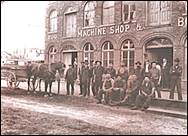 <![endif]>       On or before 1903
View on or before 1903, before the plant addition across O'Connell was built, an open lot at this time.
1906
05 18       FIRE ENGINE UNDER DIRECTION OF OTTO BIEFELD
A trial of old fire engine No. 1 was made yesterday afternoon, the scene being on the river bank back of the old brewery.  The trial was under the direction of Otto Biefeld, former Watertown Fire Department Chief, and was for the purpose of instructing the new engineer of fire engines, August Schmidt with the duties of the position to which he was recently elected by the council, which was formerly held by Mr. Biefeld.  Despite the fact that the engine has been in service in Watertown for a period of thirty years this summer, the former chief declares that it does just as good work as ever and that during the trial yesterday, it threw a stream across the river. It is said Mr. Schmidt takes hold of the work with much credit to himself. The first engineer was Ferdinand Bursinger and the first chief William Schuette. 
1908
08 14       WELLS SHOE CO. CONTRACT
Otto Biefeld secured contract for installing the steam heating apparatus for the M. D. Wells Shoe Co., who will occupy the old Woodard Stone factory.  They were chosen from three bidders.   WG
1909
07 02       BETHESDA CONTRACT
Bethesda Lutheran Home, contract for plumbing   WG
07 09       SILVER WEDDING ANNIVERSARY, Otto Biefeld and wife   
On Monday, July 5, 1909, Otto Biefeld and wife celebrated their silver wedding on an elaborate scale.  Over 800 invitations were issued for the event.
Religious services took place at the German Reformed Church at 2 o'clock p.m., Rev. A. C. Plappert officiating.  These were followed by a social program at Turner opera house, beginning at 8 o'clock p.m. and lasting until early next morning.  The program included reception of guests by Mr. and Mrs. Biefeld in the upper hall, followed by dancing and a banquet served in the lower hall, covers being laid at each sitting for 128 guests.
The upper hall decorations were in red, white and blue.  Over the dining room tables was suspended a large silver wedding bell; the corps of 20 waitresses were dressed in white and wore a silver regalia and each guest was presented with a silver paper badge.  The presents to Mr. and Mrs. Biefeld were many and some of them of a very valuable character.
The Eagles gave an elegant silver tea set of seven pieces, the Turner Society a number of costly gifts, the Plattdeutcher Verein and Liederkranz Society a fine bedroom set and a number of upholstered rocking chairs; there were about 60 silverware gifts and hundreds of other fine articles from the 800 guests present.
The affair was the largest social event that has ever taken place in Watertown and was thoroughly enjoyed by all present.
Sloan Orchestra furnished music for the occasion.
Mr. Biefeld was born in Joestadt, Saxony, July 26, 1861, and his wife in Buchholz, Saxony, in 1864.  The former came to Watertown June 13, 1883, and in 1884 he sent for his wife, to whom he was engaged before leaving his native country.  July 5, 1884, they were united in marriage in this city and have since resided here.
Shortly after arriving here Mr. Biefeld found employment with the Kunert Manufacturing Co., remaining in their employ until 1893, when he and his brother Richard formed a partnership and conducted for years a machine and repair shop at the corner of Second and Market streets.  They purchased the present site of their fine business in 1898 from Fred. Misegades and are now proprietors of one of the largest and best paying machine, boiler-making, gas fitting and plumbing establishments in the state.
Mr. Biefeld and wife are members of the German Reformed Church; they are the parents of 12 children, eleven of whom are living.
Mr. Biefeld is a member of the local lodge of Eagles, the Turner, Plattdeutscher Verein and Liederkranz societies and the Sons of Herman and is one of Watertown's most popular and public-spirited citizens, contributing liberally to every public and business enterprise ever established here since he became a resident, and his amiable wife cheerfully endorses him in all his good works.
The Gazette joins their host of friends in extending most hearty congratulations and trust they will live in the enjoyment of good health and prosperity long after the time arrives to celebrate their golden wedding.    WG
1910
SANITARY PLUMBING, STEAM & HOT WATER HEATING
<![if !vml]>

<![endif]>  
02 18       LINCOLN SCHOOL CONTRACT
New Lincoln School, heating and plumbing contract; Lincoln day design by Mrs. Otto Biefeld.     WG
03 11       BIEFELD- SCHIEFELBEIN WEDDING
Mr. Otto Biefeld, Jr. of this city and Miss Emma Schiefelbein of Portage were united in wedlock in the latter city this afternoon at 5 o'clock.  The ceremony took place at the home of the bride's mother.  Mr. E. F. Moldenhauer and Miss Martha Biefeld of this city were the attendants.  After a brief wedding tour Mr. and Mrs. Biefeld will begin housekeeping at 207 North Water Street.  The groom is a son of Mr. and Mrs. Otto Biefeld and is a young man who has a host of friends in Watertown.  His bride is spoken of as a most estimable young lady who with her husband have the well wishes of a large number of friends in Watertown and Portage.  Mr. and Mrs. Otto Biefeld attended the wedding.     Watertown News, 03 11 1910
c.1910
EMPLOYEES OUTSIDE PLANT AT N. WATER & O'CONNELL
<![if !vml]>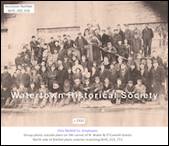 <![endif]>  
1911
<![if !vml]>

<![endif]>   
1912
Contract for addition to the Lutheran Home for Feeble-Minded
1914
05 07       OTTO BIEFELD & CO. WILL BUILD NEW SHOP
On May 13th Otto Biefeld & Co. will break ground for a new $10,000 machine shop on North Water Street.  It will be 60 x 104 feet, 36 feet high, with a basement under part of it and will front on O'Connell Street.  It will be of concrete and brick construction, and will be fitted out with everything up-to-date, including shower baths for use by workmen, a complete medicine chest for use in case of accidents, and up-to-date toilet rooms.  New machines will be installed and the shop will contain everything first-class for carrying on the extensive business of this popular and enterprising firm.   WG
05 21       BIEFELD BIDS LET
The mason work for the new Biefeld machine shop has been let to Guetzlaff and McLaughlin.  August Strasburg secured the carpenter work and Lehman Bros. will do the excavating.   WG
07 23       FOOT INJURED
Otto Biefeld had one of his feet badly injured last Thursday evening while assisting at placing I-beams in the new Lutheran school building [must be the new St. Mark's Lutheran School].  The injury will lay him up for some time.  WG
10 15       HIP AND ARM INJURED / William Martch
William Martch, while doing carpenter work, fell last Saturday from the new Biefeld building on North Water Street and was severely injured in his hip and arm.  Dr. Joseph O'Connell attended him and says he will be all right in a short time. WG
04 25       OTTO BIEFELD Jr. SAVED FROM DROWNING
But for the fact that Edward Leschinger was on the river bank between O'Connell and Cady streets Thursday morning the little child of Otto Biefeid, Jr. (*) would have been drowned in the river.  The little tot tumbled off the bank into the water and Mr. Leschinger, who was watching the test of the new motor truck (**), saw the accident and went into the river and brought the little one to shore in safety.    Watertown Weekly Leader, April 25, 1917
Webmaster's notes:
(*)  g-grandfather of Watertown's current (2018) Fire Chief, Kraig Biefeld.  There were 3 Ottos, the above-mentioned SON of Otto Jr. (therefore Otto III).  The Otto Jr. family resided on the lot where Johnson Arms is currently standing on N. Water St.  The Otto Sr. house was on O'Connell St., right behind the old Otto Biefeld factory on N. Water.
(**)  This incident aligns with the April 1917 arrival of the city's new triple combination pumping engine, cited on page 198 of the book on the 150-year history of the Watertown Fire Department.
09 12       THIEVES STEAL OATS FROM BIEFELD BARN
One hundred bushels of oats belonging to the Otto Biefeld Cos. disappeared from the bin in the company barn in O'Connell Street during Monday evening.  The oats had been purchased a few days before the occurrence.  It has been the habit of not locking the barn as the Biefeld residence is just across the street, but on this night the family was not at home, a fact probably known to the thieves.  Partly burnt matches were strewed about the barn floor and a wagon or truck would be necessary to carry the grain away.  They made a clean sweep, leaving not enough in the bins to feed the team next morning.              The Watertown News, 09 12 1917
10 04       MAX BIEFELD BECOMES SECRETARY-TREASURER
Max E. Biefeld, Watertown, Wis., has resigned as assistant manager of the American Malting Co. to become secretary-treasurer of the Otto Biefeld Co., Watertown, boiler and structural works, succeeding the late Richard Biefeld.     The Iron Age, 10 04, 1917.
1918
-- --           SUGAR CANE HARVESTERS
                         BUILT BY MONACH TRACTOR AND BY OTTO BIEFELD CO.
<![if !vml]>

<![endif]>   
CROSS REFERENCE NOTE OF 1921:  The Luce Sugar Cane Harvester Co., which has been located in Watertown, Wis., has established offices in New York and later will acquire a plant either in that state or in New Jersey.  A number of machines have been built for the company at the plant of the Monarch Tractor Co. in Watertown and additional machines by the Otto Biefeld Co. of that city.  It is reported that the machines have been thoroughly tested in the cane fields of Cuba and the results have been sufficient to encourage the company in extensive production.     Farm Implement News, Volume 42, 1921
02 08       WILL BUILD FOUNDRY WHEN WEATHER PERMITS
The Otto Biefeld Company will begin the erection of a foundry as soon as the weather permits in the spring.  It will be located on the east side of North Water Street, just north of O'Connell Street, and will occupy the old Ruesch property and the Zimmermann property for that purpose.
The building will be of brick, 66x214 feet, and the foundry will have a capacity of six tons daily.  The building will also house the grinding machinery now in the old factory across the street, and this will give added room in that building, which is greatly needed.     The Watertown News, 02 08 1918
11 06       APOLOGY FOR DEROGATORY COMMENTS
To Whom It May Concern.
Having made certain statements derogatory to the reputation of Otto Biefeld, Sr., and the firm of Otto Biefeld Company, regarding the quality of the material used by the firm in connection with its plumbing and heating contracts, I hereby withdraw all such statements, acknowledging that they were false and without basis.
The attention of all who have heard these statements, either directly from me or through other parties, is called to this notice, which is a retraction of all statements I have made regarding the firm or its members.
`
Signed, Walter Heil.
Watertown, Wisconsin, November 5, 1918.                 The Watertown News, 11 06 1918
1920
04 10       BETHESDA ADDITION, HEATING CONTRACTOR
Home for feeble minded add $170,000, 2 story, 60x106. 
Architect: B A Messmer & Bros, 1006 Majestic bldg., Milwaukee
Gen contract let to Carl Block, 206 Division St, Watertown
Masonry let to Mallow & Kadditz, 309 Warren St, Watertown
Heating let to Otto Biefeld & Co, Watertown
Plumbing let to Mendenhall Co, Watertown
1925
06 18       GRANDSTAND FOR CITY OF WATERTOWN
<![if !vml]>

<![endif]>            <![if !vml]>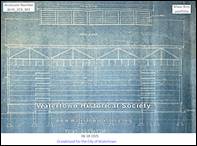 <![endif]>       06 18 1925
Drawn by Arthur Kuenzi, engineer (with Otto Biefeld Co., later Biefeld president)
Most likely for expanded grandstand at Inter-County fairgrounds (fair grounds closed in 1927)
Not certain if built, and if so, whether by Maas Bros., who had plans to bid on project
1926       DEATH OF OTTO BIEFELD, Sr.   1861-1926
03 25       Another of Watertown's esteemed and popular businessmen has gone to his final reward in the person of Otto Biefeld, Sr., who passed away last Sunday night at his home, 206 O'Connell Street.  Six weeks previous to his death he went to Hot Springs, Arkansas, in hopes of getting cured of his ailments, and had returned only a few days previous to his death in a worse condition than when he left for Hot Springs.
July 26, 1861, Mr. Biefeld was born in Saxony, Germany, where he learned the heating, plumbing and locksmith trade and in 1888, he came to Watertown, locating here on June 13.  He secured employment with the Kunert Bros. Machine Co., and was employed by that firm till 1893, when he and his brother Richard formed a partnership in the building now occupied by the Jansky Printing Co., and conducted a machine, heating, locksmith and general repair work business, and then business developed so fast that they finally located and extended their business from time to time in the building now occupied by the firm in North Water Street.
Mr. Biefeld was one of Watertown's most public-spirited citizens, his purse and time always aiding generously every public enterprise.  His death is a great loss to our city.  He was a member of the Reformed church, of the Plattdeutscher Verein, of the Watertown Business Men's Association, the Watertown Council of United Commercial Travelers, of the National Heating and Piping Contractors of New York City, and the Master Plumbers Association.
His wife survives him.  After being a year in this country, he sent for her to [in] Saxony, her maiden name being Lydia Schreiber, and they were married in this city July 5, 1884.
Twelve children were born to them, one son George, dying in infancy.  The surviving children are Martha, June, Kermit, Carl and Lena at home, Otto Biefeld, Jr., Ernest Biefeld, Mrs. L. R. Stoll, Mrs. Clarence Kunitz of this city, Mrs. W. D. Marpell and Mrs. Harry Holmes, Milwaukee.  There are also twenty grandchildren and five sisters, Mrs. John Kneubuehler of this city, Mrs. C. E. Heyn, of Geneva, Ill., Mrs. Alvin Hunger of Milwaukee, Mrs. Ida Maschke and Mrs. Minnie Borchardt of Saxony, Germany.
His only brother Richard died several years ago.  His funeral was held today with services at the home at 1:30 o'clock followed by services at the Reformed church at 1:30 o'clock, the Rev. F. W. Lemke officiating.  The interment was in Oak Hill cemetery.  
1931
10 16       HELP BUILD MAIN ST. BRIDGE
The bridge was constructed by Cunningham Bros, of Beloit.  The Otto Biefeld Co. provided the steel, George H. Lehmann did the concrete work and Ed. L. Bartlett furnished the cement, while the Hutson-Braun Lumber Co., the West Side Lumber Co., and the Gateway Lumber Co., provided other materials.  Arthur Ruesch was in charge of the electrical wiring.
1933       NOTE REGARDING JOHN DORNFELD
John Dornfeld became associated with the Otto Biefeld Company.  Since that association, which began in October, 1933, he built a number of plants, one for the Fleischman Malting Company at Chicago, one for the Hamm Brewing company at St. Paul, Minn., and another for the National Malting Company at Paterson, N. J., and many other smaller installations.  Since his association with the Biefeld Company, he spent part of his time in Watertown.  He spent two months here last summer.  His work in the malting field will now be carried on by the Otto Biefeld Company here.
1936
UNIT IN WATERTOWN CENTENNIAL PARADE
<![if !vml]>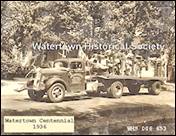 <![endif]>  
1950
11 06       LAYOUT OF S. FIRST ST. FACILITY
<![if !vml]>

<![endif]>  
Note regarding Shop No. 5:  The railroad track went into shop No. 5 at one time when there was only a canopy over that area.  A train car was on the spur and the breaks let loose and the car rolled into the shop.  Later the shop area was enclosed.
1952
BIEFELD HI-SPRAY CHEMICAL SPRAYER
<![if !vml]>

<![endif]> 
1954       CENTENNIAL CELEBRATION, CITY OF WATERTOWN
       BROTHERS OF THE BUSH
<![if !vml]>

<![endif]>  
Biefeld sponsored group, 1954 Centennial Celebration  
PARADE:  Unit in centennial parade  
c.1955
SOUTH FIRST STREET FACILITY
<![if !vml]>

<![endif]>  
1958
10 13       KUENZI NAMED TO WISCONSIN MANUFACTURERS ASSN
Arthur Kuenzi, president of the Otto Biefeld Co., has been named to the legislative committee of the Wisconsin Manufacturers Association.   His appointment is for the 1958-59 term.  The appointment was made by C.F. Van Pelt of the Fred Rueping Leather Co., Fond du Lac, president of the association.   WDT
1959
07 01       SALE OF OTTO BIEFELD COMPANY
Arthur Kuenzi, president of the Otto Biefeld Company and Roy O. Henszey, president of the Henszey Company, announced the sale of the respective companies.  Pieter W. Schipper, president of the newly formed Henszey Company, Inc. and Otto Biefeld Corporation, confirmed the acquisitions.  He stated that he had great confidence in the future of both enterprises and that he anticipated their continued growth in present and allied fields based on their past history, resulting in increased opportunities for the employees.  Both concerns will continue their operations in Watertown and no major changes are contemplated at this time.   WDT
1960
03 03       Ralph Ebert opens consulting engineering service; was engineer for Otto Biefeld Co.
10 12       KUENZI RETIREMENT
Arthur Kuenzi, for many years president of the Otto Biefeld Co, makes official announcement of his retirement.  He severed his connections with the firm on May 1.  The middle of last year the firm was sold, and is now known as the Otto Biefeld Corporation.   WDT
12 21       ADDITION TO PLANT BETWEEN S. SECOND AND S. FIRST STREETS
The Otto Biefeld Corporation has completed and is now occupying a 10,000 square foot addition at its plant between South Second and South First streets.  The new unit is most helpful in the expanding operations of the business.  Employment, including production and office and executive help, now numbers 167 - approximately double the figure of a year and a half ago.  A partial second shift has been added.  Sale of the Otto Biefeld Company to the Otto Biefeld Corporation was announced on July 1, 1959.  At the same time sale of the Henszey Company to Henszey Company, Inc., was announced.  Pieter W. Schipper is president of both firms.   WDT
12 28       KUENZI OPPOSES POLICE-FIRE STATION AT EIGHTH AND MADISON
Three members who served on a committee named by Attorney Charles E. Kading, while he was serving as acting city manager here, to study city hall expansion needs today issued a statement opposing the proposed construction of a new police and fire station at the corner of North Eighth and Madison streets and suggested that maybe "it is time to hold another referendum" on the matter.  The three are Arthur Kuenzi, a registered professional engineer who was president of the old Otto Biefeld Co., now the Otto Biefeld Corp.; Albert W. Maas, general contractor and head of the Maas Bros. Construction Company and a former city councilman; and O. E. Carlson, for many years a building materials supplier here.   WDT
c.1960
-- --           812 S. SECOND ST. FACILITY
-- --           <![if !vml]>

<![endif]>             Sometimes listed as 812 S. First Street
In 1938 Otto Biefeld Corp took over the plant of what was formerly the Dornfeld-Kunert Co. and later known as the Monarch Tractor plant.  In 1960 the Otto Biefeld Corp completed a 10,000-square-foot addition at its plant between S. Second and S. First streets.
1961
03 18       NO PLANS TO LEAVE WATERTOWN
"The recession is a thing of the past." That was the statement of Pieter Schipper, president of the Otto Biefeld Corp. and the Henszey Company, Inc. of Watertown, last night at the regular weekly meeting of the Watertown Kiwanis Club.  Mr. Schipper said that the so-called recession had been very much over-rated and was a normal par of the leveling out process which is inevitable in our economy.  He stated that the two companies which he heads have no plans to leave Watertown, but rather, plan to stay here and expand facilities and take on additional employees as quickly and as fast as expansion permits, according to present plans.  WDT
1965
02 23       PRESSURE VESSELS MANUFACTURE DISCONTINUED
The Atwater-General Corporation, formerly the Otto Biefeld Corporation, is discontinuing the manufacture of pressure vessels, it was announced today by Pieter W. Schipper, president. When the manufacture of pressure vessels now in production is completed, this phase of the Atwater-General operation will end. Work is expected to be completed about April. Pressure vessels are the principal product manufactured by Atwater-General, and accounts for most of the firm's production. After April the firm will be making only humidifiers, Schipper said today. Approximately 25 persons are employed by the concern. Atwater-General Corporation came into being on January 1, 1964.    WDT
1969
09 13       HEVI-DUTY ELECTRIC MOVING to Wakoka & William streets
Groundbreaking ceremonies for the new building to be constructed by Hevi-Duty Electric, division of Sola Basic Industries will be held Tuesday, Sept. 16 at 1 p.m.  The building will be built on property Hevi-Duty owns at the intersection of Wakoka and William streets.  When the building is completed, operations of this division now in the former Biefield property on North Water Street will be moved to the new structure.
2004
09 04       BUILDING RESTORATION
The restoration of one of the city's early examples of 19th century industrial development continued this morning as paint was applied to the Italianate style exterior.  The historic landmark at 200 N. Water St. was built in 1850 and has housed a variety of businesses including the Fredrick Misegades Wagon Works, the Otto Biefeld & Co. Machine Shop, the Kottwitz Electric Motors Co. and most recently the Kriewaldt Electric Motor Co.  Present owner Chad Haase is in the process of completely renovating the building and restoring the exterior to original appearance.  New windows and electrical, plumbing, heating systems are being installed to the structure which will eventually house three commercial businesses on the lower level and three apartments on the second.   WDT
REVIEW ARTICLE
Biefeld Brothers, Otto and Richard, Started Steel Fabricating Company, WDTimes, 06 26 1954
<![if !vml]>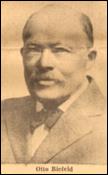 <![endif]>
The Otto Biefeld Co. passed its 60th anniversary in 1953.  The company has a notable record in the field of manufacturing and service in this community.  It was in 1893 that the late Otto Biefeld, Sr., founded the business that still bears his name.
In June, 1883 two brothers, Otto and Richard Biefeld, left their homeland and came to America to seek their fortune.  On Oct. 24, 1893, they opened a machine and repair shop on the corner of South Second and Market Streets.  Their first customers were D. & F. Kusel.  From its humble beginning the firm of Otto Biefeld & Company grew to what it is today.  But it was not luck alone which brought about this good fortune, rather untiring efforts and hard work.  As business increased, the firm bought the old Misegades property on North Water Street in May, 1899.  New machinery was purchased and a plumbing and heating department was added.  This formed the nucleus of the present plant of the Otto Biefeld Co.
Soon the fame of the firm spread and it again became necessary to enlarge the plant.  In 1914 Arthur Kuenzi, formerly chief engineer of the Dornfeld-Kunert Company, joined the organization and a large construction shop was erected in North Water Street across from the old quarters.  After that was completed other key men from Dornfeld-Kunert Company, such as A. F. Schumacher, accountant, William Kleineschay, engineer and Herman Gerth, manager of production, joined the firm, and the services rendered started to spread from local and neighborhood business to state and neighboring states.  These added facilities soon increased employment from 8 in 1914 to about 50 in 1918.  In 1918 a boiler shop was added to the plant and in 1929 another addition was made.
Death in 1917
Following the death of Richard Biefeld in 1917, the plant was incorporated with Otto Biefeld as president; Otto Biefeld, Jr., vice-president; and Max Biefeld, secretary treasurer.
Otto Biefeld's life came to a close in 1923, but his ideals live on.  He left behind a thriving business as a monument to his industry and achievement.  His had been a notable achievement and at the time of his death, he was held in high regard for his civic interests, leadership and business ability.  His ideals have been carried on through his sons and old and faithful employees.
Mr. Biefeld was survived by his widow, who in spite of advancing years maintained an active interest in the firm and its employees.  She was familiarly referred to by young and old as "Grandma Biefeld."
The plant management again changed following Mr. Biefeld's death.  On Aug. 17, 1926, Ernest Biefeld became president; Otto Biefeld, Jr., vice-president; Kermit Biefeld, secretary; and A. F. Schumacher, treasurer.
Management Changed
Due to transfers in ownership of stock, the management changed on March, 1930.  Officers elected were:  Arthur Kuenzi, president; R. O. Henszey, vice-president; and A. F. Schumacher, secretary-treasurer.  These officers remain the same today.
In step with the ever changing and progressing times, the Otto Biefeld Co. also widened its scope in products and markets.  In 1938 it took over the plant of what was formerly Dornfeld-Kunert Company and later known as the Monarch Tractor Plant.  New departments were added to fill the needs of its growing list of customers.  The firm became the manufacturers of a diversified line of products fabricated from steel and iron, such as boilers, stacks, tanks etc., structural steel for buildings and bridges, flag poles, coal conveyors, special machinery and the "Wisconsin Special" snow plow, which is now used in many parts of the United States.  Through its dairy equipment division which is fabricated from stainless steels, it has become well known in all parts of the country.  Homogenizers, viscolizers, large stainless steel tanks and milk evaporators have been shipped to all parts of the world, including such places as Africa, South America, Mexico, Canada and Hawaii.  Besides these production departments, the firm also maintains a used equipment department.
Aided National Defense
On Dec. 7, 1941, great changes took place in the nation and the Otto Biefeld Co.  No more steel construction jobs were allowed without high priorities, no steel was available for the manufacture of certain commodities, new plumbing and heating installations were frozen.  But the Otto Biefeld Co. did not admit defeat and close its doors.  In peace they had helped to make America the prosperous and leading country it was; now in war they were determined to do their part to keep the American way of life.  Nor did they shirk their duties. The plant was almost 100 per cent on defense work.  They carried out sub-contract work for the fabrication of the actual parts of ships for Walter Butler Shipbuilders, Inc., Kewaunee Shipbuilding Co. and the Leathern D. Smith Shipbuilding Company to whom these parts and sections were shipped and brought into the large unit.  During this period they were also awarded the largest single contract in the history of the business amounting to $369,810.99 which covered fabricated equipment for the 42 hemp mills that the government built.  Navy distilling units in connection with a contract acquired by the Henszey Company of this city, was another large project.  Employment rose to over 200 and in between contracts and in any spare moments, the plant was indirectly on defense work maintaining equipment for dairy industries, farms and canning companies who were engaged in government work.
Not only did the Biefeld Co. turn over its available buildings equipment and crews to the war effort, but its honor roll boasted 24 names of employees, both office and shop, who were given to all branches of the Armed Forces.
As the war came to a close it meant that concerted effort must be made to get back into fabrication of its regular products, which was quickly accomplished by its officers, heads of departments and loyal employees, and production was increased over former years with constant employment to a total of 150 to 160 employees.
  <![if !vml]>

<![endif]>   Image Portfolio 
Cross References:
<![if !vml]>

<![endif]>        Manufactured arm machine in front of Biefeld Co., date unknown.
<![if !vml]>

<![endif]>
History of Watertown, Wisconsin