This file part of www.watertownhistory.org website
Miscellaneous set
Silence in Nature
Watertown Democrat, 09 22 1859
It is a remarkable and very instructive fact that many of the most important operations of nature are carried on in an unbroken silence.  There is no rushing sound when the broad tide of sunlight breaks on a dark world and floods it with glory, as one bright wave after another falls from the fountain, millions of miles away.  There is no creaking of heavy axles or groaning of cumbrous machinery as the solid earth wheels on its way, and every planet and system performs its revolutions.  The great trees bring forth their boughs and shadow the earth beneath them; the plants cover themselves with buds, and the buds burst into flowers, but the whole transaction is unheard.  The change from snow and winter winds to the blossoms and fruits and sunshine of summer is seen in its slow development, but there is scarcely a sound to tell of the mighty transformation . . . There is a lesson for us here:   The mightiest worker in the universe is the most unobtrusive.
Watertown Daily Times, 08 22 1959
The Watertown Police Department is looking for reliable adults to cross children for the 2009-2010 school years.  Applicants must have reliable transportation, a phone, and be available mornings and afternoons on school days. Background checks will be conducted.  Applications can be picked up at the Police Department and returned no later than September 4, 2009, at 5:00 PM.  For more information call 206-4221.  The Watertown Police Department is an Equal Opportunity Employer.
Kind Hired by City as New Police Officer
Watertown Daily Times, 08 21 2009
<![if !vml]>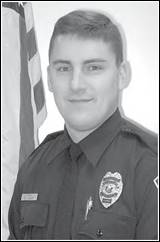 <![endif]>
The Watertown Police Department has hired Scott Kind as a new police officer.
Kind, who is filling a current vacancy in the department, previously worked at Quad Graphics in Lomira.
Kind, 36, is a graduate of Goodrich High School in Fond du Lac. He has an associate's degree in Criminal Justice from Kaplan University and graduated from Fox Valley Technical College's Basic Law Enforcement Academy in 2009.
Kind is currently assigned to the police department's field training program where he will train for four months.  After the successful completion of the field training program, Kind will be assigned to one of the three shifts in the patrol division.
Combustible Gas Detector
Watertown Daily Times, 08 22 2009
Donation to department
<![if !vml]>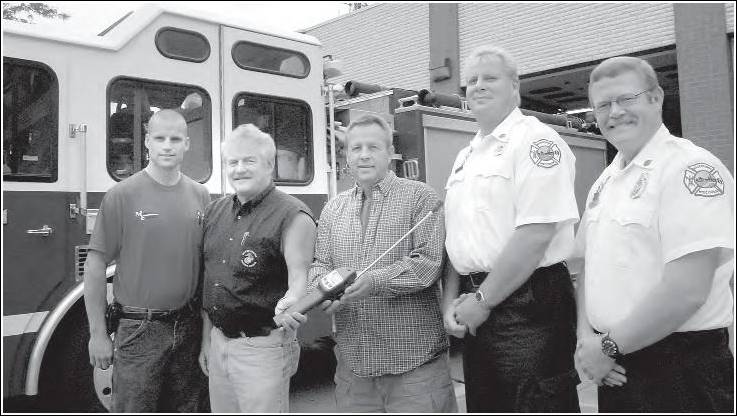 <![endif]>
The Watertown Fire Department has received a $1,000 combustible gas detector through a donation from Chickens Unlimited recently. The state-of-the-art sensor offers firefighters the ability to detect and gauge a wide range of hazardous gases.  Pictured from left are Eric Howlett [became President, Clyman Fire/EMS Assn, 12/2009], Jerry Hepp and Dan Fredrick of Chickens Unlimited; Watertown Fire Department Assistant Fire Chief Bill Schwenkner and Fire Chief Henry Butts.
↓   More on Watertown Fire Dept   ↓
Visits
Watertown Public Library
Watertown Daily Times, 09 30 2009
<![if !vml]>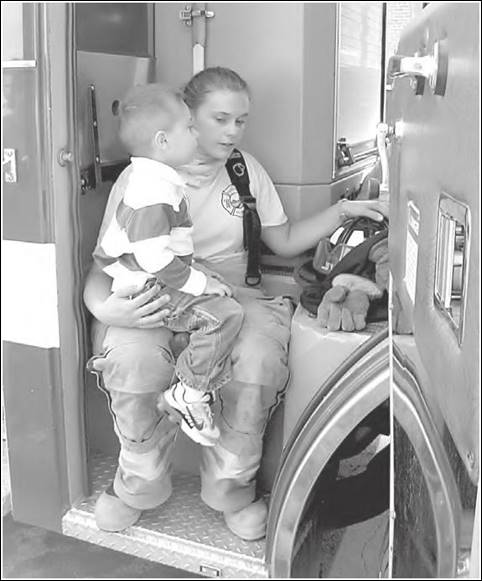 <![endif]>
The Watertown Fire Department paid a visit to the Friday morning story time at the Watertown Public Library.  Firefighter paramedics Tanya Reynen and John Duvernell along with Lt. Tim Gordon showed the children their firefighting equipment and fire truck.  Logan Chavez is pictured getting an up-close look at the fire truck, courtesy of firefighter paramedic Reynen.
↓   More on Fire prevention week   ↓
Watertown Daily Times, 10 08 2009
<![if !vml]>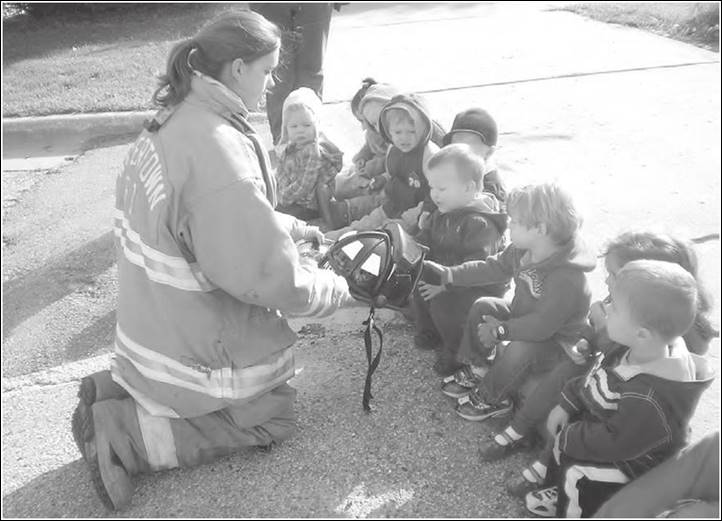 <![endif]>
Children at Great Expectations Early Learning Center learned more about fire prevention and safety as part of National Fire Prevention Week.  Watertown firefighter Tanya Reynen visited the center teaching children about the equipment firefighters use.
Watertown Daily Times, 08 22 1984
Ora Kuckkan, 914 Reinhold Street, Watertown, has been elected to the position of auditor of the M&I Bank of Watertown.  She succeeds Mabel Kube who recently retired.  Mrs. Kuckkan has been with the bank for nearly 18 years, starting out as a clerk.  She then was advanced into proofing operations and general bookkeeping. In 1971 she was appointed commercial teller and in 1979 was transferred to the note cage with responsibilities in the accounting and collection operations.
New Hot Lunch Service Equipment
Watertown Daily Times, 08 22 1959
Three of Watertown's elementary schools will get new hot lunch service equipment as a result of action taken by the board of education last night.  The board adopted a resolution empowering the committee on buildings and grounds to secure the necessary equipment, the cost not to exceed $10,000.  The three schools to share in the federal hot lunch program are Webster, Lincoln and Schurz.  The old Douglas School will not be included until its contemplated new building is completed because the present school has no facilities for such a program.  The lunches will be prepared at the high school and sent to the three schools.
Watertown Daily Times, 08 22 1999
The Watertown Plan Commission Monday approved a plan by developers to renovate a vacant building at 615 E. Main St. into professional office space for up to eight tenants.  Developers Jane and Vern Smebak, Marcos Gallardo and Georgia Meyer applied for the permit to redevelop the building.  Eyewear Unlimited and Rehab in Motion are two businesses that would move into the building that is the former site of Hollywood Video.  Robert and Ann Krystyniak are owners of the building and are planning to sell the building to the developers if plans are approved.
Watertown Daily Times, 01 19 2000
Beginning next month, Rehab in Motion will be operating from its new headquarters in the former Hollywood Video store on East Main Street.  Rehab in Motion will join Eyewear Unlimited which has moved into the remodeled building.  The building is known as the Main Street Professional Center.  Rehab in Motion is a service that provides clients with therapy. "We try to help people maintain functional independence," said Marcos Gallardo of Rehab in Motion.  "Sometimes we just need to remodel a kitchen or bathroom, or find someone to cut their lawn," he said.  "We can help people who don't want to go to a nursing home.  If a client needs a wheelchair or other handicap equipment, Rehab tries to provide assistance, along with occupational, physical and respiratory services," he added.
Watertown Daily Times, 08 21 1959
Watertown faces a substantial outlay in the construction of the new Douglas School in Center Street on a site which the city acquired early in his decade and which, under a long range building plan, is to be completed in 1961.  That fact was brought out last night when the first design for the proposed school was laid before members of the board of education.  It was disclosed that with the school construction due to get underway next year, the building general school program outlined years ago will be right on schedule.  The site for the new school was called "ideal" by Joseph Durrant, architect, representing Durrant and Bergquist of Dubuque, Ia.
Watertown Democrat, 08 14 1873
Mr. A. Luboueveau has resigned his position as Principal of Union School No. 2, and Mr. John Kaltenbrumm, a teacher of the Northwestern University has been appointed in his place.   Mr. Amos Baum, School Commissioner  of the Third ward, and President of the Board of Education, has resigned his office.
Opening of 2009-2010 School Year
Watertown Daily Times, 08 24 2009
The 40-acre campus of Luther Preparatory School was buzzing with excitement this past weekend as students throughout the country began arriving for the school year. 
Registration and opening activities took place all weekend long.  Faculty and staff kept busy registering the students.  The Boosters welcomed parents and held a social. Tutors and senior resident assistants handed out keys and showed the students from 25 states and 10 foreign countries all around the dorms.  Recruitment Director Nate Scharf greeted families and gave tours. 
There are 100 students enrolled in the freshman class for a total of 353 students in the ninth through 12th grade college preparatory high school.  The students come from as far as Korea and Antigua to as near as Watertown. Luther Prep is entering its 144th year of preparing and encouraging all of their students toward full-time gospel ministry.  Annually an average of 50 percent or more of the graduates continue at Martin Luther College in New Ulm, Minn., in the pastoral and education tracks.
This year there are three new faces on campus.  All three have been given a two-year call as tutors.  Their responsibilities include living in the dormitory supervising the floor of approximately 40 students.  As tutor their job is varied.  They help, counsel, watch over, teach, coach, drive school bus and supervise the students in various areas from classroom to dorm to cafeteria to free time.  The tutors are either teacher or pastor graduates in the Wisconsin Evangelical Lutheran Synod.
Sarah Janke, a 2005 Luther Prep School graduate, received her degree from Martin Luther College with an elementary education, English emphasis major.  She will be teaching English and assisting with the track team.
Rachel Meyer, a 2003 Luther Prep graduate, received her degree from Martin Luther College in 2007 and taught for two years in Wuhan, China, where she also conducted weekly Bible classes for Chinese friends and taught English to seventh graders at Meijia Foreign Languages School . She will be teaching English as a second language, physical education and English, as well as coach the junior varsity volleyball team.
Aaron Schumann, a 2001 Luther Prep graduate and a 2005 Martin Luther College graduate with a pastoral, pre-seminary degree, continued at Wisconsin Lutheran Seminary and graduated with his master's in divinity this past spring.  Schumann will be teaching freshman and junior religion, and be the assistant JV baseball coach.
Watertown Democrat, 09 01 1859
Main Street Bridge is now being thoroughly repaired and when finished will be once more a safe structure for teams and wagons to pass over without danger of having planks fly up and tip over carriages or frighten horses.  To get the first cost out of that institution we must use it fast and use it much.  As there is no reason to believe that posterity will ever do anything for it, so there is just as little reason to suppose posterity will ever have the use of it.  That makes it all even and right.
Bethesda Lutheran Home
Watertown Daily Times, 09 03 1984
Work is underway at the Bethesda Lutheran Home to develop two new programs for mentally retarded non-Bethesda residents in the areas of diagnostic evaluation and information.  According to Medical Director Dr. John Heffelfinger, two wings of the Ritter Building, one of the several structures at Bethesda, are being converted into a Diagnostic and Evaluation Center and a Christian Resource Center.  The development of the centers, said Heffelfinger, is Bethesda's response to the need for more available information on retardation.  The diagnostic center itself will facilitate two very important needs, he said - proper diagnosis of a person's retardation and testing to determine the true potential of that person's development.
↓   More on Bethesda   ↓
Improve Level of Care
Watertown Daily Times, 08 24 1999
The Watertown Campus of Bethesda Lutheran Homes and Services has been restructured to improve the level of care for clients and streamline operations at the 95-year-old facility.  Each of the seven living areas on campus will be headed by a program director, said Debborah Zubke, North Central Regional administrator, who works at the Watertown campus.  Each director will oversee a team that will include teachers, social workers, recreation specialists, psychology specialists and chaplaincy representatives.
↓   More on Bethesda   ↓
Bethesda Lutheran Communities
Merger of Bethesda and Good Shepherd Communities
Watertown Daily Times, 09 01 2009
Dr. John E. Bauer, president and CEO of Bethesda, speaks to employees this morning as the organization celebrates the change in its name to Bethesda Lutheran Communities.
Bethesda Lutheran Homes and Services began business today as Bethesda Lutheran Communities.  The change is the product of the full and complete merger of Bethesda and Good Shepherd Communities as well as a yearlong branding and identity study.
Good Shepherd Communities, which operated in four western states, had been a wholly controlled subsidiary of Bethesda since 2006.  The merger and related name change were approved at a special meeting of Bethesda's membership in May and became effective today.  Good Shepherd has been tied to Bethesda since its founding in 1949, however.  A family traveled from California to Watertown to inquire about placing their son on a waiting list for admission to Bethesda.  Unable to meet their son's needs, Bethesda provided consultation and funding assistance to establish Good Shepherd Lutheran Home of the West, later known as Good Shepherd Communities.
"The words 'Bethesda' and 'Lutheran' were simply deemed to be core to our identity," says Dr. John E. Bauer, president and CEO of Bethesda. "'Communities' is a natural choice not only because of the Good Shepherd Communities legacy, but because it accurately describes our ministry.  Our work is found in neighborhood communities around the country and we work to build up faith communities that welcome and nurture spiritual lives."
Originally founded in Watertown in 1904, the name Bethesda did not appear until 1924.  It existed as Bethesda Lutheran Home until 1992 when the name was changed to Bethesda Lutheran Homes and Services.  Today, the newly merged organization of Bethesda Lutheran Communities has 3,000 employees and an annual operating budget of $149 million.  Bethesda's corporate headquarters will remain in Watertown.
Now in its second century, Bethesda provides services to 2,000 individuals with developmental disabilities throughout the country.  Together with partner agencies, they also provide support in numerous international locations including Romania, Latvia, Russia, Kenya, Tanzania, Kazakhstan and the Dominican Republic.
Watertown Daily Times, 01 16 1958
The site of the old Armory Building, now the Recreation Building, in Main Street between North Seventh and North Eighth Street, has been proposed as the most logical location for a new City Hall for Watertown.  The recommendation has been proposed by the architects, Durrant and Bergquist of Boscobel, Wis., and Dubuque, Ia., who some months ago were delegated by the City Council to study the matter of a solution to the present overcrowded and largely outmoded City Hall
↓  More on Proposed New City Hall  ↓
Watertown Daily Times, 09 02 1959
Two sites are under consideration and available for the construction of Watertown's long-discussed and proposed new city hall—when and if the city council at last goes ahead and decides to build.  That was announced last night following the regular meeting of the council when City Manager C. C. Congdon presented to the councilmen the first "layout" for the building.  As yet the council has not authorized a new city hall and it is still in the planning stage.  The information presented by the manager merely reflects the various department spaces and facilities that have thus far been proposed for the new building.  The two sites which have been made available are the old armory location in Main Street, now utilized as the city recreational building, and the old Webster School site in Western Avenue.  Plans for a new city hall, which have been discussed for years, reached a point more than a year ago when two miniature models of such a structure were prepared and studied by the council.
Watertown Daily Times, 09 02 1999
Harvey Krueger is a guy you can count on, an old-fashioned kind of fellow with values to match.  If he says he will be there, count on it. Despite the cerebral palsy that has crippled his limbs and impeded his speech, he has attended Easter Seals Camp Wawbeek near Wisconsin Dells every year for the past 60, only missing the first year the camp opened.  He was awarded a plaque this year by Easter Seals which called him a dedicated camper.  "Harvey is as proud of being here for 60 years as we are of him for coming back and being such a great part of Wawbeek," said Ken Saville, Easter Seals vice president for camping and respite services.  Krueger, 72, has also been a reliable guy at Bethesda Lutheran Homes and Services where he is a foster grandparent for two children.  He doesn't let his handicaps deter him from attending, knowing that the children and staff are waiting for him.  For the past 12 years, he has volunteered four hours a day, five days a week, receiving a small stipend which allows him to also get disability payments.
Watertown Daily Times, 08 31 1999
A first-ever erosion study of Riverside Park and Tivoli Island has been recommended by the Watertown Park, Recreation & Forestry Commission.  The recommendation to contract Bonestroo & Associates to study erosion at the park and natural island preserve at a cost of $9,700 will go before the Common Council in September.  Any construction on an erosion control program would not take place until 2001.  Bonestroo said that Tivoli Island, a heavily wooded and passive recreational facility, has already experienced significant land loss.  Flat, peninsula-type portions of the island have disappeared from sight.
Watertown Daily Times, 08 29 1959
David R. Ross today was announced as the new principal of the Watertown Junior High School.  Mr. Ross is a native of Stevens Point where he attended grade school.  His high school days were spent at Concordia College High School of Milwaukee.  He then returned to Stevens Point and the Wisconsin State College there.  That institution conferred upon him the bachelor of arts degree from the department of letters and science and also the bachelor of science degree from the department of education.  Mr. Ross took his master's work at the University of Wisconsin earning his M.A. degree in administration.
Watertown Daily Times, 08 29 1999
A man who first entered kindergarten at Lincoln Elementary School in 1924 showed up on the front steps again Friday morning, his two grown sons in tow.  Ed Kusel made the pilgrimage to Watertown from Florida, along with his sons Kent of Boston and Scott of North Carolina.  The trio traveled the halls of the small elementary school, with Ed Kusel visiting children in classrooms and his sons snapping pictures and rolling videotape. "We're strangers in time who've come back to reminisce," he said.  "I hope my boys can take with them some of this." The school was the first stop on the Watertown tour, Kusel's mother's former home on Cady Street and the former Watertown High School were also on the agenda.
Watertown Daily Times, 08 27 1999
An initial review of plans for the youth baseball complex in the developing Brandt/Quirk Park revealed a shocking conclusion - the center will cost about $200,000 more to construct than previously estimated.  "This was a shocker," said John Steber, director of the Watertown Park, Recreation and Forestry Department.  Steber said the initial estimate for the 11-acre Brandt Baseball Center was $612,000.  Now, the planning firm Bonestroo, Rosene, Anderlik & Associates is saying the same facility will cost $812,611.  Steber said the additional cost stems from an oversight by Bonestroo in its initial estimate.  That figure did not include $78,365 for a storm sewer and field drainage system.  There were also a number of other add-ons that increased the cost projection, he said.
↓  More on Brandt/Quirk Park  ↓
Watertown Daily Times, 09 30 1999
The Watertown Tennis Association has kicked off a $100,000 fund-raising effort for the development of Brandt/Quirk Park with a $7,500 donation.  Those funds have been given to the Watertown Area Community Foundation where they will be held until the goal is reached.  The $100,000 drive from the private sector is part of an overall $1.3 million financing package for the 2000 full development of the city's newest community park.
District Enrollment
Watertown Daily Times, 08 28 1999
Enrollment from the first day of school in the Watertown Unified School District this week showed 32 fewer students.  Overall student population on Wednesday was 3,795, compared to 3,827 on the first day of school last year. Business Manager Dennis Mudler said he expects the enrollments to come in near projections by the time the district reports its final student population to the state on Sept. 17. The biggest single shift in student population is a decrease of 59 students at Riverside Middle School.  Watertown High School is experiencing an increase of 30 students, while elementary levels decreased by three students on the first day of classes.
Watertown Democrat, 09 08 1859
Arthur Webb, for services as watchman, $4.00
Watertown Democrat, 09 15 1859
The debating club of the Young Men's Association was reorganized on Monday evening last.  The regular debates will be resumed on Monday evening, September 19th, 1859, at the rooms of the association and will be continued regularly once a week until spring.  There will also be an essay read at each meeting.  Question for the next meeting:  "Resolved, That a person is not bound to obey a law which his conscience condemns."  Disputants, Hiram Barber, Jr. and Ira A. Leonard.  The first essay will be read by Myron W. Reed.  All who feel sufficient interest are invited to be present, as the doors will be open to the public generally.
06 23 1916
The following obituary notice on the death of our young friend, Thomas Fitzgerald, son of Mr. and Mrs. Michael Fitzgerald of Watertown, is taken from the last issue (June 15th) of the Watertown Gazette:
"It is our sad duty this week to report the death of our friend Thomas Peter Fitzgerald, which occurred at the home of his parents, Mr. and Mrs. Michael Fitzgerald, 702 Sixth street, this morning at 11 o'clock, after an illness of about fourteen months with lung trouble.
Mr. Fitzgerald was born in the town of Lebanon the 29th day of March 1890 and removed to this city with his parents about thirteen years ago.  He received his education in St. Bernard's parochial school and Sacred Heart college in this city and after leaving school was associated with his father in  the wholesale cheese business.
November 4, 1913 he was united in marriage to Miss Alice Duffy of Chicago.
Besides his wife and one son, he is survived by two brothers, and two sisters.  The brothers being; Edward of Minneapolis and William of this city and the sisters are Rose and Mary also of this city.
Mr. Fitzgerald was a young man of a bright, genial and whole-souled disposition and one whom it was always a great pleasure to meet.  His hosts of friends in this city and elsewhere, learned of his death with extreme sorrow.
He was an insurance (missing word) Watertown Council No. 1478, Knights of Columbus, being at one time treasurer of this council, members of which will attend the funeral in a body.  Arrangement for the burial are not completed at this writing.
The Gazette joins his many friends in extending their sincere sympathy to his wife and parents in their sad bereavement."
The funeral services took place at St. Bernard's church in Watertown, last Saturday, June 17th with interment in St. Bernard's Cemetery.
We unite with the Gazette and with the many Juneau friends of the bereaved wife, parents, brothers and sisters in their hour of great sorrow.
07 14 1916
Mr. H. E. Krueger, city assessor of Watertown, and at present one of the deputy sheriffs of Dodge County, is a candidate for the nomination for sheriff, on the Democratic ticket at the September primaries.  Mr. Krueger is well known throughout the county and he has many friends who will pull hard for him.
Auto Thief at Large
06 30 1916
Tuesday's edition of the Watertown Leader said:
"Up till Monday afternoon no information was received as to the discovery of the man who sold a Ford run-about to Harley Whitmore of the Whitmore & Persson Garage.  The car was the property of the Chicago Telephone Company.
The thief is a young man of about 23 years of age, slender, of less than average height, and wore a blue suit and a slouch hat.  He gave his name as Earl Noonan.  He sold the car for $100.00.
After receiving his pay for the car the man made a hurried departure.  The suspicions of several people were aroused when he was noticed throwing his coat into the river as he crossed the Main Street bridge.  The last seen of him was as he turned south on Washington Street.
The West Road was scoured as he was seen there about 1 o'clock but proved in vain as none of the farmers in the vicinity had seen him
Mr. Whitmore telephoned to Chicago as the car bore a Chicago license and learned that the car was the property of the telephone company."
07 14 1916
Mr. Edward Burke, a former resident of Watertown and Richwood, died at his home near Blanchard, North Dakota, on Tuesday, July 4, 1916, from the effects of a paralytic stroke which he received on Sunday, July 2nd.  He lived only 36 hours after being stricken down.  Up to the time of the unexpected fatal stroke he was in splendid health and his death came as a great shock to his family and all his relatives. 
Deceased was a brother to the late P. T. Burke and John Burke, pioneer settlers and well known farmers of the town of Sheilds and he was a first cousin to John Kelley of this city.  He was an industrious, upright, honorable man and his death is deeply deplored by all who knew him, including a large number of old friends around Richwood and Watertown.
He was born in the county Galway, Ireland, in 1847 and came to America when an infant, with his parents, Mr. and Mrs. Michael Burke.  The family lived in New York state for a few years and came to Watertown in 1853.  Later they moved to Juneau County, Wis.
The subject of this sketch, after reaching manhood, spent many years in the vicinity of Watertown.  In 1874 he married Miss Ellen Riordan of Richwood and located on a farm there for about six years.  In 1880 the family moved to North Dakota, where Mr. Burke purchased a section of land and where he became one of the leading farmers of the vicinity of Blanchard, his nearest town.
He is survived by one daughter Mrs. John Hall of Lancaster, California and one son, Robert Burke.  His wife died several years ago.
The Burke family became widely separated and the brothers and sisters of whom there were ten in all—seven brothers and three sisters, resided from Alabama to Western Canada and at this time only three or four members are living.
The body of Edward Burke was brought to Watertown last Saturday evening and was laid to rest in St. Bernard's Catholic cemetery last Sunday afternoon.
Peace to his ashes!
100 years
Watertown Daily Times, 09 16 1959
The Watertown Turners will be 100 years old as an organization in 1960 and plans have begun to stir for observing the event.  Harley Lehmann, president of the Turners, has named a steering committee to launch the movement for the centennial.  Fred Loeffler has been named chairman, Waldo Potter, secretary.  Other members are: Orval Steffen, Clifford Hanson, Marvin Bredow, Don Gerth, Emil Kihslinger, William Schultz, Howard Weihert, Charles Graff, Ernest Kubly, Duane Steffen and Henry Schaller, publicity.
Riverside Park
Watertown Daily Times, 09 16 1999
A wintry millennium celebration in Riverside Park that would heat up with a midnight fireworks extravaganza received support from a city committee this week.  The finance committee of the Watertown Common Council recommended the city contribute $3,000 toward the Dec. 31 party.  The common council will vote to approve the contribution Tuesday during its meeting.  The celebration's anticipated cost is $9,000.  If the city contributes $3,000, the remaining $6,000 would come from private donations.
Seventh Annual Fair
Jefferson County Agricultural Society
Jefferson County Fair
Watertown Democrat, 09 22 1859
Last week the Seventh Annual Fair of the Jefferson County Agricultural Society took place near the pleasant village of Lake Mills.  The grounds were finely adapted for this purpose and the carriage way surrounding them is one of the best we have ever seen and was in fine order.  There was a better show of fruit, corn and vegetables than we expected to witness, while the grain was of course superior both in quality and the varieties that were exhibited.  The stock generally was fair, with some few specimens that it would be hard to surpass.  Under the circumstances the display was successful and creditable to those who made it.  If the farmers generally would take more interest in these annual exhibitions of their skill and industry, they would find themselves the gainers.
Winter Wheat
Watertown Democrat, 09 22 1859
We are told that the farmers in this vicinity have sown winter wheat pretty extensively this fall.  In most localities it can be successfully grown and when it is practicable to raise it, the crop is more profitable than spring wheat.  All who have land adapted to its growth should make the experiment.
Watertown Gazette, 09 03 1909
Last week Thursday evening John Schlueter was quite seriously injured while returning to this city from Waterloo on the 7:12 passenger train on the Madison branch of the C. M. & St. P. Ry.  The air brake got out of gear in some way and it brought the train to a sudden stop, throwing Mr. Schlueter against the seat in front of him with such force as to severely injure his wrist and breast.  The seat on which he was sitting was broken.  Another passenger on his way to La Crosse had his shoulder injured.  Mr. Schlueter is getting along nicely and is able to be out.
Repairing Waterloo Fire Engine
Watertown Gazette, 09 03 1909
Frank Mallach and Charles Nienow, two of Kunert Co.'s [ Dornfeld-Kunert Co ] trusty employees, were busy last week overhauling the Silsby steamer of Waterloo.  Our neighboring city got good service and we predict that their old engine will do good work after Fred and Charley complete their labor.  The Waterloo engine is a straight-frame and among the 400.  Our Rotary shop number is 526 and was new from the factory in 1876.  It is evident the Waterloo engine is nearly forty years old.  Our Silsby has been out of service for months, a leaky door ring in a Fox boiler not four years in service and worked in only four fires perhaps.  The boiler on the engine at Waterloo is nearly forty years old and has the original firebox, door-ring and shell.  Who can set up the claim that the Silsby company does not turn out good work?
03 10 1916
Col. P. H. Swift, a civil war veteran and for a time editor of the Watertown Leader, died in Madison, Thursday, March 2nd and was buried in Oak Hill cemetery, Watertown last Sunday.  The Col. was widely known and highly respected.
114 N. Water St
Watertown Daily Times, 08 22 1959
Sally Kelenic and Rob Geiger, owners of the Moose Head Pub and Settler's Bay, will be opening their newest establishment, Buckshots Bar and Grill, in early October.
Buckshots Bar and Grill will feature loaded burgers and appetizers, as well as a limited casual bar menu in a smoke-free environment. A wide variety of domestic and imported beers and wine and cocktails will also be available.
The establishment will be located at 114 N. Water St., the former home of Rally Time and Don's Bar.
Watertown Daily Times, 08 22 1959
St. Mark's Evangelical Lutheran Church, 215 N. Sixth St., will install another member to its ministry team on Sunday.  Ronald Paynter will be installed as a part-time Christian counselor for St. Mark's Evangelical Lutheran Church, 215 N. Sixth St.  This new program is self-funded.  Members who make use of this service will pay for the services offered. Insurances will be accepted.
Paynter is a native of Bozeman, Mont.  He received his bachelor's degree in civil engineering from Michigan Technological University in Houghton, Mich., and his master's degree in clinical counseling from Montana State University in Bozeman.  He has served as a counselor for 25 years.  Paynter specializes in family, AODA and grief counseling.
Will Resume Practice Here
Watertown Gazette, 09 10 1909
Edward H. Huenefeld, veterinarian, son of Charles Huenefeld of Watertown, will open an office in this city and resume the practice of his profession.  He will be permanently located within a few days, but those desiring his services in the meantime may leave word at the residence, 701 Ninth Street, or phone 281-x.  Mr. Huenefeld is a graduate of one of the best veterinary colleges in the country and is well equipped for practice, having had several years experience in the treatment of diseases of domestic animals.
↓   More on Edward H. Huenefeld   ↓
E. W. Huenefeld, M.D.C
Watertown Gazette, 01 21 1910  [advertisement]
E. W. Huenefeld, M.D.C., Veterinarian.  Graduate Chicago Veterinary College, 1906.  Up-to-date Veterinary Dentistry and well qualified by education and experience to everything in that line.  701 Ninth St.
Watertown Gazette, 09 10 1909
Last Friday night someone stole a road wagon from in front of Prahl's carriage paint shop in Jefferson Street.  It was the property of James D. Casey, who was having it painted for the Watertown fair.  It had two yellow and two black wheels.
Watertown Gazette, 09 10 1909
An Ohio editor condensed into a brief space a great truth when he wrote the following paragraph:  "Don't attempt to ask the editor to write up and rebuke every evil in the town or community, but when convinced that such duties need attending to write an article for your paper and sign your name to it for publication.  The man who is too big a coward to thus express an opinion is the very one who will stand on the street corner and talk loudly about the cowardice of the editor." –Watertown Gazette
Auto Owners Re-Register
Watertown Gazette, 09 10 1909
Madison, Wis.—To avoid delinquency under the new registration law, automobile owners throughout the state are busy sending in the application for re-registration.  Each applicant is required to accompany his missive with $1.  The time in which automobile owners may pay in compliance with the law is Sept. 16.  After that those who have failed to pay will be liable to penalties. 
Baby Wants a Home
Rev. P. Peterson, superintendent of the Orphan's Home Finding Association of Wisconsin was in Watertown this week on his annual visit.  He said that he would be glad to find some good homes where a baby would be welcomed.  So, if there are any good homes around Watertown which would like to adopt a baby son or daughter, they should write to the office.
Starting Explorer Program
The City Connection, Fall/Winter 2009
The Watertown Police Department is in the beginning stages of starting a police explorer program for local teens.  Chief Timothy Roets of the Watertown Police Department was approached in 2009 by the Boy Scouts of America about beginning an explorer post.  After staff discussion Chief Roets authorized the initiation of an explorer program at the Watertown Police Department.  Chief Roets believes that the police explorer program will fit well in, and enhance, the community policing philosophy of the Watertown Police Department.
<![if !vml]>

<![endif]> Exploring is a subsidiary program of the Boy Scouts of America open to young men and women ages 14 to 20.  Police Explorers join the program due to their interest in the field of law enforcement.  Police explorers learn about various aspects of law enforcement and gain a better understanding of the criminal justice system.  This provides a learning platform for those interested in law enforcement to educate them and determine if they want to pursue law enforcement as a career.  Even if an explorer does not choose to go into the field of law enforcement they benefit by developing more assets and skills to tackle whatever they choose to pursue as a career.
Police explorers not only learn about law enforcement and the criminal justice system, they also contribute to the community.  The Boy Scouts of America Explorer Program emphasizes community service initiatives.  Through community service initiatives the explorers are able to improve the community they live in through teamwork. 
Explorer posts elect their own officers who officiate meetings and are responsible for post activities.  The Watertown Police Explorers will meet monthly except for July and December.  The meetings will be approximately 1-2 hours and will cover various aspects of law enforcement and the criminal justice system.  The explorers themselves are advised by a committee of Watertown Police Department Employees.  The Watertown Police Department Employees advise and guide the explorers, as well and arrange for education in the specific areas of law enforcement and criminal justice system the explorers are interested in.
A survey to measure interest in the program was administered by the Boy Scouts of America through Watertown High School at the beginning of the School year
Watertown Gazette, 09 17 1909
The members of the Burnett Lutheran Church have entered into a contract with Mr. J. B. Murphy of Watertown to make extensive improvements in the decoration of their church building.  Besides a new coat of paint, the ceiling and walls will be handsomely decorated and new stained glass windows will replace the old ones.  When completed, the building will be one of the finest country churches in the state.
Watertown Gazette, 09 10 1909
At 11 o'clock Tuesday night the chief of the fire department turned in an alarm of fire from box 21 at the corner of North Fourth and Main streets to test the ability of the department to respond promptly.
Watertown Gazette, 09 17 1909
Dr. Joseph O'Connell has opened an office at the corner of Main and North Third streets [300 E Main].  He has removed from North Milwaukee, where he has practiced medicine with eminent success for the past five years, and previous to that he had one year's experience as physician at St. Mary's Hospital in Milwaukee.  He is an old town of Emmet resident, being a brother of Frank O'Connell, chairman of that town, and of Dr. James O'Connell of Ponca, Neb.  He comes to our city well equipped in knowledge and experience to attend to all who may need the services of a doctor, and his many old friends in this city and vicinity extend to him a most hearty welcome to Watertown and predict his career here will be a successful one.
1913, 300 E Main, physician
1907, physician of first hospital
1934, 116 E Main, physician
William Reber
Enjoyed Auto Ride to Fort Atkinson
Watertown Gazette, 09 24 1909
Last Saturday afternoon Col. Solliday, W. D. Sproesser, A. J. Carlin and James W. Moore enjoyed a ride to Ft. Atkinson and back in Col. Solliday's auto . . .
. . . A visit was also made to the new printing plant of Ex-Governor Hoard, which is one of the very finest in the state.  The building was erected at a cost of about $75,000, and it is well equipped with modern machinery and type for the publication of that popular farm journal, Hoard's Dairyman. 
The plant is one of the finest we have ever seen, and all things indicated that the ex-Governor is prospering and we are glad of it, for no one deserves better the good things of this world than W. D. Hoard.  Here we were proud to note that this immense printing plant has for its foreman R. C. Guetzlaff, a former Watertown boy, who years ago carried papers for William Reber and learned to stick type on the Watertown Journal when Mr. Reber was its editor.  Mr. Guetzlaff is married and has one boy and is thorough at his business, knowing the printing trade from A to Z.  The Gazette editor is always glad to hear of Watertown printer boys getting to the front, as so many of them have.
Cross Reference:
An Alvin Guetzlaff was a carrier for the Watertown Daily Times in 1937
Of Mr. Guetzlaff's experience in this city in the "art preservative," he tells his own story as follows: 
"My father's first name is Fred. and he has lived out in what is called "Silver Creek" for more than forty years.  His age is 73.  After leaving school in spring of 1889 I went to work for Bill Reber (Watertown Journal) until February or March, 1892, going to Weltburger; worked there for about two months.  Went to Milwaukee in the spring of 1892 and remained there until June, 1894; worked for News, Cedarburg, Wis., for 4 years (having a post-office in connection).  Left with second call Spanish American War and came back March, 1899, spent the summer at my parent's home, Watertown and again in fall 1899 going back to Milwaukee, where I remained until July, 1908, then coming to this city (Fort Atkinson). 
"I will never forget the old days working for Mr. Reber, who certainly was a very good-hearted fellow, but he should have had a few of the odd "thousands" he spoke so much about, which, he said, were due at any moment (from Europe) so when the day arrived he could get the paper out of the express office.  Then followed the carting of forms to your office, besides a lot of other inconveniences, and on day of publication carrying papers up to ten, eleven and twelve o'clock in the evening.  Although a kid at the time, when he bought press and boiler-engine, I was the engineer and at times Mr. Knaack [*], who had a small store on ground floor, came running upstairs thinking an explosion was almost due, and I believe it very often was—there may be a cause for Mr. Knaack being gray or bald-headed.
[*] believed to be Edward A Knaak, grocer, 300 1/2 Main; Watertown Journal was at 300 Main (both as of 1895)
"Another good run for me was to the brewery with a boy's little express wagon to borrow enough coal to raise steam to run press.  A lot of other things which today makes me believe I am quite a hero, having a start such as it was and still at the business.
"I want to say, Mr. Moore, all this is not for publication, but just a reminder of my young days such, as I believe, very few today experience; and I must say that it is quite an honor to me when you say "it will not be complete without mentioning you."  I'll say no more but when I come to your city to visit my dear old parents I certainly will call at your office and if nothing else we may "smoke up."
Very truly yours,
Richard C. Guetzlaff
Watertown Gazette, 09 24 1909
Dr. Louis H. Nowack and Miss Clara Hilgendorf were married Tuesday evening, Sept. 21, 1909, at the home of the bride's parents, H. Hilgendorf and wife, 809 Main Street, by Rev. H. Sterz.  William Gehrke and Miss Gussie Auwers officiated as groomsman and bridesmaid.  Only immediate relatives were present, to whom a supper was served after the wedding ceremony.  The bride has for six years past been the affable and efficient assistant librarian at the public library, and she is well known to most of our people, all of whom hold her in very high esteem.  The groom is the son of Mrs. Bertha Nowack and has recently opened a physician's office in this city, where he has passed all his life, excepting the time he was absent from the city studying medicine.  He is one of our city's most esteemed young men and both he and his bride have the best wishes of all who know them on this happy occasion.  They remained in the city and have gone to housekeeping at 809 Main Street.
Watertown Gazette, 09 24 1909
T. F. Sullivan, who formerly conducted a café in this city in the old Bott building in West Main street on the site now occupied by the D & F Kusel Co. plumbing department, died at International Falls, Minn., last week Wednesday.  He left here about 25 years ago and is well remembered by many of our citizens.  He was 56 years old and is married to a sister of Luke, John and Miss Tessie Byrne.  His wife and eight children survive him.  John and Miss Tessie Bryne were present at the funeral in International Falls.
Appointed Superintendent of Water Works
Watertown Gazette, 10 01 1909
At a meeting last Saturday of the Board of Water Commissioners Charles MacKay was appointed superintendent of the Water Works Department of the city.  Mr. MacKay is an expert meter reader and is well versed in many things pertaining to the water works system of Watertown and we predict his management will result in making this part of our city government more than self-sustaining.  No appointment made in Watertown of a public nature in years has given such general satisfaction as does the appointment of Mr. MacKay.
Support of a New Police Facility
Watertown Daily Times, 10 06 1999
Watertown's police station does not meet national and legal requirements for female employees and the developmentally disabled, a committee in support of a new police facility says.  The committee, Building For Your Safety, is telling Watertown people to say "yes" to a new police facility when they vote on the referendum Nov. 2.  That day residents will be asked to decide whether they want the city to build a $4.3 million police facility and complete a $700,000 partial renovation of the municipal building.
Watertown Daily Times, 05 21 1999
The Watertown Unified School District will receive a state loan of almost a half million dollars to network its schools.  The $436,837 loan, through the TEACH program, was announced by school business manager Dennis Mudler.  With TEACH loans, school districts are required to pay back only half of the amount - $218,419 in Watertown's case.  Mudler said the six-year loan will be at an interest rate of 5 percent.
Watertown Daily Times, 10 02 1984
The Watertown School District has joined the almost $1 billion class-action suit against manufacturers to recover the cost of removing asbestos from school buildings.  "We are participating," Dr. Richard Stolsmark, superintendent of schools, said.  He said he is hopeful the district will recover at least a portion of the approximately $140,000 cost to remove asbestos-containing ceiling materials from Watertown High School and Schurz School last summer.  But he added that it could be years before the lawsuit is settled.
To Gain Regular Amtrak Stop
Watertown Daily Times, 09 15 1999
A petition drive is being launched here to gain a regular Amtrak stop for the Empire Builder, the long distance train that travels daily through Watertown on its way between Chicago, Minneapolis and Seattle.  The drive is being coordinated through the Watertown Daily Times.  Petitions will be available at the Daily Times office beginning on Friday.  They will also be available at the municipal building, chamber of commerce office and M&I Bank of Watertown.  An effort will be made to gain over 1,000 signatures to present to Gov. Tommy Thompson who also serves as chairman of the board of the national passenger railroad corporation.  Thompson has been made aware of the petition drive.
↓   More on Amtrak Petition Drive   ↓
Support for Amtrak Station
Stop in Watertown
Watertown Daily Times, 10 02 1999
Gov. Tommy Thompson should have been at the Amtrak station in Columbus on Sunday.  Had he been there, it would have been clear there is tremendous support for an Amtrak station stop in Watertown and that interest in passenger trains is at a high level.  Sunday over 400 people, many of them young children clutching their favorite stuffed animal, came to Columbus for a short demonstration ride to Watertown.  So big was the crowd that it overwhelmed the station agent and Amtrak personnel.  It took nearly half an hour to board what Amtrak personnel estimated at over 350 people for that short run of about 20 miles in about 18 minutes.  Many others left the station to drive vehicles back to the Watertown stop on South Third Street to pick up the passengers.
↓   More on Amtrak Petition Drive   ↓
5,700 Signed Petitions
Watertown Daily Times, 11 19 1999
Over 5,700 people have signed petitions urging Gov. Tommy Thompson to convince Amtrak's board of directors to make a permanent stop for the Empire Builder.  The Watertown Daily Times sponsored a petition signing effort to show support to the permanent stop.  At the present time the Empire Builder travels right through the heart of Watertown once a day in each direction but does not stop.  In a one month period a total of 5,704 people voluntarily signed the petitions urging the permanent stop.  In connection with the petition drive, a special prize was offered for the person securing the most signatures.  The winner of that contest was Dave Schmeichel of 506 1/2 S. Third St., who collected 2,593 signatures.
Proclaimed in Watertown
Watertown Daily Times, 05 14 2009
Watertown Mayor Ron Krueger has declared Sunday as Blue and White Sunday in recognition of the law enforcement officials in the city.
Calvary Baptist Church, 792 Milford St., will host a tribute called "Blue and White Sunday" during its Sunday service to honor the committed public servants.
Calvary Baptist Church desires to express the gratitude of the entire community for the courage, dedication and outstanding performance of the law enforcement personnel in Watertown and the surrounding area, Krueger said in his proclamation.
Watertown's police officers are in the forefront of the effort to maintain peace, tranquility and the rule of law within the community and they have dedicated their lives to protecting and serving the area, even in the face of great personal risks, Krueger's proclamation also read . . .
Deputy Chief of Police
Watertown Daily Times, 05 12 1999
A veteran police officer of nearly 17 years with the Watertown Police Department has been promoted to the newly created position of deputy chief of police.  The police department and Watertown Police and Fire Commission have confirmed the promotion of Timothy J. Roets at its meeting Monday.  "I am proud to serve the department and city in a new role," Roets said.  Roets was hired on Aug. 10, 1982.  After being assigned briefly to the patrol division, he was transferred to the juvenile bureau.  He was promoted to sergeant on Jan. 16, 1985, and assigned to the detective division.
Watertown Fire Department
Watertown Daily Times, 05 15 1999
In the first quarter of this year, the Watertown Fire Department received the largest volume of calls since the department was first formed in the 1860s, the days when horse-driven pumper wagons responded to fires. And the calls will not decrease, Watertown Fire Chief Dick Olson said. To handle the load, he is requesting more staff and an additional ambulance. Olson said he will be making a formal presentation to Watertown Mayor Fred Smith and the finance committee for three additional staff members and an ambulance for the year 2000. People called for service 532 times during January, February and March, up 26 percent from the same three months in 1998. In those first three months of 1998, 452 calls were made.
Watertown Daily Times, 05 14 1959
The three daughters of the late Joseph E. Davies have purchased that portion of his Washington estate, known as Tregaron, the proceeds from which are to go in equal amounts to the Joe Davies Scholarship Foundation and the Washington National Episcopal Cathedral.  Announcement of the sale to the daughters was made this morning in Washington.  The daughters are Mrs. Millard E. Tydings, Mrs. E. Fountain Brown and Mrs. Robert Grosjean.  The sale price was not disclosed, but it was reported that the sum is greater than the highest of three appraisals made by three Washington realtors.
1909 State Fair
Watertown Gazette, 09 10 1909
Special features for the Wisconsin State Fair:
Match race between "Dan Patch" and "Minor Heir," the two fastest race horses in the world.
Head-on railway engine collision.
In front of grand stand, "The Burning of Chicago."
Visit and address by President Taft [Sept 17].
Watertown Gazette, 10 01 1909
Ernst M. Wood, former resident of Watertown and a former member of the Phoenix Fire Co. [file on Watertown Fire Dept ], writes as follows to a friend in this city:
Chicago, Sept. 26, 1909
Dear Friend:
Some of the notations on one of your recent letters caused a smile to spread over my features as I read over again and recalled some of the amusing expressions which were current at the time there was so much rivalry between the East side and West side fire companies in the old home town.
The promptness with which the Phoenix company responded to alarms of fire and the speed with which they got there was undoubtedly a surprise at times to the faithful boys in No. 1.
If they only knew how it was done, they would have discovered that "the Irish" laid awake at nights and slept with the Silsby and studied possibilities and made careful preparation for every condition that might be presented to them, so they were seldom caught napping.
Occasionally when they could swing into First Street, right past the No. 1 house, while the Ahrens boys were hitching up, it was certainly a galling experience for some of the boys who composed the company on the East side.
Yet those East side boys were good, earnest, hardworking fellows and they truly acted as a spur to the Phoenix boys and brought out the sterling qualities of the latter to a much greater extent than would have been the case had there been no rivalry existing.
As far back as I can remember, there was an antagonism between the German boys on the one side and the Irish boys on the other, which sometimes assumed annoying proportions to all concerned.  This has reference in particular to the school boys, and either nationality that might be caught on foreign ground was sure to get a race for his temerity or a bloody nose in the encounter that followed.  These hand-to-hand conflicts gradually disappeared as the youngsters grew into manhood, but the fighting spirit still continued and resulted in the good natured rivalry which followed the purchase by the city of two steam fire engines when the city fathers had only intended to buy one.
We can all look back now and smile at the enthusiastic reception which was given to the Ahrens engine and the chilly atmosphere that surrounded the Silsby when these two competitors arrived in the city of Watertown in 1876.
The days that followed were gala days and we all enjoyed the tests and trials and contests with which the "spritz" machines regaled us.  The citizens seemed to have little other occupation than to watch the various performances of these two engines in the many tests that were to decide which one was to be purchased by the city.  Then, when the city council, or rather the board of street commissioners, decided to purchase both engines it proved a matter of great civic pride to feel that we were possessors to two such efficient fighting machines.
The city rolled over in its long sleep, but did not fully awaken until long years afterward; not until the members of those fire companies, many of them long scattered to the four corners of the earth, not until a younger generation had grown up, another element of advancement had filtered into the atmosphere, a new spirit of progress coursed through the veins of the people, and then the slumber of generations seemed to be satisfied.
The old nightmare of the railroad bonds had become a thing of the past, the spirit of improvement became infectious, capital was encouraged to venture within the gates, streets were paved, sewers built, water and electric light service installed, store fronts improved with plate glass windows, new buildings erected, restful comfortable homes built in all parts of the city.
Meanwhile, smiling cheerfully upon it all, are the beautiful shade trees, the well kept lawns and general air of prosperity which completes a picture of joy and comfort and happy environment that sends a thrill of pride into the hearts of the old timers whose privilege it is to gaze upon the beauties of the old home town that knew them in the years which are past and gone.
The Ahrens and the Silsby boys, the sack and hose companies with the boys in the little supply company, were all working for the welfare of the city, and no matter what the shortcomings of the one or the other, there was a unity of purpose which helped to make better men of them and at the same time provided a fairly good quality of protection to the property of the citizens at large.
There is not one who took part in the events of those interesting times but who can look back upon them with a certain inexpressible feeling of joy and pride that lingers in the memory with fondness, born of the home-loving spirit and I wish them success wherever they may be.
To those who are still in the old home town, give my kind regards and best wishes.
Yours very truly,
E. M. Wood
Strawberry Season
Watertown Democrat, 06 30 1859
The strawberry season this year is a poor one.  There is not half the usual yield and the current price is from twenty to twenty five cents a quart.
Green Peas
Watertown Democrat, 06 30 1859
Green peas are hawked about our streets daily at from two to three dollars a bushel.
Fischer & Son to Enlarge Store
Watertown Gazette, 06 25 1909
The great reduction sale at the store of Charles Fischer & Son Co. is now going on, previous to extensive improvements to be made in this popular business house.  The show window of the store is to be enlarged and lowered so that a much larger and better display of goods can be made; the rooms in the second story formerly occupied by the late Harlow Pease as law offices are to be added to the Fischer store and will be used for their carpet and drapery department, which are now located on the third floor, and the third floor will be used exclusively for ladies' ready-to-wear goods, and other extensive improvements will be made.  Fischer & Son's business is growing from year to year so that they now occupy every inch of room in the three-story block and basement at 102 West Main Street [106 W Main].
Watertown League of Women Voters
Watertown Daily Times, 09 09 1959
At its first general meeting since gaining recognition as a local league, the Watertown League of Women Voters elected five officers and six board members.  The officers are Mrs. S. William Winogrond, president; Mrs. John Becker, first vice president; Mrs. Bernard Traeger, second vice president; Mrs. Donald Krezek, secretary; and Mrs. Thomas Block, treasurer. The new board members who will choose their portfolios at the October board briefing supper meeting are Mrs. Ralph Ebert, Mrs. Nelson Fischer, Mrs. Fred Luhman, Mrs. Gerald Mallach, Mrs. Vane Peck, and Mrs. Marvin Schilling. Elected to fill the non-board positions on the nominating committee were Mrs. Sam Luchsinger, Mrs. Ronald Moser and Mrs. Charles Yeomans.
Watertown Daily Times, 09 09 1984
A preschooler who can't balance on a beam, sort blocks by color, follow simple directions or see clearly may be headed for problems in school.  That preschooler can get help through the federal Head Start program, which is opening a new center this year in Watertown.  The new Head Start center located at St. Paul's Episcopal Church, 413 South Church Street, will open next Monday, Sept. 17, under the direction of teacher Judy Dill.  The Watertown center, the second in the Jefferson County Head Start program, will serve 48 local youngsters.  The Head Start center in Whitewater serves 77 Jefferson County preschoolers.
Eighth Grade Graduating Exercises
Watertown Gazette, 06 25 1909
Turner Opera House was packed with people last Wednesday evening to witness the graduating exercise of the eighth grades of our public schools.  These grades are taught by Miss Ida Kopp and Miss Catherine Ryan and that they have served our people well in that capacity during the past year was well illustrated by the excellent program rendered Tuesday evening by the graduates of these grades.  Every number on the program was excellently rendered and thoroughly enjoyed by all present.  The class motto was "Not Finished But Begun."
Watertown Daily Times, 04 09 1915
"Bob" is Back—J. P. Holland, editor of Watertown Daily Times, has returned to his home from Hot Springs, Arkansas, where he has been taking baths and medical treatment for rheumatism.  He is much improved in health and will very soon "take his pen in hand" and make copy for the Times.
Watertown Daily Times, 10 10 2009
Immanuel Evangelical Lutheran Church will launch a major initiative this weekend, designed to build greater involvement on the part of its membership and greater capacity for ministry in the community and the world. "God's Work, Our Hands" has been selected as the program theme.
For assistance with planning and coordination, the church engaged the services of Vision2Serve, a ministry consultant group headed by Rawhide Boys Ranch founder John Gillespie.
The goals identified in the planning process include program expansion for the congregation and the Watertown community, as well as mission outreach in urban and international locations.  Everything from expansion of youth programs, to community education classes and greater opportunities for international mission trips
Immanuel leadership is looking to build on the congregation's strong legacy of social ministry in Watertown.  The church currently provides space for several groups serving the community, including the Watertown Food Pantry which provides assistance to hundreds of families in the Watertown area, and the weekly Bread and Roses dinners, offering food, clothing and other assistance to individuals and families.  The church building was also the original site of the Watertown Women's Center, an outreach program that eventually grew to become the Counseling Center of Watertown.
The "God's Work, Our Hands" initiative will have its formal launch at the worship services.
Enrollment Lowest in Two Decades
Watertown Unified School District
Watertown Daily Times, 10 09 1984
For the eighth consecutive year, enrollments in the Watertown Unified School District have decreased, and the number of students now attending the local public school system is the lowest in two decades.
Final official enrollment figures for the district show a decrease of 76 students.  Enrollment in the district now stands at 3,181 students, down from last year's official total of 3,257.  Although the overall figures are down, for the first time in several years elementary enrollments are slightly ahead of a year ago.  This indicates the long-expected stabilization or moderate growth in enrollments may be near.
Methodist Episcopal Church Dedication
Watertown Democrat, 07 14 1859
Dedication—The enlarged Methodist Episcopal Church of this city will be dedicated next Saturday.  The Rev. W. G. Miller, the Presiding Elder of this district, Rev J. M. Leihy and Rev. A. C. Huntley, together with other clergymen from abroad will be present and take part in the impressive ceremonies.  Services will commence at 10 1/2 A.M. and 7 1/2 P.M.  The Methodists have now a large and commodious house of worship.  The considerable improvements which they have recently made will better accommodate the large numbers who assemble there to engage in religious exercises.  A parsonage has been added to the present building, which will secure a pleasant and permanent residence for their minister.
Never Attempt to get out of Debt
Watertown Democrat, 07 21 1859
The man who owes nobody is a poor miserable being; nobody manifests any interest in his welfare—nobody cares a continental cent whether he lives or dies.  He is lean, hungry, and generally as poor and wilted as were the pin-feathers on Job's turkey.  Look at our great men; they are all debtors—owe everybody; our men of science, our authors, our sensation ministers—all, the entire cahoot of them, are deeper in debt than Pharaoh's army were in the Red Sea.  Debt ennobles man; gives him a more expanded and liberal view of human nature; keeps him moving—especially if he never pays rent.  Nothing will cure the consumption quicker than a strong dose of debt, properly taken.  To owe, is human; to pay, is divine.  Therefore, till man becomes superhuman, he shouldn't attempt to emulate divinity.  The science of payment is to get in debt to somebody enough to pay somebody else whom you owe.  By this means, you avoid getting out of debt, and yet maintain a reputation of paying.  The greatness of a nation increases with its national debt.  Make a note of this at ninety days.—Quiz.
in Watertown
Watertown Daily Times, 10 09 2009
Area residents will have the opportunity to take college courses through Marian University at a new center in Watertown.  The university held a ribbon cutting ceremony Thursday with the Chamber of Commerce.
The university has offered classes in Watertown since 1996 at several locations in the city.  The new center at 807 N. Church St. will be its first permanent location.  In previous years classes have been held at the Holiday Inn Express, Watertown High School and most recently at Bethesda Lutheran Communities' campus.
Marian University is an applied Catholic university located in Fond du Lac.  The Sisters of St. Agnes sponsor the university and have a long history in Watertown.  In 1913 they began serving as teachers and administrators at St. Bernard's Catholic Church Parish.  Their legacy includes a history of many women from Watertown who entered the congregation.  The university offers more than 40 undergraduate and graduate programs at its main campus and a variety of adult accelerated-degree programs in facilities throughout Wisconsin. 
Watertown residents can take courses at the local center in liberal arts for degree completion, Bachelor of Science in radiologic technology and bachelor of business administration.  Majors offered include general management, human resource management, criminal justice administration and grief and bereavement.  The master's degree in educational leadership and professional development courses for educators have been and continued to be offered here.
The new center is located in the same complex as RE/MAX and includes two large classrooms.  Crucifixes in each classroom were carved in Nicaragua where the Sisters of St. Agnes have ministered since 1945. 
Stirred Up
Watertown Democrat, 07 21 1859
Stirred Up—Our Milwaukee friends seem to be thoroughly aroused, though this is not exactly the season when even active and enterprising people would like to be awakened during a short period of needful and welcome relaxing from the more intense pursuit of business.  But, in truth, it is time for the inhabitants of our commercial metropolis to look around and see where they stand and whither they are tending. 
We object to no measures calculated to build up the largest and chief city of our noble state, but raise our voice only against the schemes and sentiments intended to pull down and prostrate interior towns.  The future of Milwaukee is in her own hands, and we wish her nothing but prosperity and success—but hereafter she must stand on her own merits and advantages, and can no longer make the rest of Wisconsin tributary to her persevering and reckless selfishness, beyond what she is legitimately entitled to receive from the superior inducements and facilities which she can offer to those whose trade she solicits.  There are other places and markets to which the people at large will soon have ready and easy access, and all will follow the first rule of their own welfare—that is, go where they can buy cheapest, and sell where they can sell dearest.  If to Milwaukee, we shall be glad—if to Chicago, we shall not mourn.
We submit these remarks as prefatory to a few comments which we wish to offer on a portion of a communication to the Milwaukee Sentinel, which that paper thinks of sufficient important to make a leader under its editorial head.  The suggestions of the Sentinel's correspondent are so absurd, ridiculous, silly and impracticable as to be really laughable and diverting—a good deal better reading [during] this hot weather than Sam Slick or Doesticks—were it not for the bad temper and worse taste they manifest.  After demolishing the idea of a Horse Railroad for the La Crosse depot to that of the Milwaukee and Chicago Railroad, the writer of the article under consideration goes on to provide a way to avert the evils impending over his favorite city, as follows:  Listen to the counsel of a sage in the mist—under a cloud—full of fear—talking at random—beating the air—wild, wrathy, desperate, "full of sound and fury, signifying nothing."
"The remedy for all this evil was to have extended the Watertown railroad from Columbus to Portage city, instead of extending it from Watertown to Madison, where it can only injure the M & M Railroad by competing for the local business of Madison without helping this city or any other place.  With the Watertown railroad to Portage, then a connection could have been made directly with the Lake Shore Railroad, which would have made this route shorter and quicker than any other.  In that case the present La Crosse railroad from this city to Portage could have been used for its large local business and for the accommodation of the North and North-West travel and freight.
"It would be far better for all interested, even at this stage of the work on the Watertown road, to abandon all that is done between Watertown and Madison and complete the road from Columbus to Portage.  This would pay something but the other will never pay one cent upon its capital and can in no possible manner benefit the city of Milwaukee."
We wish it distinctly understood, that so far from objecting to the building of the short section of railroad between Columbus and Portage city, we very much desire to see the work accomplished.  If the La Crosse and Milwaukee Railroad Company, or their successors, are honest, they will redeem their solemnly pledged word to the State, and construct that line.  They have promised to do so, and if they corrupt no more Legislatures, they will be compelled to do it before they get a title of the land grant, to which they have not the shadow of a claim [until] they construct this small fragment of an unfinished railroad.  But the vague and silly notion of abandoning the building of a line of railroad which is sure to prove immensely profitable is the climax of folly.
Date set for Lights 'n Sirens event
Watertown Daily Times, 03 21 2007
One of Watertown's most popular summertime events, Lights 'n Sirens, will be held at Riverside Park on Thursday, July 12, from 6 to 8 p.m.
Planning is under way for the eighth annual community safety fair.  This is a good opportunity for both children and adults to get "up close and personal" with local safety professionals.  The event is intended to promote injury prevention through education and provides the community the chance to meet with public safety personnel in a relaxed setting.
The event is sponsored by Watertown Area Health Services, Watertown Family Center, Watertown Police Department and Watertown Fire Department.
Watertown Democrat, 07 21 1859
Mr. Peter Bertholf has recently purchased and bought to this city a large and commodious Omnibus, which will be found at the railroad depot every evening and morning, or whenever the cars arrive, ready to convey passengers to the hotels or to any part of the city.  It is the most elegant establishment of the kind in the city, and we hope the enterprising and gentlemanly purchaser will find his reward in the patronage and liberality of travelers and citizens.
[Cross Reference:  Peter Bertholf, proprietor, Robinson House. s e c Main and First, 1866-67 Watertown City Directory]
New Name for Northwestern University
Watertown Gazette, 07 02 1909
Northwestern University is to be renamed.  This was decided upon and a resolution to that effect passed by the Wisconsin Synod of the Evangelical Lutheran Church Monday afternoon at its annual meeting in Grace Lutheran Church, Milwaukee.
It has long been held that the name Northwestern University has become common and is confusing.  The institution is frequently confused with Northwestern University at Evanston.  On Saturday a committee was appointed to consider the proposition of changing the name of the Watertown institution.
The committee reported, presenting a resolution to the board of regents [to] submit a new name to the next annual meeting of the synod.  This resolution was adopted.
The board of regents was authorized to purchase two acres of land near the university, suitable for professors' residences.  It was decided that the synod undertake the erection of a new professor's residence every year until the faculty is accommodated.  Five professors have already been provided with homes by the synod.
Glidden Tourists Reach Watertown
on Way to Denver
Watertown Gazette, 07 16 1909
Like a small army of mysterious, phantom creatures from another planet, garbed in close fitting Norfolk suits of khaki, legs encased in pattees, their heads muffled in yellow helmets and caps while they peered through tiny glass windows that afforded protection for their eyes, the contestants in the Glidden tour swooped down upon Watertown Wednesday afternoon.
Hundreds of people crowded the sidewalks to see them.  The first pilot car reached here at 12:10 and from that time on till toward the end of the afternoon all kinds of autos connected with the tour passed through Main and West Main streets.  The speed of some of them was terrific.
Every once in a while a "contestant" would arrive and great would be the rejoicing thereof.  For the most part it appeared as if the entire schedule was made up of "pilot" cars.  This is strictly a reliability tour and all contestants have to make a report of all accidents, the amount of oil, water and gasoline consumed and are given a specified schedule between all points, and at every point a station is placed . . .
All manner, makes and price of automobiles enter the Glidden tour every year.  This is the eighth annual tour and it has become more popular every year.
Gas That Can Be Shipped
Watertown Gazette, 08 13 1909
A most momentous advance has been made in providing gas for light and fuel in small communities by the discovery of a process allowing liquid lighting gas to be produced.  This material—called Blau gas, from the inventor's name—is gaseous like air under atmospheric pressure and liquid like water under increased pressure.  From a chemical point of view it comprises the same elements and compounds as coal gas, though in considerable different percentages.  It can be put into steel bottles of different sizes and conveyed to the place of consumption.  An amount corresponding to the daily consumption is introduced into a reservoir in which it expands to four hundred times its volume.  [Blau gas (German: Blaugas) was an artificial illuminating gas similar to propane named after its inventor, Dr. Hermann Blau of Augsburg, Germany.  Blau gas was the buoyancy compensating fuel for the airship Graf Zeppelin]
Watertown Daily Times, 10 12 1959
Announcement was made yesterday at the close of the two day search project conducted by the Wisconsin Wing of the Civil Air Patrol that Col. Richard Jaye, Wisconsin Wing Commander, has been promoted to deputy commander of the Great Lakes Region, which is made up of five states, Wisconsin, Michigan, Illinois, Indiana and Kentucky.  The local airport was the headquarters for the project.  Jaye, who is president of the Syncromatic Corporation of this city, has been head of the state wing for the last four years.  Headquarters for the wing will continue to be located here.
Watertown Daily Times, 10 12 1999
The Chop Shop is open for business, but don't bring stolen cars in.  The dance club and bar opened after owners Gene and Nellie Stoiber moved half of a 1987 Cadillac Sedan DeVille and half of a Grand Prix into the center of establishment.  The car would become a favorite spot for future patrons.  With the parts of two cars in place, they had set up shop.  The Stoibers wanted the establishment to look similar to a place where stolen cars are cut up and sold.  Almost 50 hubcaps and steering wheels are displayed on the Chop Shop's walls.
Harvest Begins
Watertown Gazette, 07 16 1909
Farmers in this vicinity have begun to harvest rye and barley and reports say that these crops are excellent—in fact, all kinds of crops are looking well, but just at present need rain badly.  The hay crop is unusually large.
Watertown Gazette, 07 16 1909
Tuesday morning while Fred. Krueger and wife and six-year-old son of Lebanon were driving in North Third Street, this city, a portion of the harness on his horse broke and the animal made a mad dash down Jones Street.  At the corner of North First Street the horse ran into a number of workmen, running over Chris. Halpap, who miraculously escaped injury.  The occupants of the buggy were thrown out and slightly injured.  Dr. Feld attended them.  The horse continued in its flight as far as the railing at the river bank and then turned south into the Bursinger residence premises where it ran into a chicken coop and was brought to a halt.  The horse was not injured and the buggy only slightly damaged.
Watertown Gazette, 07 16 1909
Notre Dame, Indiana—The changes among the presidents and professors in the colleges of the Holy Cross Order were announced at a final session of the Provincial Chapter.
Rev. John Boland, pastor of St. Bernard's Church, becomes president of St. Edward's College, Austin, Texas.  Rev. Father Hennessey succeeds him at St. Bernard's, with Father Phelan his assistant.
Rev. D. P. O'Leary, president of Sacred Heart College, assumes the professorship at Notre Dame, while his place will be filled by Rev. D. O'Malley, rector of Sorin Hall here last year.
                 _____________________________________________
Rev. Father Boland's administration at St. Bernard's Church in this city was very popular and his congregation regrets his transfer to other fields.  He had been president at St. Edward's College, Austin, for a number of years and built the present magnificent college there.  The members of St. Bernard's have never had a more popular or better pastor.  He was not only esteemed by his own congregation but by the people of Watertown in general and his departure from this city is greatly regretted.  Father Boland says this short stay in Watertown was greatly to his liking and he would prefer to remain here had he his say in the matter.  The college at Austin is one of the largest branch houses of the Holy Cross order and he will have a large field to display his abilities.
His successor, Rev. Father Hennessey, is well and most favorably known here, having been for years connected with Sacred Heart College.  During the past year he has been located at New Orleans.  We predict for him a popular administration at St. Bernard's.  His assistant was for a short time assistant under the late Father Rogers, and he is well and most favorably known to many of St. Bernard's parishioners.  He will also serve St. Joseph's congregation at Richwood.
Rev. Father O'Leary will also be greatly missed from Sacred Heart.  He has made many fine changes at that institution which have added greatly to its popularity and under his administration the attendance has been considerably increased.  The people of Watertown in general dislike to see him go elsewhere and all trust his good works in his new position will be as popular as they were in Watertown.
Father O'Leary's successor, Rev. D. O'Malley, formerly attended school at Sacred Heart and is well known here, being a cousin of Dr. M. O'Malley of this city.  He is a most worthy successor of Father O'Leary and Sacred Heart under him will no doubt continue in its present prosperous condition.
Watertown Daily Times, 10 13 1959
The Riverside Park popcorn hassle, which was brought into the open at the city council meeting on Oct. 6 today seemed headed toward a solution and a report to that effect will be filed with the council at its meeting next Tuesday night.  The issue was brought into the open by the Pitterle-Beaudoin Post No. 189, the American Legion when its commander told the council that officers would find it difficult to sign up a carnival for rides and concessions unless such group was given exclusive rights to concessions at the park for the annual Fourth of July celebration which the Legion sponsors each year.  A report received by the Times today stated that the solution calls for the carnival company to have complete control of all concessions on the Fourth of July midway in the park.  There is nothing to bar "outsiders" to maintain stands in other parts of the park, but they will not be permitted on the midway.
Watertown Daily Times, 10 13 1999
Watertown High School's Marching Band is gearing up for the trip of the millennium - a visit to Miami, Fla., over New Year's Eve to perform in the Orange Bowl parade.  Watertown will be one of only 10 high school bands in the world to march in the parade.  The group was selected based on its outstanding musical performance and visual impact, geography and strength of community support.  Watertown took home first place after marching in a Branson, Mo., parade in 1995, and has performed at the Kickoff Classic in New York City, N.Y., in 1997 and the Great Circus Parade in Milwaukee earlier this year.
Free Paper Shredding Event
Watertown Daily Times, 10 13 2009
Good Shepherd Lutheran Church will be holding a free paper shredding for the community event on Saturday.  An opportunity to make donations to the United Way of Watertown, the Watertown Police Department K-9 project, Rainbow Hospice, Bethesda Lutheran Communities and the Watertown Humane Society.
"We've really been trying to emphasize community service more than we have in the past.  I'd like to see every member and every group of our church doing something for the community — from building a home with Habitat for Humanity to teaching English as a second language.  We don't do acts of mercy to grow the church, or just so we can witness to people. We do them because that's who we are.  We do them because that's what Christ did.  Sometimes we worry too much about the world seeping into the church, when what we should be worrying about is whether the church is seeping out into the world."
- Rev. David Groth of Good Shepherd Church
The Community Gardens of Good Shepherd also came out of this emphasis.
"We were cash poor but land rich, and thought some folks who live in apartments might really enjoy growing their own food.  We weren't able to offer gardens this year until the very end of the planting season. Still, folks signed up for nine garden plots, and they seemed to produce pretty well. Overall, people really took good care of their plots, and we always enjoyed seeing them out there, taking in some of the beautiful summer days we had."
Watertown Gazette, 07 23 1909
Under date of July 14, 1909, M. A. Began writes from Effingham, Ills.:
Editor Gazette:  Enclosed find check of balance account and fix me out on your books.  All well and happy here.  We have no end of rain and rushing rivers now.  I never saw as much wet weather since the months of May and June, 1891 or 1892.  I remember those wet months in Watertown because I sold all the rubber rain coats I had in stock.  Some oily-tongued drummer sold me four dozen rain coats in 1887 and it never rained for four years after I got them.  In the year mentioned it began to rain in the beginning of May and kept at it up until the last of June.  There were but eleven dry days in the two months and my coats were like cool beer in a dry town, until but one remained.  That one was too wide and too long for any customer that called.  I had about given up hope of getting rid of it, and thought I'd have to make a present of it to some big piker that I'd see prowling along the street some cattle fair day, when one night an Irishman from the third ward known among his German friends as "Kline Billey," came in and wanted a rain coat.  I put it on him and he swirled around like a whirling dervish and said the coat was all right, only there was too much of it.  Have you a pair of scissor he says, I have said I, well shear off about four feet from the end of this coat and I'll take it said he.  He backed up to the counter and I clipped off the superfluity and rolling it into a bundle like a side of sole leather he put it under his arm and said:  "If the coat ever leaks, now I'll have plenty to patch it."
Bernard's Church Heating Contract Let
Watertown Gazette, 07 23 1909
Wednesday evening the contract for getting in a new heating system at St. Bernard's Church, school and residence was let to the Downey & Kruse Co. of Milwaukee for $4273.  This includes a Hawley Down Draft smokeless firebox and boiler, which costs $650 more than other firebox and boilers considered, but if soft coal is to be burned in the future at St. Bernard's, and this being a residence part of the city, it was thought the proper thing to have as little smoke as possible.  This will be the first Hawley Down Draft plant put in here and good results are looked for.
Watertown Gazette, 07 23 1909
On Tuesday the American Cigar Co. closed its warehouses and assorting plant here and they are to remain closed permanently.  It appears the company is concentrating their assorting plants as far as possible to the tobacco growing districts to save cost of freight and handling.  Superintendent Earl will be taken care of elsewhere by the company.  Our people regret very much the departure of himself and family from the city.
Watertown Gazette, 07 23 1909
Watertown, Wis., July 16, 1909
Being called to Watertown to officially investigate the explosion of an oil stove on Thursday, July 15, 1909, at the residence of Miss Ada Reason, I find the oil remaining in [the] can from which the oil stove [was] filled as follows:
Flash test 138 degrees.
Burning test 158 degrees.
Both tests were thirty-three degrees higher than the government requirements and consequently the oil was not at fault.  It is my opinion that the explosion was caused by either a defective stove or faulty manipulation of same.
Chas. Mohr, Jr.,
Deputy Oil Inspector
Resigns Position in Gazette Office
Watertown Gazette, 07 30 1909
William J. Stacy, who has been employed in The Gazette office for the past 28 years, has resigned his position, to take effect on Saturday, July 31, 1909.  He has been associated with us so long in our office that it seems like parting with a member of the family circle to have him leave and seek other employment.  He has always taken as much interest in the success of The Gazette as if it were his own property and during all these long years he attended faithfully to business and seldom took a day off from the every day routine of newspaper work.  He resigns voluntarily to become local agent for the Prudential Life Insurance Co., which has just established an office here.  We wish him success in his new line of work, and if he attends to the business as closely as he applied himself in The Gazette office, he is bound to succeed in any line of business, and we trust that William J. will "put in his best licks" in his new position.
Directors Elected
Watertown Gazette, 07 23 1909
At the annual meeting of the stockholders of the Watertown Improvement Company the following directors were chosen:  W. D. Sproesser, William F. Voss, F. E. Woodard, F. A. Hoffmann, H. Wertheimer.
Watertown Gazette, 07 23 1909
Last week Thursday night tramps entered Joe Robinson's restaurant in the rear of his saloon at the Junction, and after broiling two fine sirloin steaks, frying potatoes, making coffee, etc, to satisfy the cravings of the inner man, they departed without relieving the place of any further valuables.  They did not disturb the saloon part of the building, no doubt being afraid to force open the door between the restaurant and the saloon for fear of being heard.
Zindars Retires from Police Auxiliary
Watertown Daily Times, 10 14 2009
Auxiliary officer Dan Zindars recently retired from the Watertown Police Auxiliary after 13 years of dedicated service.
Zindars joined the auxiliary in November of 1996 and recently retired so he can enjoy his off-time from his full-time job as a machinist in Waukesha.
Watertown Gazette, 07 23 1909
At about 10:30 o'clock last Monday evening an alarm of fire was turned in from box 17, corner of Main and First streets, on account of an imitation palm being on fire in Schempf's drug store.  Mr. Schempf had only been away from the store a short time, and being in the vicinity his attention was called to the fire and he went to the store and with the aid of others he removed the palm to the street where it was entirely burned.  There was no other damage.  Had the blaze not been so quickly discovered a bad fire might have been the result.  It is supposed the fire took place from someone throwing a lighted cigar stump into the palm.
Watertown Daily Times, 10 14 1959
Watertown on Sunday will dedicate and hold open house in conjunction with three of its newest school facilities - the new Watertown High School addition, the new Schurz Elementary School and the newly remodeled older high school building.  The three projects represent an investment of $2,450,000.  The high school addition bond issue totaled $1,500,000, the Schurz School bond issue for remodeling the older high school portion totaled $550,000.
Watertown Daily Times, 10 26 1959
George E. Watson, state superintendent of public instruction who was the principal speaker of the Watertown High School dedication on Oct. 18, thinks the new state law which requires all territory in Wisconsin to join a high school district by July 1, 1962, is an excellent one.  Watson made his views known at Madison yesterday.  The new bill, adopted at the last legislature session, was signed by Gov. Gaylord Nelson this week.  Nelson said that he and his staff had been in favor of such legislation for a long time and that the state office had favored it long before he became superintendent.
Watertown Daily Times, 10 14 1984
At first glance, the circumstances and surroundings may seem a little odd.  That is, it's not every day that a foreign cheese company opens up a production plant in the heart of America's Dairyland.  But for French-based Bresse Bleu, the world's largest producer of blue cheese, the time, the feeling and the location are all appropriate.  As a result, the firm has opened its first production plant in the United States - on highway 26, five miles north of Watertown, the former location of the Heim Cheese Company.  The company held a semi-grand opening of the new 5,000 square foot plant Wednesday evening with company officials from France and members of the French press in attendance.  However, the local facility formerly began operations Oct. 1 after state inspection and approval.
↓   More on Bresse Bleu   ↓
Watertown Daily Times, 01 12 2001
Bresse Bleu, a cheese manufacturer north of Watertown, has announced it will discontinue operations April 27.  The company's 51 employees of the company were informed of the plant closing Friday afternoon, according to Kurt Premo, plant manager.
"All of Bresse Bleu's full and part-time employees will be kept on until that time," Premo said.  In addition, 25 to 30 employees from temporary employment firms have also been working at the cheese operations.  "Over the course of the next one to three months, we anticipate these people will be affected as production dictates," he added.
Retail Liquor Dealer's Convention
Watertown Gazette, 07 30 1909
G. M. Gahlman, John J. Brusenbach, Robert Woelffer, Simon Molzahn, C. F. Otto, R. Schott, Fred Bittner, Edward Voigt, Fred M. Creuz, J. T. Heon, H. W. Kronitz, Otto G. Schott, Arthur Goeldner, Ernst Hoeffner and W. C. Radke attended the Retail Liquor Dealer's convention in Sheboygan this week.
Another Watertown Boy Goes to the Front
Watertown Gazette, 07 23 1909
The De Queen, Arkansas, Bee Industrial Illustrated number of June 25, 1909, contains a fine picture and write-up of M. G. Bock, a former resident of the Milford Road, this city . . . "He was born in 1872 in Watertown, Wis., and was educated in the public schools of that city.  At the age of seventeen he went to work in the Northern Pacific shops at St. Paul, Minn" . . . .
Watertown High School
Watertown Daily Times, 10 15 1959
Watertown High School will present its new theatre for inspection by the public on Sunday as part of the dedication program and open house at the high school.  L. Nickleson was the architect and designer of the "Little Theatre."  It seats over 700 persons.  Miss Kathryn Skinner, Richard Stark and Fred Amthor worked on the plans for the new theatre while George Vinger advised on the carpentry.  Various schools in other areas were visited to secure ideas for the new theatre.  Such visits were made by Miss Skinner, Mr. Stark and A. E. Bentzin, the latter chairman of the building committee.
New Headquarters
Wisconsin Evangelical Lutheran Synod
Watertown Daily Times, 10 16 1959
Newly established headquarters of the Wisconsin Evangelical Lutheran Synod which numbers churches in this city and surrounding area will open in Milwaukee on Dec. 1.  St. Mark's and Trinity Lutheran Churches in Watertown are members of the synod and St. Luke's Church also has an association.  The announcement of the new headquarters was made along with the report that the Rev. Oscar. J. Naumann, St. Paul, Minn., will become the first fulltime president of the synod.
Maranatha
Watertown Daily Times, 10 16 1999
More than 100 students from Maranatha Baptist Bible College on Monday gave property owners in the downtown area a jump start on spring cleaning scouring sidewalks to remove unsightly weeds which have overgrown some areas.  The students were responding to a request by the Central Business Association, which hopes that the students' hard work will be taken over by individual property owners next spring.  The CBA is encouraging those with businesses and homes in the downtown area to take steps after the winter thaw to prevent the growth of the weeds and grasses.  Equipped with screwdrivers, brooms and garbage bags Monday, about 130 Maranatha College students blanketed Main Street and side streets to pry the weeds from cracks.  The students took on the task with smiles and laughter, and by 7 p.m. the sidewalks and bricked areas downtown were markedly improved.
Jefferson County Old Soldiers' Reunion
Watertown Gazette, 07 30 1909
The Sixth Annual Old Soldiers' Reunion will be held at Jefferson on Thursday, August 26th.  An effort is being put forth to secure Gov. Davidson and Col. Geo. Bird as speakers.  The business meeting of the society will be held at 10:00 o'clock a.m.  Picnic dinner will be served at 12:00 noon.  At 2:00 p.m. the speaking program will commence.  At 4 o'clock it is proposed to charter all automobiles in Jefferson and take the old soldiers and their wives for an automobile ride in and about the city.  Remember the date and plan to be at Jefferson Aug. 26.
On the evening of Aug. 26th the S. O. V. intend to hold an ice cream social on the court house square, the receipts from same to be used to pay for the small balance due on the cannon and to start a fund to help provide a room and cases to hold all the old trophies of the war—such as guns, sabers, swords, etc., that may be found about Jefferson County.  It is high time something was done to collect in a central place all the relics of the Civil War.  Let all try and attend the social.
Watertown Daily Times, 06 01 1959
The Rev. A.S. Christensen, pastor of Immanuel Lutheran Church, this city, is one of 17 persons, most of them clergymen, who are preparing for a six weeks tour of the Holy Land. The party is due to leave Madison on June 26. Prof. Menahem Mansoor, chairman of the department of Hebrew studies at the University of Wisconsin, will conduct the tour. The tour will actually be a "traveling workshop," according to the Rev. Mr. Christensen. Those making the six-week study tour through the cradle of the Catholic, Protestant and Jewish faiths will see famous Biblical sites of both the Old and New Testament writings, view the world famous Dead Sea Scrolls, watch archeological excavations in progress, hear lectures by internationally distinguished archeologists and Bible experts, and gain an on-the-spot knowledge of Jordan and the young state of Israel.
Plan for New Parsonage Rejected
Watertown Daily Times, 06 24 1959
A recommendation made by a special planning committee of Immanuel Lutheran Church was rejected by members of the church last night at a special meeting of the congregation which was held at the church.  The committee had requested authority to spend up to $4,000 for the acquisition of a lot on which to construct a new parsonage and also requested permission to proceed with the plans for construction.  The proposal was rejected by a 98 to 79 vote.
Watertown Gazette, 07 30 1909
On Monday Jacob Sproesser, son of William D. Sproesser and wife, left for Milner, Idaho, where he has secured a fine position with the Twin Falls Northside Land and Water Co.  He graduated in the course of commerce from the state university, in the class of '09, with high honors, and he is well equipped to enter the business world.  He is a most excellent young man and all our people wish him success in his western home.
Ice Wagon
03 24 1906
A powerful team belonging to S. M. Eaton & Son, attached to an ice wagon, became frightened Saturday afternoon near Fifth street and ran away, going west on Main street at a breakneck speed, colliding with a buggy near the corner of Fourth and Main, belonging to Mrs. Amelia Brennecke who had come to the city with her son, who fortunately were absent from the buggy at the time as the vehicle was badly wrecked.  Pursuing their flight they struck another buggy belonging to Martin Stueber, a farmer, in front of the store of Schempf Bros. & Co., which was also badly wrecked and Mr. Stueber slightly injured.
Continuing their flight they struck a farm wagon opposite the Masonic Temple belonging to O. Brennecke, a farmer, taking off their hind wheels without injuring no one and then ran to the corner of Main and Washington streets, where they were stopped.  It is surprising that so little damage was done and only one person injured as street at the time was full of teams and people.
Richard Enrst Lauersdorf was born August 29, 1934 at Watertown, WI, the son of Ernst and Adela Lauersdorf.  Baptized and confirmed at St. John's in Watertown.
Graduated from Northwestern College in 1956 and from Wisconsin Lutheran Seminary in 1960.  Spent a year of vicarage at Grace in Tucson, AZ.
Married to Charlene Baumgarten of North Freedom, WI on June 26, 1960.  She was a parochial school teacher, piano teacher, is an artist, and author.  Four children: Beth - Mrs. Roger Kramp whose husband is principal at Mt. Lebanon in Milwaukee; Dr. Mark - wife Dr. Josee from France, both teaching at Luther College in Decorah, IA; James - wife Karen, he is regional sales rep for Luzenac of America, living in Manhattan, MT; Anne - Mrs. Clayton Drewa of Fox Lake, WI where she teaches at St. John's. Six grandchildren, one great grandchild.
Served the first mission of WELS in Canada, Our Savior's at Sault Ste. Marie, Ontario, June 1960 till end of December 1963.  Served St. Matthew's of Ontario, WI and St. John's of Kendall, WI, January 1964 till end of December 1968. Served St. John's of Jefferson, WI, January 1969 till end of August 1997.
Contributing Editor of Northwestern Lutheran 1974-1998, writing the opening devotional page for those twenty years.  Member of Board for World Missions 1969-1997 with service on its Latin American Committee, also as vice-chairman of the Board for World Missions, and as the chairman of the Committee for Mission Expansion.
1st Vice President of WELS 1987-2001 with service on its Conference of Presidents, Committee on Assignment of Calls, Coordinating Council, and Synodical Council.
Full time Vice President of Mission and Ministry for WELS 1997-2001 when retired.
Author of Hebrews Commentary in People's Bible series; of "With our Eyes on Jesus" (devotions on the twelve apostles, and other festivals); of "Be Near Me Lord Jesus" (devotions for Advent and Christmas); of "As Luther Taught the Word of Truth" (devotions on the Small Catechism).
Accepted a call to Good Shepherd Lutheran Church, West Bend, WI, and installed as part time pastor on March 2, 2003.
City Mourns Dead President
<![if !vml]>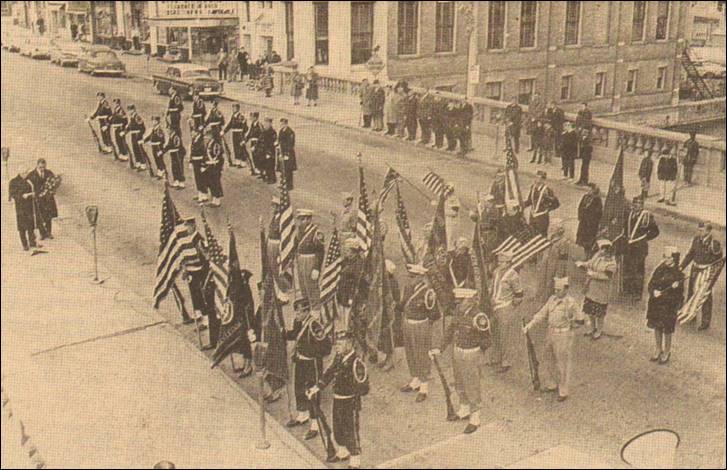 <![endif]>
Watertown Daily Times photo, 11 25 1963
A flag bedecked Watertown, with United States flags flying at half staff from buildings, today joined in the almost worldwide tribute to the memory of President John F. Kennedy whose funeral was held in the nation's capital.  The Watertown ceremonies were held on Cole Memorial bridge at 10 a.m., the starting time for the funeral cortege in Washington.  Participating here were Mayor Robert White who dropped a memorial wreath into the Rock River, a prayer was recited by the Very Rev. A. J. Herrmann, pastor of St. Henry's Catholic Church and a firing squad from the Pitterle-Beaudoin Post No. 189, American Legion took part.  There also were other local veterans organizations represented at the ceremony. 
Business places closed from 11 a.m. to 1 p.m. and schools, the post office, factories and banks joined in the day of mourning.
Watertown Daily Times, 10 17 2009
   In Times Square, full text article
1936
Oscar Hackbarth sent a photo from his scrapbook dating back to 1936 to the Watertown Daily Times.  It showed a large group of carrier boys (state law at that time prohibited girls from delivering the paper) who were entertained at a summer picnic near Pipersville.  The party was held at Surdick's cottage, no doubt along the banks of the Rock River. 
Carriers back that year were William Kehl, Earl Maas, Raymond Schlueter, Robert Schearer, Arthur Zimmermann, Norman Rusch, Edward Dusowsky, Oscar Hackbarth, Francis Kuenzi, James Kuenzi, Walter Kohls, Wallace Zastrow, Donald Gottschalk, Elmer Meschke, Harry Donner, Harold Cahoon, Clemens Brandenstein, George Zimmermann, Max Ullrich, John Usher, Clarence Schroeder, Louis Kohls, Henry Mitzner and Theodore Koerner.
Oscar told the paper that he and Robert Schearer ended up in an apprenticeship in the Daily Times composing room after World War II, and he also recalled Clarence Schroeder who made a career out of his work in the composing room.  Clarence was the paper's composing room foreman for many years.
1938
His second photo is also about carriers but this one was two years later and it was under similar circumstances. The carriers were treated to a ride in what the paper said was "a huge deluxe airliner." The photo showed a large plane with three engines.  Oscar said he remembered the plane took off from a field along Coffee Road south of Watertown. That must have been back before the airport was in its present location.
There were some of the carriers in this photo but most of them changed over that two year period. Carriers who enjoyed that ride were Ace Corban, Roy Schumann, William Dierksmeier (Lake Mills), Norbert Schoenike (Johnson Creek), Roy Henze, Jack Usher, Henry Mitzner, Bill Kehl, Walter Kohls, Harry Donner, Raymond Schlueter, Elmer Meschke, Max Ullrich, Edward Duddeck, Clarence Schroeder, Robert Roehl (Lake Mills), John Griffin (Jefferson), Oscar Hackbarth, John Brandenstein, Wallace Zastrow, Francis Kuenzie, Billy Geske (Waterloo), Donald Gottschalk, Ted Koerner, Edward Kortendeck (Lake Mills), Arnold Eben (Jefferson), Arvin Wepkin (Waterloo), Edward Dusowsky, Leroy Klingbeil, Arthur Zimmermann and George Zimmermann.
Watertown Daily Times, 10 19 1984
Because of strong community interest, "Edward J. Brandt, Inventor," a book about the early Watertown industrialist and the community in which he prospered, is now being made available to the public.  The book, authored by Charles J. Wallman, retired vice president of Brandt, Inc., was originally commissioned by the board of directors of the Watertown-based industrial firm.  It is a history of the company as well as Brandt and his decedents who continued to own and manage the industry until its sale to a public corporation in early 1983.
Watertown Daily Times, 10 17 1959
The homecoming festivities of the Watertown High School will be held three days this week and will include the traditional parade, bonfire, pep rally, football game and dance.  High school homecoming is the annual project of the student council.  Decorating of the store windows in the business section got underway yesterday.  The decorations pointedly call attention to the school's football game with the Waupun Warriors on Friday.  Homecoming queen is Shari Kuerschner and king is Dick Schumann.  In their court of honor are Kathy Clausen and Dick Rohde, Sandy Lindemann and Tom Podolske, Geraldine Wegner and Ralph Kuerk, Linda Quirk and Edward Buckland.  Master and mistress of ceremony are David McMurry and Kathy Downing.  Crown bearers will be Pamela Quirk and Jim Clausen.
211-213 N Third, Auto Dealer
1916 assumed
Last Friday, Knospe Bros. at Watertown turned over their garage to F. Faust of Vesper, Wood County to whom the same has been sold.  A farm in that section of the state figured in the deal.  August Knospe will remove to Wood county where he will look after his farm property for a while and Felix Knospe will retain the agency for the Mitchel car in Watertown during the 1916 season under the firm name of Knospe Bros.
1916 assumed
Thomas Garrity, age 79 years, a pioneer settler of Watertown, died last Thursday after an illness of several weeks.  He was born in New York City, April 16, 1837 and came with his parents to Watertown in 1846.  He married Miss Ellen Carley of Clyman, who died Jan. 21, of this year.  She was a sister of Mr. Dennis Carley of this place.  Mr. Garrity is survived by five sons and one daughter.  Funeral services were held last Saturday at 9 o'clock a.m. in St. Bernard's church.
Watertown Daily Times, 09 17 1984
Watertown Police Lieutenant Lavern E. Schumann was one of 250 police officers from around the world to graduate last week from the 138th session of the Federal Bureau of Investigation National Academy.  The degree represents 11 weeks of executive-level training including coursework in police management, ethics, law, urban police problems and behavioral sciences.  Schumann joined the Watertown Police Department in 1968 and in 1979 he was promoted to the rank of sergeant.  Later in the same year he was promoted to the rank of lieutenant.
Watertown Daily Times, 06 10 1959
Mel Damrow achieved what all golfers dream of when he scored a hole in one in men's night play at the Watertown Country Club Tuesday.  Damrow counted his ace with a three iron shot on the 198-yard No. 5.  A regular golfer for eight years, Damrow was pleased that the first hole in one he ever witnessed was his own.  His shot "landed on the green, took two hops and disappeared."  Damrow was playing in a foursome with Gary Ponath, Joe Richter and Gene Rooney.  He finished with an 80 after a shaky start in the two rounds.  Damrow is principal at Lincoln School.
Watertown Daily Times, 09 26 1959
The Riedeman-Thompson Post No. 35, Amvets has honored three of its members who have made outstanding records in service to the organization and veterans in general.  The three men honored include Gerald Schubert who recently resigned as Jefferson County service officer in order to accept a position in Milwaukee with Wisconsin Veterans Affairs Administration.  He received the Amvets National Certificate of Merit Award, signed by national officers of the Amvets.  The other two men honored are Robert W. Krueger and Donald A. Haznaw.
Wheat
Watertown Democrat, 08 04 1859
Good wheat is raised in every part of our state where it can be grown at all.  In some localities there may be occasionally lots poorer than some others, but this is not confined to any particular place.  That better wheat is raised in the counties of Brown, Outagamie, Calumet and Winnebago, than in the counties of Jefferson, Dodge, Columbia, and Rock, we do not believe, nor can any statement to that effect be substantiated by a fair test.  Take acre for acre and bushel for bushel, during one or a series of years, and we think that there can be no doubt that in any market, the grain of the valley of Rock River would be preferred, stand higher, and bring a larger price, than the grain of the Fox River valley, while in quantity there could be no comparison between the yield of the two regions.
Wheat
Watertown Democrat, 08 25 1859
There is one thing that farmers must make up their minds to do this year and that is to clean their wheat thoroughly and well, or be contented to take, when they come to sell it, a reduced price.  We understand that our dealers here, taking their cue from those of Milwaukee, have determined to discriminate between wheat that is free from all sorts of foul stuff and that which is not.  It is proper that they should.  So long as they do not, there is no inducement for one farmer to take the pains to clean his when he knows that another who takes his to market just as it comes from the threshing machine can sell it for the same price.
Pawnee Indian War
Watertown Democrat, 08 04 1859
The Pawnee Indian War in Nebraska has been terminated by Gov. Black and his party.  The Indians, about 1000 strong, were overtaken on Shell Creek.  The whites did not number more than 340.  These were commanded by Gov. Black, assisted by Major West, U. S. Marshal, and Lieut. Robertson, with about 20 or 30 regulars of Fort Kearny; the remainder were volunteers.  The Americans had one mounted cannon and on overtaking the Indians, three charges were made before the savages surrendered.  A number of the Indians were killed and wounded.  None of the Americans were killed and but few slightly wounded.  On the third charge the Indians ran up a flag of truce and immediately surrendered, grounded arms, and gave up all their stock provisions, ammunition, etc.
Nail Marks
Watertown Democrat, 08 11 1859
Once there was a little boy who had a father who loved him dearly and wished, as all good parents do, to have his much loved son be a good child.  So one day he told him that he would drive a nail into a post whenever he would do an act that was wrong, and when he would do a good deed he would pull one out.  Now I think that this little boy tried to be good, for, tho' there was quite a number of nails driven into the post, after a while all had been drawn out.  Not one remained.  Don't you think "Bennie" must have been a happy little fellow the day that the last nail disappeared from the post?  His father was very much pleased and was congratulating his little son upon the fact that the nails were all gone, but he was much surprised to see that "Bennie" was weeping instead of being elated.  "Yes," said the dear child, "the nails are all gone, that is true, but the marks are still there." – Presbyterian Banner
Watertown High School
Watertown Daily Times, 09 26 1984
An advisory committee including parents and community representatives as well as school officials will decide whether Watertown School District's school age mothers program should include a child care lab at Watertown High School.  The school board voted 6-2 at its monthly meeting Wednesday to authorize the formal appointment of an advisory committee to study the needs of school age mothers in the district and report to the board with finding and recommendations at a later date.
↓   More on Child Care Lab   ↓
High School Child Care Lab
Watertown Daily Times, 12 15 1984
A recommendation not to formalize a child care lab at Watertown High School, but instead to hire a homebound school-age mothers (SAM) program coordinator will be discussed at Wednesday evening's meeting of the Watertown Board of Education. The recommendation has been made by the SAM ad hoc committee, a panel comprised of high school Principal Charles Dill, director of special education/pupil personnel services Mark Dyar, a high school social worker, two teachers and several members of the community including parents and clergy. The committee has been studying the possibility of a child care lab since late September but decided against the option because of three potential problems.
Watertown Gazette, 07 30 1909
Rev. Father O'Neil, associate editor of The Ave Maria, Notre Dame, Indiana, has been a guest for a week at Sacred Heart College.  On Sunday morning last he preached an eloquent sermon at St. Bernard's Church.  Father O'Neil is a noted pedestrian and walks from 25 to 50 miles a day.  While here he walked to Marshall, Dane Co., and from here to Oconomowoc and back.  He says the Wisconsin roads are not what they should be.
Watertown Daily Times, 06 24 1999
John "Jack" C. Lemke of Watertown has been named honorary marshal of the city's annual Fourth of July Parade.  A longtime city resident, Lemke taught government classes at Watertown High School from 1967 until 1998 when he retired.  He was president of the Watertown Teachers' Education Association from 1970 to 1971.  He has also been active in other community organizations.  He is an active member of the Watertown Elks Lodge, serving as exalted ruler from 1994 to 1995.  He has been the Elks hoop shoot chairman for 12 years and constitution contest chairman for four years.  He is a member of First Congregational United Church of Christ where he served as moderator for two years in the 1980s.
Watertown Democrat, 08 25 1859
We have neglected to mention, what we now do with pleasure, that our friend, Cal. Cheney has established himself in the fruit business in the Bank of Watertown building, on First Street [102 N First, assumed; linked image is c.1900].  That he keeps good articles we know from personal observation, as we have tried them.  We hope he will be liberally patronized.
↓   More on Cal. Cheney  ↓
Watertown Democrat, 03 01 1860
Cal. Cheney has recently received several boxes of fresh and fine oranges and lemons at his fruit store, in the Watertown Bank block.  Choice fruits and nice candies are not the only good things to be found at that place, we may hint to those who can take a hint, without getting a kick or drinking a quart of "Sand's purest and best," direct from Chicago.
Annexation
Watertown Democrat, 08 25 1859
The Canadians are talking of annexing Maine to their country as the natural ocean outlet of the British Provinces.  The process of annexation is not improbable, and may be imperceptibly going on every day, but our Colonial neighbors may find the dividing line of the two lands removed altogether when it occurs, and the boundaries of the Union extending from the Gulf of Mexico to Hudson's Bay.  We annex only one way—on, not off.
Master of Arts
Watertown Democrat, 08 18 1859
We see that at the recent commencement exercises at Hamilton College our worthy Mayor, C. B. Skinner, Esq., received in course his degree of "M.A."  Wonder if that constitutes him master of the art of shutting up the grog shops [a shop or room where strong liquors are sold and drunk] on Sunday and catching the night prowlers who infest our city.  If so we will cordially welcome his return as Master of Arts—or at least of one very useful Art.
New Constitution of Kansas
Watertown Democrat, 08 18 1859
The new constitution of Kansas is to be submitted to the people of the territory for their approval or rejection on the 4th of October next.  As a whole, the constitution as framed by the convention does not give universal satisfaction.  Many have serious objections to some of its provisions, and if adopted, its acceptance will be far from unanimous.  Should a majority vote for it, Congress will probably admit the state under it, and leave it to be charged as the people may see fit hereafter.  This is the only fair and honorable course to pursue.  The population of Kansas will be such as to entitle her to admission and there is no good reason why she should not take her place among the states of the union.  It will end a long and bitter struggle that might just as well have been avoided—though the right has won at last.
Football Game Under the Lights
Homecoming will be 'first' at Luther Prep
Watertown Daily Times article, 10 01 2008
For the first time, Luther Prep's homecoming football game will be played on a Friday night, under the lights.
Another "first" will be held Friday with a kick-off of a "Come Home on Homecoming" alumni weekend for Luther Prep.
Luther Prep is the alma mater for its own alumni and for the five predecessor schools including Dr. Martin Luther High School in New Ulm, Minn., (1884-1968), Northwestern Lutheran Academy in Mobridge, S.D., (1928-79), Martin Luther Academy in New Ulm, (1968-79), Martin Luther Preparatory School in Prairie du Chien, (1979-95) and Northwestern Preparatory School in Watertown (1865-1995) who have all relocated or closed to form the present day Luther Preparatory School (1995-present).
"Luther Prep carries out the same mission that those predecessor schools did, we house their records, we help with their reunions, and stand ready to support alumni from all of those schools. This alumni reunion weekend has been initiated to invite back not only the alumni but the parents of those alumni as well. We want the parents that stood together in the football stands, that met at the concerts, that took home their child's roommates for weekends, to come celebrate our rich heritage with us." 
- Debbie Rothe, associate director of Mission Advancement at Luther Prep
The 143 years tradition of "Christian Education for a lifetime of Service" is still the mission of Luther Prep today.
The list of activities at the school include . . .
The Currency Question Again
Watertown Democrat, 08 18 1859
In our former article upon this subject we gave some telling reasons why the present stringency in the currency exists and who is responsible for it.  It does not please the Sentinel and our Milwaukee neighbors to learn the truth and they attempt to excuse themselves by calling our banks "Wild Cats" and our bankers "Wild Catters," as if there were any resemblance between the practice of the bankers of the two cities—the Milwaukee Bankers being mere shavers.
We assure the Sentinel that this will not do and we cannot let it off so easily.  Why not step up like a man and attempt to answer for your pretended bankers and not whiffle around like one caught in a bad cause and give some reasonable excuse for this unnecessary endeavor to rule or ruin the banks of the interior?  You say "if our banks have redeemed eighty thousand dollars, of course they have the currency on and ought to loan it out again to the good people of Watertown and vicinity and thus make money in that locality."  Now this all sounds very well and would be good advice if the mere shaving institutions could be shut up in the State Pride Metropolis of the great commonwealth of the North-West, and engage in some legitimate business, instead of forming an association to catch up every dollar of currency as soon as it floats into your city and return it for redemption and all for a quarter per cent.  Our banks do wish to loan out their money to the people, and if it were not for the merciless Shylocks in your city, who daily ask for the "pound of flesh," they would do so.
A Coffee Drinker
Watertown Gazette, 08 06 1909
I was a coffee drinker for years and for about six years my health was completely shattered.  I suffered fearfully with headache and nervousness, also palpitation of the heart and loss of appetite.  My sight gradually began to fail and finally I loss the sight of one eye altogether.  The eye was operated upon and the sight partially restored, then I became totally blind in the other eye.  My doctor used to urge me to give up coffee but I was willful and continued to drink it until finally in a case of severe illness the doctor insisted that I must give up the coffee, so I began using Postum, and in a month I felt like a new creature.  I steadily gained in health and strength.  About a month ago I began using Grape-Nuts food and the effect has been wonderful . . . I am quite an elderly lady and before using Postum and Grape-Nuts I could not walk a square without exceeding fatigue, now I walk ten or twelve without feeling it.  Formerly in reading I could remember but little, but now my memory holds fast when I read . . . for the sake of suffering humanity, although I dislike publicity, you can publish this letter if you like.
Waupun Binder Twine Plant
Watertown Gazette, 08 13 1909
Opposition to the agitation for the completion of the binder twine plant at Waupun, which the legislature declined to permit last winter, is the movement for the removal of the present state's prison to the Devil's Lake region and the transformation of the present Waupun institution into an asylum for the criminal insane.  It is pointed out that with the prison at Devil's Lake the convicts could be employed in breaking stone for state roads.
Game Wardens
Watertown Gazette, 08 13 1909
Following the testimony of certain game wardens that they had padded their expense accounts or had accepted salary for time spent in political work, the senatorial investigating committee decided that their testimony should be certified to the governor and to the attorney general for such action as they might determine upon.