website  watertownhistory.org
      ebook  History of Watertown, Wisconsin
Silver Moon Bar & Restaurant
East Gate Inn
Settler's Bay
On the Rock
1601 East Gate Drive
East Gate Inn derived its name from being located
very near the old toll gate for the Watertown Plank Road.
LATE 1930s
VIOLET & ARTHUR FRIEDE
Hamburger Stand on the Silver Moon Tavern property, became East Gate Inn.
<![if !vml]>

<![endif]> 
At this location there was also a gas station, general store and a number of tourist cabins
LATE 1940s
SILVER MOON, HAMBURGER STAND, LAVERNE ZIEBELL
<![if !vml]>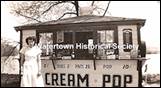 <![endif]>  
SILVER MOON, GENERAL STORE DARLENE FRIEDE, dau of Arthur
<![if !vml]>

<![endif]>      Note signage for Gentile League Headquarters  
ALTON F. GRITZNER
Alton F. Gritzner was owner and operator of the East Gate Inn and for many years had operated Fat's Barbeque on South Third Street.  Mr. Gritzner was a showman and never lost his love for the stage and entertainment.  He was a man of many fine qualities and enjoyed being with people.  He enjoyed his role as Santa Claus almost more than anything. 
1952
GRITZNER HOME AND FAT'S BARBEQUE ON SOUTH THIRD
<![if !vml]>

<![endif]>  
"10x10 hot dog stand removed 1976.  Non-conformable use drive-in vacant for 12 yrs[?] cannot be used or reopened for drive-in use."  City assessor note, Assessor Collection, WHS_011_331.
1954
08 23       EAST GATE INN  /  WATERTOWN'S FIRST SUPPER CLUB
Plans for Watertown's first supper club were announced today by Mr. and Mrs. Alton F. Gritzner who also operate Fat's Barbeque in South Third Street.  The new establishment to be known as East Gate Inn will open in the near future.  It will be located on the former Friede property on highway 16, at the east city limits.  Work on remodeling the place has been underway since it will be virtually a new establishment, ultra-modern in style and furnishings.  The supper club will feature a cocktail bar and suburban restaurant.
09 04       GRITZNERS TO OPEN EAST GATE INN
       City's Newest Dining Place Is Made Ready
The East Gate Inn, which includes a steak house and suburban restaurant, will open its doors to the public at 5 p.m. on Saturday, Sept. 4, it was announced by the owners, Mr. and Mrs. Alton F. Gritzner.
The place, formerly the Friede property near the east city limits-on highway 16, has been in preparation since March and the finishing touches are now being put on in preparation for its opening.
The kitchen is equipped with the latest devices for preparing foods of all kinds.  A Char-Lux charcoal broiler is included and there is also an Anton Delkin fin-fryer, which represents the first great advance in fryers since the French fryer was first created.
The place will cater to the general public and will also.be in a position to handle parties and groups as well as individuals.
"We have striven to give Watertown something new in dining places and have done our best to create an atmosphere that is inviting and wholesome and our foods, our drinks and our service will be of the highest possible standard," Mr. Gritzner said. 
There will be music, entertainment and dancing and charcoal broiled steaks will be a specialty and southern fried chicken, shrimp and a wide variety of sandwiches will be featured, along with a fish fry every Friday.  A business noon luncheon will also be featured daily.
On Saturday and Sunday there will be special music on the Hammond organ by Mrs. Erline Torres, who will offer a background of soft melodies for dining.
Mr. Gritzner has held a restaurant license in Watertown longer than any individual now in business here.  His license dates back 25 years and he has held it consistently during that time.  In opening the East Gate Inn he has undertaken his most ambitious venture to date and it is culmination of a long cherished dream.
He and his wife invite all friends and the general public to drop in and see the new place and experience its many unique services.
c.1975
EAST GATE INN
<![if !vml]>

<![endif]>  
06 13       EXPANSION PROJECT
Construction will begin Tuesday on an expansion project at East Gate Inn, according to Dennis Everts, one of the new owners in the corporation which operates the restaurant.  The new 75foot by 60foot addition will be built south of the present restaurant and will overlook the river.  It will include a large dining area which can be divided into two separate rooms, an enlarged and completely renovated kitchen, bar, fireplace, bathroom facilities and storage area.  The present restaurant will also undergo some renovation to compliment the new addition.  Seating capacity of the new addition will be 305 patrons which will increase the total seating capacity of the restaurant to 480 people.  The restaurant can now serve 135.
1994
08 14       CLASS B TAVERN LICENSE
The Watertown Licensing Board Wednesday recommended granting a class B tavern license to Elizabeth and Joseph Gagliano for the East Gate Inn, 1601 East Gate Drive.  City Clerk-Treasurer Michael Hoppenrath said the license, which also requires approval from the Watertown Common Council on Sept. 6, would be granted to the new operators when they provide a copy of a lease agreement for the restaurant.  The Gaglianos told city officials that they plan to lease the restaurant, which has been closed for more than a year.  The M&I Bank of Watertown obtained a judgment of foreclosure against the previous owners for failure to repay their mortgage on the property.  The restaurant is expected to open in mid-September.
09 05       GAGLIANO'S EAST GATE
The new owners of the former East Gate Inn hope to provide Watertown diners with an upscale eating establishment when it reopens this month.  "We want it to be nice, with good service and good food," said Elizabeth Gagliano, who will own the restaurant with her husband, Joseph.  When it opens by the end of September, the restaurant will be known as Gagliano's East Gate.  The menu will offer a variety of supper club staples such as steaks and seafood and will feature a few Italian recipes that have been handed down in Joseph's family.
1998
01 24       RESTAURANT EXPANSION PROPOSED
The Watertown Plan Commission Monday set a public hearing on a proposal for a restaurant expansion.  A hearing will be held on Feb. 23 on a proposed conditional use permit for the former East Gate Inn restaurant, which is proposed to be renamed Settlers Bay at 1601 East Gate Drive.  Developer Lawrence Zubke of Platinum Investments is proposing several changes to the building, including an addition of 1,400 square feet for dining and bar use, along with new decks and balconies facing the river.  In addition, another expansion of 2,800 square feet may be planned in the future.
1999       VACANT EAST GATE INN BECOMES SETTLER'S BAY
<![if !vml]>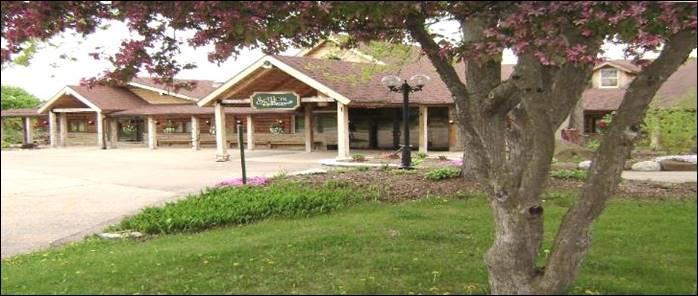 <![endif]>
View of Settler's Bay
2007
12 05       NEW CHEF FROM ENGLAND
Settler's Bay will have a British touch to its menu with the cooking abilities of a new chef from England.  Neil Meyer, 29, of Oxford, England, is the new head chef at the restaurant.  He is a graduate of Oxford Catering School and Hotel Olympia Catering School in Oxford, England, where he specialized in cellular cooking.  He previously worked at numerous restaurants in London, one of the restaurants owned by Gordon Ramsay, chef and television show host of "Hell's Kitchen." 
2008
09 12       CLOSING OF SETTLER'S BAY
We have decided to post this message on our website to explain our decision to close Settler's Bay.  There are many factors that contributed to our decision and far too many to try to explain within such an impersonal forum.  We know that Settler's Bay was a favorite spot of many people and so out of respect for those individuals who supported us throughout the years, we will provide a brief synopsis of our decision.  
When we took over the restaurant as owner/operators in August 2005 (the building has been owned by the same partners since it became Settler's Bay in 1999, but had been leased out until 8/05), Rob was a part time consultant to the business.  His role was to find out why the three previous tenants of the restaurant had not succeeded and to make changes so the restaurant could become profitable.  As layer of layer of information was gathered, it became obvious that significant changes needed to be made.  Within the first year, staff changes were made, expenses were cut, the menu was changed, improvements were made to the building and decor, and essentially without skipping a beat, Settler's Bay was reborn . . .
Having the conversation with the staff, many whom who had worked so hard for us over the past few years was very difficult.  We, after 3 years, finally had a core group of people who we were proud of and who represented our restaurant well.  The only thing we lacked was someone who could take some of the burden off our shoulders, a General Manager.  Unfortunately, this was a key position that we simply could not fill. 
Settler's Bay has closed and the building will be put up for sale . . .
2009
02 19       SETTLER'S BAY REOPENS
Settler's Bay, 1601 East Gate Drive, reopens today with a few new changes.  The restaurant closed to the public last fall.
A portion of the facility will be opened to regular customers as a nonsmoking, casual pub called the Moose Head Pub.  A casual menu will be offered consisting of burgers, sandwiches, fish fry and wood fired oven pizzas.  The original dining portion of the facility will remain closed and the restaurant will be operated within the main bar area.
Settler's Bay will still be in operation but only as a venue for professionally catered banquets and weddings.  The guest renting the banquet area will be able to choose an outside caterer.  The Settler's Bay facility will no longer prepare food for banquets.
"We want to clarify that this is a new concept and a new menu," Sally Kelenic, representative of Settler's Bay, said.  "We're happy to bring many of our former staff members back and are looking forward to catching up with our regulars."
2011
04 12       NEW RESTAURANT AND A SPORTS BAR
The Watertown Plan Commission issued a conditional use permit to John and Mary Barb Bendall, owners of the On the Rock restaurant at 1601 East Gate Drive, the former home of Settler's Bay.  John Bendall told the plan commission the main bar and dining area will be used as a restaurant and the former banquet and wedding hall is being turned into a sports bar.  The plan commission also authorized the Bendalls to build a pier on the property for personal use only and construct two volleyball courts on the northeast corner of the parcel. The Bendalls will be required to plant vegetation along the river to prevent volleyballs from entering the water.
05 18       On the Rock, a new restaurant in Watertown, will open for business on May 23.  The restaurant is the former home of Settler's Bay.  The building will also include a sports tavern named Shooter's Sports Bar.  The establishment is owned by John and Barb Bendall, who are former teachers from Oconomowoc.
On the Rock and Shooter's Sports Bar will be family-run businesses with hopes to become destination points in Watertown.   WDT
2021
-- --           NEW RESTAURANT PLANNED
<![if !vml]>

<![endif]>   
Silver Moon was the original name of the business at this location, dating back nearly a century.  There are records that date it back to the 1930s, when the property included a hamburger stand, gas pumps, cabins for tourists, a grocery store and even a couple permanent homes.
One of the early owners was Arthur Friede.  Alton "Fats" Gritzner purchased it in about 1954 and operated it for many years before selling it to Al Aagaard and Bob Schumacher.  Gradually the gas pumps, the hamburger stand and the cottages were all removed and all that remained was the tavern. It was ultimately razed and replaced by the large facility on the property that is being renovated today.
For a number of years John and Barb Bendel of Oconomowoc owned and operated the building under the names of Shooters Bar and On the Rock Restaurant and now new owners are getting it ready for a fall opening and a new mission.    WDTimes, 05 07 2021
LaVerne V. Ziebell
RETURNING TO SILVER MOON
Became the East Gate Inn / 1601 Oconomowoc Ave.
A hamburger stand was located at 1601 Oconomowoc Ave. and it operated in the 1930s and 1940s.  There were also some gas pumps on the property and some cabins for tourists and a couple of them served as permanent housing for a couple families.  The tavern also had a grocery store attached to it.
The East Gate Inn got its name because it was near the eastern terminus of the old plank road and the old Plank Road Toll House, located a couple thousand feet east of the Silver Moon.
Alton "Fats" Gritzner owned the business at one time.  "Fats" was active in the Watertown Musicians Union and the Jefferson County Tavern League.  He was also an alderman for eight years and even ran for mayor.  "Fats" purchased the Silver Moon property in about 1954 and operated it for many years before selling it to Al Aagaard and Bob Schumacher.
"Fats" was quite a musician and a good bar owner but he probably was best known as being Santa Claus for several decades.  He often made local appearances and was so well liked that he became Santa Claus for the Boston Store in Milwaukee for many years, seeing literally thousands of youngsters over that long span.  He was also widely known for the many magic acts he could perform. When he worked on magic, he billed himself as "Nova, the Mystic," pleasing people with his many tricks.   Full text, WDT article  
<![if !vml]>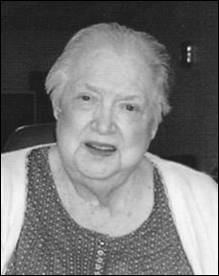 <![endif]>
LaVerne Ziebell
LaVerne V. "Mousey" Ziebell, 85, Watertown, passed away on Friday, Nov. 13, 2015, at her home with her family by her side.
Funeral services will be held on Wednesday at 11 a.m. at St. Mark's Lutheran Church in Watertown with the Rev. Karl Walther officiating.  Burial will be at the Lutheran Cemetery in Watertown.  Relatives and friends may gather at the Hafemeister Funeral Home in Watertown on Tuesday from 4-8 p.m. and at the church on Wednesday from 10 a.m. until the time of the service.  In lieu of flowers memorials would be appreciated to Relay For Life or St. Mark's Lutheran Church.
LaVerne Violet Friede was born on Aug. 24, 1930, in Watertown, the daughter of Arthur and Violet (nee Breitzke) Friede.  On June 30, 1956, she married Merlin E. Ziebell at St. Mark's Lutheran Church in Watertown.  He preceded her in death on Aug. 2, 2007.  LaVerne had been employed as a cook at the Sharp Corner restaurant in Watertown.   She was a member of St. Mark's Lutheran Church in Watertown and the Watertown Turners Auxiliary.  LaVerne loved spending time with her family, especially celebrating the holidays.  LaVerne loved to crochet.
LaVerne is survived by her six children; Connie (Dwight) Brunk of Watertown, Kathy Brunk of Watertown, James (Terri) Ziebell of Lake Mills, Timothy Ziebell of Watertown, Christine Ready of Watertown and Sheri (Thomas) Pfeifer of Reeseville; 14 grandchildren; 11 great-grandchildren; a brother, Marvin Friede of Englewood, Fla.; nieces, nephews, other relatives and friends.
She was also preceded in death by her parents; a grandson, Jason Brunk; and three sisters, Dorothy, Loretta and Darlene.
Hafemeister Funeral Home and Cremation Service
Buckshots Bar and Grill
114 N. Water St
Watertown Daily Times, 08 22 1959
Sally Kelenic and Rob Geiger, owners of the Moose Head Pub and Settler's Bay, will be opening their newest establishment, Buckshots Bar and Grill, in early October.
Buckshots Bar and Grill will feature loaded burgers and appetizers, as well as a limited casual bar menu in a smoke-free environment. A wide variety of domestic and imported beers and wine and cocktails will also be available.
The establishment will be located at 114 N. Water St., the former home of Rally Time and Don's Bar.

History of Watertown, Wisconsin