This file part of www.watertownhistory.org website
Miscellaneous set
Troop B, 1st Squadron, 105th Cavalry Send-off
Wisconsin's 32nd Brigade Combat Team
Watertown National Guard
A community send-off ceremony for local troops
scheduled to be deployed to Iraq
Watertown Daily Times, 02 18 2009
Over 600 people, including mothers, wives and young children, from 82 different communities gathered at Watertown High School Tuesday night as part of a special ceremony in honor of their loved ones who are leaving to serve in Iraq.
The Watertown National Guard Armory is home to Troop B, 1st Squadron, 105th Cavalry, which is part of nearly 3,500 Wisconsin soldiers of Wisconsin's 32nd Brigade Combat Team that have been called to active duty.
The community send-off began with soldiers taking a bus ride from the Watertown National Guard Armory to Watertown High School.  Red, white and blue flags waved through the streets of downtown Watertown as many local families came to show their support.  Many of those families waving flags have no personal connection to the soldiers, they just came to show their support.
The soldiers from throughout the state started the day off in the morning at a special service in Madison where Gov. Jim Doyle and other state officials bid them farewell. The mobilization of about 3,200 Wisconsin National Guard members is the largest operational deployment since World War II. The 32nd Brigade will be joined by 25 Minnesota troops from the 34th Division.
Tuesday evening local soldiers where honored by area veterans groups.  The 1st Brigade Band played several different patriotic songs including a special rendition of "The Star-Spangled Banner."
The soldiers with the 32nd Brigade will report for duty at their local armories in mid-February and train for two months at Fort Bliss near El Paso, Texas, before being deployed to Iraq, where they will stay for about 10 months.  This is the largest operational deployment of state National Guard forces since World War II.
Messages from Many Cities Record Evidences of
Respect and Admiration and Mourn Death of
Famous Watertown Man
Brandt, Edward J., b. Jul 18, 1859, d. Feb 5, 1937
The high place that Edward J. Brandt occupied in the business world and in the associations with his friends and acquaintances is strikingly illustrated in the avalanche of messages, letters and telegrams which the family has received since his death at the age of 77 a week ago.  Inventor of the Brandt automatic cashier and founder of the firm which bears his name, the product carried his name the product carried his name to all parts of the world, but there was something deeper and more vital in his makeup that made friends for him and placed him in a position where his death is being mourned not only in his home community, but in distant places where he was known and where his record of achievement made him an outstanding individual. 
The messages which have come into the home here since his passing are from old friends, from acquaintances, from business associates and from people in all walks of life who knew him, some on intimate terms and others in a casual way.  All of them bear the imprint of sincere regret at his death.  No man here has received so many fine tributes.
The Daily Times today is printing a few brief excerpts from some of the letters and messages.
____________________________
Among those selected is the following quotation from a letter received from Dun and Bradstreet, the mercantile agency:
"Mr. Brandt has indeed made an enviable record, not merely in the field of mechanics, invention, and material success, but in the field of integrity both personal and commercial.  His commercial record is 'clear' and he leaves a record and memory which certainly is an inspiration."
Another friend wrote "You have the memory of a truly great and wonderful spirit."
In the following quotations are expressions voiced by various individuals and concerns, selected from the many which have arrived the past few days:  Surely we have lost a valuable and irreplaceable possession.  Yet appreciation can be best demonstrated by continuing the fine things which Mr. Brandt created and lived for.
"Few men in this nation have been able to inscribe their names in the hearts and minds of the people of the world as that of Mr. E. J. Brandt with the wonderful product that he invented and manufactured."
"I had the greatest respect for Mr. Brandt on account of the wonderful machine which he produced. 
This machine will be a perpetual monument to the name of Brandt in all places where cash is handled. In his passing the civilized world has lost one who has done as much as any other man to relived business of a hard and arduous task."
"He was a wonderful gentleman and a genius and I know that his death will cause quite a void in the business world."
____________________________
"His achievements, coupled with several years of pleasant relationship that I have found in being connected with the firm which he founded and which bears his name has caused me to look upon him with profound admiration."
____________________________
"I have always been able to feel, from the beginning a certain current of close ties which undoubtedly has been fostered and has been the pride and aim of that very fine gentleman, Mr. E. J. Brandt."
____________________________
Tribute In Poem
The angel of Peace attends our way,
With us now, and to the end
If we but see, and seeing know
Our ever present friend.
When doubt and fear oppress our soul,
Look bravely forth and grasp the way
That lends thy spirit into light,
Unto the perfect day.
Ever present, ever kind.
The spirit leads the willing mind
With voice so gentle—like a dove
Love is God and God is Love.
Watertown Republican, 10 18 1876
The steeple of the new St. Bernard Catholic Church is surmounted by a fine cross of the Latin design, cast at the foundry of Mr. J. B. Bennett, of this city.  The height of the cross is 11 feet 1 inch, and across the arms it measures 6 feet 3 inches.  Its weight is 450 pounds.  The cross rests upon a lead cap weighing 430 pounds.  The cross has a very fine effect to the eye, and of course, at its great distance from the ground, nearly 200 feet, looks diminutive compared with its actual size.
Will Exhibit at Watertown Next Monday
Watertown Gazette, 04 30 1909
The great Cooper & Robenson circus, which will have its headquarters in Watertown, will present its initial performance at Watertown on next Monday, May 3, afternoon and evening on the circus lot in the Fifth ward.  The volunteer firemen will benefit to some extent, as the management has consented to share with the local companies, who are boosting the project along.
There is no other entertainment so popular with little folks as an exhibition of educated dogs, ponies, monkeys and goats.  These clever little animal actors have always proven a source of infinite amusement, entertainment and instruction to children, so the juveniles will surely hail with delight any satisfaction the announcement of the coming appearance of the great Cooper & Robertson United Railway Shows, as these famous showmen have always made a special effort to entertain and amuse the little ones, and in addition to three big acts and numerous features they carry over 200 miniature animal actors which will take part in the exhibitions, and it will demonstrate what kindness, gentleness and patience can accomplish with dumb animals.
[In April of 1909 the Watertown newspapers were informed that the Great Cooper and Robenson show would appear in Watertown on May 3, 1909.  No one had ever heard of Cooper and Robenson or their show.  They had also secured the support of the local fire department by having them sponsor the show.  It was not known until later that Cooper and Robenson did not own a circus but had arranged with Seibel Bros. to lease their show for the season for $7000.  The show was set up on the 5th Ward lot and advertised as the Great Cooper and Robenson United Railroad Shows.  Show day turned out to be cold and very uncomfortable and as a result attendance was very small at both afternoon and evening performances.  Seibel Brothers Dog and Pony Show, 1903-1916, pg 97 of Watertown History Annual 1, Watertown Historical Society]
↓  More on Cooper & Robenson  ↓
Cooper & Robenson Circus
Watertown Gazette, 05 07 1909
Monday last the great (?) Cooper & Robenson Circus which opened the season here gave two performances, afternoon and evening, to small audiences, and the proprietors failed to "pack up their tent" and move on.  They left during the night and next day the ponies, dogs, etc., were returned to Seibel headquarters having been leased from Seibel Bros.  Quite a number of our business men are out considerable for work and supplies furnished the management and most of the employees were left here without means to care for them.
Watertown Daily Times, 10 13 2008
A detached garage at the 800 block of West Division Street was declared a total loss after a fire started in the area Sunday evening.
The Watertown Fire Department was notified of the blaze at 820 W. Division St. Sunday at 10:22 p.m. and when firefighters arrived the garage was engulfed in flames.
It took 28 minutes for the 20 firefighters at the scene to have the blaze under control.  The fire was extinguished in 47 minutes.
While battling the blaze firefighters noticed the flames were spreading to the home and the garage to the west of the property.  The garage collapsed during the fire and was declared a total loss.  The exterior of the home sustained moderate damage and minor damage was reported to the garage to the west.  Total damages are estimated at $30,000.
10-year-old helps family avert tragedy
Watertown Daily Times, 10 14 2008
A 10-year-old girl's quick thinking Monday during a fire at her home on Cole Street could have potentially saved the lives of her mother and little sister.
The Watertown Fire Department was dispatched at 2:38 p.m. to the blaze at 216 Cole St.  The 10-year-old girl woke up her mother and sister who were sleeping upstairs after she heard the smoke detector activate.
The fire was caused by an overheated electrical cord.
Watertown Daily Times, 02 23 1959
A capacity crowd attended Tuesday evening's cooking school at Turner Hall.  Susan Lowe, food expert, who conducted the demonstration, gave homemakers many practical food hints and time saving and taste tempting recipes.  The final session of the cooking sponsored by the Watertown Daily Times and local merchants, concluded this afternoon with another capacity crowd.  Miss Lowe performed her demonstrations in a modern kitchen using all the newest appliances.  She used a special mirror and lighting device during her programs enabling everyone in the audience to see exactly what she was doing.
Watertown Manufacturing Company
Watertown Republican, 10 02 1895
The case of G. W. Donnelly against the Watertown Manufacturing company was heard during the September term of the circuit court at Jefferson.  Donnelly brought suit to recover $500 damages claimed to have been done to a steam threshing engine which the defendant repaired for him at a cost of $150.  He claimed that the repairs were imperfect and that he lost time by reason of delays and getting the engine in good condition.  The jury gave the plaintiff $75 damages.
= more on the same =
Watertown Republican, 04 15 1896
The Watertown Manufacturing Company have in operation at their plant what is termed a compound wound dynamo of their own make.  It is capable of sustaining 100 sixteen-candIe power lights and its efficiency is claimed to be superior to other machines.  From the manner in which it illuminates plant, we should judge it works excellently.  The company will continue to manufacture these dynamos and place them on market.
Watertown Republican, 04 22 1896
Saturday night a section in the Rough and Ready dam gave way and the water since has been rushing through in a perfect flood.  The break is about twenty feet wide and unless soon repaired will leave but little water above that point.  On the other hand it has tended to perceptibly raise the water down the stream, and the river is now higher than it has been for several years.  The copious rains, however, had considerable to do with this condition of things.
Watertown Republican, 03 10 1897
Miss Ida Strauss, 501 Second Street, entertained a number of her friends at a "hard-times" party last Thursday evening.  There were some very ridiculous make-ups and the occasion was one of much mirth and hilarity.
Watertown Republican, 03 31 1897
Saturday afternoon a farmer's team hauling a hay rack was swamped at the intersection of Washington and Emmet streets through the caving in of the earth over the sewer.  Both the man and his horses were stuck in the mud and it took some hard work to extricate them.  The damaged party received $5 of the city's money in lieu of all claims, Mayor Racek deeming it best to settle the matter on the spot.
Watertown Republican, 03 31 1897
Mrs. Alice Kniesel is as usual fully prepared to satisfy the wants of the most fastidious in the matter of spring millinery.  She has just returned from Chicago, where she obtained as fine an assortment of the prettiest and most up-to-date effects as the market affords.  Before deciding on an Easter bonnet and other springtime fancies the ladies of Watertown and vicinity should thoroughly inspect what   Mrs. Kniesel has to offer.  Give her establishment at 907 Main Street a call.
Struggling economy
prompts restructuring moves
Watertown Daily Times, 02 26 2009
Talaris Inc., a leading provider of cash handling equipment and software solutions to financial institutions and retailers worldwide, is laying off some employees because of the struggling economy.
Talaris, which was formerly known as De La Rue Cash Systems Inc., was sold last year to a private equity firm, the Carlyle Group.
The number of employees being laid off is "within the realm of normal business operations."
The local firm is one of Watertown's oldest industries, dating back to the 1800s when it was known as Brandt Automatic Cashier Co.  The local operation, which was formed by Edward J. Brandt and several other investors, has been a large part of Watertown's industrial and civic foundations since that time.
The company remained in the Brandt-Quirk family until January of 1984 when it was sold to Nelson Peltz and Peter May, two investors from the east coast.  They continued to own the business until August of 1995 when it was sold to De La Rue.  In September of last year, De La Rue, Plc sold its Cash Systems division, which consists of the Watertown plant as well as one in Lisle, Ill., to the Carlyle Group for about $700 million in cash.
↓  More on Brandt's ownership/management  ↓
Brandt' Controlling Interest Sold
Watertown Daily Times, 09 25 1984
For the second time in less than one year, controlling interest in Brandt, Inc., based in Watertown, has been sold.  Triangle Industries, Inc., based on New Brunswick, N.J., announced that it has purchased a controlling block of shares in Central Jersey Industries, Inc.  Central Jersey on Jan. 14 purchased Brandt, Inc., from the Brandt-Quirk family, and the firm became a wholly owned subsidiary of Central Jersey.  Along with the transfer of shares will go a transfer of power on the Central Jersey board of directors.
Watertown Daily Times, 02 26 1959
The Cub Scouts of Douglas School held their annual blue and gold banquet Thursday evening in the Lincoln School gymnasium.  Highlight of the evening was the presentation of awards by Cubmaster Myron West.  The following awards were presented:  Bob Cat pin, Scott Pauli; two-year pin, Robert Eising and Donald Draves; one-year pin, David Olson, Ricky Thies and Thomas Schumacher; wolf badge, Michael Vergenz, Steven Vergenz, Ronald Brunk, Charles Johannsen, Dennis Schroeder, David Schmeichel and Wayne Bellas.
Watertown Daily Times, 02 19 1959
A basketball tourney involving city public schools starts today and will continue through March 18.  The teams involved in the meet are Schurz, Webster and a combined Lincoln-Douglas team.  5th-6th Grade Squads: Douglas-Lincoln - Ronnie Oiler, Tom Daugs, Dennis Dusowsky, Douglas Schuenemann, Mike Brom, Charles Flueker, Alan Kasten, Joe Stockle, John Schier, Randy Blasing, Ross Damrow, George Wolfer, Jim Vaught. Schurz - Jim Munzel, Regis Krueger, Bob Hutson Jr., Kenneth Straseske, Les Le Moine, Roger Boettcher, John Piper, Dick Lenz, Randy Schlesner, Paul Stai. Webster - James Reynolds, Reuhl Rettig, Tom Lamp, John Schilling, Tom Hibbard, John Strayer, David Beyer, Tom Grosenick, Dennis Burzynske.
Watertown Daily Times, 02 18 1959
Prof. E. E. Kowalke, 507 Tower Road, president of Northwestern College since 1919, has resigned his office as president of the college effective next July 1.  Prof. Kowalke will continue as a member of the faculty, teaching Hebrew and English as well as Greek New Testament.  Prof. Kowalke, a native of Kaukauna, Wis., attended and graduated from Northwestern College.  He is a member of the class of 1908.  After completing his theological studies he was ordained to the ministry and served as pastor at Tomahawk, Wis., and a number of other places.  In 1913 he accepted a call here to become associated with the college and has been teaching there since January of that year.
Watertown Gazette, 05 12 1859
Boardman, Gary and Co's Piano-Fortes, which for brilliancy and richness of tone, perfect action and great durability, are unsurpassed . . . They all contain the patent corrugated sounding board and suspended massive iron frames.  Perfect satisfaction will be guaranteed to every purchaser.  George L. Field, Agent, Bank of Watertown.
Pigeons
Watertown Gazette, 05 12 1859
Pigeons are very plenty and are a great annoyance to the farmers.  Large flocks hover around and light on the newly sown fields and soon pick up all the seed scattered over it.  We heard one say that he had to sow a fine lot of several acres over again on account of their depredations.  Those who are fond of hunting have no difficulty in shooting all they want.  Any place where grain is put in they may be seen in any numbers.  The air is full of them flying from one place to another.
Watertown Daily Times, 02 27 1999
A land division and changes to an existing conditional use permit for the former Douglas School property were approved by the Watertown Plan Commission.  The owner of the property, Marcus Cable, sought the changes in order to divide the lot into two parcels, each of which will be sold for single-family home construction.  The old school property has stood vacant since the building was razed about three years ago.

Watertown Daily Times, 06 11 1945
Arthur Abel, Jr., son of Mr. and Mrs. Arthur H. Abel, 1420 Main Street, left for service in the navy June 5.  His address is: Arthur Abel, Jr., A.S., Co. 138, USNTC, Great Lakes. Ill.
Watertown Daily Times, 08 23 1945
Arthur Abel, seaman S/c, has completed his boot training at Great Lakes, Ill., and is spending a leave at the home of his parents at 1420 Main Street.

Watertown Daily Times, 10 03 1945
More Watertown men who have been given honorable discharges have been announced by the public relations offices. These include: T/5 Herbert R. Abel, 1420 Main street; Sgt. Norman N. Schneider, 310 North Montgomery street; Sgt. Herman C. Storbeck, 521 E. Lafayette street: T/Sgt. Robert H. Mischler, 501 West Main street; and T/4 George H. Bush, listed as from Watertown.
The name of T/4 William Berger, Box 25, Clyman, is also included in a recent list of those honorably discharged.
Watertown Daily Times, 10 04 1945
Herbert R. Abel has received his honorable discharge from the U. S. army and arrived at the home of his parents Sept. 28. He was stationed in the Mediterranean war theatre.

Paul T. Abelmann Receives Award
Chicago Tribune Has Conferred Honor on U. of W. ROTC Cadet
Watertown Daily Times, 05 26 1944
Paul T. Abelmann, son of Dr. and Mrs. T. C. H. Abelmann, this city, has been selected as the outstanding sophomore ROTC cadet at the University of Wisconsin by the Chicago Tribune and this week received the special cadet award made by that newspaper.
The award was made by Lt. Col. Franklin W. Clarke, commandant of the military department at the University. William A. Bradshaw, St. Louis, Mo., received the freshman cadet award.
Watertown Daily Times, 12 11 1944
Volunteer Paul Abelmann, who is with the American Field Service overseas, has an APO address which may be obtained by contacting his parents, Dr. and Mrs. T. C. H. Abelmann.
Watertown Daily Times, 09 10 1958
Watertown's newest addition to the football field at Washington Park - an electric football scoreboard - will be in use for the game tonight but will not be presented officially to the city by the Watertown Junior Chamber of Commerce until the Homecoming game Oct. 17 between Salem Central and the high school Goslings.  The colorful new scoreboard is really a "shot in the arm" for the high school athletic field - a convenience for fans, players and coaches.  The board adds a lot of "color" to the game and makes it much more interesting from the spectator's standpoint.  The prompt flashing of the outcome of each play (yards gained), the team score and time remaining in each quarter will give the fans an up to the minute rundown of the game.
Demolition of the Cole Addition
Watertown Public Library
Watertown Daily Times, 09 10 1983
Demolition of the Cole Addition to the Watertown Public Library finally got under way this week, about one month later than originally planned.  However, that delay shouldn't require any change in the scheduled completion date of July 24, 1984, according to officials of Varvil Construction, Inc., Woodworth, general contractor.  Demolition was delayed after the discovery that asbestos was used for some insulation in the building.  This discovery started a chain of events, including the employment of a firm which specializes in removal and proper disposal of the toxic asbestos.
Watertown Daily Times, 02 20 1959
Prof. Carleton A. Toppe, 505 College Avenue, a member of the Northwestern College faculty, is expected to definitely accept the call extended him to become president of the college after next July 1.  Indications that he will inform the board of regents of the college that he accepts the offer appeared "very strong" today.  Prof. Toppe, who is instructor in Latin and English at the college, will succeed Prof. E. E. Kowalke whose resignation effective on July 1 was announced by the college board.  Prof. Kowalke will remain as a member of the college faculty, according to the announcement, since his resignation has to do only with relinquishing the presidency which he has held since 1919.  He joined the college faculty in 1913.
↓  More on Prof. Carleton A. Toppe  ↓
Northwestern 1959-60 term
Watertown Daily Times, 08 25 1959
Northwestern College, now in its 94th year, will begin its 1959-60 term with opening exercises on Wednesday, Sept. 9 at 2 p.m.  This will also mark the first year of its new president, Prof. Carleton Toppe, who took over his duties on July 1, succeeding Prof. E. E. Kowalke who asked to be retired as president on that date.  Prof. Kowalke, for many years professor of English and Hebrew, will continue to teach those subjects.  He held the presidency for 40 years.  Prof. Toppe joined the faculty of Northwestern College in 1948 after serving several Lutheran parishes as minister.  He served in the college English and Latin departments.  He has done graduate work at the University of Wisconsin and received his M.A. degree in 1956.
↓  More on Northwestern College  ↓
Northwestern 1984-85 term
Watertown Daily Times, 08 25 1984
The 120th year of education at Northwestern will begin with an opening service on Tuesday at 1:30 p.m.  The Rev. Carleton Toppe, president of the college, will be the preacher and the Rev. William Zell, president of the preparatory school, will be the liturgist.  New men of the faculties will be introduced at this service.  In the college, Prof. Daniel Deutschlander replaces John Sullivan in German and Philosophy.  Sullivan retired and is living in Watertown.  Prof. John Braun replaces James Fricke in the English department.  Fricke accepted a call as pastor at St. John's Lutheran Church in Watertown.  The new college tutor is Norman Burger.
Watertown Gazette, 05 05 1859
The eloquent and patriotic Schurz is as prolific as Queen Victoria, although their tastes are somewhat different.  While her majesty's predictions are substantial, Carl's are principally wind.  But Carl has recently been to "bosting" and delivered himself of a speech of some three or four columns in length, for which we select the following "eloquent" passage:  "The accidental explosion of the mysterious black powder, discovered by an obscure German monk, is the first flash of lightning precluding that gigantic thunder storm which is to shatter the edifice of feudal society to pieces.  The invention of the gunpowder strips the feudal lord of his prestige as a warrior [and] another discovery is to strip him of his prestige as a man.  Guttenberg, another obscure German, invents the printing press and as the gunpowder blows the castles of the small feudal tyrants into the air, so the formidable artillery of the printed letters batters down the citadels of ignorance and superstition.  The world is ablaze; all elements of society are rising up in boiling commotion—two ages are battling against each other . . ."
Blasting of Rock in the Sewers
Watertown Gazette, 05 11 1894
By the blasting of rock in the sewers on the west side on last Friday most of the windows in Chas. Klemann's house were broken.
Watertown Gazette, 05 11 1894
Our citizens should bear in mind that there is now a Board of Public Works in the city, and that permits must be obtained of that body before new sidewalks are layed, drains dug, or any street alterations made.
Watertown Gazette, 05 19 1859
The ever-memorable day of July, 1776, is near at hand, bringing around an anniversary sacred to every American heart that burns with the love of liberty, beats with the emotions of patriotism, warms with the feeling of gratitude or glows with the sentiments of admiration at the wisdom, valor and devotion which gave freedom, independence and self-government to a continent.  As time silently bears us away from the heroic age of our history, the more do we wonder at the greatness of the ends accomplished by the statesmen and soldiers of the Revolution and the more do their deeds seem like the marvels of romance.  But no—they are all realities—they are all the achievements of earnest, brave, sober-minded men, intent on noble purposes, liable to err, but in spite of errors, entitled to the respect of posterity through all the centuries of futurity.  We observe with pleasure that a movement is being made [today, May 19,] to appropriately celebrate our next natal day in this city. 
↓  More on Fourth of July, 1859  ↓
Watertown Democrat, 06 16 1859
Are the citizens of Watertown going to celebrate the anniversary of our national independence?  We think there is sufficient patriotism in the breasts of the people, if properly awakened and united, to get up a good celebration . . . We are aware that the Young Men's Association have made some attempts towards such an end but no special society, sect or combination can receive the cooperation of the people in an affair of so general a character.  Their petition to the Common Council for an appropriation of two hundred dollars from the city funds, as might have been expected, was not granted and in the opinion of your humble correspondent, the Common Council acted wisely and well.  They could not consistently appropriate the people's money for any other purpose than the people's benefit.  There certainly can be no objections to the members of any association observing the Fourth of July as they may choose; on the contrary, they are to be commended; but we, the citizens, both native and adopted, should have one common, united, old fashioned Fourth of July celebration.
↓  More on Fourth of July, 1859  ↓
Watertown Democrat, 06 16 1859
The citizens of Waterloo are wide awake on the subject of appropriately celebrating the coming 4th of July.  They are making extensive arrangements and offering such powerful inducements to the people to join them as will prove attractive.  Those from this section who would like to attend can have a free ride on the cars both ways and the pleasure of witnessing proceedings and participating in festivities that will render the trip both pleasant and delightful . . . We wish our Waterloo friends brilliant success in their determination to properly observe the anniversary of our birthday as a nation.  Let the cannon roar, the trumpet speak, the banners wave, the bonfires blaze, the voice of patriotism proclaim its noblest sentiments and all unite in doing honor to the men who fought the battles of the Revolution and won the independence of a continent.
↓  More on Fourth of July, 1859  ↓
Watertown Democrat, 06 23 1859
Fireworks for the Fourth, when the evening sky of all America ought to be blazing with the illuminations of a happy people, may be obtained at F. P. Brook's Fruit and Confectionery establishment.  He has procured a large supply of the best that can be found anywhere.  Every rocket will blaze through the air with its long trail of sparkling light, every torpedo will roar like a cannon, and every cracker will speak like a musket.  It would be a good thing to wind up the festivities of our national day with a grand display of fireworks, such as would have made the stout heart of old John Adams leap with joy, as he beheld the fulfillment of his own prophetic words when he boldly spoke of independence and declared that the immortal day would be so remembered and observed through all time.
Thievery at Keck's Furniture Store
Watertown Republican, 05 01 1895
Last Thursday afternoon, shortly after the dinner hour, a bold deed of thievery was perpetrated at Keck's furniture store.  Fred G. Keck, the manager of the store, had not yet returned from dinner and his sister was in charge, when two strange men entered and asked to be shown the mattress stock , which is  on the second floor.  Suspecting nothing, Miss Keck took the visitors upstairs, where they were engaged for some time inspecting the mattresses, but no sale was made.  Meanwhile, a third stranger, evidently a partner of the first two, quietly entered the store and helped himself to all the money contained in a desk drawer.  The thief was just leaving by the front door when Mr. Keck arrived.  The usual salutations passed between the two and Mr. Keck, supposing the man to be customer, had no suspicions.  Shortly after, the two in quest of mattresses also left.  Some three hours later the loss of the money was discovered, but by this time, of course, the fellows, had had ample chance to make good their escape.  The amount taken was $73 in cash and a postal money order for $8.  A thorough search of the city and outlying country was made for the thieves by the police, but no trace found.  They were well dressed and apparently professional sneak-thieves.  Being strangers, someone must have posted them on the "lay of the land."  Friday a fellow answering the description in some respects of one of them was apprehended in Janesville and brought here, but was subsequently released, Mr. Keck being satisfied he was not the right party.
Watertown Daily Times, 03 03 1984
Watertown radio station WMLW, 94.1 FM, is expanding its broadcasting hours to provide south central Wisconsin's first 24-hour-a-day local radio service.  Beginning Sunday at midnight, WMLW will be on the air full time, seven days a week.  Until now the station has operated from 5:30 a.m. until midnight.  WMLW General Manager John Timm said the increased hours of operation are part of an overall program to upgrade and expand service to the station's coverage area, which includes Dodge, Jefferson, western Waukesha, eastern Dane and parts of Columbia, Rock, Walworth and Washington counties.
Watertown Daily Times, 03 04 1984
The Antioch Baptist Church had its first meeting Wednesday night at the John Krinke home at 1127 River Drive.  Sunday services will be: Unified Sunday Bible school and worship, 9:30-11:30 a.m., Sunday evening Fellowship Hour at 6 p.m. and midweek Bible study, fellowship and prayer hour at 7 p.m. Thursdays.
This is an independent, fundamental Baptist church.  It stands in the historical regular Baptist position as found in what are commonly referred to as the Baptist distinctives.  This church is being begun under the sponsorship of the fellowship of Baptists for Home Missions, Elyria, Ohio.
This is a mission approved by the General Association of Regular Baptist Churches.
The Rev. and Mrs. William A. Ackland have just completed their 28th year under the mission.  They have served the Lord in new church work in Connecticut, Missouri, New Jersey, Milwaukee and most recently in Ixonia.
Watertown Daily Times, 03 05 2009
Editor, Daily Times:
My name is Josh Cutting and I am currently a Life Scout in Troop 43 out of St. Henry's parish.  I am finishing up on a project I started to get my Eagle Scout Award.  There are many people I would like to thank for supporting my project, especially a few Watertown businesses.  A major thanks goes out to Dodge Concrete for donating concrete and the use of tools to my cause.  Also Hepp Excavating for donating gravel and Zuern's Lumber for donating framing wood.  I thank Bethesda for this opportunity and hope that they enjoy the new fire pit area that has been created.  Please support your local businesses.
Watertown Daily Times, 02 25 1959
A six weeks leave of absence has been granted by the Immanuel Lutheran Church board here to the pastor, the Rev. A. S. Christensen, to enable him to take part in a special course of study relating to the formation of the Hebrew Bible under Prof. Monsoor of the University of Wisconsin during which the class will also make a trip to the Holy Land, visiting historic Biblical spots in and around Jerusalem.  It is planned to spend two weeks in the Holy Land and return to the United States via the capital cities of Europe.  The special course of study and the trip to the Holy Land will afford a wonderful opportunity to further his knowledge of the Biblical spots in and around Jerusalem where two weeks will be spent in study and sightseeing, the Rev. Mr. Christensen said.
Watertown Daily Times, 02 25 1984
In 1855, modernization brought Watertown the railroad with an abundance of freight and passenger service.  On March 15, modernization will cause the departure of the last of those services when the Milwaukee Road discontinues freight service in Watertown.  Other eras have similarly ended over the past year.  In the early 1960s, the old Watertown train roundhouse which housed the cars of the train companies was demolished.  The passenger trains which allowed residents to catch 30 different trains a day in the 1930s and 1940s have been gone since 1972.
Franchise to go down Second Street
Watertown Gazette, 04 23 1909
That is What the Milwaukee Light, Heat and Traction Co.
Must Pay the City of Watertown
in Case the Interurban is
Not Built on Montgomery Street This Year
Will the Mayor and Common Council
Make Them a Present of This?
We Think Not!
At Least the People Will Not Stand For It.
Under the terms of the ordinance passed by the Common Council of the city of Watertown granting the Milwaukee Light, Heat and Traction Co. the right to lay a street railway in the city of Watertown, the company must have its track laid this year and be operating cars on Montgomery and Utah streets or forfeit to the city $10,000; the company must lay its track in North Montgomery Street and be operating cars on said street next year and to the northern limits of the city or forfeit $10,000, and must lay its tracks and have cars in operation in West Main Street and West Division Street to the western limits of the city not later than 1916, or forfeit $10,000; and besides, the failure of said company to so complete and put into operation said railroad within the period of time specified as aforesaid, shall operate and be a complete forfeiture of all the rights, privileges and powers granted it.  The Common Council of the city of Watertown, however, may extend the time of such completion if satisfactory proof is made that the work of constructing said railway has been "prosecuted with diligence" and that the delay is beyond the control of said company, its successors or assigns.
The granting of a street railway franchise in the city of Watertown is an important thing—a street railway franchise should not be broken at every whim of the company receiving it, and we believe our people as a whole will not sanction any such movement.
The street railway as originally planned under the franchise was admirably laid out for all sections of the city, without prejudice to any particular quarter, hence it was that the franchise received the unanimous vote of all members of the council present the evening the franchise was granted, and it was signed the same evening by Mayor Wertheimer.  The aldermen voting for the franchise were: M. J. Burke, Otto C. Hahn, Dr. A. H. Hartwig, John H. Humphrey, John Kehr, John Kessler, Herman Krueger, Fred. Lehmann, Chas. Lutovsky, Edw. McAdams, John T. Ryan and Herman Tetzlaff.  Before this franchise was granted a joint committee consisting of the following members of the council and citizens was appointed to look over the franchise and they made many good suggestions, and the ordinance as passed and accepted by the street railway company had their sanction. The committee was made up of Aldermen Hahn, Lehmann, Lutovsky, Kessler and Krueger; the citizens part of the committee was made up of Fred. A. Hoffmann, Henry Mulberger, Herman G. Grube, Fred. Kusel and Thos. Brooks.  We believe these gentlemen, Mayor Wertheimer and his council are not ashamed of the baby of their adoption and ought to stand up for its rights.  Will they do so?  Come gentlemen, show a little of the backbone and integrity of the late lamented Andrew Jackson!!!
Another matter we would like to call the attention of the people of Watertown to is:  If a franchise is granted for the street car company to go down Second Street, how long will it be before the street car track is torn up in 5th Street from Western Avenue to Main and from 5th Street on Main to Second Street?  It would appear to any ordinary thinker that there would be no use for this track, as the street railway company could run their cars on Western avenue to Second street, thence to Main and thence west and back again; there certainly would be no particular use for the line east of Second to 5th Street, thence south on 5th street to Western Avenue.  We have seen these things done in a number of cities we have visited in our travels throughout the country, and Watertown it is possible would be no exception to the rule. 
The Gazette has no personal interest in this matter, but believes a franchise should be well weighed before given, and then lived up to.  In the present case it is our opinion the franchise granted the street railway company, if lived up to, will result to the benefit of the city as a whole and not to any particular locality; when that is carried out, we are heartily in favor, if the company so desires, of giving it a franchise to build a street railway north on the east side, as all our people would like to see the interurban extended to Lebanon and Hustisford. 
The city now has an inlet and outlet on the east by way of the street railway; an outlet and inlet to the west is very much desired. 
Boost!  Boost! your city as a whole! 
Don't try to build up one part of it by tearing down another.
↓  More on Franchise to go down Second Street   ↓
$30,000
Watertown Gazette, 04 30 1909
Was This Proviso in the Street Car Ordinance Meant as a Joke?
Or Was it Intended as a "Little Taffy" to Hoodwink the People?
We Think Not!
Before the people of Watertown or the Mayor and Common Council of this city grant any more concessions to the Milwaukee Light, Heat and Traction Co. or any of its auxiliary companies or connections, we think they ought to weigh well whither are they drifting. It might be well to have the contracts already entered into with the street railway company carried out before any more concessions are given.  Our citizens in all sections of the city have been working harmoniously together for ten years or more past to build it up—money has been liberally contributed for factories to locate here, many miles of streets paved, sewers and waterworks built and extended all over the city, and lastly a street car franchise has been granted that looked as though every section of the city might come in for its share of benefits under this late enterprise. 
All of a sudden bobs up a disturbing element—the Milwaukee Light, Heat & Traction Co., after getting a good solid footing here, desires to cut out a section of the city that looked to great things from it—the Van Camp Packing Co. was located in the southwestern part of the city, and many of us who tried to cast oil upon the troubled waters at the time the street car company sought entrance to the city and an outlet through the Third ward, across the river to the 7th ward, used as an argument to strengthen our cause, that this great industry, the Van Camp Packing Co., would be greatly benefitted, for in time they expected the farmers would be sending their milk to the packing plant on milk cars from all sections of the compass and the help at the plant, especially on stormy days, would find it of great convenience and comfort to patronize the street railway in going to and from their work.  But alas!  Our dreams and hopes have all been shattered, and our arguments discredited.  
If the Milwaukee Light, Heat & Traction Co. breaks faith in this matter now, who can have faith in any future promises it may make to our people?  True, there has been opposition to the street railway, not particularly to its coming to our city, but residents along streets demanded what they considered just compensation for the privilege of going by their property. Thus people in a measure sacrifice comfort, rest, peace of mind and their property when the street car company goes by their homes. Watertown has been no exception to the rule in such matters, and we believe thus far has dealt very generously with the street railway company.  In fact street railway interests have met with the same opposition everywhere, and in order to do away with this opposition, a bill was introduced in the legislature last month that contained the following clause, which the legislature promptly and justly sat down upon:
Permit any existing electric street railway to make extensions necessary in a city without any further franchise being granted by the city; to connect with any electric suburban railway entering the city and to operate electric cars or trains for any purpose over said existing tracks or extensions.  To make the continuous use of any street for a period of five years for the entrance of suburban cars to a city, operate as a franchise grant and prevent any suit for the use of said street except actions for right of way damages, which actions must be begun within one year of the passage of this act.  To permit any electric railway company to build lines through cities and villages without obtaining a franchise from those cities and villages, when said lines are built for suburban electric railway purposes.
If the Second Street franchise is granted it is our candid opinion the Montgomery Street line will never be built, neither will the company be so philanthropic as to present our city with the $10,000 forfeit, for the same individuals who would grant the Second Street franchise, would absolve the company from paying the $10,000 fine, in the same manner that John D. Rockefeller was absolved from paying his $29,000,000 fine. 
We are also of the opinion that should the Second Street franchise be granted that all interurban cars would enter the city down Western Avenue to Second Street, where a city car would transfer passengers uptown and all interurban passengers to points south of here would be speedily switched south on Second Street, and the only business houses they would get a glimpse of would be Geo. Cooley's Grocery House in Western Avenue and the rear end of Ex-Alderman Louis Knick's store in the 7th ward.
Nothing that has occurred here in years, we believe, would divide the people of our city in working harmoniously together for its general advancement than would the granting of this Second Street franchise before the street car company builds its line in Montgomery Street, on down to the river and across the river to connect with Utah Street in the 7th ward as originally intended.
Think it over—especially the Mayor and the Common Council of our city.  You'll get into no serious trouble, nor give anyone cause to question your honesty, by upholding the franchise already given and seeing to it that it is enforced before any more concessions are granted to street railway company.
There's $10,000 coming to the city if the street railway company don't build and operate its railway in Montgomery and Utah streets this year.  When William F. Voss was Mayor and Harlow Pease City Attorney, they saw to it that MaCann & McCellan paid their $900 forfeit for not carrying out their contract with the city to complete the sewers on time, and the Supreme Court of Wisconsin sustained them after a hard fought battle.  Our citizens want it seen to that Mayor Mulberger and City Attorney Kading see to it that the Milwaukee Light, Heat and Traction Co. carry out their contract with the city or pay this $10,000 forfeit.  This is the least we expect of them.  Will they do it?  We believe they will, for we have enough confidence in their honesty and integrity to think so.  We hope our confidence is not misplaced.
↓  More on Franchise to go down Second Street   ↓
Council Takes No Action on Second Street Franchise
Watertown Gazette, 05 07 1909
If Any More Concession Are Granted to the Street Railway Co.
Before Its 1909 Obligation is Fulfilled,
Many Citizens Say the Courts Will Be Appealed To
If the Mayor and Common Council
Do Not Enforce the Present Franchise,
Any Citizen, or Number of Citizens,
Can Compel the Street Railway Co. to
Carry Out the Franchise or Pay the Forfeit of $10,000.
"You fool me once, that's your fault, you fool me twice, that's my fault," is an old and apt saying that is quite applicable in the present case of The Milwaukee Light, Heat and Traction Co. in asking for a franchise to go down Second Street before the original franchise given the company here is carried out.
If the company breaks faith with the people on this original franchise, is there not good reason to suspect that it will continue to break faith and do about as it pleases here if it finds our city officials without backbone and too plastic to the persuasive powers of oily-tongued street railway advocates, whose smiles and handshakes and the honor of being spoken to by such great personages seem to have greater weight with some of the powers that be here than the pleadings of citizens who have ought but the interest of the city at heart.  There are some people, however, who do not look at the benefit public enterprises are to a city as a whole, so long as they may be of some pecuniary interest to themselves.  Every one must admit that a street railway entering at one side of a city and passing out at the other would be of greater benefit to the city as a whole than to have it come in and side-step before half the city is passed through, as the following illustration shows:
<![if !vml]>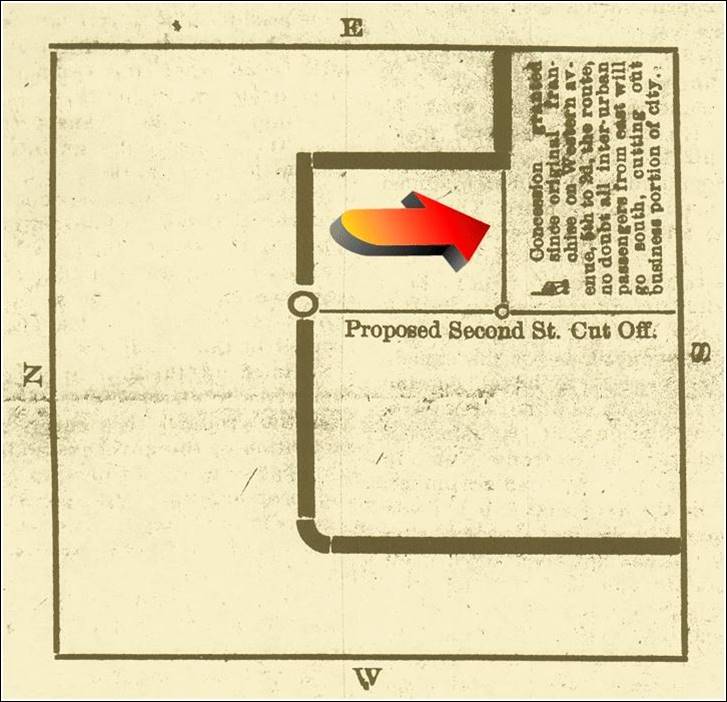 <![endif]>
The black lines above show the franchise as it now stands and the light lines show the proposed cut-off which, if granted, would in all probability for many, many years to come shut out over one-half of the city from the interurban advantages the present franchise would give it if carried out.
At the meeting of the City Council Tuesday evening it was decided to put the matter of the Second Street franchise off till next Tuesday evening.  When it comes up on that evening, there should not be one in its favor, for should it by any hook or crook be granted, there are a determined number of taxpayers and citizens who say that they will take the matter into their own hands and have engaged an attorney to see whether they have rights that must be respected or not . . .
. . . The Gazette is no alarmist in this matter—it is talking for the interests of the entire city, no matter what a few irresponsible people may say to the contrary.   It has always advocated public improvements and that too, when it was quite dangerous to do so, and besides its editor has contributed liberally to every factory that has been located here since the Advancement Association was organized, as well as to the public library site, and other public interests. 
No, gentlemen, you'll not make capital for your cause by going about from place to place endeavoring to get up a prejudice against the editor of The Gazette, as long as he confines himself to a respectable discussion of this as well as any other public question, for he is only voicing the sentiments of a large percentage of the taxpayers and citizens of Watertown.
We're a pioneer in taking a stand for what we consider right, and long since we have learned that friend and foe alike admire a fair open fight.  If beaten in this case, we'll submit to what may prove the inevitable, and continue to talk for the interests of the city at large, to contribute as much as possible to every public enterprise, when possibly a few of the parties to the question now at issue are sneaking out the back door when solicitors call for subscriptions to encourage more factories to locate here.
The Milwaukee Light, Heat and Traction Co. ought not find fault with The Gazette for The Gazette complimented the street railway company when it formulated its present admirable franchise and it is now fighting to uphold it.  If our citizens made the street railway company pay $10,000 or $30,000 for not living up to its provisions, that's the street car company's own fault, that forfeiture clause was not put in the ordinance by the editor of The Gazette.  Build your road as originally planned, or pay your forfeit like men, as you said you would, or ask or receive no more concessions till you make your peace with the injured parties.
For the benefit of those who say there is no forfeiture provided for in the street railway franchise, we refer them to section 25 of said ordinance.
↓  More on Franchise to go down Second Street   ↓
COUNCIL GRANTS
STREET RAILWAY
RIGHT TO GO SOUTH
ON SECOND STREET
Watertown Gazette, 05 14 1909
But Attorney Dean of the
Milwaukee Light, Heat and Traction Co.
Says Mr. Beggs Will Not Accept Ordinance as Passed
It Was Handed to Mr. Beggs on a Silver Platter
He No Doubt Wants It on a Tray Lined With Gold
At an adjourned meeting of the city council last Monday evening an ordinance was passed granting the Milwaukee Light, Heat and Traction Co. the right to build its line out of this city south from  Main on Second Street to Utah street, thence to the city limits, which practically abandons the line south on Montgomery Street, as originally planned.
The vote of the council on the question of the 2d Street ordinance was
For the Ordinance—Aldermen Huenefeld, Werner, Hartwig, Shinnick, Weber, Kehr, Krueger, Breckenridge, Kalina—9.
Against the Ordinance—Aldermen Russell, Humphrey, Ryan, Tetzlaff, Schimmel—5.
The vote in several respects has occasioned great surprise and considerable unfavorable comment, for judging from past utterances of a number of the aldermen, our people were led to believe that John I. Beggs stood a better show of getting to heaven through the eye of a needle than of getting their votes on the Second Street franchise.  The Gazette respects every man's right to vote as he sees fit on all public questions and does not charge or insinuate that any improper methods were resorted to in securing the passage of the ordinance, but we do think a serious blunder has been made, so far as it will effect the material interests of the city as a whole.  The street railway franchise as originally planned was fair to every section of the city, and by cutting out a vast area of the city for some time to come by abandoning the Montgomery Street route, we do not think a square deal was in the minds of those who are responsible for it.  There are now about 30 blocks of street railway from First Street east, and only seven from First Street west, the Second Street extension will add about 15 more, making 45 blocks as against 7.  Is this a square deal gentlemen? 
And again John I. Beggs has discovered he can get just what he asks from the Watertown people and will build his lines here to suit his purposes whether it suits our people or not—in other words he wants the whole cheese and if any of its crumbs should drop by the wayside our dear people may scramble for them, especially if he succeeds in disuniting them by his methods. 
John I. rules with an iron hand, he fights for every inch and if he can't get the inch he'll take the 16th of an inch and finally when it's all over instead of getting one-sixteenth of an inch, he has one inch and one-sixteenth, unless he is dealing with men who are just as sharp at driving a bargain as himself.  The citizens of Watertown will lose nothing by knowing their rights and fighting for them—a wishy, washy, vacillating way of doing things, and an over-anxious spirit to grasp prosperity in too big a chunk all at once, prove disastrous in the end. 
The advocates of upholding the old franchise before granting any further concessions have, in their opinion, been beaten because "'might makes right," and therefore submit to the inevitable gracefully and hope that the granting of the Second Street franchise will result in good to all of our citizens instead of to only a few.
At the council meeting was a very large number of our citizens, and with the permission of the mayor and council, a number were heard on the matter up for consideration.  Those who were heard in favor of the ordinance were Fred A. Hoffmann, H. G. Grube, H. Wertheimer and Alderman Kehr.  Those opposing were J. W. Moore, Owen T. Hughes, F. J. Koser, Richard Geschke, Dr. Eugene Goeldner, Joseph E. Davies, Aldermen Ryan, Russell, Humphrey and Tetzlaff.
↓  More on Franchise to go down Second Street   ↓
Second Street Franchise
Amended and Passed
Watertown Gazette, 05 28 1909
At the meeting of the city council last Tuesday evening, the Second Street railway franchise was amended to suit John I. Beggs and passed by the following vote, Alderman Ryan and Shinnick being absent:
Ayes—Huenefeld, Werner, Hartwig, Weber, Tetzlaff, Krueger, Kehr, Kalina, Breakenridge, 9.
Noes—Humphrey, Russell, Schimmel, 3.
↓  More on Franchise to go down Second Street   ↓
Bulgarian Workmen Cause Trouble
Watertown Gazette, 06 18 1909
Last Saturday at noon a gang of 100 Bulgarian laborers engaged on the Second Street electric railway [interurban] got into a row with John Moholich, the foreman, over the discharge of one of the laborers, whom the foreman tried to compel to leave the street.  A number of other workmen rushed to their co-laborer's assistance and in the rumpus it is said the foreman knocked four or five of the men down in self protection.  On the arrival of the police on the scene peace was brought about, but the men refused to go to work and they were taken to their camp near Pipersville.
Most of the men returned to work on Monday, but about 20 refused to do so and would not leave the camp.  Sheriff Snover was called here Monday afternoon to take charge of the unruly ones but before he arrived they left the camp and no further trouble was anticipated, but all the men quit again Monday evening and returned to the camp.
Sheriff Snover was here again on Wednesday and after swearing in a dozen deputies, all wearing stars, they took the car [interurban] for the Bulgarian camp and on the street railway company agreeing to transport the dissatisfied men to Milwaukee and pay them what is coming to them, the men appeared satisfied.  But few of the men understand the English language and they do not seem to understand the conditions . . .
Watertown High School
Watertown Daily Times, 03 06 1999
A longstanding foreign language program at Watertown High School is drawing nearer to an end as another group of students prepares to graduate in coming months.  The school's once-popular Latin program, reduced this year to one small class taught by a preparatory school professor, is on the way out.  The decision was made to cease instruction in Latin based on declining enrollments and the resignation of Watertown's teacher. School officials could not find a qualified Latin instructor to take her place and have since opted to bring French in as the new language offered at Watertown High School, along with Spanish and German.  And although the Latin program is on its way out, students who are in their second, third and fourth years of study have been assured they can continue their instruction through their high school years.  Most of the pupils are under the direction of Professor Ron Hahm, who teaches the same subject at Luther Preparatory School.  Hahm, who teaches about 100 students at Luther Prep, travels to Watertown High School every day for an hour with a much smaller group - 13 students.  Students had the option of studying under Hahm or taking a correspondence course.
Watertown Gazette, 05 05 1859
Mr. Sebra Howard is now engaged in erecting another steam saw mill at Hubbleton, on the Crawfish River.  The main building will be brick, 50 feet long by 25 feet wide, with a wing of 25 feet in length.  It will be located on the north side of the railroad.  It is to have a circular saw capable to cutting timber 40 feet in length and of any thickness that may be found in the forests abounding in that section of the country.  He is now getting his material on the ground, the brick having been manufactured by Mr. D. S. Chadwick.  The place selected for this new saw mill is every way adapted for such an establishment.  Any quantity of first rate timber can always be procured to furnish all the sawing that the mill can do.  It will be years before the woods can be exhausted and will give employment to a large number of mechanics and workmen of various callings.
First Presbyterian Church of Jefferson
Watertown Gazette, 05 05 1859
The Jeffersonian on the 28th says that "last Monday morning a number of the congregation and others belonging to the First Presbyterian Church of Jefferson assembled on the ground designed for the church, previous to commencing building operations, for the purpose of invoking the blessing of God upon the enterprise.  The Rev. E. F. Waldo, the pastor, made some very appropriate remarks and offered up an earnest prayer that the work might be prospered, after which the choir sung a hymn, suitable to the occasion, to the tune of the Old Hundred Psalm, in which the choir and many present joined . . .
From the same paper we learn that they have a new church bell in that village.  "The pleasing sound of a fine toned church bell fell upon our ears last Sabbath morning, for the first time in six years, which proceeded from St. John's Church, lately established in our village.  It told us that Jefferson was progressing and that probably before another year rolled round we would have that pleasure to chronicle the arrival of two or three others to fill the belfries of those churches which are now preparing to be erected here this season."
St. Mark's Evangelical Lutheran School Dedication
Watertown Daily Times, 02 19 2009
Celebration of completed building and renovation project
Sunday, February 22
Dedication Service - 10:45 a.m.
Contractor Recognition - Noon
Open House to follow
St. Mark's Lutheran School Gymnasium, 706 Jones St., Watertown, WI
<![if !vml]>

<![endif]>
In June 2008, St. Mark's began a $4.3 million school building addition and renovation project.  As we celebrate its completion, we wish to thank the many businesses and contractors who contributed to our project.  St. Mark's has been blessed by your work.
Our 24,600 square foot addition includes:
• New gymnasium • Music room • Computer room • Kitchen • Commons Area • Administrative offices • Bathrooms • 8 classrooms
Renovation of our current building includes:
• Heating • Plumbing • Ventilation • Electrical • Windows
St. Mark's School is supported by St. Mark's Evangelical Lutheran Church and is affiliated with the Wisconsin Evangelical Lutheran Synod.  The current enrollment at the school is 264 students in 3-year old pre-kindergarten through eighth grade.
St. Mark's School also has an extended childcare program providing before and after school care.
St. Mark's to dedicate new school, music center
Watertown Daily Times, 02 20 2009
St. Mark's Evangelical Lutheran Church will dedicate its new and renovated school building and music center on Sunday at 10:45 a.m. The dedication service will be held in the gymnasium of the school at 706 Jones St.  Guest speaker for the service will be Professor Emeritus Daniel Deutschlander, a member of St. Mark's, who will speak on Matthew 17:1-9, "Look Up and See Only Jesus."  The pastors of the congregation, Michael Jensen, Karl Walther and James Werner, will be assisting in the service.  A special 55-piece orchestra has been assembled to accompany the worshipers in their songs of praise.  The orchestra is under the direction of Adrian Smith, minister of music at St. Mark's.  The 265 students of the school will sing "Clap Hands." The combined church choirs will sing the anthem, "This Is My Beloved Son."
During the rite of dedication, the children along with the choirs will sing "Praise the Lord, His Glories Show."  The Luther Prep String Ensemble will also play the offertory, "Speak, O Lord."  Following the dedication service, the contractors will be recognized and thanked for their faithful work.  Excel Engineering of Fond du Lac designed the project and the general contractor was Maas Brothers Construction of Watertown.  There will be a reception in the commons of the school following the service.  A public open house will be held from 1 to 3 p.m. for anyone who would like to tour the school.  St. Mark's Evangelical Lutheran Church has operated a Christian school in the city of Watertown since 1854 when its first pastor began classes.
Season for Outdoor Exercises
Watertown Gazette, 05 19 1859
The season for outdoor exercises—for pleasant, invigorating walks and for rapid, exhilarating drives—has arrived but the people do not seem to improve it to any great extent—not near as much as their physical welfare demands.  The stifled atmosphere of the study and not the pure winds of heaven is in the air that too many of us breathe altogether too much.  When earth is putting on its summer dress of magnificence and liveliness, let us now and then go out and catch at least a passing glimpse of the glories and wonders of nature, for we cannot gaze too much or too deeply on the infinite mysteries that are going on all around us at this time of the year.  Even the children show much more wisdom than their elders in this respect—they will not stay in the house, they will play, they will fly hither and thither, they will have their fun, and it is right they should . . . Anything that is within the limits of innocent and beneficial relaxation is better than growing habits of indolence, stupidity and self-indulgence in debilitating ease, which are apt to creep over the bodies and intellects of all whose employments are sedentary and quiet.
Enlarging House of Worship
Watertown Gazette, 05 12 1859
The Methodist Church of this city is now greatly enlarging their house of worship.  Some thirty-five feet will be added to the length of the present building when the improvement now in progress shall be completed.  This addition will go far towards accommodating the increasing members who assemble there for religious service.  Under the ministry of Rev. A. C. Huntley the increase in the membership to this church during the past year has been considerable.  He will remain here one year more, having recently been reappointed to this station by the late conference.  This intelligence will be received with pleasure by all who have witnessed his earnest and successful efforts to serve with sincerity and truth his Divine Master since he has resided here.  May many more be added to his congregation of such as shall be saved.  Here in the West it may well be said that the harvest is ripe and the reapers are few.  What a broad field of missionary enterprise exists in this favored region.  Whatever may be its material prosperity, spiritual wealth it has not got and "grace abounding" is far from being its distinguishing feature.
Watertown Daily Times, 02 28 1959
Ewald E. Brumm, park superintendent, has returned from a conference regarding the control of the Dutch elm disease, sponsored by the League of Wisconsin Municipalities.  Last summer the disease was found in one tree in Watertown and it was immediately removed, destroyed, and the area treated in order to destroy the beetle that might be in the neighborhood.  Records show that the disease has spread gradually into Wisconsin, and has secured a foot-hold in the southeastern portion.  Watertown seems to be the northern extent of the spread.
Watertown Daily Times, 02 28 1984
Because of problems with dust, truck traffic, noise and potential runoff into the Rock River, the Watertown Planning Commission rejected the Golper's Corporation plan to build a warehouse and blending facility at 211-217 S. Water St.  The structure would have been an expansion of the current Golper's operations, located at 116 S. Water St.  The proposed 30 foot by 70 foot facility would have been used for the storage and mixing of fertilizers.
↓  More on Golper's  ↓
Watertown Daily Times, 04 25 1984
Because of plan modifications which will minimize the potential for environmental problems, the Watertown Planning Commission Monday recommended a plan by the David Golper Company, Inc., to construct a warehouse and adjacent blending facility at 211-217 S. Water St.  The plan, an expansion of current Golper operations at 116 S. Water St., must gain the final approval of the Watertown Common Council at its next meeting May 1 before construction is to begin.  All operations of the facility will be enclosed, according to Assistant City Engineer Joe Radocay, and there will be no floor drains or exhaust fans.  A low berm or curb will also be constructed to divert any surface water runoff, he added.
↓  More on Golper's  ↓
Watertown Daily Times, 04 27 1984
Because of plan modifications which will minimize the potential for environmental problems, the Watertown Planning Commission Monday recommended a plan by the David Golper Company, Inc., to construct a warehouse and adjacent blending facility at 211-217 S. Water St.  The plan, an expansion of current Golper operations at 116 S. Water St., must gain the final approval of the Watertown Common Council at its next meeting May 1 before construction is to begin. A ll operations of the facility will be enclosed, according to Assistant City Engineer Joe Radocay, and there will be no floor drains or exhaust fans.  A low berm or curb will also be constructed to divert any surface water runoff, he added.
↓ More on Golper's  ↓
Watertown Daily Times, 06 19 1984
Frank Melcher, route 3, Watertown, who has been employed by agri-business industries in this area for many years, has been named general manager of David Golper Company, 116 South Water Street, according to Al Grunewald, president of the firm.  Melcher will be active in all areas of the business, and will provide key assistance to the firm's plans to construct a fertilizer warehouse and blending facility.  Melcher has been manager of the Johnson Creek Co-op for 20 years and the Tomorrow Valley Co-op of Amhurst for three years.  For the last year, Melcher has been sales representative for Ag-Chem Equipment Company of Minneapolis.
Watertown Gazette, 05 05 1859
Mr. P. V. Brown has just opened a new store in Dennis' Block, on the West side of the river.  He has a large and choice stock of goods, which, of course, he will sell cheap—probably cheaper from the fact that they were obtained on credit, and contrary to the general practice of other merchants this season, will be sold on the same terms.  That must be the place to buy on time and if the purchaser cannot pay for them, it will not make the least difference, as it is well known that Brown can, so it will be all the same.  It will be a good thing to have one establishment doing business on the old system—that is always trusting and never collecting.  The price of articles will be a matter of no importance, inconvenient talk about final settlements can be dispensed with, and the time occupied in discussing more agreeable topics.  Brown's store is just the thing most needed now.  We intend to visit it and extend to it our custom, if we can make an arrangement by which we can exchanges our wares for his, as we are confident some dicker would be for the mutual advantage of us both.
Worms!  Worms!
Watertown Gazette, 05 19 1859
Worms!  Worms!  A great many learned treatises have been written explaining the origin of and classifying the worms generated in the human system.  Scarcely any topic of medical science has elicited more acute observation and profound research and yet physicians are very much divided in opinion on the subject.  It must be admitted, however, that after all, a mode of expelling these worms and purifying the body from their presence is of more value than the wisest discussion as to their origin.  The expelling agent has at length been found—Dr. McLane's Vermifuge [medicine that expels intestinal worms], prepared by Fleming Bros., is the much sought after specific and has already superseded all other worm medicines, its efficacy being universally acknowledged by medical practitioners.  All other vermifuges in comparison are worthless.  Dr. McLane's Genuine Vermifuge, also his celebrated Liver Pills, can now be had at all respectable drug stores.
Married
Watertown Gazette, 05 07 1909
At the parsonage of the Congregational Church at 3:30 o'clock Friday afternoon, April 30, 1909, Rev. H. C. Rehm, pastor, united in marriage William F. Richards and Miss Nettie May Saban.  At the conclusion of the wedding ceremony a luncheon was served at the home of the bride's parents at 201 North Eighth Street, at which only relatives were present.  They left on an evening train on a brief wedding trip.  They will reside at 117 North Eighth Street.  The groom is one of Watertown's most exemplary young men and for several years past has been employed in the Watertown post office.  He is a son of Mrs. Susanna Richards.  His bride is a daughter of F. J. Sabin and wife and, like her husband, is popular with a large acquaintance.  She is one of Watertown's most amiable young ladies and both she and her husband enter married life with the good wishes of all our people.
Watertown Gazette, 05 19 1859
[Letter from Omaha] To the Editor of the Watertown Democrat:  If emigration is any test, the times have been harder in Wisconsin than any where else as eight-tenths of the teams passing here are from that State . . . There are now from one hundred and fifty to two hundred teams passing here daily, beside foot men, hand carts, etc . . . Many have inscribed the place whence they hail on the side of their wagons . . . Many of my acquaintances from Janesville, Ft. Atkinson and Jefferson have passed but as yet not one from Watertown that I have been able to find, but am anxiously looking for the advent of "Doc" and his company.  I shall stick it out until he comes, as he promised to bring a keg of "Fuermann's Best" [Watertown brewery] with him and not to touch it until he reached this point, and if he will keep his promise—especially the last part of it—won't we have one good nip before we leave for the diggings?  But I'll not let my mind dwell upon it for after all "Doc" is an indifferent ox teamster and may upset and spill it . . . D.S.P.
Assessor for the city at large
Watertown Gazette, 05 05 1859
Common Council.  Petition of Thomas Moore, praying that he may be recognized as "assessor for the city at large" referred to special committee. 
Watertown Gazette, 05 26 1859
On the 16th inst., Mrs. Harriet Whitney, wife of C. M. Whitney, of the town of Watertown, destroyed her own life by throwing herself into Rock River and drowning . . . deliberately planned and calmly executed . . .
Alderman Van Alstine of the Exchange
Watertown Gazette, 05 19 1859
Alderman Van Alstine of the Exchange has a keen eye for the welfare of the whole city but a keener one for choice and early delicacies of the season.  He is a model of a corporation father and a pattern of a hotel keeper.  Already strawberries, cucumbers and green peas have graced his table and he keeps Tom Smith a stationary sentinel on the corner to watch for the appearance of the next new edible the season brings forth.  The productions of every clime this side of the equator are levied upon to supply the most luxurious of boards, to which we challenge the epicures of your "magnificent Newhall Houses" and "palatial residences."  If you doubt—try.
City Water Department
Watertown Daily Times, 03 14 1959
The city of Watertown's application for permission to make plant improvements in the city water department totaling $128,900, including a new 300,000 gallon ground storage water reservoir, will be heard by the Public Service Commission of Wisconsin at its offices at Madison on March 25.  The application is part of the City Water Commission's long range improvement and expansion plan to meet future needs of the water system and water services here.
Watertown Daily Times, 12 14 1997
Dr. F. David Geske has been named executive director at Bethesda Lutheran Homes and Services, Inc. and will begin his duties Jan. 2, 1998.  Geske, currently executive director of Good Shepherd Lutheran Home of the West in California, said he's looking forward to a move back to the Midwest.  Before his position at Good Shepherd he was employed at Bethesda in Watertown.  "It's an honor," he said in a telephone interview this morning with the Watertown Daily Times.  "I'm looking forward to it. Wisconsin has always been in our hearts."  He and his wife, Deborah, who are both originally from the Midwest, will move back to the area soon.
Watertown Daily Times, 12 14 1957
Dr. O. L. Hidde, Watertown chiropractor, has filed a petition for the rezoning of outlot No. 11 below St. Mary's Hospital Hill in order to locate an office and clinic there.  A previous petition by Dr. Hidde to locate a similar building in the Summit Avenue area was rejected after a petition was filed against the proposal.  The Becky Radio and TV Service had sought to locate below the hospital hill recently and this was rejected.  The service is now located in downtown Main Street.
↓  More on Hidde Chiropractic   ↓
Hidde Chiropractic Building
Watertown Daily Times, 01 23 1960
Dr. O.L. Hidde today announced the opening of the new Hidde Chiropractic Building at 1434 East Main Street on Sunday, Jan. 31 from 2 to 4 o'clock, during which the building and clinic will be open for inspection. Dr. Hidde, who has been practicing chiropractic in Watertown for the past five years, is a native of Marion, Wis. A graduate of the National College of Chiropractic, Chicago, he received his degree there after a four year training course.
Young People of Watertown
Watertown Daily Times, 12 14 1907
The Leader wishes to go on record as being heartily in favor of any plan tending toward elevating the morals of the young people of Watertown, the nation, or the world in general.  It will not be found taking sides as against a Christian spirit tending toward the betterment of mankind.  From the inception of the Daily Leader, its management has conscientiously tried to mould public opinion on the side of right and justice and if it ever swerves from that pinnacle in newspaperdom, it will be as a mistake from the head and not from the heart.  Movements have been launched in Watertown at various times for the betterment of local conditions. Some have been extremists in their suggestions, but the majority have been only plans for action that should receive the hearty cooperation of all classes of citizens, save those possibly who have become so degraded and blinded that they themselves are beyond redemption and so indifferent to the welfare of the rising generation that they grope in present darkness and are so entirely short-sighted that they cannot vision a picture of the future.  The Leader is not given to sermonizing, but right is right, and on that side it wishes to cast its lot . . . The man who will suggest and work to the end of securing places of innocent amusement for the young people is a public benefactor and not only deserving of commendation, but of cooperation from fellow citizens.
Watertown Daily Times, 03 13 1959
Tom Doering was elected president of the Wethonkitha Club at a dinner meeting of the organization Thursday night.  Others elected were:  Lester Lange, vice president; Lester Bast, secretary; Roger Hamann, treasurer, and Raymond Dobbratz, director.  Dobbratz has been president for the past two years.
Sale of
Watertown Daily Times, 03 10 1959
Sale of the building at 107-109 Main Street, familiarly known as the Hertel and Hoffmann building, to a Watertown business man.  The present occupant is Bossert's Variety Store, which plans to close out its business here and relocate in Mineral Point.  Previous to that the building was the Scott Store.  The new owner, whose negotiations for the property began early this year, has announced he does not plan to occupy the newly acquired building himself and that at present there is no new tenant.  His name is being withheld at his request until the property transfer is completed.
↓  More on Hertel and Hoffmann Bldg  ↓
Firestone Store
Watertown Daily Times, 04 23 1959
The quarters at 107 [E] Main Street, formerly occupied by Bossert's Variety Store, which moved to Mineral Point, will be taken over about June 1 by Rex Draheim, Inc., now of 307 [E] Main Street, a Firestone Store.  This is one of several Main Street business changes due to take place in the next several months.  The store quarters will be remodeled before the new occupant takes over.  An annex of the Hotel Carlton [111-115 S First], to the rear of the building and the adjacent parking area, will also be taken over for the new Firestone setup.
Hall of Fame
Watertown Daily Times, 03 10 1999
Clarence "Bumps" Schumann and Robert Schmidt, two longtime members on the Watertown bowling scene, will be inducted into the Watertown Bowling Association Hall of Fame next month.  Schumann has been active in the Watertown bowling scene for 65 years and continues in sanctioned competition today. Schumann began bowling in 1934 and hasn't stopped since except for a stretch when he was in the military in the 1940s.  Schmidt, who is being inducted for his service to the game, has promoted bowling tirelessly during his tenure in the management and ownership of Watertown Bowl 18.  He has held a wide variety of leadership posts in the bowling industry and continues to promote new and innovative ways to gain enthusiasm for the sport.
Horicon Fire
Watertown Gazette, 05 26 1859
[Horicon] The most destructive fire ever known in this place occurred on the morning of the 18th, burning all the buildings situated on the water power, on the north side of the river.  The fire was first discovered in the new saw mill and soon spread over the whole building and those nearby.  There is much conjecture as to the origin of the fire but doubtless it was set accidentally by some fishermen who took refuge under the mill during the shower just previous to the fire.  The fire spread so rapidly after it was first discovered that nothing was saved and two of the Messrs. Gates, who slept in the sash factory, barely escaped with their lives, one of them not having time to secure his clothing.  There was but little wind at the time and it was very fortunate for Horicon.  With a moderate south wind, it would have been wholly impossible to have saved any portion of the business part of the town.  May it never be our duty to chronicle another so disastrous a blow to the interests of Horicon as this.  –Horicon Argus
Watertown Municipal Airport
Watertown Daily Times, 03 17 1959
The City of Watertown last night was asked to comply with its part of the agreement to carry out improvement plans at the Watertown Municipal Airport.  The request was made by the State Aeronautics Commission of Wisconsin which has acted as the city's agent in obtaining state and federal funds for the airport development.  Last month the City Council voted against making $7,500 available for the city's share toward the so-called airport expansion plan and T.K. Jordan, state director for the aeronautics commission, the next day charged the councilmen had violated the state statute pertaining to the airport development and had gone back on the agreement by their refusal to go through with the city's part of the program.
Watertown Daily Times, 03 17 1984
Asbestos in ceiling materials at Watertown High School and Schurz Elementary School may be removed this summer, and at much less cost than originally estimated.  The school board's buildings and grounds committee agreed that the entire job should be completed this summer.  The full board will consider the matter at its March 21 meeting.  The cost of removing the asbestos is expected to be well below original estimates from Daniel J. Hartwig Associates, an occupational health and safety consulting firm.  Hartwig estimated the cost of removal and installation of new ceiling materials at the high school alone would be $250,000.
↓  More on Asbestos Removal   ↓
Loan for Asbestos Removal
Watertown Daily Times, 04 16 1984
Plans to secure a $400,000 loan for asbestos removal at Watertown Senior High School and at Schurz Elementary School as well as site maintenance work at Riverside Junior High School were reviewed by the board of education of the Watertown Unified School District.  The site work at the junior high school involves the sports area to the north of the school as well as extensive landscaping around the school itself.  The basic cost of the projects will be $357,765 to $372,765, depending on the extent of the work needed at the junior high school, and in addition several other minor projects being proposed which will use the remaining $28,000.
Watertown Gazette, 05 26 1859
The children are having fine times daily at the Congregational Church, singing under the tuition of Mr. Holdrege, who suits the children's notions of singing admirably.  They will give a concert sometime next week, which all will be invited to attend, as it is in this way that the instructor is remunerated for his labors.
↓  More on Mr. Holdrege   ↓
Congregational Church Concert
Watertown Democrat, 06 02 1859
The concert tonight at the Congregational Church should not be forgotten, but all should attend it.  Let the house be filled with delighted listeners.  Mr. Holridge is an accomplished musical teacher.  In the city of Brooklyn he was for a long time the leader of the Sabbath School choir in Henry Ward Beecher's church, and we assure our citizens he will provide for them a musical entertainment that will be well worth hearing.  His plan is to take the children of the place he visits and instruct them in the principles of the most delightful of all arts, to give a concert and accept the result as the reward of his valuable services in this respect.  What parent but would like to have his own children know how to sing, and they can learn by taking a few elementary lessons from this most accomplished and successful of teachers.  We say to all, encourage such enterprises as they by your presence this evening at the concert.  Go by all means and see what the little children can do.
Watertown Gazette, 05 14 1909
An excursion will be run via the electric railway to Watertown on Memorial Day by former students, friends and patrons of the Northwestern University.  The invitation to participate in the day's festival in Watertown was accepted by A. E. Wurster, president of the Milwaukee Northwestern University Club.  The united musical societies of the institution that gave a concert in this city last year will reciprocate the cordial reception at the event.  Chartered trains will carry the passengers direct to the university campus, where the formal exercises will take place.  The committee in charge of the arrangements consists of Herman Ebert, Julius Dammann and O. L. Ernst -[Milwaukee News]
Watertown Gazette, 05 14 1909
Last Sunday morning a class of 19 boys and 29 girls received their First Communion at St. Bernard's Church.  Rev. Father Boland's remarks on the occasion were eloquent and beautiful and made a lasting impression on all who heard them.
Boys:—Harry Carmody, Jerome Buller, George Ryan, Fred Mullen, John Kelly, Celeste McGolrick, Arnold McAdams, George Salick, Walter Stanton, John Moriarty, Dan Brooks, Earl Russell, Adolph Scheck, Paul Conway, Leonard Jaehrling, Raphael Casey, Charles Coughlin, Gervais Irving, Leslie Kunitz.
Girls:—Loretta Collins, Josie Manning, Florence Manning, Florence Potter, Loretta Coughlin, Ruth Mullen, Susie Carroll, Marie Carroll, Anna Brusenbach, Anna Mantz, Maud Carey, Marie Buttler, Rose Ellis, Salina Heon, Irene Heon, Mary Norton, Helen Casey, Catherine Blair, Margaret Kunitz, Clara Mantz, Marie Burke, Stella Salick, Mary Burns, Evelyn Moore, Gertrude Blaesius, Gertrude Coughlin, Regina O'Connell, Loretta Burns, Gertrude Powers.
Watertown Gazette, 05 07 1909
In a few weeks Lake Mills will be the scene of bustle and activity and the warlike spirit of its American public will be afforded a rare treat, for the Northwestern University band and military company of Watertown are coming.  Capt. Phil Koehler has been in the city to make arrangements in regard to the marchout.
The company has a membership of some sixty odd members.  Capt. Koehler has worked out a plan for the sham battle which he assures to be one of the best and longest battles that the military company has ever delivered here.
Watertown Gazette, 05 07 1909
The members of the U. T. C. lodge gave a very enjoyable party last Saturday evening at Masonic Temple.  About thirty-five couples were in attendance.  Cards and dancing, principally dancing, were the amusements offered their guests and judging by appearances it was thoroughly enjoyed.  A bountifully laden table greeted them when about 11 o'clock they were invited to descend to the dining room.  The table was prettily decorated with the colors of the order—blue, gold and white, and an immense basket of flowers formed the centerpiece while festooned over the table was a string of tiny electric bulbs in globes of white, gold and blue.  The effect was very pretty indeed.  The Miller-Bramer orchestra furnished the music for the occasion and nothing was left undone which could conduce the comfort and pleasure of those present.  Certainly "The Knights of the Grip" proved themselves to be royal entertainers.
Watertown Gazette, 05 14 1909
Next Sunday will be the twentieth anniversary of the Epworth League.  A special program has been prepared by the members of the League.  At 2 p.m. Bishop Robert McIntyre of St. Paul [will speak].  This arrangement is for the purpose of permitting people from surrounding towns to hear the Bishop without forsaking their own morning services.  They are coming by team, by trolley, by auto—all but the airship.
Cross reference:  The Epworth League was an organization of the young people of the Methodist Episcopal Church, formed in 1889 at Cleveland, Ohio, by the combination of five young people's organizations then existing.  The purpose of the league was the promotion of intelligent and vital piety among the young people of the church.
Watertown Gazette, 05 14 1909
Last week Friday a man giving his name as Harry Sims hired a horse and buggy at Tony Boll's livery stable at Jefferson and stated he was going canvassing in the country.  Not returning the outfit the next day, Mr. Boll had a warrant sworn out for him and Marshal Bullwinkel came here on Monday and found the outfit at James Dowd's livery barn [319 N Second, livery stable], to whom Sims had sold it, claiming he had been out for some time selling household articles, was tired of his job, and wished to sell the outfit.  The police are searching the country for him.
Men Fined For Illegal Fishing
Watertown Gazette, 05 21 1909
August Wiselius and Edward Erdmann, the two men arrested on complaint of Deputy Game Warden Neis Johnson of Madison for illegal fishing with a dip net, plead guilty this morning in Justice Stacy's court and were fined $25 and costs.  In default of payment they were sentenced to the county jail at Jefferson for a period of twenty days.
Wiselius is a section hand and says the prices of meats are so high that he wanted to secure fish for his large family, but on their plea of guilty the justice had no discrimination in the matter as the law is plain on the subject.—[Watertown Times].
The trouble with the above named parties seems to have been, not that they caught game fish in a net, but that they did not catch enough of them.  In other words, had they fished for carp instead and then slaughtered a ton or more fine game fish there would have been no prosecution—only much greater damage to the state.  Did you ever see such a farce as the fish law is?  The citizens of Watertown ought to subscribe enough money to pay the fines of the two men.  It is a pity to have any more convictions until this rottenness is rooted out.  Things never mend till they get to their worst.
Justice Stacy ought to come here and investigate matters.— [Ft. Atkinson Union].
The citizens of Watertown are not responsible for Wiselius' misfortune.  Pass the hat around to the republicans who are responsible for the fish law in Wisconsin.  Justice Stacy did his duty under the law.
Watertown Gazette, 05 14 1909
On Monday the city clerk opened the following bids for hauling fire apparatus: 
Louis Griep, No. 1 wagon, $275.00
Carl Schumann, No. 1 wagon, $290.00
William Spear, No. 2 wagon, $300.00
John Byrne, hook and ladder, $298.00
Watertown Gazette, 05 14 1909
A. E. Baumann, the West Main Street candy manufacturer and confectioner, has purchased the Randall block opposite the public library, consideration $7000.  The property has a frontage of 66 feet on West Main Street and is 150 feet in depth.  The large three-story brick building Mr. Baumann will in the course of time fix up for his business.  The west 44 feet of the property he has resold to Wm. Sommerfeld, the Market Street barber.
Cross reference:
Main, W, 200     Baumann's Candy Kitchen
Main, W, 202     Charles E Sommerfeld, barber
Watertown Gazette, 05 21 1909
Becker & Peters have sold their general merchandise business in North Water Street to Theophil Liedke and William J. Schack.
t     More o Becker & Peters     t
Notice
Watertown Gazette, 05 21 1909
Having disposed of our business all persons indebted to us are hereby requested to settle their accounts by June 1st, 1909.  Becker & Peters, 117-119 N. Water St.
Watertown Gazette, 05 21 1909
Sunday evening, May 16, 1909, Samuel G. Roper, died at the home of his daughter, Mrs. Annie R. Woodard in Milwaukee in the 84th year of his age.  Deceased was born January 3, 1826, at Rutland, Mass., and in the early fifties he located in this city.  February 8, 1858, he married Sarah Elizabeth Turner, daughter of one of Watertown's first hotel keepers.  His wife died October 9, 1887.  Three children survive him—Mrs. Annie R. Woodard, Milwaukee, Charles Roper, Watertown, and George Roper, Texas. 
In 1852 Mr. Roper engaged in business in Watertown and was actively engaged in business here till about ten years ago, his first venture being proprietor of a restaurant and confectionery with Henry Mace in a frame building on the south side of Main Street bridge, which a few years ago was carried away by high water.
Later he was engaged in stock buying and in the farm machinery business with Chas. Ferry, the firm name being Roper & Ferry.  Their firm dissolved partnership, and Mr. Roper continued in the same line of business with his sons.  About two years ago he went to Milwaukee to reside with his daughter. 
Tuesday afternoon his remains were brought to this city and interred in Oak Hill Cemetery beside those of his wife.  Deceased was during a period of over 50 years one of Watertown's best known and most honored citizens, and no one ever knew Sam Roper who did not esteem and honor him.  He was possessed of a genial, straightforward disposition, and dealt with everybody as he would be dealt by, and now that he has passed to his reward, a large acquaintance mourn his death most sincerely.
Gum Machine Robbery
Watertown Republican, 11 15 1902
James O'Brian arrested by Sheriff McGolrick on suspicion of breaking into the depot at Hubbleton last week and helping himself to the contents of a gum machine, was sentenced to the county jail for vagrancy, there being no evidence to hold him on the charge of robbery.
Watertown Gazette, 12 19 1902
The athletic exhibition at Concordia Opera House last Tuesday evening witnessed by a fair-sized audience.  First on the program was a six-round two minutes bout between James O'Brian and R. M. McLaughlin, which was declared a draw.  Harry Falls and Charles Berry, of Milwaukee, then gave a sparring exhibition, which was also declared a draw.  Reinhold Schott was sick in bed, hence the wrestling exhibition advertised did not take place.
Watertown Daily Times, 02 19 1940
The city council last night voted unanimously to return to the Christ Becker estate the property known as the west side engine house, no longer used by the city.  A request that the property be returned, since it had been abandoned by the city for the specific use designated in the deed, was made recently by the heirs.
The committee named to study the details of the case last night reported and recommended that the property be returned and the 12 aldermen present voted for the return . The two absent members were Darcey and Beurhaus.
Watertown Gazette, 05 21 1909
In accordance with a custom of past years in the high school, honors were awarded this week to the ten seniors having the highest average standing for the four years work.  First honors went to Margaret Eberle whose average for the four years was 95.58 per cent, the highest average according to the record ever attained by a high school graduate.  Miss Eberle will be the valedictorian of her class.  Second honors went to Herbert Baurichter whose average was 92.26 per cent.  Mr. Baurichter will be salutatorian.  Elsa Rose, whose average was 91.6 per cent, was awarded third honors and will present the memorial of the class to the high school.  Ray Shanton, who received fourth honors with an average of 91.25 per cent, will have the distinction of delivering the class oration which will complete the student members on the commencement program.
In addition to these, fifth honors, which entitles the recipient to represent the class at the alumni banquet, were awarded to Helen Brooks, whose average was 89.79 per cent.  First honorary mention was given to Lilian Mundt, whose average was 89.7 per cent., second honorary mention to Celia Kwapil whose average was 88.7 per cent, third honorary mention to Irene Regan with an average of 88.57 per cent, fourth honorary mention, to Hilda Krueger with 87.7 per cent, and fifth honorary mention to Cyrus Casey with an average of 87.38 per cent.
There are forty-two members in the class and commencement exercises will be held June 26.
Watertown Gazette, 05 21 1909
Dr. T. F. Shinnick, alderman of the Second Ward, has tendered his resignation to Mayor Mulberger and it is now in the hands of the city clerk.  Under the new law the council will have the appointing power of his successor.  The many friends of Dr. Shinnick will regret his decision to resign from the council, for all regard him a good and conscientious member and a man who tries to do his duty in that body as he sees it. 
His resignation is as follows:
Hon. Arthur Mulberger, City.
Dear Mr. Mayor:  I address you and the Common Council of the city of Watertown.  Owing to existing conditions and that I am a busy man and unable to do justice to my constituents and the people of the city at large, I hereby tender my resignation as alderman of the Second Ward to become effective at once.  I would therefore ask your honor to appoint someone in my place from the Second Ward—party affiliations eliminated—according to your judgment and out of respect to the voters of the Second Ward.
The above resignation is irrevocable on my part, and thanking the Second Ward citizens for past courtesies and kindnesses and the members of the City Council for the friendly relations enjoyed while a member of its body, I am,
Very respectfully yours,
T. F. Shinnick, M.D.
Watertown Daily Times, 03 18 2009
Former Watertown police Capt. Tom Killmon was recently named the 2008 Legion Post 189 and Jefferson County Legion Police Officer of the Year.  Killmon recently retired from the Watertown Police Department after 33 years of service.  He was nominated for the award by police Chief Tim Roets because of his selfless dedication to the citizens of Watertown.
Watertown Daily Times, 03 18 1959
Twenty-two Watertown high school seniors and their chaperones have completed plans for their trip and tour to Washington, D.C., and New York City.  Students taking part in the tour are: Edith Niemann, Phyllis Hertel, Susan Mears, Cam Olson, Patricia Zeimis, JoAnn Gmeinder, Lois Radloff, Susan Turke, Susan Kehl, Susan Kressin, Shari Rippe, Joan Reinhard, Marcia Wendt, Cynthia Loeb, Jean Blegen, Cathy Reynolds, David Pfaffenbach, John Ponath, Charles Wendt, Richard Podolske, Joseph Rhodes and Robert Bender.
St. Bernard's Parish
Watertown Daily Times, 03 18 1984
After June of next year, the Holy Cross Fathers no longer will provide priests for St. Bernard's parish.  The announcement was made Monday evening at a widely attended parish meeting at the school gymnasium.  It was made personally by Rev. Richard Warner, C.S.C., Provincial Superior of the Holy Cross Fathers.  The Holy Cross Fathers have been in charge of the parish for over 100 years.  The order has been in charge continuously since 1871, with the exception of eight years in the 1920s, when secular priests staffed the parish.
1909
Watertown Gazette, 05 28 1909
Following is the program outlined by the committees for the observance of Memorial Day on Sunday, May 30:
O. D. Pease Post will attend St. Paul's Episcopal Church in a body at 10:30 o'clock service in the forenoon.  The body of church will be tastefully decorated with flags and bunting, and a choir of thirty-five voices will render the music. 
Sunday, 2 P.M.
Parade will form at the corner Main and North First streets in the following order:
Marshal of the Day and Aides
Northwestern Cadets and Students
Mayor, Commander, O. D. Pease Post and Guests in Carriage
Deutscher Kreiger Verein
O. D. Pease Post No. 94; G.A.R.
Older G.A.R. Veterans in Conveyance
Children in Carriage to Decorate the Graves of Mr. and Mrs. Robert E. Lewis
Watertown Band
Common Council in Carriages
Board of Education in Carriages
Woman's Relief Corps in Conveyance
Public Schools
Independent Band
Parochial Schools
Citizens in Carriages
Arriving at the tower in the cemetery the head of the column will halt, open order, and present arms while Grand Army Post passes through to music of fife and drum to the grave of late Comrade A. E. Needham [August], where services according to the G.A.R. ritual will be held . . .
Watertown Gazette, 05 28 1909
Watertown suffered its first defeat and coat of whitewash of the season at Washington Park last Sunday, at the hands of the Koerners of Milwaukee, 5 to 0, thereby dropping into third position in the pennant race.  Harry Siebert pitched magnificent ball.  He allowed six hits and fanned six.  Although Eddie Heimerl struck out ten men, the Koerner's solved him for [beleaguered him with] ten safeties at opportune times.  Seibert, Marquies, Luell and Hahn were there with two hits each.
↓  More on Watertown Baseball  ↓
Watertown Daily Times, 03 23 1959
The Watertown Cardinals were reinstated as members of the Central Wisconsin League's northern division at the loop's annual spring meeting at Jefferson Wednesday night and will resume play in the league this summer.  The readmission of the Cards brought the northern roster up to eight teams as Oconomowoc withdrew from the circuit.  Bidding for the 1959 championship will be Johnson Creek, defending champion, Whitewater, Monona Grove, Lake Mills, Fort Atkinson, Jefferson, Waterloo and Watertown.
Watertown Daily Times, 03 23 1999
Construction of the new Walgreens store at the corner of Main and Church streets has been halted temporarily, according to Todd Sabourin, Miron Construction project manager.  Some contaminated soil has been found at the site, and cleanup is anticipated to be completed in June.  Walgreens was originally set to open in June. Now a later date, close to early September, is anticipated.  Mark Putra, a hydrogeologist and project manager for the Department of Natural Resources-Horicon, said the contamination is not a big problem.
Watertown Republican, 05 01 1895
The Lawn Tennis Association is being reorganized for the coming season.  Last season's grounds on Seventh street, near Western Avenue, has been rented and the courts will soon be put in as good shape as possible.
Watertown Republican, 04 24 1895
G. A. Stallmann has added to his ice-cream department a new process gas engine to operate his ice-cream freezers.  He will hereafter be ready to serve the public with first quality ice-cream.
Cowboys
Watertown Republican, 03 13 1895
A cotorie of west side lads who "skipped" from their homes last week to become "cowboys" returned after a day's absence.  The eight dollars they possessed did not last very long.
Watertown Republican, 03 13 1895
Frank Ettner, a butcher employed by Albert Baumann, was arrested Saturday evening and brought before Justice Stacy, charged with having assaulted his employer at the latter's market, 4 Main Street.  The evidence showed that the defendant saw fit to trounce Mr. Baumann as the outcome of a dispute they had entered into.  Ettner, not being very conversant with the Queen's English, it was necessary to employ an interpreter, Alderman Kessler, on the case.  The justice imposed a fine of $5 and costs on the assailant, in all about $13 worth of fun.  [Baumann & Kniesel, meat market, 4 Main St, 1895]
Watertown Republican, 04 24 1895
While J. Alwardt, a farmer residing on Hustisford Street, was coming to the city with his team of horses Monday morning, the whiffletree pin dropped out of the tongue and the horses became unmanageable.  In attempting to gain control of them he was thrown from the wagon and dragged a considerable distance on West Cady Street before they were stopped.  Dr. Masterson attended him.  Several severe but not serious scalp wounds were the result.
Watertown Republican, 01 09 1895
This week Fellermann & Fischer, the newly-formed firm, are selling out the stock of clothing owned by them, and formerly contained in the W. A. Beurhaus store, the sale taking place at 205 Main Street (Cole's block.)  Some rare-good bargains are offered.  Messrs.  Sellerman & Fischer announce that on March 1 they will open a dry goods grocery house in the new Kusel building.  This move will no doubt be hailed with delight by residents of the west side.
More on Fellermann & Fischer . . . .
Watertown Republican, 03 06 1895
Fellermann & Fischer enjoyed a most auspicious opening of their new goods and grocery house at 106 W. Main Street last Saturday.  The occasion brought crowds of visitors to the store throughout the day, and numerous were the surprises met with. 
The Messrs. Kusel have wrought their spacious new building into a very handsome and convenient place of business for the young firm, who occupy the first floor and the basement, affording quarters  that are complete in every appointment. 
As one enters the store the brightness and crispness marking a brand-new institution are everywhere evident, and the excellent light from both the front and rear is most satisfactory to the proper exhibit of goods.
Messers. Fellermann & Fischer were showered with many congratulations over their very successful inauguration in business in Watertown, and they report a profitable day's business that totally eclipsed their expectations.  The west side has reason to be proud of its new mercantile house, and all will wish for it unqualified success.
More on Fellermann & Fischer . . . .
Watertown Republican, 07 03 1895
After July 15 the firm of Fellerman & Fischer, 106 West Main Street, will be dissolved and the business conducted under the style of Charles Fischer & Son, the senior member of which purchases Mr. Fellerman's interest.  We wish the new firm every success in the mercantile world.
Watertown Gazette, 05 28 1909
W. W. Owen [Owen, Wallace W] has opened a new horseshoeing shop at 311 Market Street, between Third and Fourth streets.  He was formerly engaged in the same business here and, being a first class horseshoer, all this old patrons will be glad to learn he has again engaged in business here.
Watertown Gazette, 05 28 1909
Annual Meeting of Phoenix Hose Company No. 2 Held
At the annual meeting of Phoenix Hose Co. No. 2 the following officers were elected:
Foreman—Albert Borchardt
Assistant Fireman—August Henze
Hose Captain—Louis Schultz
Asst. Hose Captain—Robert Sell
Secretary— Fred Zipfel
Treasurer— Frank Sell
Watertown Gazette, 05 28 1909
On July 1st the law firm of Davies, Mulberger & Lueck will vacate their offices in the Merchants Bank annex and will thereafter occupy offices in the Hertel & Hoffmann block in Main Street, which have been specially fitted up their extensive law business.
Wm. F. Gruetzmacher City Agent
Watertown Gazette, 05 28 1909
William F. Gruetzmacher is Watertown agent for city maps and street railway guide of Greater Milwaukee interurban lines to Racine, Kenosha, Muskego, East Troy, Waukesha, Oconomowoc, Watertown, Port Washington, Sheboygan, Plymouth and Chicago; city lines of Racine and Sheboygan.  This is a very complete pocket pamphlet and will be found convenient for the traveling public.
Watertown Gazette, 05 28 1909
Mrs. J. [Minnie] Kohl has sold her grocery store in [Main, E, 306] Main Street to Charles A. Kohn, who will conduct the business at the old stand.  Mrs. Kohl will engage in the manufacture of potato chips for the wholesale market.
Watertown Outdoor Art Association
Prizes are Offered for Outdoor Work
Watertown Gazette, 05 07 1909
Another boost was given the outdoor art work at a meeting of the Watertown Outdoor Art Association held last Monday evening at the city hall.  Ex-Mayor H. Wertheimer presided.  The resignation of Mrs. F. E. Woodard, vice-president, was accepted and Mrs. John G. Conway was appointed to the vacant office.  Plans for the campaign of 1909 were outlined and a number of prizes were offered for the best amateur landscape gardening, or the beautifying of waste places and the like . . .
t     More Watertown Outdoor Art Association      t
They Plan for City Beautiful
Watertown Gazette, 05 28 1909
The Outdoor Art Association Wants River Front Improved and Signs Removed
Huge, flaring, gaudy signs may be good advertising but they completely destroy the beauty of any view no matter how attractive the surroundings may be.
In a great many places this line of advertising was carried to such extremes that steps have been taken to suppress it.  The trouble is that these signs are located at points very attractive and conspicuous in themselves and where they are bound to prove the greatest eye sores and do the most harm.
The Watertown Outdoor Art Association feels that all its efforts to improve the general appearance of the city are greatly handicapped by a number of these great and glaring billboards and signs.
This is especially true of the views along the river fronts.
If the people once realize fully how ugly these advertisements are and how they detract in every way from any outdoor improvements, public sentiment will soon be aroused against them so that they will have to go.  Only we take these things for granted and get so used to them that we do not appreciate how they impress the outsider.
Let the citizens when they cross Main Street bridge look up and down the river and they will soon see what is wrong and will surely be able to make valuable suggestions to the proper parties.  If such an agitation is kept up it will bear fruits sooner or later.  Now is the time to cut dandelions before they go to seed.  Get right at it.
Ends Own Life
Watertown Gazette, 05 28 1909
The Chicago American of Thursday of last week contains the following account of the suicide of Julius Baeslau, formerly a resident of this city and at one time employed in George Zoelle's barbershop.  His remains were brought here on Saturday for interment . . .
Watertown Daily Times, 03 24 2009
UW Health Partners Watertown Regional Medical Center has announced the opening of its new Neurology Center.  By providing outpatient consultation and comprehensive diagnostic testing, the center offers regional residents state-of-the-art neurological care not previously available locally.  Earlier this month, the Neurology Center provided residents with the first telestroke program in the state.  The telestroke program provides stroke patients and their families with the immediate expertise of a stroke specialist, allowing patients to receive comprehensive stroke care without leaving the community.  In the event more complicated stroke care is needed, the telestroke program facilitates a smooth transition of care to UW Hospital in Madison.  In addition to providing emergency stroke care, neurologists provide outpatient consultation, evaluation and treatment of neurological disorders for adults.  Conditions commonly cared for by neurologists include epilepsy, stroke, multiple sclerosis and other neuromuscular disorders.
Watertown Daily Times, 03 29 2009
Dedication of new Public Works Facility; tours of facility.  Children had the opportunity to get up close to city trucks and construction equipment.
City officials considered several properties to construct the new public works building over the past several years and about two years ago they determined the site of the old facility was the most logical location on which to construct a new operations headquarters.
Maas Brothers of Watertown was the lowest bidder of the six construction firms that submitted bids for the project and was awarded the contract to construct the project in the spring of 2008.  The local company, along with Angus Young and the many subcontractors who worked on various aspects of the construction, brought the project in ahead of schedule and comfortably under budget. 
The street department started moving into the new facility in December of 2008.
Opens in Beaver Dam
Watertown Daily Times, 04 03 2009
Lifestar Emergency Medical Services has opened a new station in Beaver Dam and is waiting to serve the citizens in the area.  Lifestar Emergency Medical Services, which was founded in West Bend in 1995, offers transportation to hospitals and interfacility services 24 hours a day and seven days a week. The business, which also has a station in Slinger, provides basic life support, advanced life support and critical care transport levels.
Lifestar is looking beyond that area to Watertown, serving the Watertown community through Beaver Dam.  Lifestar Emergency Medical Services bills insurance companies directly and charges a base rate of $350 for transport services and $675 for interfacility transfers.  There is also an extra charge of $8 per mile.
The Watertown Fire Department charges a base rate of $525 for residents needing transport services and $625 for nonresidents.  The city department's base rate for interfacility transfers is $750 for residents and $850 for nonresidents.  In addition to the base rates, residents are required to pay $11 per mile and nonresidents must pay $11.75 per mile.
Watertown Daily Times, 04 04 1984
Eileen M. Scott, area coordinator for the Watertown campus of the Madison Area Technical College, has announced her retirement effective at the end of the contract year.  Miss Scott, who has served in the top administrative post for MATC-Watertown the past nine years, said she wanted to give someone else an opportunity.  During her retirement, she said she plans to remain active in the community.  Appointed by the Area Board of Educational, Technical and Adult Education District No. 5 in 1974 as the first woman area coordinator, Miss Scott's educational career has spanned 43 years.  Prior to her nine years with MATC, she worked as a high school guidance counselor in Watertown and many years in teaching and guidance in Johnson Creek.
Watertown Daily Times, 04 04 1999
Led by a $3.2 million expansion project at St. Luke's Lutheran Church, 1509 S. Third St., new construction in Watertown in the month of March totaled a healthy $5,440,794.  The St. Luke's project includes a 10 classroom school facility and a church expansion.  The school facility, which will be owned by St. Luke's but jointly operated with Trinity congregation, will include 10 classrooms, a middle-school sized gymnasium and other auxiliary space needs.
This is a special invitation to come and see your new, attractive public works facility on First and Western Avenue, Sunday from noon to 4 p.m.  This open house is a great opportunity for Watertown's residents to see firsthand what an impressive building and grounds our city's street department now has for its operations.  This new public works facility fixes a long-standing problem within our street department.  The Public Works Commission, city council and Mayor Krueger can take pride in knowing our 100+ year old street department building has been replaced with a modern, efficient and affordable public works facility at its current site off South Second Street.  For several years, discussions occurred within the street department and at our city hall over how, when and where to upgrade our street department building.  A space needs study by Angus Young Engineering/Architects four years ago suggested a new 76,500 square foot facility.  Other studies and reports made the case for a new building and larger site as soon as possible.  Much time on this facility issue was spent on location. In each case, various parcels were viewed as undesirable for one reason or another.  In the end, our existing site at 810 S. Second St. was chosen as the best place for our street department due to its central location for efficiently delivering city services.  With the purchase of three land parcels, along with our existing site, 6.9 acres was set aside for a new public works facility.  With justification for a new facility in place and the issue of site resolved, cost was the next item to be addressed. T he main facility is 72,000 square feet.  However, there are many "soft costs" that have to factored in, such as engineering/architectural fees, site acquisition/ improvement costs, building demolition, construction of a new fuel island and cold storage building along with the relocation of our salt/sand storage building.  The cost of this project was estimated at $6,483,639, with Resolution 7270 authorizing up to this amount, on Oct. 16, 2007.
On March 31, 2008, Watertown's Maas Brothers Construction Co. was awarded the low bid from a field of six general contractors.  It is now estimated that when all is said and done our city will be roughly $1 million under budget.  At the same time, this project was completed earlier than expected with all personnel, equipment and vehicles moved in by Dec. 30, 2008.  This was no small order, yet it was accomplished in large part due to the great working relationship between this general contractor, our engineering/architectural firm Angus Young and our city employees.  It should be noted City Clerk Mike Hoppenrath and assistant City Clerk Cindy Rupprecht saved our city thousands of dollars with their timely payment of bills and other cost saving tips.  Watertown now has a first rate, attractive, street department facility that will serve our city well for many years to come.  Hope to see you on the 29th.  After all, this belongs to you.
Ken Berg, Chairman of Public Works Commission
Watertown Daily Times, 04 01 1999
A proposal to introduce girls bowling as a letter sport at Watertown High School won't be considered at this time, the athletic director said.  Ivan Thompson told the school district athletic committee that his budget would not allow the addition of the sport, which was requested by Robert L. Schmidt, president of Watertown Bowl "18" Inc.  "At this point in time I said I could not support it, mainly because of budget limitations," Thompson said.
Watertown Daily Times, 03 20 1959
Earl E. Mundt, superintendent of Bethesda Lutheran Home for many years, has handed in his resignation effective April 1.  Thereafter he will be affiliated with the Church Mutual Insurance Company of Merrill in the capacity of regional counselor for the southern half of Wisconsin.  Mundt's association with Bethesda Lutheran Home dates back to December, 1951, when he was engaged as business manager.  He served in that capacity until January of 1957, when he was appointed acting superintendent.  Six months later he assumed full responsibilities of the superintendency, a position he has held until his resignation at this time.
Cable TV
Watertown Daily Times, 03 11 1984
Cable services currently included in Watertown's basic cable package may be cut as a result of the common council's rejection of a $1.50 per month basic cable rate increase Tuesday night.  The council voted 5-6 to reject the Total TV Central Region's rate increases in basic cable service to $9.50 per month and additional manual and Zenith convertor service 25 cents to $3.25 and $4.25 per month, respectively.  After the meeting, Gerald Pauls, regional manager of Total TV, said he will meet with the Cable TV Regulatory Board to discuss alternatives to obtain needed revenue.
Watertown Daily Times, 03 11 1999
The future looks bright this year for Wisconsin Furniture LLC, which is rebounding from a fire which destroyed one of its two manufacturing facilities.  Frank Krejci, president of Wisconsin Furniture which operates under the trade name The Custom Shoppe, threw a party for employees on Tuesday, one year after the fire which occurred on March 9, 1998, in Ixonia.  The celebration was held at The Custom Shoppe's new plant in Watertown, giving employees an opportunity to see where they will be working when the facility opens in three months.
↓  More on The Custom Shoppe   ↓
The Custom Shoppe is Open
Watertown Daily Times, 06 20 1999
Less than two years after a fire destroyed one of its plants, The Custom Shoppe is open for business in a new manufacturing facility.  Owner and President Frank Krejci hosted a grand opening celebration Friday night using the theme of "The Custom Shoppe Has Landed."  Calling himself the pilot and Mike Smith, general manager and vice president of operations, and Bert Figi, vice president of finance, as his co-pilots, he invited employees to stick around for the ride which he predicted would take the company on a long and successful journey.  The new 100,000-square-foot plant in Watertown, located on the city's south side between Highway 26 and County Trunk X, is double the capacity of previous plants.  The company also has enough land surrounding the plant to expand in the future.
and Renovations to Municipal Building
Watertown Daily Times, 03 21 1999
Mayor Fred Smith Tuesday evening recommended a cap of $5 million on a new police facility and renovations to the existing municipal building.  He told the public works committee any amount higher than that would invite failure at a referendum which is anticipated for this November.  "Is anyone under the impression that we can pass a referendum for more than $5 million?" Smith asked the panel Tuesday night.  mith met with the committee Tuesday night to endorse capping costs for the proposed new police facility and renovation of the present municipal building at $5 million and no more.
Watertown Gazette, 06 04 1909
Four students at Northwestern University were badly injured last week Thursday afternoon by an explosion of powder while they were loading shells in preparation for a sham battle by the military company . . . The force of the explosion tore out the walls of the room in which the arsenal is located.  While loading one of the students struck a shell with a hammer and exploded it and powder enclosed in a shoe carton was ignited and also exploded.  The shock was felt several blocks away.  All are not out of danger and will be all right in a few days.  They are being treated at St. Mary's Hospital.
Homemade Rocket
Watertown Daily Times, 03 24 1959
A Watertown police officer and two teen-age boys escaped possible death or at least serious injury when a homemade rocket, which the boys were attempting to ignite, failed to go off.  The incident occurred shortly before 2 o'clock yesterday afternoon on the small wooden bridge which spans a small arm of Rock River on Tivoli Island.  Officer Clarence Tessmann, unaware of the rocket, walked within eight feet of it before he noticed the small piece of pipe propped on a stick.  He had been dispatched to the area when the police department was informed that several boys were playing on ice cakes on the river.
Watertown Outboarders Club Fire
Watertown Daily Times, 03 24 1984
The Watertown Outboarders Club located on River Road, a popular summer picnic area among boat club members, was destroyed by fire early Friday afternoon.  The blaze resulted from a strong electrical power surge, said fire officials.  The fire was initially discovered by an operator of a helicopter traveling over the area.  The pilot contacted Watertown Municipal Airport officials who in turn contacted the Watertown Fire Department at 1:40 p.m.  According to Fire Chief Donald Asmus, the blaze probably had been burning 10 to 15 minutes before the department was notified.
Watertown Democrat, 06 09 1859
Mr. W. Millerd has opened a new and extensive grocery establishment in Cole's Block in this city.  He has a large and choice stock of all varieties of family groceries, such as are daily needed, which he proposes to sell cheap as the cheapest.  For cash or produce.  No credit given.  All styles of sugars are offered.  Syrups and molasses, from common to extra golden.  Coffee and Tea.  [Millerd also had a store on Spring Street in Milwaukee]
↓  More on Millerd Grocery  ↓
Millerds New Store
Watertown Democrat, 09 01 1859
Fine Hamburg Cheese
Dried Apples, Peaches, Prunes
Currants, etc.
Crackers and Soda Biscuit
And a great variety of
Groceries and Provisions.
Millerds New Store, Main St
↓  More on Millerd Grocery  ↓
Millerd Brothers
Watertown Republican, 09 28 1860
W. Millerd (as will be seen by his advertisement in this paper), has made an arrangement by which his brother, C. D. Millerd, Commission Merchant, No. 41, Water St., New York, will attend to purchasing goods for his grocery stores, both in Milwaukee and Watertown.  The style of the firm is changed to Millerd Brothers.  His facilities for business will enable him to offer everything in the line of groceries, at the lowest Milwaukee prices to cash buyers, either at wholesale or retail.
↓  More on Millerd Grocery  ↓
Millerd Brothers
Watertown Republican, 11 02 1860
Millerd brothers are now receiving a complete stock of groceries from New York, which can be offered at low figures for cash.  We have now made an arrangement with C. D. Millerd, Commission Merchant, No. 41 Water St., New York, to purchase our groceries in that city for our stores in Milwaukee and Watertown, and as he is always in the market, and will buy for cash, we shall be enabled to buy cheaper and of course sell cheaper than dealers who depend upon sending orders for goods, or who visit the city but once a year for buying goods.  Our line will always comprise an assortment of fresh family groceries, of the best qualities.  We invite the attention of families in the city and country.  We shall be very particular in the selection of our green and black teas.  And we shall offer bargains on them as well as on sugars, coffees in other groceries.  Cash paid for butter, eggs, and produce generally.
W. Millard
S. N. Millard
George Villard, Agent, Watertown
Post No. 3709,
Veterans of Foreign Wars
Watertown Daily Times, 04 07 1959
The Beaudoin-Koehler-Draeger Post No. 3709, Veterans of Foreign Wars will hold its installation of officers on Saturday, April 11.  The following officers are to be installed, Commander, Martin E. Voss; senior vice commander, Harvey B. Arndt Jr.; vice commander, John H. Johnson; quartermaster, Harold Barrows; judge advocate, Roland E. Dierker; surgeon, Dr. D.R. Craine; trustee three years, Les Umland.  The holdover trustees are, Walter Griebenow, two years; Charles Triexler, one year.  The appointed officers are: adjutant, Wallace R. Fischer; officer of the day, Clarence Kuckhan; guard, Eugene Garbisch; service officer, Harold Barrows; and youth activities chairman, Wallace R. Fischer.
1909
Watertown Gazette, 06 04 1909
At a regular meeting of the Board of Education last Wednesday evening arrangements were made for the eighth grade exercises at Turner opera house on Wednesday evening, June 23, for the High School graduating exercises on Thursday evening, June 24, and for the school picnic at Tivoli Island on Friday, June 25th.  All of the present corps of teachers have applied for their present positions excepting Miss Vivian, Miss Jose Voss and Theo. Gronert.
↓  More on High School Commencement, 1909   ↓
Watertown Gazette, 07 02 1909
Turner Opera House was packed to the doors last week Thursday evening to witness the class of 1909 of the Watertown High School commencement exercises.  There were 42 graduates, all occupying seats on the stage.  The Board of Education and teachers of the High School also occupied places on the stage.  The class colors, gold and white, were entwined over that stage and the daisy, the class flower, lent beauty to the decorations . . . Judge Sadler's address in part said: 
"Graduation is a milestone in your careers.  Tonight in high school halls, tomorrow in the school of life.  You are passing through the scenes and experiences that will grow dearer with the lapse of time.  Cut off from the cares of the world, you have labored together surrounded by influences which lead to culture, reflection and refinement.  Now the scene changes and out into the busy marts you are to go, each to his place, to take up the duties of life."
Old World Bakery
Watertown Daily Times, 04 13 1984
Watertown baker Adolf Winkler has been named Baker of the Month by The Master Baker, a monthly publication of the Wisconsin Bakers Association.  He and his wife, Bonnie, own and operate Old World Bakery, 114 W. Main St.  The couple was honored in the April issue which includes several pictures of Winkler and his family along with a feature story.  Winkler had a three-year apprenticeship in Hanover, Germany.  He was employed for four years with in-store bakeries for Canada's Dominion and Safeway food store chain.  He was with Federal Bakeries in the United States for one year and with Crestwood Bakery, Milwaukee, for 12 years.  He was employed at Hartter's Bakery, Milwaukee, before coming to Watertown.
Western Industries, Inc.
Watertown Daily Times, 03 19 1988
The sale of the parent company of Watertown Metal Products-Division of Western Industries Inc. should not affect the Watertown plant or its employees, a company official says.  Western Industries Inc., a Wauwatosa based metal fabrication firm, has been sold for $103 million to First Chicago Venture Capital and a management group.
Western Industries ranks as the 26th largest private firm in the state and is the parent company of the Watertown Metal Products Division, located at 1141 S. Tenth St.  First Chicago Venture Capital is an equity investment branch of First Chicago Corp. First Chicago Venture Capital contributed $20 million to the purchase of Western Industries and is the most substantial owner.
Watertown Daily Times, 03 28 1999
Western Industries, parent company of Watertown Metal Products, 1141 S. Tenth St., will be sold later this spring or early this summer.  Watertown Metal Products . . .
WESTERN INDUSTRIES WILL CLOSE
Watertown Daily Times, 05 16 2018
A letter to employees dated Tuesday confirms Western Industries, Inc., 1141 S. Tenth St., Watertown, will be closing its entire production operation here permanently in the coming days.  The firm, according to sources, is relocating to Schiller Park, Illinois.  Closing will end the jobs of about 85 employees over the coming months.  The company notified the Wisconsin Department of Workforce Development last week, saying layoffs will begin sometime between July 16 and July 29 and are expected to be completed by Oct. 29.
The Western Industries Engineered Products Group plant produces components and complete, custom-designed appliance products, electromechanical assemblies and complex cosmetic assemblies.
The factory, known locally as Watertown Metals or Watertown Metal Products, has been an "institution" in the community for decades.
The plant makes parts and fabricated assemblies for manufacturers in the agricultural, outdoor power equipment, commercial vehicle, food service and consumer appliance markets. The products include cooktops, warming drawers and tractor parts.
Speyside Equity, a private-equity firm, purchased Western Industries in December 2016 and calls the Watertown factory the Engineered Products Group (EPG) of Speyside Steel Fab Holding.
Speyside Steel Fab also includes Midland Stamping and Fabricating and Craftsman Custom Metals, both in Schiller Park, Illinois.
The factory has been operating in the metal products industry since the early 1960s, under various names and over the course of several owners, and with fluctuating numbers of employees, said Speyside Steel Fab human resources director Robert Davis. In 2005, as many as 280 people worked there, Davis said.
Watertown Daily Times, 04 21 1999
Two full-day kindergarten sections may be added next school year in the Watertown Unified School District.  The board of education will vote Thursday on a recommendation to expand its fledgling program.  The board will meet at the Educational Service Center, 111 Dodge St.
The board will meet in closed session at 6 p.m. to evaluate the superintendent and then move into the open portion of its meeting.  This year, the school district began offering four full-day sessions, along with the traditional half-day kindergarten classes.
Parent response to all-day classes has been tremendous, elementary educators say.
Watertown Daily Times, 04 15 1959
Max Timm has disposed of his shoe repair shop at 217 North Second Street to "Shorty" Polinsky who operates a shoe repair shop at 217 South Third Street.  Mr. Timm said today that he will be in his North Second Street shop until tomorrow noon and persons having shoes to call for may do so before that time, after which they are to call at the South Third Street shop.  All equipment and supplies from the Timm shop will be moved to Mr. Polinsky's shop tomorrow.  Mr. Timm is giving up his shoe repair work for reasons of health.  He has been engaged in the work for 39 1/2 years and said he wishes to thank the public for its generous patronage over the many years he has been in business.
Hydroelectric Generating Project
Upper Dam
Watertown Daily Times, 04 25 1999
A federal commission has recommended ceasing the operations of the hydroelectric generating project at the Watertown upper dam [Rough & Ready dam].  The dam's owner has a pattern of noncompliance with orders since the hydroelectric project began, a report by the Federal Energy Regulatory Commission stated.  An exemption for the hydroelectric operation granted to R&R Hydro, owned by Elaine R. Hitchcock and based in Kohler, should be revoked, the report said.
↓  More on Dam Power Generation  ↓
Upper Dam's Power Generating Operations
Watertown Daily Times, 12 28 1999
A commission is recommending shutdown of the upper Watertown dam's power generating operations and revocation of its operator's license.  An environmental assessment by the Federal Energy Regulatory Commission (FERC) has concluded that if safety measures on the dam are implemented and the tailrace channel keeps a minimum flow, shutdown of the dam will restore run-of-river conditions.  Shutdown would provide the greatest level of environmental protection and enhancement, and would resolve most concerns voiced by Watertown residents and the state's Department of Natural Resources, the study said.
Watertown Daily Times, 04 10 1959
The new gymnasium of the Watertown High School was transformed into an exotic South Sea island setting for the 1959 junior prom held Friday evening.  "Bali Ha'i," a song from the musical production "South Pacific," was the theme for the gala affair.  One hundred and twenty-seven couples attended the dance.  Highlight of the evening was the grand march, which was led by the king and queen, Robert Tesch and Karla Johnsen and their court of honor.  In the court were Charles Harberg and Gretchen Burzynski, Brian Eckhardt and Jane Uttech, William Loomis and Esther Krause, Kent Karberg and Mayris Saniter, Paul Fernholtz and Terry Mooney and Richard Rohde and Diane Reinhard.
John Richards: The Hill and The Mill
Watertown Daily Times, 04 22 1984
A new book detailing the life and times of the John Richards family is scheduled to be published at the beginning of May. Entitled "John Richards: The Hill and The Mill," the book is the work of local author Sylvester Quam.  He and his wife Judy are managers of the Octagon House, the Richards family home, and reside on the Octagon House grounds.  The book is dedicated to Miss Gladys Mollert, former curator of the Octagon House who was instrumental in the formation of the Watertown Historical Society.
Watertown Daily Times, 04 20 1984
Watertown Mayor Kenneth P. Thiel cut a ceremonial ribbon and turned on the switch to officially open city well No. 7 Friday.  The well, located on West Street, is the sixth city well currently in service and will provide water to meet the city's future needs and present emergency needs should another well shut down, according to Water Department Superintendent Michael C. Olesen.  Olesen said the 735-feet deep well, which pumps 1,200 gallons per minute, is part of a five-year projected plan for the city's water consumption needs.  He added that if the city continues its present growth rate, an additional well and water tower will be needed by about 1995.
Watertown Daily Times, 04 16 1959
Herman W. Howard, 601 South 10th Street, is the new owner and operator of Shaefer Motors, 301 South Third Street.  Mr. Howard has been associated with the concern since 1950.  In 1952 Shaefer Motors was incorporated.  Floyd Shaefer was president and treasurer, Howard, secretary, and Randall Bauer, vice president.  Prior to the incorporation, Shaefer Motors was owned and operated by Mr. Shaefer, who has been in the automobile business here for 23 years.  The corporation was dissolved with Mr. Howard taking over the operation of the dealership April 1.