website  watertownhistory.org
    ebook  History of Watertown, Wisconsin
Norton Grocery Store
200 W Main
Matthew Norton
The building originally on this site was a frame grocery store owned by Matthew Norton.  It was moved behind the present building in about 1870 when the present structure was built by Silas Randall as an agricultural implements store.  Later businesses in this location included E. W. Schultz, undertaker and furniture dealer, the Watertown School of Business, Baumann's Candy Kitchen, the Youth Activity Center (YAC), Tri-County Tobacco, Emil's Pizza, Pizza Junction, and presently Curves.
Mr. Lester Moser was a highly skilled candymaker. He learned the trade at the former Baumann Candy Kitchen in West Main Street, where the Tri-County Tobacco Co. was later situated.  He was an expert candymaker and confectioner.
After the death of Arnold E. Baumann, Mr. Moser, who had worked for Mr. Baumann for many years, took over the business.
The Baumann Candy Kitchen was for years the leading establishment of its kind in Watertown.  An ice cream parlor was operated in connection with the business.
In the line of fine candies, Baumann's was among the leaders in this section of the state. Its many excellent homemade candies, both hard varieties and chocolates, were among its best known products.  It also turned out tons of special Christmas candies each year. These were sent far and wide to stores and shops and included many of the little German candies which at one time were so popular during the holiday season and which added color and holiday sparkle on Christmas trees and in candy dishes.
1860       DEATH OF JAMES J. DOWLING
04 12       Hardly had we finished recording the departure of a venerable citizen from our midst, whose years were prolonged beyond the three-score and ten assigned by the Palmist as the rarely attained limit of human existence on earth, than we find ourselves called upon to make the melancholy announcement of the unexpected death of a young man whose career has been suddenly brought to a close before one half of that period has been reached. 
In this city, at the residence of Matthew Norton, on the 11th of April, 1860, James J. Dowling, of the firm of Thomas McMahon & Co., died after a short but painful illness, in the 26th year of his age.
He was a young man of unblemished character.  He won his position in the community by his integrity, intelligence and perseverance.  His rectitude and fidelity early secured the confidence of all who knew him well.  During a series of years he acted as clerk in one of our leading mercantile houses, and when he gave up his place, he carried with him the unbounded good will and best wishes of those he had faithfully served and whose interests he had looked after as carefully as he would have pursued his own.  By industry, economy and strict attention to his duties he had accumulated sufficient means to enable him to commence business for himself. 
A few weeks since, in company with a young associate, he opened a store in this city and had just commenced, full of hope and energy, what promised to be a successful enterprise, when he was summoned to set his house in order for another and widely different destiny.  That dreadful but inevitable mandate from another world has just been obeyed.  The well considered plans for the future have been rudely interrupted and the active mind and busy hand that would have delighted in carrying them out now rests forever from all mortal labor—their work has been quickly done.  It only remains for us to bear public testimony to the worth of one who has early passed away, in the bloom of youth, but not without the sincere and heartfelt regret of all who had an opportunity to learn the irreparable loss his relatives, friends and acquaintances have suffered in his death.     WD
1871       DEATH OF MATTHEW NORTON
12 14       Mr. Matthew Norton died at his residence in the 4th ward of Watertown, after a short illness, on Thursday the 7th of December, 1871, in the 65th year of his age.  He was born at Athlone, Roscommon County, Ireland, in 1808, and emigrated to America in 1882, landing at Montreal.  Sometime afterwards, he came to the United States, and at Albany, N. Y., enlisted as a private soldier in the United States Army — serving two terms, one of five and one of three years, acting as Hospital Steward during most of the last.  With his company, he was sent to the west, and at different periods was stationed at Fort Dearborn in Chicago, Fort Howard at Green Bay, and Fort Winnebago in Portage.  After he had been honorably discharged, he came here in 1843, first cultivating a farm in Emmet, Dodge county, and in 1854, taking up his permanent residence in this city, which has ever since been his home.  He was a man well informed, of sound judgment, strictly upright and reliable, active and diligent in business, and was frequently elected to local offices of trust, the duties of which he always discharged with unquestioned fidelity.  At the time of his death, he was one of the City Assessors, which he had held for some years, and also President of the School Board.  In him we have lost a good citizen, a kind neighbor, and an estimable member of the community.  His funeral took place last Saturday and was largely attended.      WD
1889
01 11       NOTICE
E. W. Schultz's funeral car arrived this week and he is now ready to do undertaking, embalming and funeral directing according to the latest custom.  Orders by mail or telephone promptly attended to.  Carriages furnished on short notice.  I solicit a share of the patronage of the public and guarantee satisfaction.  Call at my furniture and undertaking room and look them over.  They have been lately rearranged and repainted in good shape.  A special room is set apart for the undertaking business, to which I invite your attention.       WG
Respt., E. W. SCHULTZ.
1963
09 30       TRI-COUNTY TOBACCO RELOCATES
The Tri-County Tobacco Company, Inc., located at 200 West Main Street, will move to a new building to be erected on Clark Street east of the plant of the Durant Manufacturing Company.  Last night the common council approved the extension of sewer on Clark Street, to take care of the building.  A building of 12,000 square feet will be constructed on a one and one-half acre plot which Tri-County has acquired from the Watertown Association of Commerce Promotive Corporation.    WD
1996
11 28 1996
<![if !vml]>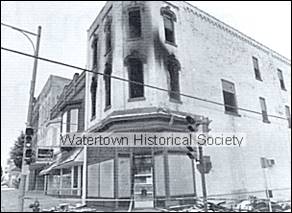 <![endif]>
WHS_005_231
A three-story downtown structure located at 102 N. Water St. sustained extensive damage early Sunday when fire broke out in an apartment inside.  According to Watertown Fire Department Chief Richard Olson, the fire erupted at approximately 1 a.m. in the second floor apartment of the brick structure located on the northwest corner of the intersection of Main and Water streets.  The three-bedroom apartment, occupied by a couple and their five children, sustained smoke, fire and water damage.  The couple and two of their sons were home at the time of the fire but escaped unharmed.  They are currently staying with friends.  A third-floor storage area in the building sustained fire damage as well. A vacant area on the first floor sustained water damage.  A firm with offices on the Water Street side of the building was not damaged.  However, workers were busy attempting to restore electrical service to the business after it was cut by firefighters battling the blaze.
Cross-References:
E W Schultz was co-founder of Watertown Table Slide

History of Watertown, Wisconsin