website  watertownhistory.org
    ebook  History of Watertown, Wisconsin
Otto's Inn
Established 1876
100 E Madison
<![if !vml]>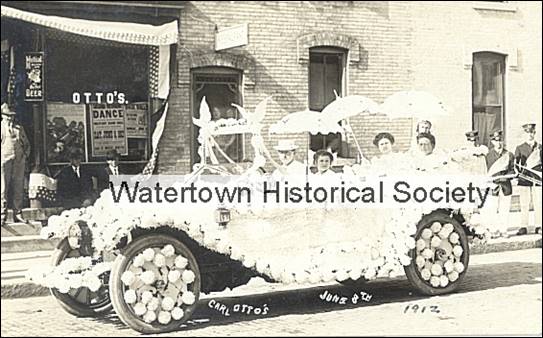 <![endif]>
Otto's Saloon, Homecoming Parade, 1912, WHS_007_KR168
Carl Otto and daughters
Lorraine is seen behind her father
<![if !vml]>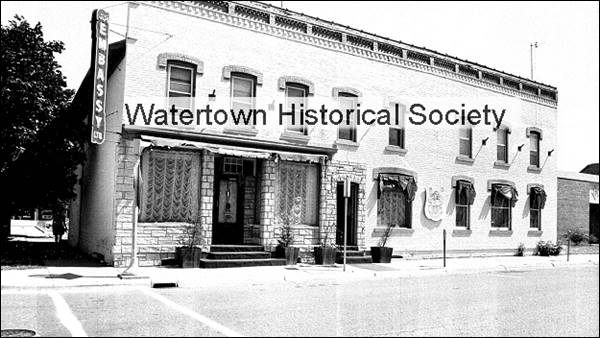 <![endif]>
Otto's Inn, WHS_005_298 (1975)
became
Embassy LTD,
Balistreri's Ristorante,
1985, Zoellick's Black Forest Inn,
Dynasty Chinese Restaurant,
2008, Rock River Pizza, opening of
1913
Carl F Otto, hotel, saloon
1957
                Advertisement, City Directory
Lester Moser
1902 - 1963
1963
   Watertown Daily Times, 03 25 1963
                     Click on Image
<![if !vml]>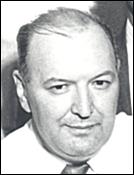 <![endif]>
Otto's Inn at 100 Madison Street, Watertown's nationally known dining place, closed its doors yesterday until further notice following a fire Sunday morning in which Lester G. Moser, 60, lost his life by asphyxiation.  He was secretary-treasurer of the business place, operated by Otto's Inn Inc.
Moser, husband of the former Ruth Otto, who, with her sister, Mrs. Lorraine Deil, operates the inn, which was established in 1876 by their grandfather, Capt. Carl Otto [see obit below], a retired Great Lakes skipper, was found dead in their upper apartment over the tavern part of the inn.  Firemen said he was near a window directly above the tavern facing Madison Street where he collapsed and died. 
Just what caused the fire is undetermined. The loss, estimated by firemen at $12,000, may run considerably higher.
Mrs. Moser had just come downstairs from the upstairs apartment and her sister, Mrs. Deil, had taken breakfast to Mr. Moser who was upstairs in bed, having been confined there since late January after leaving St. Mary's Hospital where he had been under treatment for a kidney ailment and where he had undergone surgery.
Mrs. Deil said that he had been having his meals upstairs and that yesterday morning she had taken some cereal, two boiled eggs and toast to him.  As she handed him the tray, he remarked, "Gee, Lorraine you forgot, the milk."
"I'll get it," she replied, "I really did forget it, didn't I?"  She went downstairs, took up the milk and she left him sitting up in bed eating his breakfast.
Just as she reached the bottom of the stairway, she said, she heard a loud blast and the upper hallway was immediately filled with dense smoke.  Efforts to get upstairs failed because of the choking smoke. Firemen were summoned and responded immediately.  By this time smoke was billowing thick and firemen entered the upper quarters wearing masks.  They found Moser in the adjoining room near a window.  He was declared dead.
Fireman Roland Thiede evacuated Mrs. Florence Reason who occupied an upper room.  She suffered from smoke inhalation and was taken to St. Mary's Hospital where she is a patient.  Her condition today was reported fairly good.
Firemen Harley Rupprecht helped another boarder at the inn, John Oliva who was treated for smoke inhalation.
Included in the loss is virtually all of the furniture and furnishings in the apartment occupied by Mrs. Deil and the Mosers.
Mrs. Moser said this morning that they had only recently put in new carpeting and other furnishings.  Included in the loss is a new electric organ and in Mrs. Deil's quarters, in addition to all of her clothing and private possessions, a grand piano may have suffered some damage.
Two beds were set up in the downstairs quarters for the night so Mrs. Moser and Mrs. Deil had a place to sleep.
The dining room and tavern were closed Sunday and will remain so until further notice.  The sisters said they had no immediate plans but expect to remodel and repair the damage.
Mr. Moser was born in Elton, Wis., on Dec. 6, 1902, a son of Mr. and Mrs. George Moser.  He had lived in Watertown the past 58 years.  He married Ruth Otto on Jan. 12, 1925.
Surviving are his, wife, a son, Ronald C. Moser, who is an alderman here, two grandchildren and his mother, Mrs. Marie Moser of Watertown.  His father preceded him in death.
Mr. Moser was a member of the Watertown Immanuel Lutheran Church. He was also a member of Watertown Lodge No. 49, F. and A. M., Watertown Chapter No., 11, Royal Arch Masons, and of Zor Shrine Temple, Madison.
He was also a member of Olivet Commandery No. 18, Knights Templar and Watertown Chapter No. 44, Order of Eastern Star as well as Watertown Lodge No. 666, B.P.O.E., Lodge No. 830, Loyal order of Moose, Lincoln Lodge. No. 20, Knights of Pythias and the Calanthe Club.
The funeral service will be at the Hafemeister Funeral Home.  The Rev. A. S. Christensen will officiate and there will also be Masonic rites, both at the funeral home and at Oak Hill cemetery where interment will take place.
Mr. Moser was one of the city's most widely known residents, popular and, well liked.  He had a keen sense of humor and many likeable traits which won and kept friendships throughout lifetime.
Was Skilled Candymaker
Before becoming associated with Otto's Inn, Mr. Moser was a highly skilled candymaker. He learned the trade at the former Baumann Candy Kitchen in West Main Street, where the Tri-County Tobacco Co. is now situated.
He was an expert candymaker and confectioner.
After the death of A. E. Baumann, Mr. Moser, who had worked for Mr. Baumann for many years, took over the business and operated it until he went to the Otto establishment.
The Baumann Candy Kitchen was for years the leading establishment of its kind in Watertown.  An ice cream parlor was operated in connection with the business.
In the line of fine candies, Baumann's was among the leaders in this section of the state. Its many excellent home made candies, both hard varieties and chocolates, were among its best known products.  It also turned out tons of special Christmas candies each year. These were sent far and wide to stores and shops and included many of the little German candies which at one time were so popular during the holiday season and which added color and holiday sparkle on Christmas trees and in candy dishes.
Mr. Moser helped turn out many of these famous candies and continued the business until he made the change to helping operate the inn.
04 11       Otto's Inn will reopen its widely known eating place.  The dining room has been closed since a fire swept an upper apartment in the building on March 24.  The tavern, which, like the dining room, is located on the main floor, was closed for several days as a result of the fire but reopened some time ago.  It was decided to keep the dining room closed until it could be thoroughly cleaned and refurbished and that has now been completed.
1966
07 20       Otto s Inn Is Taken Over By Foster Pagel
Foster Pagel, operator of the Sharp Corner Tavern and before that manager of the Bowl-'A-Fun, today assumed the operation of the famed dining spot, including the tavern, the dining room and kitchen.  Mr. Pagel will continue to operate the Sharp Corner Tavern also until the first of the year.
For the present Mrs. Louis Diel and her sister, Mrs. Lester Moser will continue in charge of the kitchen until such time as a new management under Mr. Pagel is installed in that operation.  Mrs. Diel and Mrs. Moser are granddaughters of the founder of Otto's Inn, the late Capt. Carl Otto, Sr., who was a Great Lakes captain before he settled in Watertown and opened a tavern which grew into Otto's Inn.  Later his son, the late Carl Otto and his wife operated the establishment, building it into a widely known eating place, noted for its outstanding home cooking.  Since the death of their parents, the two sisters have operated the place.  Both planned some time ago on retirement.  Mrs. Diel and Mrs. Moser plan to continue living in then-present second floor apartment until such time as they make other plans.
People from as far away as the New England States have heard or read about Otto's Inn and every season some of them find themselves in Wisconsin and Watertown and invariably recall the place and ask its location.  The listing in Duncan Hines some years ago gave it a national reputation.
Otto's Inn dates back to 1876.  In its early years it had a row of stables at the rear of the building where farmers stabled their horses when they came to town to shop or attend church services.  It was one of the most popular stopping places for rural folk in the city and in the days of the horse and buggy many people made it their headquarters when they came to Watertown.
1980s
Location of BALISTRERI'S RISTORANTE 
1985
02 13       ZOELLICK'S BLACK FOREST INN
Zoellick's Black Forest Inn, 100 Madison Street, will celebrate its grand opening on Saturday and Sunday.  Herb and Betty J. Zoellick, new owners and operators, said music will be featured all weekend along with dining and bar specials.  Mrs. Zoellick, manager of the restaurant, has worked in the food business all her life.  Her husband, who works full time at Kennedy Chevrolet as a service technician, helps operate the restaurant evenings and weekends.  Bar manager of the restaurant is Julie Kulkee.  Bartenders are Mike Schilling, Jim Berryman, John Haberkorn and Julie Timm.  Head waitress, in charge of the dining room, is Nancy Schultz.  Waitresses include Cindee Sterwald, Jean Carnes, Julie Timm, Dianne Grosenick and Terry Melcher.   WDT
1987
09 25       MITCHELLS' ON MADISON
Watertown's landmark restaurant at 100 East Madison Street has new owners and a new look on the outside.  Now called Mitchells' on Madison, the restaurant and lounge was recently opened by Jim and Sharon Mitchell who moved here from Elkhorn with their son, Tony, 10, a fifth grader at Douglas Elementary School. Formerly the Black Forest, the restaurant was at one time called Otto's Inn and was well known for its German food.
1994
DYNASTY CHINESE RESTAURANT
2008
ROCK RIVER PIZZA, opening of
2010
BEST INTERIOR RENOVATION PROJECT AWARD
Randy Trella, owner of Rock River Pizza Co., was named the co-winner of the 2009 Best Interior Renovation Project award at the 20th annual Wisconsin Main Street award ceremony.  Trella purchased the former Hong Kong Cafe building in 2006 and completely gutted the structure.  The building's kitchen was replaced and new equipment was installed, including an exhaust system, walk-in coolers and a stone hearth fire-deck oven.  The project also consisted of repairing a brick wall, installing new windows, replacing the rest rooms and reinforcing and leveling the floor.  A fireplace was also added to the bar area to enhance the atmosphere.
__________________________________________________________________________________________
Capt. Otto
03 31 1916
Captain Charles Otto, a well known resident of Watertown, died last Monday afternoon in the family home, 212 East Water Street.  He had been in failing health the past five months and his death was not unexpected.  Mr. Otto was a native of Pommern Germany, being born on the Island of Veline, June 25, 1841.  He came to this section when a child, the family settling in the town of Lebanon and later in Watertown.  When a young man he engaged as a sailor on the great lakes which calling he followed twenty-seven years, a greater portion of which time he was captain of a vessel.
Mr. Otto served as chief of the Watertown Fire Department and was a member of the Plattdeutscher Verein.  He was one of the city's best known men, possessed of a cheerful disposition and had a host of friends.  He was united in marriage with Louise Lange who with two daughters and one son surviving:  Mrs. August Tanck, Mrs. Henry E. Krueger, Carl F. Otto, Watertown.
Cross References:
1908:  CARL OTTO AT BAND OUTING
<![if !vml]>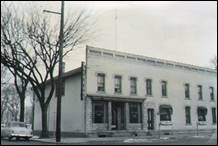 <![endif]>  
LORRAINE AND RUTH OTTO
<![if !vml]>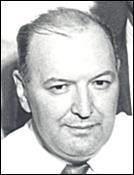 <![endif]>  
Daughters of Carl F. Otto, granddaughters to Capt. Carl L Otto, owners of Otto's Inn at 100 Madison St.
BALISTRERI'S Italian American Ristorante
Known as 'Otto's Inn' since 1876, the establishment at the northeast corner of Madison & First Streets became 'J.J.'s Embassy LTD' nearly 100 years later.  After several years, 'Balestreri's' began operating at the location after which it became 'Zoellick's Black Forest Inn' in 1985.  The 'Hong Kong Chinese Restaurant' occupied the building after that and since 2007, 'Rock River Pizza Co.' has been serving up Italian fare at the historic building.  In late 1983, Charles and Betty Balestreri along with William O'Brien and David Nielsen, formed a partnership and purchased the 'Welcome Inn Hotel' at 700 East Main Street where the Balestreri's managed the hotel as well as the restaurant facilities.
<![if !vml]>

<![endif]>
History of Watertown, Wisconsin