This file part of www.watertownhistory.org website
Miscellaneous set
Watertown Daily Times, 08 08 2008
Firefighters from the Watertown Fire Department will literally take off their boots to collect funds for the Muscular Dystrophy Association as they participate in the annual Fill-the-Boot campaign.  The campaigns will be held on Saturday and Sept. 2 and 8.
Each of those days firefighters will collect donations at the intersection of South Church and Bernard streets from 2 to 6 p.m.
MDA's Fill-the-Boot program is supported by the International Association of Firefighters. This street-side collection campaign allows firefighters to raise funds for MDA and demonstrate their commitment to the local community. Last year firefighters in central Wisconsin raised more than $20,200.
↓  More on Fire Department  ↓
Biefeld Promoted to City Assistant Fire Chief
Watertown Daily Times, 09 02 2008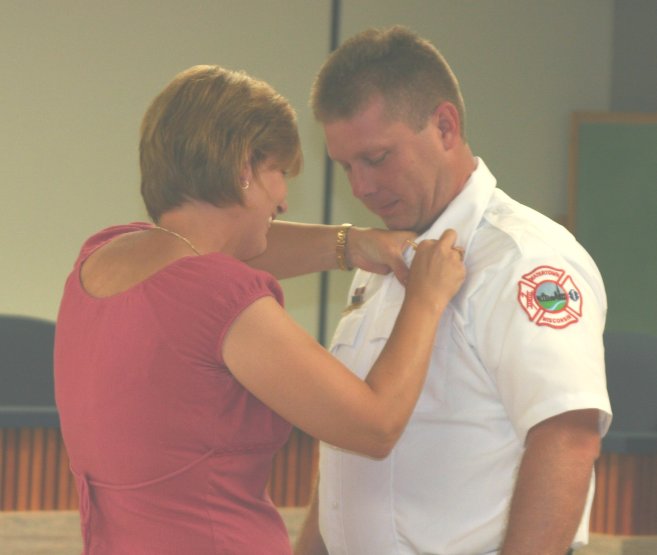 Kraig Biefeld has been promoted to assistant fire chief and director of Emergency Medical Services at the Watertown Fire Department.
Biefeld replaces former assistant fire chief Neal Zinda.
Biefeld started his career in fire service in June of 1993 with the city of Watertown as a paid-on-call firefighter.  During that time he went to school and received his paramedic license through Gateway Technical College in 1997.
He started working as a firefighter/paramedic with the city of Kaukauna in April of 2000 and accepted the same position with the Watertown Fire Department two years later.
Biefeld has an associate's degree in Fire Protection and holds a Wisconsin Paramedic license I.  He is also certified as a firefighter Level I & Level II, motor pump operator-pumper, motor pump operator-aerial, fire officer, fire instructor, fire inspector and a hazardous materials technician. 
Biefeld, who is a CPR instructor, has attended classes at the National Fire Academy.  He has also been a member of the Multiple Dwelling Code Council since 2005, which is a governor-appointed position.
Biefeld has been married for 18 years to his wife Christine.  They have two children: Lynsey, 17, and Kirsten, 10.  The Biefelds also do foster care for children.
"I look forward to the opportunity to serve the Watertown Fire Department as assistant fire chief and director of Emergency Medical Services," Biefeld said.
↓  More on Fire Department  ↓
Watertown Daily Times, 09 02 1958
Once more there is talk about the city erecting a new fire station.  It isn't the first time. In fact, in the last 35 years the subject has been up for discussion at least 15 times.  The move really isn't new or news.  This time the subject is being advanced by Councilman George Shephard who would like to get the City Council to consider the construction of a fire station.  How far this attempt will get remains to be seen.
↓  More on Fire Department  ↓
Fire Insurance Agents Organize
Watertown Gazette, 11 27 1908
The fire insurance agents of this city met last Wednesday evening at the office of Skinner & Thauer and organized for the ensuing year by electing the following officers:
Chas. A. Skinner—President
Fred. Prentiss—Vice-President
Emil Tanck—Treasurer
Carl Emerling—Secretary
Hereafter all rates will be made by the local insurance agents.
↓  More on Fire Department  ↓
Safety Conditions at City Hall
Watertown Daily Times, 09 27 1958
The special committee recently appointed to inspect the safety conditions of the City Hall, with special emphasis on the Fire Department's quarters in the building, has completed its work and has prepared a report which will be sent to the City Council for consideration at its next meeting, Oct. 7, Arthur Kuenzi, chairman of the committee, reported today. Serving with Mr. Kuenzi on the committee are O. E. Carlson and Albert W. Maas, Sr.
↓  More on Fire Department  ↓
Question of a Future Fire Station
Watertown Daily Times, 09 30 1958
The question of a future fire station for Watertown is due to come up again in the City Council next week.  The matter will be brought up for discussion at the Monday afternoon meeting of the City Council members when they meet in committee and may then be taken up at the regular meeting of the Council on Tuesday night.  Councilman George Shephard who has been pushing plans for a new fire station believes the time has come for Watertown to face a situation which has been discussed for many years but on which no action has been taken.  He proposes to bring up the issue again next Monday at the committee meeting.
↓  More on Fire Department  ↓
Watertown Daily Times, 09 29 1958
The Watertown Fire Department is preparing to launch its annual Christmas toy project as soon as the observance of National Fire Prevention Week which is now occupying the department's time and attention is out of the way.  The week's observance will begin on Sunday, Oct. 5.  Persons having toys which have been discarded or which are slightly damaged that they can be repaired are again invited to bring them to the department's headquarters at the City Hall.  Toys too badly damaged or not fit for further use should not be submitted.
↓  More on Fire Department  ↓
Watertown Daily Times, 09 30 1998
Henry Butts has started work as captain in the training division of the Watertown Fire Department.  Butts, an 18-year veteran of the fire service, was assistant chief with the Kissimmee Heights Fire Department in Kissimmee, Fla.  He also served as the director of administration and director of training in Kissimmee Heights.
↓  More on Fire Departmentl  ↓
Watertown Daily Times, 10 21 1958
Schnappsie, the Fire Department's dachshund mascot, is now living in exile.  He was banished yesterday afternoon from the City Hall and turned over to the care of Herbert Cahoon, 717 Emmet Street, who will take him under his wing.  Firemen said that Schnappsie was getting incorrigible and that he often got away from the City Hall area, wandered away for blocks and that they were getting complaints about this, since other dog owners said they had to keep their dogs on a leash and keep them from wandering at large.  Schnappsie was also getting short tempered at times.  It was decided to turn him over to someone who will give him a good home and daily care.  He is expected to visit the City Hall now and then - on a leash.
Watertown Daily Times, 09 03 1958
"I really believe that anyone can paint," declares Mrs. Al Maas Jr. of 103 Lynn Street, as I visited her this week to discuss the AAUW art show coming up on Oct. 5.  "I am just an ordinary housewife," she continued.  "Why I can't even draw a straight line!"  Looking at me more closely she said, "If you were really interested, even you could paint."  Noting my doubtful expression, she added, "I really believe that."  Mrs. Maas, a graduate of the University of Wisconsin, has been interested in painting for many years.  In college she was a textile major in home economics and was too busy and too shy to study painting.  "If I went back to school now I sure would study it," she said.  After college she had a busy career as a copy writer for Sears and Roebuck, producing the textile pages of the catalog.
Watertown's New High School Addition
Watertown Daily Times, 09 04 1958
Watertown's new High School addition, a project which has been underway since 1954, when steps were first taken to secure the properties which make up the site, is due to open with the first full day of classes on Monday, Sept. 15.  The elementary schools opened with classes on Sept. 5, but the high school opening is being delayed because remodeling work in the old high school has not advanced far enough to permit the opening of the new section as originally scheduled.  The addition, which will be utilized for the bulk of operation this term until the balance of the overall school plan is completed a year hence, was designed by Durrant and Bergquist, architects of Boscobel, Wis., and Dubuque, Ia.  They are also the architects on the current remodeling project involving the old senior and junior high schools.
↓  More on High School addition  ↓
Dedication of New High School Addition
Watertown Daily Times, 12 15 1958
Plans were announced today for the dedication of Watertown's new high school addition and the remodeled portion of the building which are making it virtually a new school plant.  The event is to be held next October, according to indications at present.  It has been decided to make an effort to bring Gov. Gaylord Nelson to the city for the occasion and also George E. Watson, state superintendent of public instruction.
Watertown Daily Times, 05 16 1957
City to Keep Auto Meters:  The city council last night decided to keep the parking meters which have now been in operation for ten months.  It voted to accept them and also to arrange for paying the balance due on the meters.  By doing so the city will save 5 per cent on the balance due, it was explained.
Watertown Daily Times, 09 04 1983
The city probably will never again have parking meters downtown, and so the meter posts should be removed, the Watertown Public Works Committee said this week.  The meters were removed in June 1982.  City commissions were to evaluate the benefits of not having meters after one year. Removing the posts will require some sidewalk patching, but the cost should not be significant, said City Engineer Ed Bennett, a member of the committee.
Juneau County Star-Times, 09 06 2008
Gordon Ivan Witz, 86, of Yuba City, Calif., peacefully entered his heavenly home Aug. 29, 2008.  A native of New Lisbon, he was born May 19, 1922 to Ivan and Verna Witz.  Upon leaving the farm, Gordon obtained his Master's degree in education and filled positions as a classroom teacher, high school principal and guidance counselor.  He also served as a pastor of a small mission church.  He lived in Watertown, where he served at Calvary Baptist Church and School for 32 years.  He also served in various positions, including Executive Director, of the Wisconsin Association of Christian Schools for 27 years.  Gordon and his wife, Virginia, were married 61 years.  They have three grown children:  Daniel of Sun Prairie, Sharon (husband, Robert) Schultz and Lori (husband, Russell) Rohleder, both of Yuba City, Calif.  A memorial service is scheduled at the First Baptist Church in New Lisbon on Friday, Oct. 3, at 1 p.m.
Appointed C. & N. W. Ry. Agent
Watertown Gazette, 11 06 1908
Paul Kohler, for some time past cashier at the C. & N. W. Ry. depot in this city, has been appointed agent in place of A. F. Beirmann, resigned.  The new agent has been employed by the company for many years, and his promotion is well deserved.
Watertown Gazette, 11 06 1908
A Fine Concert.  The concert given at Masonic hall Thursday evening of last week by Miss Frieda Koss of Milwaukee and Miss Elizabeth Ernst of this city was attended by a select and appreciative audience.  The musical program rendered was an excellent one, the singing of Miss Koss being most beautiful, and the piano playing of Miss Ernst was as fine as any ever heard in Watertown.  She is indeed a most excellent musician.  Erich Schmaal of Milwaukee, the accompanist on the occasion, is indeed a great artist, and his work added greatly to the interest and success of the concert.
Engages in Cheese Business
Watertown Gazette, 11 06 1908
G. A. Stallmann has resigned his position with Roy Cebell.  He has engaged in the business on his own account and will manage a number of cheese factories and engage in the wholesale cheese business.
The Jossi Cheese Co. of this city [122-124 N First St] has filed articles of incorporation with the secretary of state at Madison.  The incorporators are R. A. Cebell, G. A. Stallmann and Vernia Cebell.  Capital $25,000.
Watertown Gazette, 11 06 1908
John O'Brien was seriously injured last Wednesday morning by falling from his wagon while hauling stone near Oak Hill cemetery.  Two of his ribs were broken, one of them penetrating his lungs.
Watertown Gazette, 11 06 1908
Wm. Radke died at Beloit last Sunday.  His remains were brought here on Monday to the home of Chas. Krueger, North Second Street, from where the funeral was held Tuesday afternoon  Deceased was 67 years of age and formerly resided in Watertown.
Industrial Number of Daily Times
Watertown Gazette, 11 06 1908
Last week The Watertown Daily Times issued an industrial number showing up the business, educational and natural resources of the city of Watertown. It was finely illustrated, well edited and neatly printed and the subject matter is of great historical interest as well as commercially to the citizens of Watertown. The number is a credit to The Times management, and fully deserved the liberal patronage it received.
Watertown Gazette, 11 06 1908
Postal Inspector C. N. Moore, who has been in charge of the work in this territory for some time past, has been transferred to Chicago city territory.  Mr. Moore is in this city today for the last time in the course of his regular duties, and hereafter any visit that he pays to Freeport will be on special work.  His new duties will be in company with nine other inspectors who will investigate alleged fraudulent and questionable concerns.  Mr. Moore is well known in the service, having completed his thirty-second year in the post office and railway mail service last May.  Inasmuch as his home is in Chicago, his promotion comes as a welcome change.  Since the establishment of the federal court in this city, Inspector Moore has secured a number of indictments against violators of the postal regulations.  His successor in this territory, which includes ten northern Illinois counties, has not yet been named.—[Freeport, Ill., Evening Standard, Oct. 28.
Charles is an old Watertown boy and readers of The Gazette will hear of his promotion with much interest.  He fully deserves it.
Watertown Gazette, 11 06 1908  [Portion of Advertisement]
You will notice that in referring you to cases I have successfully treated and cured to stay cured, that I refer you to people right here in Wisconsin, in your own county, not to people way off in some other state.  You are at liberty to ask these people about their cases or to write them and verify my statements.
At Watertown Dec 2.  New Commercial Hotel
Dr. N A Goddard, Milwaukee, Wis.
Mr. John Burns, Watertown, Wis., cured of piles of 20 years duration.
Mr. Charles A Shwereski, Watertown, Wis., cured of rupture of 12 years standing without the use of knife or operation.
Watertown Gazette, 11 13 1908
By Ald. Kehr:  Whereas, It is in conformity with the progressive idea, obtaining in all cities and villages of our country to strive in every way to promote the welfare of children by providing for them public play grounds whereon they may exercise and play to the betterment of their mental and physical health; and,
Whereas, the city of Watertown is and has been for more than fifty years siezed in [?] unconditional fee of a parcel of land, described as follows: Lots 11, 12, 13, 14, 15, 16, 17, 18, 19, 20, of block 8, Cady's addition to said city, in the First Ward thereof, and which has during such extended ownership been in absolute non-use and looked upon as a mere reservation:
Therefore, Be It Resolved, That said described land be and it is hereby placed under the care of the board of park commissioners and that said board cause the same to be prepared for public play grounds.
Resolved Further, That said estate be and is hereby dedicated for the use and purposes of public play grounds.  [This is south one-half of the block bounded by Eighth, Ninth, Dodge and Wisconsin streets, where old High School would be built and dedicated in 1917]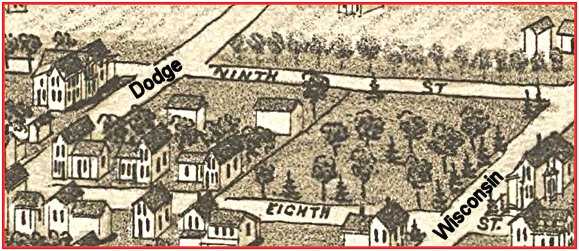 Block bounded by Eighth, Ninth, Dodge and Wisconsin streets   
The City of Watertown, 1885.  H. Wellge. Beck & Pauli, litho.    Annotated to become WHS_005_872
Third Floor of City Hall
Watertown Gazette, 11 13 1908
To the Mayor and Common Council:
Gentlemen:  The undersigned committee on public buildings to whom was referred the matter of allowing justices of the peace of this city to occupy the third floor of the city hall for the purpose of holding court, conducting examination and the trial of cases, report that the west room on the third floor of the city hall has been cleaned, decorated and carpeted and has been placed in good condition for the aforesaid purposes as well as for other meetings.
The committee recommends that the Council, by the adoption of a resolution or ordinance, show its determination as to whether or not said room may be used by the justices of the peace as aforesaid.
Dated Nov. 3, 1908.
Fred C. Werner,
H . Tetzlaff,
P. Salina,
Com. on Public Buildings.
The report was adopted
To the Mayor and Common Council:
Gentlemen: The Board of Public Works reports that Frank E. Kaminski has completed all of the sanitary sewers and appurtenances constructed by him under his contract with the city dated September 14, 1908. A detailed statement of such work and the cost thereof follows, to wit . . .
By Ald. Werner:
Resolved, that the justices of the peace of the city of Watertown, be and they are hereby given the use of and are permitted to occupy the west room on the third floor in the city hall of said city, for the purpose of holding court; conducting examinations and for the trial of cases.
Resolved Further, That the use and occupancy of said room, as above specified shall be under the control of the committee on public buildings of the common council and said committee is hereby directed to formulate rules and regulations governing such use and occupancy, from time to time as said committee may deem proper.
The resolution was adopted.
Watertown Gazette, 11 13 1908
The Board of Public Works reports that Frank E. Kaminski has completed all of the sanitary sewers and appurtenances constructed by him under his contract with the city dated September 14, 1908.  A detailed statement of such work and the cost thereof follows, to wit . . .
Condition of Streets after Trolley Construction
Watertown Gazette, 11 13 1908
Alderman Werner brought up the matter of the condition of streets as left by the Milwaukee Light, Heat and Traction Co after the construction of its street railway.  Ald. Werner moved that the said company be notified that said company restore all streets which it has caused to be in ill repair, to their former condition within five days and in default thereof the city will prosecute for such default.  The motion prevailed
Watertown Gazette, 11 13 1908
The ladies of St. Joseph's Catholic Church, Richwood, will give a bazaar and festival at Cleveland Hall, Richwood, on Thanksgiving evening, at which various articles will be auctioned.  A supper will be served and the students of Sacred Heart College of this city will give a dramatic entertainment.  Admission 25 cents, children 10 cents.  A social hop will close the evening's program.  The public is cordially invited.
Young Ladies Society of St. Bernard's
Watertown Gazette, 11 13 1908
A large number attended the party at Masonic Temple last Friday evening given by the Young Ladies Society of St. Bernard's Church and all thoroughly enjoyed it. Miss Anna McGolrick was awarded the barrel of apples and James McHugh the picture.  Miss McGolrick presented the apples to the society for the benefit of its treasury.
Watertown Gazette, 11 13 1908
Last Sunday evening the Bittner baseball club disbanded at the Crescent club house, where an elaborate banquet was served.  About 20 members and guests were present and all report a good time.
Watertown Gazette, 11 13 1908
Manager Bethke of the Turner has often been asked to book a real first class production and get it here on a week day, because many of our people do not attend theatres on Sunday. For the benefit of these people, especially, Mr. Bethke has booked the "The Two Johns," a musical comedy, for Tuesday evening, November 17th. The comedians are of the best, and funnier than ever, the songs up-to-date and catchy, in fact the play will make you forget "the blues," all your cares and troubles. The company carries its own orchestra. Mr. Bethke says he will book other attractions on week days if our people respond this time. If you are opposed to going to a theatre on Sunday, then go this time. Shows on week days were never a very paying proposition, and it all depends on the public as to whether they are to have any more good shows on week days or not. You will regret if you miss this, as you will miss an "A No. 1 production."
The Poultry Market
Watertown Gazette, 11 20 1908
Watertown this fall is the best poultry market in this section of Wisconsin.  Poultry is being brought here by farmers from Sun Prairie, 26 miles away, Beaver Dam, Rolling Prairie, Waterloo, Marshall, Oconomowoc, Johnson Creek, Ixonia and Fall River.  Our buyers take everything that comes into the city, and pay fancy prices.  Geese and ducks 12 and 12 1/2 cents a pound, chickens 10 cents and turkeys 15 cents.
John Habhegger's Resignation Accepted
Watertown Gazette, 11 20 1908
Judge Charles B. Rogers of the Jefferson County Court has granted John Habhegger's petition that he be discharged as trustee of the John W. Cole estate, and his final account has been accepted and allowed.
Watertown Gazette, 11 20 1908
Public night school twice a week began in the High School building Monday evening.  Classes were organized; and the following subjects are offered:  shorthand, three classes; typewriting, the touch system; bookkeeping, arithmetic, English, orthography and penmanship.  Those who started last year in the bookkeeping will continue from where they left off.
Watertown Gazette, 11 20 1908
One of the most life-like pictures we have ever seen is that of the late Mrs. Max Gaebler, which is now to be seen at the J. B. Murphy Co's. store, West Main Street.  It is by a late photographic color process, and the picture is true to life.  It is placed in one of the handsomest frames ever seen in Watertown.
Town of Clyman Wins Case.
Watertown Gazette, 11 20 1908
The Supreme Court handed down its decision in the case of Robert Uecker, plaintiff vs., the town of Clyman, defendant, on Tuesday of last week, deciding in favor of the town of Clyman.  The plaintiff in this case brought suit in Circuit Court in Dodge County over a year ago, claiming negligence on part of the authorities of Clyman in not opening a certain road that had been blockaded with snow for a period of about two weeks.  The plaintiff lost a horse in attempting to drive around the blockade of snow and by leaving the highway and driving through a field, the horse slipped and fell and broke its leg in the field and it became necessary for the owner to kill it.  The town of Clyman defended the action, contending that under the statutes the town was not liable unless the accumulation of ice or snow had existed for a period of three weeks  The Circuit Court decided in favor of the town of Clyman, and Mr. Uecker appealed to the Supreme Court; the supreme court affirmed the decision of the Circuit Court and thereby decided that in order to recover for injuries received in a highway by reason of an accumulation of snow, such snow must have existed for a period of three weeks.  J. E. Malone of Juneau was the attorney for Mr. Uecker and Kading & Kading of this city were the attorneys for the town of Clyman.  The above is of interest as the same law applies to an accumulation of ice and snow in cities.
Football
Watertown Gazette, 11 20 1908
At Appleton last Saturday the Northwestern University football team of this city defeated the Lawrence University team by a score of 6 to 5.
At Horicon last Saturday the Fox Lake High school team defeated the Sacred Heart College football team.  Score 17 to 11.
At Delafield last week Thursday Sacred Heart football team was defeated by St. John's Military Academy team.  Score 40 to 22.
Clyman Church Burns
Watertown Gazette, 11 20 1908
Wednesday night the Catholic Church and parish residence east of the village was destroyed by fire.  The former was the first to burn, and two hours later the residence.  This property has not been used for three years, the congregation having built a church in the village.  The loss was $6,000.
Watertown Gazette, 11 20 1908
The Eastern Star social and card party at Masonic Temple hall last Monday evening was a very pleasant affair.  The Weber-Stube orchestra furnished the music for dancing.  Mrs. J. T Garland and Miss Ida Becker were awarded the two handsome vases.  The next party of the series will be held Monday evening, November 30th.
______________ more on Order of the Eastern Star ______________
Watertown Gazette, 11 26 1914
Monday evening the Eastern Star Chapter held an "old-time-hard-time' social at Masonic temple hall.  All present were dressed in hard-time and old-time apparel and old-time dances were indulged in, including quadrilles and the Virginia reel.  Luncheon was also served.   WG
______________ more on Order of the Eastern Star ______________
Watertown Gazette, 11 11 1915
Tuesday evening nearly fifty members of Bethlehem Chapter No. 11, Order of the Eastern Star  of Waterloo and a number of the order from Milwaukee were guests of Watertown Chapter No. 44 at Masonic Temple.  A class of three were initiated into the Watertown chapter.  Supper was served to 125 members of the order at 6:30 o'clock.  A mammoth star over twenty feet in diameter, emblem of the order, was suspended over the dining tables.  Chrysanthemums, tree branches and artificial blossoms were used in the decoration scheme.  Mrs. Wm. M. Collins, Worthy Matron of the Watertown chapter, was toastmistress, and E. T. Hayhurst, past grand patron of Wisconsin, made the address of welcome to the visiting members.  Worthy Matron Mrs. Johnson and Worthy Patron Dr. Abel of the Waterloo chapter responded.  At the conclusion of the initiation ceremonies at 10 o'clock dancing followed till 12 o'clock.
Watertown Gazette, 11 20 1908
Willis P. Keyes died last week Thursday evening at his late home, 512 Third Street.  Deceased had been in poor health for several years, and his end did not take his friends and relatives by surprise.  He was born at Cayhoga Falls, Ohio, August 22, 1847.  When a young man he was engaged in the printing business, for years on The Watertown Republican, now [1908] The Leader, with his brother, the late Julius H. Keyes.  After retiring from that business he was engaged in this city for a time manufacturing beeware with the late James Forncrook.  Retiring from that business he went to Prairie du Chien and engaged there in a similar business.  About 10 years ago, his health failed him and he returned to this city.  He was well and most favorably known hereabouts, especially to the printing fraternity, all of whom heard of his death with sincere sorrow.  His wife survives him.  Saturday afternoon his funeral was held from his late home, the interment being in Oak Hill cemetery.
Watertown Gazette, 11 27 1908
A well 275 feet deep has just been drilled at the Van Camp Packing Co's. plant in this city by E. A. Mendenhall & Son.  The plant consumes from 80,000 to 100,000 gallons of water a day.  Besides using the water from this well the company will continue to use a large amount of the city water.
↓  More on Van Camp plant  ↓
Inspected Plant
Watertown Gazette, 12 11 1908
A. R. Kennedy and C. F. Burkhart of Indianapolis, Ind., were in the city last Saturday inspecting the Van Camp Packing Co. plant in this city and they report it in first class shape in every respect. The company's nine plants are inspected by these men and they say Watertown ranks first . . .
No School till Monday
Watertown Gazette, 11 27 1908
The public schools of this city closed on Wednesday till Monday next to allow all connected therewith a brief Thanksgiving vacation.
Thanksgiving Entertainment at Richwood
Watertown Gazette, 11 27 1908
The students of Sacred Heart College of this city will give a select reading and a one-act comedy entitled "Mrs. Mulcahy" at a bazaar and festival given this Thursday evening at Cleveland Hall, Richwood, by the parishioners of St. Joseph's Catholic Church, Richwood.  A fine program has been prepared and all who attend can count on having a good time.
Watertown Gazette, 11 27 1908
The Horace K. Turner free traveling art exhibit will be in Watertown December 1 and 2, 1908.  The exhibit will be under the auspices of the public school teachers and pupils.  An admission of 10 cents will be charged and the entire amount collected from this source will be expended in buying pictures for the various school rooms in the different school buildings.  The Horace K. Turner free traveling art exhibit is one of the best on the road.  It contains 200 of the best subjects, and all stages of art are represented, beginning with Egyptian architecture and coming down to modern American art.  The place of exhibit will be announced later.
Watertown Daily Times, 09 08 1998
Vic Miller is looking for a few good farmers.  While many farmers raise commodities then find the market is so saturated that they can't get a fair price, he has worked to create a market for the produce he grows but now finds the demand has exceeded what he is able to produce.  He is seeking someone in this area who his willing to devote about an acre to growing just one variety of tomatoes for which he has created a market over the years.  These aren't just any tomato, however.  They are heirloom tomatoes, grown with the consumer's taste in mind.  "Ideally, I would like to work with four different farmers who would each raise a different variety," he said.  "I would provide the seed, plant with my machine and put down the plastic and provide the market. I'd work with them and show them how to raise them.  They would prepare the field, keep the weeds under control and do the picking," he said.
Banquet for Northwestern Football
Watertown Gazette, 11 27 1908
Manager Bergmann gave a banquet last Saturday evening to the football team of the Northwestern University at Mrs. Koeninger's private dining hall.  Mr. Bergman officiated as toastmaster at the banquet and kept all present in good humor.   E. Berg was chosen captain for the next year.
Elks will observe Memorial Day
Watertown Gazette, 11 27 1908
The local lodge of Elks will observe Memorial Day on Sunday, December 6th, in the assembly rooms of the Masonic Temple at 2 o'clock p. m.  Clinton T. Pierce, assistant city attorney of Milwaukee, a member of the Grand Lodge of Elks, will deliver the memorial address.
t                      t                      t
Watertown Gazette, 11 27 1908
The local lodge of Elks will give a Thanksgiving ball this (Thursday) evening at Masonic Temple hall.  Hambitzer's orchestra of Milwaukee will furnish the music.
Watertown Gazette, 11 27 1908
A large number of people attended the cinch party given by the Royal Neighbors of America at their rooms, corner of Main and Fourth streets, last Friday evening.  Wm. Schlueter, Mrs. Carl Otto, Mrs. Wm. Ellis and Miss Cora Radtke were awarded the prizes.
Watertown Gazette, 11 27 1908
Tuesday evening Miss Stella Casey pleasantly entertained a number of friends at her home in Washington Street in honor of her birthday anniversary.  Music, cards and luncheon served to while away the time.
Watertown Gazette, 11 27 1908
Mrs. E H. Faber entertained the Whist Club at her home in Fifth Street Monday afternoon.
Watertown Gazette, 11 27 1908
Hon. Amos Steck, a former resident of this city, died on Tuesday, November 17, 1908, at Denver, Colorado, aged 86 years.  In the early 50s here he was a member of the dry goods firm of Waldron and Steck.  He was well known to the older residents or Watertown, among them Dr Edward Johnson, who speaks very highly of him.  Of his death the Denver Daily News of Nov. 18th says: 
While citizens of Denver were celebrating the fiftieth anniversary of the city's birth last night, Amos Steck, former judge, pioneer, statesman and lawyer, died.  As third mayor of Denver, Mr. Steck was one of those who were to be honored by last night's gathering.  His serious condition was announced at the banquet, but while the story of the city's history was being told and toasts drunk to its future, the end of the aged jurist came.  Former Judge Steck had been ill for some weeks from a severe attack of asthma.  When E. T. Wells, a friend of more than forty years saw him last Sunday, he asserted between gasps of breath that he would be "out in a few days."  This belief was shared by his family almost to the end, which came about 8:30 o clock last night, at the residence. 143 South Logan Street.  A meeting of the Colorado Bar Association has been called for 10 o'clock this morning at the court house to take action on Mr. Stock's death.  Born in Ohio on January 9, 1822, former Judge Steck would have been 87 years old his next birthday.  He was the oldest living mayor of Denver, its first postmaster, served in the upper house of the territorial legislature, was county judge of Arapahoe County for several years, and practiced his profession to some extent, though not largely, until his retirement ten or twelve years ago.  Mr. Steek's grandfather was a Lutheran minister
Amos Steck was among those actively interested in the organization of the Bank of Watertown
1832 - 1908
Watertown Gazette, 11 27 1908
Otto Linde, aged 76 years, a former resident of Watertown, died last Tuesday night in the home of George J. Engelhardt, 902 Second Street, Milwaukee.  Mr. Linde was an uncle of Mrs. Engelhardt.  His remains were brought here on Thursday and interred in Oak Hill cemetery.  Deceased was at one time engaged in the stationary business in this city with the late Simon Melzer, and later engaged in the bakery and confectionery business.  He served a number of years on the Board of Education of this city.  Twelve years ago he removed to Milwaukee.
Watertown Daily Times, 09 09 2008
An approximately 8,400-square-foot addition to Glenn's Market and Catering on West Main Street was approved Monday by the Watertown Site Plan Review Committee.
According to Glenn Roberts, owner of Glenn's Market and Catering, the new addition on the east side of the current building will house a Mexican meat department.
With the new addition, Glenn's Market will be close to 22,200 square feet.
2010 note:  The business added 7,000 square feet of retail space called Carniceria Roberts to its current store on Main Street. The business employs 45 full- and part time workers and offers over 135 homemade products.    Glenn and Jeff Roberts
Note:  This location, 724 W Main, was the site of a boarding house for railroad employees in the early 1900s.
Watertown Daily Times, 09 09 1983
City Clerk Bernice Ertl has not missed a city council meeting since 1968, but that string will end early next year when she retires.  Mrs. Ertl, 1311 River Drive, announced at Tuesday's council meeting that she will return on March 7, 1982, two days after her 62nd birthday.  The council unanimously accepted her retirement.  Mrs. Ertl said she notified the council Tuesday because she plans to take accumulated vacation and sick days starting in January.
Watertown Daily Times, 09 09 1998
Ray Graglia, classified advertising manager at the Watertown Daily Times for the past 12 years, has retired.  He is succeeded by Mark Shingler who was formerly in a similar position at the Oshkosh Northwestern.  Before coming to Watertown Shingler was classified advertising manager at the Northwestern where he was responsible for the day-to-day operations of that department including training, sales, promotions, public relations and telemarketing projects in that department.  Graglia, who will remain in Watertown upon retirement, came to the Daily Times in 1986 as a successor to Charles Mehciz who had retired earlier that year.
↓  More on Watertown Daily Times  ↓
Watertown Daily Times, 11 11 1999
James M. Clifford, editor and publisher of the Watertown Daily Times, has been elected to the position of president-elect of the Inland Press Association, a national newspaper trade group.
Next October Clifford will take over as president of the organization which now has 768 newspapers throughout the United States as members. Clifford will succeed fellow Wisconsin newspaperman, Sidney "Skip" Bliss, president of Bliss Communications of Janesville. After a year as president-elect and a year as president, Clifford will become chairman of the organization for a year.
Watertown Daily Times, 09 06 1998
Wisconsin WetGoods of Watertown has been sold to a Janesville company.  William D. O'Brien Sr., owner and president of Wisconsin WetGoods, said the sale of his business was completed Wednesday afternoon.  The business was sold to Ottschweitzer Distributors Inc., which is owned by Steven Bysted, Douglas Sheridan and Daniel Braun.  O'Brien said Ottschweitzer has rehired all of WetGoods 16 employees except for himself and his son, William O'Brien Jr., who was the company's vice president and general manager.
to hold the
Office Of Police Justice?
Watertown Democrat, 11 04 1858
The decision of the Supreme Court of this state in the controversy as to who is legally entitled to hold the office of Police Justice of this city, will be found in full below.  The opinion was delivered by Associate Justice Cole, and as it relates to a legal question which arose year, it is proper that the result of the suit should be published.
State of Wisconsin, ex rel. Thomas M. Knox vs. Jonathan A. Hadley, Respondent.
From the statement of facts agreed upon by the respective parties and filed in this case it appears that on the sixth day of April, 1858, at the annual election held for the purpose of electing city and ward officers for the city of Watertown, the relator [a party at whose prompting a public action is begun] received 19 votes for Police Justice, which were all the votes cast for any person for that office; and that the relator forthwith qualified according to law, received from the City Clerk a certificate of election, and demanded of the respondent [the party who responds to a petition; the defendant] - who was acting as Police Justice under a special election duly ordered on the 5th of January, 1858, to fill a vacancy existing or supposed to exist in that office - the books and papers relating to said office which the respondent refused to deliver. 
It further appears that at the same election the respondent was elected to the office of Justice of the Peace for the third and fourth wards of said city, duly qualified for the last mentioned office, and has been and still is acting as Justice of the Peace of the third and fourth wards of said city. 
Assuming for the purpose of this case, so far as the right of the relator is concerned, that the main proposition and relied upon by him to establish his right to the office, is sound, to wit:  that the term of office of Samuel Baird, who was first elected Police Justice was fixed by section 15 articles 7 of the Constitution, for two years, the same as that of Justice of the Peace, we are still of the opinion that judgment must be given against the relator.  By the sixth section of the City Charter, approved March 29th, 1856, as amended—see Private Laws 1856, Chapter 327, and Private Laws '57, Chapter 332—it is among other things provided that elective officers of said city shall be one Justice of the Peace who shall be denominated a Police Justice: one Justice of the Peace for the first and second wards: one for the third and fourth wards; and one for the fifth and sixth wards, thus clearly indicating that it was the intention of the Legislature to give to said city four justices, one of whom still be a Police Justice and clothed with all the authority, power and jurisdiction conferred upon that officer by the charter of the city and acts amendatory thereof. 
Now it is to be observed that the relator was elected a Justice of the Peace for the third and fourth wards of the city, and is now discharging the duties of that office.  Can he, while holding this office, also exercise in discharge the duties of Police Justice? 
We consider that the two offices are equally incompatible with each other, and that one person cannot and should not hold both of them at the same time.  In the plainest terms, the charter gives the city four judicial offices of the grade of justices, while, if the relator could make good his right to the office of Police Justice, it would, in fact, have but three . . .
↓  More on Police Justice   ↓
A Step Backward
Watertown Republican 11 30 1860
We are told that at the late session of the Board of Supervisors, that body resolved to petition the legislature this winter to abolish the office of police justice in this city.  We have no particular objections to memorializing the legislature to do this or any other thing that it may see fit for or any other cause, but we do object most strenuously to the legislatures complying with the prayer of a petition to which we have alluded.  The idea, as we understand it, is to return to the old system and confer criminal jurisdiction upon all the justices of the peace in the city.
This is just what the people do not want done.  Both systems have been fairly tried and we are sure that under the one now in force, the county expenses are fifty percent less on account of the criminal business arising in the city, then they would be under that formally in vogue.
We think the board must have acted unadvisedly, or it never would have committed itself in the manner it has.  An examination of its records will attest the fact that a great many hundreds of dollars are saved the county annually by having one court here only in which criminal matters can be heard, instead of four.  It must be obvious, we think, to the mind of any man, that there would be much more criminal business done in the four courts, than is now done in the one.  There are hundreds of trivial cases here every year in which warrants would be issued . . . if the belligerent complainant had four justices of the peace instead of one to whom to apply for redress.  If he could not get a warrant from one of them, he would make application to another, and we know just enough about the timber of which justices of the peace are generally, though not always, made here to warrant us in saying that before he went the rounds he would get his warrant, though the cause of the complaint might be ever so groundless.  There are other reasons to be urged against the proposed change, but we have not time to allude to them at this time.
Watertown Democrat, 11 04 1858
Notice!
The street commissioners of the sixth ward will let to the lowest bidder the building of six street crossings on Hustisford and Second streets, to be constructed of plank two feet wide [North Fourth St, north of Division St, became Hustisford Road].  All material to be furnished by the commissioners.  For further particulars inquire of said commissioners. 
Judson Prentice, August Schatz.  Watertown, November 3, 1858.
↓  More on Judson Prentice  ↓
Strawberries
Watertown Democrat, 06 27 1861
Mr. Judson Prentice has placed us under obligation for a basket of Longworth's Prolife and McAvey's Superior Strawberries, forty two of which make a quart.  In dimensions, flavor and deliciousness they are not surpassed by any other varieties we have ever seen.  They are the fruit of his own careful cultivation and if any of our citizens wish to purchase some, either for the table or preservation, we would inform them that there are plenty of the same sort left and had as cheap fruit and in as good condition of Mr. Prentice as of any one else, if they do not wait too long.
Watertown Democrat, 11 11 1858
Gill, Barber & Fribert.  Attorneys and Counselors at Law.  Office in Bertram's Block, Main St.  Charles R. Gill, Hiram Barber, Jr., Lawrence J. Fribert
Dr. L. S. Ingman, Homeopathist.  Office in Treasurer's Office on Second Street.
Paulfranz & Rudloff.  Barbers.  Room one door East of Planter's Hotel.  Oils, Perfumery, Cigars, Tobacco, etc., always on hand.
W. F. Logan, M.D.  Physician and Surgeon.  Office in Pritchard's Block.  Residence on Washington Street, west side of river, in the house formerly occupied by General Potter.  [Gen. James Potter was appointed Watertown post master in 1858]
↓  More on Paulfranz & Rudloff.  ↓
Removal
Watertown Republican, 11 16 1860
Messrs. Paulfranz & Rudloff have moved their shaving and hair cutting saloon to the building of the Watertown Bank, fronting on First Street.  They are as much thronged as ever.
↓  More on W. F. Logan, M.D.  ↓
W. F. Logan, M.D.
Watertown Democrat, 06 02 1859
Physician and Surgeon.  Office in Pritchard's Block.  Residence on Washington Street, west side of the river, in the house formerly occupied by General Potter.
A Rather Unique and Attractive Exhibition
Watertown Democrat, 11 11 1858
A rather unique and attractive exhibition will take place in Cole's Hall tomorrow, to be followed in the evening with a social dance.  We hardly know what to call it or how to describe it, but it will consist of a collection of paintings, most if not all of which were executed by a lady of this city, who has been passionately fond of the art from childhood, and for a self-taught artist has admirably succeeded in reaching a high degree of attainment, when estimated by the standard that should be applied productions created under such circumstances.  We warmly urge all who are willing to encourage the efforts of this kind to attend the old display of pictures and by their example prove that they take an interest in the cultivation and improvement of talent wherever it may be found.  The indulgence of taste in this respect will not be expensive and may be greatly beneficial . . . We hope this will not be a vain appeal to the liberality and intelligence of the public, but that the hall will be thronged with those who are ready and willing to aid the well-meant endeavors of a self-instructed lover of the art, who is sincerely desirous of pursuing her studies still further, and attaining a higher order of success.
Watertown Democrat, 11 11 1858
Notice is hereby given that the ordinance relating to driving teams over Main Street bridge at a rate of speed faster than a walk, will be strictly enforced.  All who render themselves liable and are convicted of violating the ordinance will be subjected to its penalty. 
H. Bertram, Mayor
↓  More on Racing Teams over Main St Bridge  ↓
Tit for Tat
Watertown Democrat, 01 26 1860
As our city readers well know and as some of them have found out to their cost, there is an ordinance against fast driving across the bridges spanning Rock River and a fine imposed for its violation.  For a long time, however, no attention was paid to it, and it was an every day, if not hourly, occurrence to see nags trotting over the Main Street bridge at a 2:40 gate.  It finally became such a grievance that the City Marshal gave public notice that after a certain date the law would be enforced, since which time Police Justice Hadley has frequently had occasion to restrain the fast horse propensities of several of our citizens by inflicting on them a slight fine, which it was thought would have a tendency to fix upon their minds indelibly the fact that we have laws and that they cannot be outraged with impunity.
The Marshal was promptly on hand at all times ready to arrest any one offending against his manifesto, and so was his Deputy.  They would not suffer the dignity of the law, the city and themselves to be trampled under foot, particularly by horses traveling faster than a walk.  And in this they were right.  All concede that the majesty of the law should be maintained at all hazards.
But, as the old saying says, "it is a long lane that has no turns."  The Deputy Marshal is unfortunately given to fast driving himself and on one occasion, not long since, was seen to commit the very same offence that he had been instrumental in having others punished for, at so many different times.  A complaint was duly entered against him therefore, and Justice Hadley, as in duty bound, dealt out with an unsparing hand to the offending officer the same measure that, at his instigation, had so frequently been meted out to others.  Public opinion has pronounced her verdict of "served him right" and the Deputy aforesaid is bound to concur, being a firm believer in the doctrine that "what is sauce for the goose is sauce for the gander."
Watertown Democrat, 11 11 1858
A FINE CAULIFLOWER.  Mrs. William Dutcher, of this city, has presented us with about as noble a cauliflower as we have recently seen.  It was large, compact, ripe—a beautiful production to look upon and as good in quality as it was fair in appearance.  We have taken it where the kindness of our friend will be most likely to be best appreciated.
The Latest Style of Dress
Watertown Democrat, 11 11 1858
The ladies of New York (so say the papers) are donning a new style of dress.  In addition to the ordinary low-neck that arrangement, the back of the dress, between the shoulders, is cut out in the shape of the letter V, so as to display a handsome neck, shoulders and back to advantage.  The vacancy is bordered by lace.  It is said that the fashion is growing rapidly in favor in New York.
Watertown Democrat, 11 11 1858
Dr. J. N. Flenniken died in Saint Joseph, Missouri, on the 22nd of October, 1858, of typhoid fever.  Though Dr. Flenniken's professional career here was short, it was long enough to enable him to secure a large practice—win the confidence of the community for his fidelity, correct deportment, unobtrusive and unblemished walk in life, in the daily exhibition of many amiable qualities.  It is doing no injustice to his merits to say that he was neither a great or brilliant physician, but he was one to whom all who sought his aid could trust with the most unreserved confidence, perfectly assured that he would cheerfully do all he could do for their relief.  Others he could heal, himself he could not heal—and he has been suddenly called—early in life, before his race was half run—to enter as a victim that mysterious and trying chamber of diseases which he had often fearlessly visited as a friend and many times returned with the sick restored to health.
Proclamation
Watertown Democrat, 11 11 1858
In the good Providence of God another year has passed, and its memories and its fruits have been gathered up.  For all mankind He has exhibited abundant mercies and upon us has showered innumerable blessings.  Seed time and harvest came and are gone, and the fat earth hath yielded its great harvests and its fruits, every tree and every plant bearing seed after its kind . . . For all his bounties and mercies and loving kindness and care we owe the homage of grateful, humble and obedient hearts.  Following a venerable in wisely instituted custom, I therefore do hereby appoint Thursday, the 25th day of November next, as the day of Thanksgiving and Prayer and Praise.  And I commend that day to the observance of the good people of this State, enjoining them to abstain thereon from all secular avocations and employments, excepting only works of necessity and mercy. 
By the Governor, Alex. W. Randall
Watertown Democrat, 11 18 1858
A NEW FIRM AND NEW ROOTS—The advertisement of McKey, Brother and Folds will be found in another column.  The announcement speaks for itself and says all that is necessary as to the variety and character of this well known dry goods establishment, which is among the most extensive and prominent in the city.  It will be observed that Mr. William B. Folds, who has long had the management of the branch of this substantial firm in our city, is now one of its partners, and will continue to merit public confidence and respect in the future as he has won both in the past by his integrity and enterprise.  Our friend has our best wishes for his success in his new business relations and we hope his piles and bales of choice and valuable merchandise will find a ready market.
↓  More on McKey, Brother and Folds  ↓
Watertown Democrat, 03 17 1859
Most of our merchants are now in New York purchasing their spring goods.  Some have returned, among whom we notice McKey, Brother & Folds, who are just now receiving a large stock of the most fashionable goods—the first that have reached here this season.  It would be strange indeed if a lady should call for anything not to be found in their choicely selected and heavy assortment.  In cheapness and quality it is equal to anything to be found in Milwaukee.
↓  More on McKey, Brother and Folds  ↓
Watertown Gazette, 05 12 1859
Dr. C. L. Stockwell has just opened rooms over McKey Bro. & Folds' store, in Bassford's Block, where he will be happy to attend to all who may desire his services as an operative dentist.  It is needless for us to say, where he is so well known, that he will spare no care to give his patrons the utmost satisfaction.  Whatever skill or experiences he may have acquired from long practice will be cheerfully devoted to their benefit.  He respectfully requests his old friends to remember him at this new place of business, where he will be glad to welcome them once more, together with as many new ones as may wish to form his professional acquaintance.
↓  More on Dr. C. L. Stockwell  ↓
Dentistry
Watertown Democrat, 01 26 1860
Dr. C. L. Stockwell, having closed his office on Main Street, will receive calls at his residence on Western Avenue east of the Congregational Church.  Those desiring his attendance at their dwellings please address through Post Office.  He will seek to give the fullest satisfaction to all who may require his services as a practical Surgeon Dentist.
Watertown Democrat, 11 18 1858
Alderman Dutcher presented the following resolution, which was adapted, to wit:
Resolved, that a committee be appointed to make inquiry as to the obligation this city may be under to repair the plank road bridge [Oconomowoc Avenue bridge], and also to ascertain whether the Plank Road Company design to rebuild the same or abandon the road and its franchises.
Also the following resolution which was laid on the table.
Resolved, that the fire wardens of this city be and they are hereby required to examine immediately their several districts and see that all stove pipes and buildings in their several districts are secure against fire, as required by the city charter.  On motion the board adjourned.
S. Baird, Clerk
Watertown Democrat, 11 25 1858
The friends of Rev. W. A. Niles of the Congregational Church propose to pay him a donation visit at his residence on Tuesday evening next.  Mr. Niles has been among us several years and achieved an enviable reputation for eloquence, ability and zeal.  If any laborer is worthy of his hire surely he is, and we are confident that this effort of his congregation will meet with a liberal and heart-felt response.  Ministers of the Gospel are seldom over paid or troubled with too many of the good things of this world.  Indeed, the reverse is too often the case.  Aside from the benefits that flow from Christian teaching, example, ability and talent in the pulpit—all of which Mr. Niles possesses to an eminent degree—merely as a temporal service, the ministry of the word is worth far more than it ever cost.  The cause he advocates in the mission he is fulfilling demand that each and all should contribute their mite towards maintaining Christian doctrines and principles.
Watertown Democrat, 11 25 1858
A new interest has recently been awakened in our city in behalf of Sunday Schools.  This is to be attributed to the visit of Mr. J. P. Samuel, an earnest, interesting missionary of the American Sunday School Union.  He has talked with the children and sung with them until they are all wide awake to help on the Sunday School work.  They have organized a new school on the west side of the river where there are hosts of children that attend no Sunday School, and another one has been commenced in Richards' district.  Both these schools, we learn, have begun finely.  Success to every effort that interests the children and does them no harm, and certainly there can be no injury resulting from a Sunday School.
Herman Weihert Called By Death:  1860 - 1916
Watertown Daily Times, 02 25 1916
Mr. Herman Weihert, a respected resident of Watertown, died in the family home, 709 West Main Street, Monday evening, Feb. 21, 1916, following an illness of several months.  His condition had been critical for several weeks and his death was not unexpected.
Mr. Weihert was born in the town of Lowell, December 19, 1860.  He was united in wedlock to Christian Reinhardt in 1882 and for ten years resided on a farm in Lowell, then removing to Richwood, where he engaged in the grocery business, which he continued for eleven years.  He then removed to Watertown and engaged in business, retiring about five years ago.
He is survived by his widow, four sons: John, Gustavus, Walter and Irvin, Watertown, and one daughter, Mrs. John Borchardt, Milwaukee.  One grandson, three sisters and one brother also survive.
He was a member of the Plattdeutscher Verein.  The funeral was held on Thursday afternoon with services in the home at 2 o'clock. 
The burial took place in the Emmet cemetery on the North Road.  Is buried in Oak Hill Cemetery [moved?]
__________ 1916, assumed
Emil Seibel, proprietor of Seibel Bros. Dog and Pony Shows, who recently disposed of his farm south of Hartford, was unable to find a barn large enough to house his ponies, dogs and paraphernalia in that city and was compelled to move back to Watertown, where he has a barn large enough to answer the purpose.  Hartford has lost the winter headquarters of this enterprise, after being located there a year.
Times to have New Building
Watertown Gazette, 03 03 1916
The Times Publishing Co. purchased the real estate at 115 W. Main Street from Otto J. Hartwig of Chicago and are breaking ground for a new printing plant.  The building will be one story and basement, 100 foot long, cement floor and fire proof roofing.
The equipment, including a new linotype and a 10 ton, 2 revolution Optimus press has already been ordered.  They expect to have the new plant ready for occupation before April 1st.  Their temporary quarters will be in the old Buchheit block, Third Street.
Mrs. Thomas Donohue:  1874-1915
06 25 1915
Mrs. Thomas Donohue passed away at her home in Watertown, last Monday morning June 21, 1915 after an illness of several years.
Deceased was a daughter of Mr. and Mrs. Michael Ready Jr., former residents of the town of Shields, where she was born May 12, 1874.  The family removed to the town of Portland where Mrs. Ready still resides.  The daughter, whose maiden name was Elizabeth Ready, married Thomas Donahue in 1895.  They lived in Watertown for the past nine years.  Mrs. Donohue is survived by her husband and eight children.  The funeral services were held at St. Bernard's church, Watertown, last Wednesday morning. 
Fred Kronitz   /   Washington Hotel
07 09 1915
Fred Kronitz, a prominent citizen of Watertown for many years and a former resident of the town of Lebanon, died at his home in Watertown Tuesday evening, June 29, 1915, at the age of 69 years.
Mr. Kronitz was born in the town of Lebanon, March 29, 1846 and having lived in Dodge and Jefferson counties during his life of more than sixty-nine years, he was one of the oldest citizens of this section in point of residence.  He was a son of the late Mr. and Mrs. Henry Kronitz of the town of Lebanon.
On June 23, 1870, Mr. Kronitz took Miss Minnie Gorder as his bride, the wedding taking place at the home of the bride's parents in town of Waterloo.  For the next year the young people resided in the town of Lebanon and spent four years on the old Gorder homestead in the town of Waterloo.
It was in October, 1875 that Mr. and Mrs. Kronitz moved to Watertown and purchased the Washington House, and Mr. Kronitz conducted a hotel at the present site, corner of Main and North Sixth streets for the next twenty-seven years, retiring thirteen years ago.
The surviving relatives are two sons and one daughter, the widow and one brother.  The sons are Louis Kronitz and Henry W. Kronitz and the daughter is Mrs. Ida Nowack all of Watertown.  The brother is Mr. Carl Kronitz.  Six grandchildren also survive.
c1915
Purse snatchers are busy in Watertown.  Last Friday night one of those cowardly sneaks snatched a purse from Miss Alma Block as she and two girl companions were returning from choir practice about 10 o'clock in the evening.  The stunt was pulled off on Church Street near Emmet Street.  Of course the snatcher escaped.  The purse was a beautiful one, but the money loss is not large- about $3.00.  Miss Block is not worrying about the loss of the cash, but she would like to get her purse back.
04 16 1915
Northwestern College will Celebrate Fiftieth Anniversary on the 19th and 20th of June.
Excursion Trains Will Run
Rev. Chr. Saner attended the meeting of the Northwestern College Board at Watertown of which he is a member, last week.  In addition to the regular routine work, the board discussed at some length the program for the fiftieth anniversary celebration of the well known institution of learning, which is to occur in June of this year.  The exact date for this jubilee has been set on the 19th and 20th days of June.  The details of the program will be arranged by the committee of the synod will be published later.  A later attendance at the celebration from all parts of the state is expected.  Excursion trains from Milwaukee and other large cities will, in all probability, carry the crowds to the city, whose inhabitants will consider this a gala occasion, looked for with great pride.
06 25 1915
Well-Known Watertown Lutheran College Celebrates it's Fiftieth Anniversary
Six Thousand at Services
Last Sunday, June 20th, 1915, the Northwestern College at Watertown celebrated its fiftieth anniversary or golden jubilee.
This well-known school was established fifty years ago, on a small scale from which it has grown to be one of the largest and best known Lutheran Theological Colleges in the United States.
When the school was first established it had, in connection with its theological department, a school of secular instruction for the teaching of academic subjects, and many young men who desired to become teachers in the public schools of the state were found among the student enrollment.  This was before the days of state normal schools, or at least at a time when there were only three normal schools in the state.
In later years this department, we understand, was discontinued and the school became known, primarily, as a Lutheran Theological college.
The jubilee exercises of last Sunday were attended by not less than 10,000 people all told.  Special trains were run on the Northwestern Road from Janesville and Fond du Lac to Watertown and excursion trains were run on the St. Paul Road from Milwaukee and Portage to Watertown bringing thousands of people to the big jubilee.  In speaking of the celebration the Watertown Daily Times in a column write-up, said, among other things:
"The religious exercises on the shaded grounds at 10:30 Sunday morning were attended by at least 6,000 persons.  The congregational singing of the Southern Wisconsin Sangerbund, that large body of men and women who had been taught to thus mingle their voices in that branch of worship, was something worthy of a place firmly stamped upon memory's plates.  Added to that were several selections by the combined female and male choruses."
The sermon in German was by the Rev. Gustav Bergemann of Fond du Lac, president of the Wisconsin synod.  The sermon in English was by Pastor C. Gausewitz, president of the joint synod.  In both there was that deep religious thought which characterizes the teachings of the denomination.  But instruction in love for the free country that is their home - the need of abiding patriotism - was not lacking.
The afternoon was given over to an informal reunion of former students on the grounds, friends of the institution also participating.  The exercises were presided over by the Rev. H. H. Ebert of Milwaukee, chairman of the committee which arranged the jubilee celebration.
Maranatha Baptist Bible College
Watertown Daily Times, 08 14 1983
Maranatha Baptist Bible College opens its 16th year with a new president as Dr. Myron Cedarholm, founder and current president, passes the mantle of presidency to Dr. Arno Q. Weniger Jr. at an inaugural convocation Thursday evening. Dr. Cedarholm will have the prayer of dedication and then present the new president of the college.
t                      t                      t
Watertown Daily Times, 08 16 1983
In addition to installing a new president Thursday evening, the board of trustees of Maranatha Baptist Bible College honored outgoing president, founder and new chancellor Dr. B. Myron Cedarholm and his wife Thelma M. Cedarholm. The couple, married nearly 42 years ago, received a 1983 Chrysler New Yorker from the board and many other donors. Dr. Cedarholm also received an engraved plaque recounting a board resolution of his accomplishments through the years. Presented by Dr. Chester J. McCullough, board member, Dr. Cedarholm accepted the plaque saying, "I feel totally unworthy of this."
t                      t                      t
Watertown Daily Times, 08 30 1996
Marking a new era in history of Maranatha Baptist Bible College, the institution will debut its $2.4 million new library Friday night.  It presents an impressive mix of historical preservation and advanced technology. Hundreds of alumni will join in the dedication, planned to coincide with the annual Founders Day banquet.  Maranatha President Dr. Arno Q. Weniger Jr. and librarian Stephen Mattsen toured the building this week, denoting features which make it one of the finest among Christian colleges.  The library, which will be named Friday night, includes rare collections of Baptist writings.  But it also includes state-of-the-art equipment to aid in student research and study.   WDT
t                      t                      t
Watertown Daily Times, 08 16 1998
The president of Maranatha Baptist Bible College has resigned after 15 years, citing personal reasons. Dr. Arno Q. Weniger Jr. announced he has stepped down from his duties at the college and will be moving to St. Germain, where he owns a home.
Weniger, who has anticipated retirement for the past few years, had already begun a selection process to search for a successor, which the board of trustees will continue.
Discontinuance of the Milwaukee Road's Commuter Train
Watertown Daily Times, 09 12 1958
The City Council last night voted to authorize City Manager C. C. Congdon to represent the city at any hearing the State Public Service Commission may schedule into the discontinuance of the Milwaukee Road's commuter train which operates daily except Sunday between Watertown and Milwaukee, if he thinks it advisable.  The train is made up daily in Watertown, leaving here at 6:45 a.m. and arriving in Milwaukee at 8 a.m., with stops along the route.  It returns here at 6:40 p.m., leaving Milwaukee at 5:15 p.m.  The train conductor is William P. Clark of Watertown.
t                      t                      t
Milwaukee Road "Cannonball"
Watertown Daily Times, 09 23 1958
MILWAUKEE - The Milwaukee Railroad called its chief statistician before a Public Service Commission Hearing in Milwaukee Monday who pointed out a net loss of $37,931 last year on the road's "Cannonball" commuter train between Watertown and Milwaukee.  Rudolph Edman, statistician and key witness, introduced exhibits in an attempt to prove that it costs Milwaukee Road $1.32 per mile to operate the two trains daily except Sunday between Watertown and Milwaukee.
↓  More on "Cannonball"  ↓
Watertown Daily Times, 10 30 1958
A public hearing on the proposed abandonment of the Milwaukee Road "Cannonball" commuter train adjourned in Milwaukee with the railroad and protesting commuters in disagreement over how many persons ride the train from Watertown to Milwaukee.  David E. Beckwith, attorney for the commuters, called several witnesses to back up their contention that more persons are riding the two trains, No. 12 and 23, and that alternative bus transportation is poor for the cities which would be affected by the cut.
Watertown Daily Times, 07 25 1983
Earl W. Houle, manager of Tool and Plant Engineering at the Watertown plant of Johnson Controls Inc. Control Products Division, will be retiring effective Aug. 1.  Houle, who resides in Delafield, has been with the company since Nov. 18, 1946, in Milwaukee, when it was known as Milwaukee Gas Specialty.  He transferred to Watertown in 1957, when Vultel Inc., a division of Milwaukee Gas Specialty, started operations here.  Houle served as plant manager of the Watertown facility from 1957 to 1976, when the firm's Milwaukee and Watertown plants merged in Watertown.  Houle has worked specifically with plant engineering since 1976.
Watertown Daily Times, 09 13 1958
The will of the late Henry Mulberger, 87, one-time Watertown banker, which is to be probated in December, has left the sum of $2,500 to the city of Watertown for additional park purposes.  Word to that effect was received today by City Manager C.C. Congdon, from the law firm of Churchill, Duback and Churchill of Milwaukee with whom the will was filed by Mr. Mulberger.  He died here on Sept. 1.  Under the terms of the will the $2,500 must be used for acquisition of real estate to be used for public park purposes, controlled by the city.
Decision not to purchase Elks Lodge
Watertown Daily Times, 06 06 1998
Members of the Watertown Elks Lodge are considering the sale of their landmark building at First and Madison streets to a local firm which would then remodel it for downtown office space. The Lodge has received a purchase offer from American Express Financial Advisors, 111 S. Second St. The offer was submitted through ERA Egan Realty which has been retained by the lodge to sell the building. Under the plan, the building would be remodeled, an elevator installed, and professional office space made available for various businesses. The financial advisers would be the first tenants in the building.
↓  More on Sale of Elk's Lodge  ↓
Watertown Daily Times, 09 16 1998
A local financial business has decided not to purchase the Watertown Elks Lodge.  The American Express Financial Advisors, 111 S. Second St., had made an offer to purchase the historic building, located at First and Madison streets.  However, according to Mike Williams, a spokesman for the financial advisers, the firm decided in late August not to complete the deal.  Under the plan, American Express had planned to install an elevator and remodel the building for professional office space, which would be made available for various businesses.  The financial advisers would have been the first tenants in the building.
Watertown Daily Times, 09 15 1998
Shellie Lee Korth of Watertown visited Washington, D.C., for the first time this month.  She came away with a keen interest in art, a good feeling about the nation's capital and a $10,000 scholarship.  While in Washington, D.C., 12-year-old Korth was selected to represent the United States in the ChildArt 2000 international program next July, which is sponsored by the International Child Art Foundation.  Along with the honor, she received the scholarship.
Chicago & North Western Track Restoration
Watertown Daily Times, 09 16 1983
Most of the heavy work is done, but the finishing touches of Chicago & North Western Railroad's track restoration project through Watertown will probably take a few more weeks.  The $1.5 million restoration of track from Jefferson Junction to Clyman Junction should be finished by the end of October, although the track is expected to be ready for service before then, said Ed Terbell, assistant division manager of engineering.  The plowing and tie operations are finished, said Terbell, adding that about 1,900 ties per mile were laid over the 20-mile line.  He said that most of the fresh ballast - crushed rock used for the track bed - has been deposited, but one more carload of rock is still needed in Watertown.
Watertown Daily Times, 09 17 1958
A display of Red La Soda potatoes was placed in the windows of the Wisconsin Electric Power Co. building at Main and North Third Streets today.  They are from the garden of Henry J. Schaller, 141 Stimpson Street.  They are from certified seed obtained at Florence, Wis., according to the Mr. Schaller.  Mr. Schaller planted 66 pounds of potatoes in his house garden and they were grown during one of the driest spells in many years.  The yield was good and the potatoes on display weigh from 15 to 20 ounces each.  Although the Schaller garden, which is 200 feet long, is located near the river bank they received no irrigation whatsoever.  The bank was there, but no water, Mr. Schaller said.
Watertown Daily Times, 09 26 1958
A Watertown merchant and a Watertown manufacturer have combined talents to provide the community with an example of products "Made in Watertown - Sold in Watertown."  The result is currently on display at 220 South First Street, the Hutson-Braun Lumber Co.  It is here that the Hutson-Braun Lumber Co. has designed a complete display window for the showing of Village Blacksmith's new line of "Galaxy Letter Boxes."  Local residents had a preview of these residential mail boxes last spring at the Jaycee Industrial Fair at the National Guard Armory.  Since that time they have been acclaimed as the most beautiful line of home mail boxes produced anywhere in the nation.
Watertown Daily Times, 09 26 1998
A Watertown native who looks at Wisconsin through the lens of her camera is sharing her vision with other residents through a poster commemorating the state's 150th birthday.  Susan Lukas, a graduate of Watertown High School, now lives in Cudahy.  But her love for photography - instilled in her from her late father, Phil Mallow, as well as her grandfather - has been a steadfast part of her life since childhood.  "My father really influenced me," Lukas said. "I grew up in a family of photographers."  Lukas, whose mother, Mary Mallow, and sister, Peg Checkai, still live in Watertown, said the selection of her poster as one of two depicting the sesquicentennial celebration was a lifelong dream.  She had the notion of creating the poster, which features 26 pictures of the state from A through Z, years ago.
Bursting at the Seams
Watertown Daily Times, 09 25 1998
Riverside Middle School is bursting at the seams with an eighth-grade class numbering 325 pupils.  The class of 2003 is straining facilities at the school, educators agree.  With 325 pupils, up from 313 students in the class last year, creative scheduling and programming are being used to teach them all.  The number of children in the class is only expected to grow when it enters Watertown High School next year and is joined by pupils entering from several area parochial schools.
Outstanding Young Law Enforcement Officer
Watertown Daily Times, 08 08 1984
Watertown Police Officer Timothy Roets was named the Watertown Jaycee Outstanding Young Law Enforcement Officer during River Days festivities Friday evening.  Jaycee president Ray Wolfram made the presentation to Roets commending him on his enthusiasm and dedication to police work.  The last law enforcement award made by the Jaycees was in 1968.  Roets joined the police force Aug. 10, 1982, as a patrol officer and is now in the juvenile division.  He is especially active in the department's educational programs.  In puppet show format students in grades kindergarten through sixth see programs on the hazards of drug abuse, vandalism and shoplifting.  The programs are credited with keeping open lines of communication between the police department and schools.
↓  More on Officer Roets  ↓
Tim Roets Sworn in
New Police Chief
Watertown Daily Times article, 09 17 2008, full text
Tim Roets was officially sworn in as the chief of the Watertown Police Department during the Common Council meeting September 16.
"At no other time in my career is it more important to engage and partner with our citizens, solve problems and keep Watertown a great place to live," Roets said.  "The beauty and balance of our democracy can be seen clearly, thanks to the willing cooperation of our public and a dedicated team of support staff.  We are able police our city of 23,000 people with 39 officers on a 24 hour a day basis.  Not as a controlling force, but instead as part of the community." 
Following Roets' speech Mayor Ron Krueger commended former Police Chief Charles McGee for his service to the community.  McGee, who was in attendance, recently retired after serving the position since June of 1993.
Roets was hired by the Watertown Police Department in 1982 as a police officer.  He was promoted to sergeant three years later and to lieutenant in January of 1991.
He was promoted to captain in June of 1996 and to deputy chief in May of 1999.  As the deputy chief, Roets was responsible for organizing and supervising all phases and operations of the police department.
Roets has received specialized training from the International Association of Chiefs of Police, Wisconsin Chiefs of Police Association, Federal Bureau of Investigation, Wisconsin Department of Criminal Investigations and Wisconsin Emergency Management 
Throughout his career with the Watertown Police Department, Roets has won several awards for his work.  He received the Outstanding Young Law Enforcement Officer Award from the Watertown Jaycees in 1984 and a Lifesaving Award from the Watertown Police Department in 2006.  He was named the 2006 Law Enforcement Officer of the Year by the Jefferson County Chiefs and Sheriffs Association.
Roets graduated from Carthage College in Kenosha in 1981 with B.S. degrees in criminal justice and sociology. He also graduated from the FBI National Academy in Quantico, Va., in 1989.
Watertown Daily Times, 08 21 1983
A new computerized braille word processor for blind students is being used at the Watertown School District this year as another example of the district's use of computer technology to mainstream handicapped students into regular classrooms.  Watertown is among the few school districts in the nation currently using the Apple computer with the braille word processor, the VersaBraille.  Notes, assignments and tests can be completed by blind students in the classroom with the use of the portable brailler.
Watertown Daily Times, 09 18 1983
Cable television service is available to nearly every home in Watertown, and 52 percent of the potential subscribers are taking at least basic service, Gerald Pauls of Total TV has told the Cable TV Regulatory Board.  Packages combining pay services at discount rates will be available to current subscribers in the near future, Pauls told the board.  In the meantime, Total TV has hired an engineer to test and analyze the system and work out the bugs.
Watertown Daily Times, 09 18 1998
The administration building on the campus of Bethesda Lutheran Home has been named after Dr. Alexander Napolitano, longtime executive director of the facility.  The building is now known as the "Napolitano Administration Center."  Napolitano retired on Jan. 1 of this year after serving as executive director for 23 years.  Members of the board of directors, new executive director, Dr. David Geske, Napolitano's wife, Virginia, and others were at the program.  The dedication also included a dinner at Watertown Country Club.  In Napolitano's 23 years as executive director, Bethesda opened and acquired major facilities in Illinois, Kansas and Texas and opened group homes and apartments in seven additional states.  Camp Matz, a summer camp that serves clients, residents and community members with mental retardation, was added and then expanded and several major buildings, including the Schujahn Memorial Chapel of the Good Shepherd were constructed.
Watertown Daily Times, 09 17 1983
Tracey Hoffman has been elected Watertown Senior High School's 1983 Homecoming queen.  Miss Hoffman, daughter of Charles and Kathy Hoffman, 311 Riviera Lane, participates in track and chamber choir at the high school.  The king and members of the court will be elected by the football team early next week.  The king and queen will be crowned at the Homecoming dance, which will be held from 8 to 11:30 p.m. Saturday in the high school gym.
The Oconomowoc Enterprise, 03 17 1905
Route Complete from Waukesha Beach to Oconomowoc
President John I. Beggs of the Milwaukee Light, Heat and Traction Company is quoted in the Sunday Sentinel as follows:
"I'm glad to announce that the building of the new line from Waukesha Beach to Oconomowoc, which people in that section of the state have desired for a long time, will be accomplished during the coming summer.  We will expend $300,000 in building this line.  It will be thirteen miles long and we will be able to make the trip in about an hour.  The officials of the Town of Summit have granted us the necessary right of way over the crossways and highways and we have now the complete route from Waukesha Beach to Oconomowoc.  An ordinance is now pending before the council of the latter city to have us extend our lines through the city, and the officials have consulted with us in a spirit of fairness which will undoubtedly result in the passage of an ordinance which will protect the mutual interests of the city as well as the company.
"We could stop our cars at the present terminus of the right of way now acquired by us," said Mr. Beggs, "and we could save quite an extra expense, but the people of Oconomowoc would then be compelled to walk about three-quarters of a mile, which would certainly be inconvenient.
"It is our general policy to heed existing needs, which has induced us to build this road to Oconomowoc first.  Strong pressure has been brought to bear upon us to extend our lines from Wauwatosa to Elm Grove, Pewaukee, practically paralleling the lines of the Milwaukee road along the chain of lakes, but, although this road would probably bring far better returns than the other route, we took into consideration the exceedingly poor connections which the citizens of Oconomowoc have at present with their county seat, Waukesha, to give preference to this line.   I know that it will take more than two years before we will get any revenues from the new line and that we will also be compelled to run cars all the year around through Waukesha Beach, but we want to meet the people in the utmost spirit of fairness.  We have had our corps of engineers at work for some time, the surveys are complete and work will be commenced as soon as the weather permits."
In speaking of other new lines which are contemplated by the company Mr. Beggs said:  "We intend to construct as soon as possible a line south from Muskego to Lake Geneva and we will then run through to Waterford, Rochester, and Burlington.  The fact that we are already making surveys through Waterford will undoubtedly be hailed with delight by my friend, Malone, the country editor of the little hamlet.  For some time he has been raging against John I. Beggs' 'yellow devils' since one sad day a car caught his crossroad schooner unaware, throwing his supplies of hens' products into the road, but then, I like Malone's writings, and as soon as the roads permit, I will ask Gen. Falk to get his automobile ready for a visit to my clever writer and country editor."
When asked what he had to say to the story that President Roosevelt may appoint film as the head of the Panama Canal commission Mr. Beggs said, laughingly:  "Some people seem to think that I have got nothing to do now!"
Watertown Daily Times, 09 29 1983
Management of the Watertown Racquetball Club will change on Saturday, according to Phil Buss, owner of the facilities.  Buss has reached agreement with Jerry and Marcia Dusso to operate the facilities, beginning on Saturday.  Buss has operated the racquetball club since it was constructed in 1977.  The club is located at the corner of Votech Drive and Main Street.  Mr. and Mrs. Dusso have operated Dusso's Riverview for the past four years.  That business is now being operated by Bill and Pat Clark.
Watertown Daily Times, 09 27 1983
A proposal which allows Watertown Memorial Hospital to offer computerized tomography (CT) scanning to area residents has been approved by the hospital's board of directors.  The hospital has contracted with Medical Consultants Imaging Corporation, Cleveland, Ohio, to bring a mobile CT scanning trailer to Watertown one day a week for a 60-day trial period.  The trailer will be in Watertown each Tuesday, starting Oct. 4.  Hospital President Leo C. Bargielski said use of the CT scanner will be carefully monitored and a complete evaluation will be made in 60 days to determine if it is feasible for the hospital to continue the service.
Watertown Daily Times, 10 03 1958
The Keck Furniture Co., whose store is located at 110 Main Street, one of a half dozen business places in Watertown to attain an age of 100 years plus, today announced a special anniversary sale to mark its 105th jubilee.  The Keck company dates back to 1853 when John Keck, who was a native of Germany, went into the cabinet making and furniture business here that year.  The business has been in the hands of the Keck family since that time and the family is now in the fourth generation locally.
Onion Brokers in Town
Watertown Daily Times, 10 07 1958
Brand Bros., of Atlanta, Ga., the world's largest onion brokers, are back in Watertown and between now and next March will ship some 2,800,000 bags of onions from the Watertown and other state areas.  The concern has set up its office headquarters at the Hotel Washington where it has operated its northern onion business for many years.  A full office staff will be maintained at the headquarters, extra telephone lines have been installed and the place will be humming with activity from now on.
Watertown Democrat, 12 02 1858
One of the institutions of our city is the Beef and Pork Packing establishment of Joseph Lindon.  Whoever may furnish Bacon for the mind, he can supply bacon for the body to almost any extent, and that is the main thing when men are hungry and shivering.  Few places of the size and population of Watertown can boast of the extensive business institutions we have here—our grist mills, woolen factories, grain, produce and meat establishments—prominent among the latter of which is Lindon's, on the "West side."  During one week he bought over three hundred hogs, the average weight of which exceeded three hundred pounds each.  Mr. Lindon has already this season purchased pork alone to the amount of twelve thousand dollars.  This speaks well for the business of our city—present and prospective.  It also speaks well for the industry of the farmers and shows that they have not been idle.  The resources of the country around us are rapidly developing.  Time will surely make all things right
Watertown Democrat, 12 02 1858
COMMON COUNCIL PROCEEDING:  Ald. Hopf presented the returns in the 5th ward on the 29th inst., for the election of an alderman for said ward, in the place of Ald. Schurz resigned, from which it appeared that William M. Dennis received a majority of all the votes cast for said office, whereupon Mr. Dennis was duly qualified and took his set in the Council.
ACCOUNT OF MR. SPENCER for draining streets, $1.00.  Allowed and charged to the 1st ward fund.  By Ald. Steck.
ELECTION NOTICE.  Notice is hereby given that a Special Election will be held at the William Tell House in the Fifth Ward, on the 29th day of November for said ward to fill vacancy occasioned by the resignation of Ald. Schurz.  And also that a Special Election will be held at the Planters Hotel in the First Ward on the 2d day of December next for the purpose of electing a Justice of the Peace for the First and Second Wards to fill a vacancy in said office occasioned by the resignation of Emil Rothe, Esq.
Nov. 23d, 1858    S. BAIRD, City Clerk
A Resolution that Means Something
Watertown Democrat, 12 02 1858
We publish a resolution passed at the last session of the Board of Supervisors of Dodge County, the purpose of which is to prevent the abuse of the discretionary powers vested in Justices of the Peace, with regard to taking security for costs, the neglect of which has added considerably to the burdens of taxpayers.
Resolved:  That the Board of Supervisors of this County will allow no accounts of Justices, Constables, Witnesses or Jurors, hereafter, wherein the complainant fails to sustain his complaint, except when the complaint is made to a Justice of the Peace, that a criminal offence has been committed and the complainant makes affidavit before a Justice, that he is not himself able or competent to give such security, and that after using his utmost endeavors he could not procure such security to be given, which affidavit shall accompany the account presented to the Board of Supervisors of this county for allowance . . .
Winter of 1858-59
Watertown Democrat, 12 02 1858
Winter began its cold, stormy reign yesterday.  We have had no very severe weather and slight falls of snow.  The river is yet open, but it has once or twice been covered with very thin and transient coatings of ice.  At present the roads are frozen sufficiently hard to make fair going.  The consequence is that our streets are daily crowded with teams loaded with wood, hay, pork, beef, poultry and vegetables, giving the market a plentiful supply of these things.  The farmers must have been quite busy dressing their hogs for market, for nearly every wagon has a greater or less number on it.  Pork brings a higher price than any other article offered, hence the superior inducement to sell it.
↓  More on Winter of 1858-59  ↓
Watertown Democrat, 12 30 1858
There is a general break-up and thawing out just now.  Rain is falling instead of snow, the roads are soft with mud instead of hard frost, and everything looks as if the Old Year would leave us with the gentlest of farewells, and the New One greet us with the fondest of smiles—it is so that we ought to bid adieu to and welcome the return of cherished friends.
Watertown Democrat, 12 02 1858
New Meat Market.  Mr. Thomas Elmer has recently opened a new market on First Street, where will be found at all times abundant supplies of fresh meat, poultry and everything else usually kept at such establishments.  His place of business is conveniently located and he sells on the lowest cash terms.  For the past two weeks he has done a very heavy business in purchasing pork—often buying two or three tons a day.  This seems to indicate that the farmers have something to sell and the dealers something with which to pay.  Prices have ranged from four to five dollars a hundred, according to the weight, condition and quality of the article offered.
Watertown Democrat, 12 02 1858
The friends of Rev. Christian Sans [founder of St. Mark's in 1854] propose to pay him a donation visit at his residence next Thursday evening, the 9th inst.  It is now some time since such a substantial tribute has been paid to the labors of this meritorious minister.  It is owing to his almost unaided efforts—to his perseverance and activity—that the beautiful temple of worship where he dispenses the "Word of Life" has been built and carried forward to completion.  On the evening of the proposed visit we are informed that his church will be open, the fine organ will be presided over by a skillful performer and there will be singing both in German and English for the gratification of those who are fond of listening to the strains of sacred music.  We bespeak for Mr. Sans the kindly remembrance of our citizens and the cause to which he devotes all his time and talents.  We hope he will be surrounded by "troops of friends" who will cheerfully do their part in sustaining that Gospel which must one hour be their best and only hope.
Watertown Democrat, 12 09 1858
At a meeting of the Common Council of the city of Milwaukee a gentleman was permitted to address the Board on the subject of Milwaukee Bonds purchased as a good investment but failing to collect his coupons, having waited eleven months and now desiring to know whether his coupons were waste paper or good securities.  Before concluding his remarks the Mayor interrupted him, and the gentleman said, "One moment, Mr. Mayor, is there no answer for me?"  "No Sir," replied the Mayor and down came the hammer and down sat the stranger.  It is greatly to be deplored that a young, prosperous and substantial city like Milwaukee should occupy a position so humiliating in regard to its finances, but like most of the prominent cities in Wisconsin she has been lavish in her credit in aid of the various railways constructed in the State within the past few years and now, when the promises so liberally given are presented for payment, is forced to choke down the needy applicants with a hammering and decided "No Sir."  [Chapter on Railroads]
Watertown Democrat, 12 09 1858
Donation Festival.  Next Wednesday evening, the 15th, at Cole's Hall, a Donation Festival will be given for the benefit of Rev. A. C. Huntley, pastor of the Methodist Episcopal Church of this city.  We have so often urged upon the consideration of the people a generous and cordial support of the Gospel that we have nothing new to say on this subject, but there are peculiar reasons why this appeal should neither be neglected nor made in vain.  Every intelligent and liberal-minded citizen understands his duty in the premises far better than we can inform him—knows his means, knows the abundance with which he has been favored, knows what he owes to a guardian Providence, knows who gives and who takes.  No kind word of remembrance from us is necessary to throw the faintest gleam of light on this subject or excite to liberal and willing action . . . Sharers as we all must be, whether we feel and admit the fact or not, in the transcendent benefits of this Heaven-derived blessing—let us show our gratitude to the Almighty Author by freely parting with a portion of our substance to maintain in comfort and independence those who devote their life, time and talent to the service of "The Great Teacher" and Redeemer of us all—and do it not as a matter of reluctant charity but as an act of strict justice.  "The Lord loveth the cheerful giver."
Watertown Daily Times, 10 08 1958
Preparations for the 1958 homecoming are well underway at the Watertown High School. Reigning as homecoming queen at the activities this weekend will be Miss Joanne Gmeinder, daughter of Mr. and Mrs. Edwin Gmeinder, route 7.  She is a senior.  In the queen's court of honor will be Maxine Hanson and Diane Schwartz, sophomores, Janet Hanson and Karla Johnson, juniors.
Watertown Daily Times, 10 15 1958
Officials of the Hevi-Duty Electric Co. announced production of a new furnace for determination of the compression strength of coke and ore pellets at high temperatures.  This furnace is the first commercially available machine which will accurately predict the strength of coke at the temperatures encountered in the tuyere zone or high temperature zone adjacent to it.  This furnace fulfills a need that has long existed in every plant with a blast furnace or foundry, since tests previously used have shown little correlation between room temperature strengths of coke or ore and actual characteristics at furnace operating temperatures.
Watertown Daily Times, 10 15 1983
Rip-rap to preserve the shoreline around Riverside Park was approved by the Watertown City Council.  The rip-rap contract was awarded to Weis Excavating, Inc., of Johnson Creek, the lowest of six bidders on the contract.  Tom Checkai, assistant park and recreation director, said, "We've been losing a considerable amount of shoreline in recent years because of erosion.  This project should halt that problem."  High water in recent springs and the deteriorated condition of the existing walls has made the project necessary.
Watertown Democrat, 12 09 1858
INSURANCE.  The season has arrived when there is the greatest exposure to fire.  We call the attention of all to the "Charter Oak" and "Phoenix" Insurance Companies, for both of which Mr. Oscar Crandall is the agent in this city.  They are both safe and reliable and in the case of fire always promptly adjust losses, which is the true test of the value and usefulness of any company.
Watertown Democrat, 12 09 1858
FOR SALE BY C. A. SPRAGUE:
Five tons of Buffalo White Lead for sale.
Fifteen bbls [barrels] Refined Elephant Lamp Oil at Milwaukee prices for sale.
Five hundred boxes Window Glass of all sizes.
300 rolls of Wall Paper.
All the Patent Medicines of the day at manufactured prices.
↓  More on C. A. Sprague  ↓
Watertown Gazette, 05 05 1859
C. A. Sprague is giving his drug store a compete overhauling and thorough renovation from top to bottom—putting in new windows in front—filling up the shelves with his new stock, and making all sorts of arrangements to still do a heavy business in both the retail and wholesale line.  And he always has a heavy stock on hand and country dealers can do as well with him, as with any Milwaukee firm.  In the interior of the State there is no drug store where a large or more varied stock can be found
Cross reference:  First drug store in Watertown, 1847, Fountain & Co.
German Catholic Church
Watertown Democrat, 12 09 1858
The Universalist Church at Jefferson has been purchased by the German Catholics for a place of worship.  It is the intention of the Universalists to erect a new edifice as soon as practicable.
Watertown Democrat, 12 16 1858
To prevent nuisances and to punish improper and disorderly practices in the city of Watertown.  The common council of the city of Watertown do ordain and determine as follows.
Section 1.  Any person who shall be found lying in or upon any street, alley or sidewalk in said city in a state of intoxication, or who being intoxicated, shall be guilty of any disorderly conduct by the use of any loud or obscene language, shall, upon conviction thereof, forfeit and pay a penalty of not less than one dollar nor more than twenty dollars for each offense.
Section 2.  Any person who shall be guilty of any indecent exposure of his or her person, or who shall make use of any loud, vulgar or obscene language or any disorderly conduct tending to excite a breach of the peace, in said city, shall, upon conviction thereof, forfeit and pay a penalty of not less than one or more than twenty dollars for each and every offence.
Section 3.  Any person who shall make any loud noise with horns, rattles, pans or any other devices or appliances whatsoever, tending to disturb the peace and quiet of any person or family within the said city, in the night time, shall, upon conviction thereof, forfeit and pay a penalty of not less than five nor more than fifteen dollars for each and every offence.
Section 4.  Any person who shall throw or deposit in or upon any street, gutter, alley, sidewalk or sewer basin, any filth, rubbish or the contents of any privy or necessary chamber or vessel, or other offensive substance, shall, for each and every offence, forfeit and pay a penalty of not less than one or more than twenty dollars.
Section 5.  Any person or persons being the owner or agent of any owner of any horse or mare, who shall within sight of the inmates of any dwelling house in this city, permit the copulation of said animals, shall, for each and every offense, forfeit and pay a penalty of not less than ten dollars or more than fifty dollars.
Section 6.  Every person being a vagrant, common prostitute or gambler in this city, shall, upon conviction thereof, forfeit and pay a penalty of not less than one or more than twenty dollars. 
Section 7.  Any person who shall keep a disorderly house, house of ill-fame or gambling house in this city, shall, upon conviction thereof, forfeit and a penalty of not less than ten nor more than one hundred dollars.
Section 8.  Any owner or occupant of any tenement or lot in this city, who shall suffer or permit any filth, straw, hay, rubbish, decayed or offensive animal or vegetable matter to remain upon said tenement or lot or between the same and the center of the street adjoining after notice to remove or abate the same by the Street Commissioner of the ward which such lot or tenement may be situated, shall forfeit and pay a penalty of two dollars for each and every twenty-four hours during which the same shall remain or be thereon.
Section 9.  In all cases where judgment shall be rendered against any person for any penalty prescribed by this ordinance, the Court shall, in entering upon judgment, tax the costs of prosecution and collection against the delinquent.
Section 10.  It is hereby made the duty of the City Marshal and his deputies to arrest with or without process, any person or persons who may be found offending against or violating any of the provisions contained in the first seven sections of this ordinance, and to take such person or persons forthwith before the Police Justice or keep them in confinement until such time as said Justice can reasonably hear and dispose of such offenders.
Henry Bertram, Mayor.
Samuel Baird, Clerk
Passed December 13th, 1858.
C. M. Stowe
Watertown Democrat, 12 16 1858
Mrs. C. M. Stowe proposes to give a series of public lectures in this city on the philosophy of modern spiritualism [believed to be Mrs. C. M. Stowe of Fond du Lac].  Amidst all the ridicule that is heaped upon this subject, it still attracts a large share of public attention.  We may laugh at the supernatural manifestations that take place before "spiritual circles," but we cannot by so doing destroy the faith of believers.  It is well enough to hear all that can be said as to the reality of this new science, if we may so call it.  Mrs. Stowe, when in a trance, is a singularly eloquent speaker and has an astonishing command of all the resources of language.  She never hesitates for the right word—she always has a bright and beautiful figure of speech to convey her ideas and is well worth hearing.
Watertown Democrat, 12 23 1858
We feel bound to notice the closing of the High School of this city for the present term with the concluding exercises or examination at which we had the pleasure to be present.  When we arrived at the school house the proceedings had already commenced, and we at once became interested.  After listening attentively to the prompt and unhesitating replies to the many questions propounded, and the ready demonstration of any problem or theory to the satisfaction, we doubt not, of the small, though select and appreciating audience, our ears were regaled with what, in our opinion, is rather an anomaly in schools of public instruction, namely the reading of a paper termed the Maple Grove Gazette, the contents of which were exclusively made up of contributions from the scholars belonging to the school.  Thought having no mean opinion of the ability of the young ladies and gentlemen scholars as a general thing, we confess to have not been a little surprised at the advancement in the art of original composition which many of the productions evinced, and which were very creditable to their authors.  After this part of the proceedings had been concluded, a presentation was made to the assistant teacher, Miss Rookwood, by the scholars under her special care, of a very beautiful chased gold ring, as a token of their love and esteem, to be considered as a memorial of times past, and as a humble expression of their acknowledgements of the satisfactory manner in which she had discharged her duty towards them as an instructor.  The recipient of this favor made a reply in a few short but expressive remarks.
It is unnecessary to allude to all the exercises in rotation—want of space not permitting us to particularize—but we were much pleased at the manner in which the classes in Algebra, Physiology and various other studies acquitted themselves, which is not only creditable to the scholars but highly complementary to the ability and talent of the teachers.
During the reading of the paper, in which we took a deep interest, we were extremely annoyed by a "small boy" sitting near us, who, after several unsuccessful attempts, at last accomplished the drawing of a very life-like and animated specimen of the porcine species and held it up for the admiration of the "smaller boy" sitting in the same seat.  After several desperate efforts to quiet "small boy" we at last succeeded and once more turned our attention to the order of the exercises.
We are not accustomed to use the regular and stereotyped phrases of newspaper puffing in our notices of affairs "about home" but we feel it our duty to compliment the teachers of this institution on the rapid progress made by the pupils, of which fact we want no better evidence than was shown us on Thursday afternoon last.  We regret exceedingly that we were unable to be present at the conclusion of the other schools, but we feel gratified at learning, as we had apprehended from a personal knowledge of the eminent degrees of ability and capacity possessed by some of our teachers, that the scholars of their several schools passes the ordeal to the entire satisfaction both of those who took an active part and the spectators present.
Notwithstanding the pleasure we derived from our visit, we are sorry to say that nothing has as yet been done by the proper authorities to have better accommodations for those who attend this institution.  It is a shame that the citizens of Watertown have so long neglected to make any effort towards the erection of a better and more commodious building, and is a standing reproach to them that the High School—the school of the highest and most advanced character—is obliged to be contented with such a miserable structure.
Watertown Democrat, 12 23 1858
St. Paul's Church holds their annual Sunday School Festival at the Common Council chambers this evening at 6 1/2 o'clock.  This school has become one of our city institutions.  From scarcely a dozen scattered children it now numbers near ninety, having twelve teachers and one librarian under the direction of a superintendent.  The library is large and well selected and the school is carried on with clockwork regularity.  It has a regular organized system and is conducted upon that basis.  Teacher and scholar seem to be mutually interested in the school and in each other.  Another noticeable feature is that the school is free to all, and we see, side by side, the German, Irish and American child, each interested in one common object—that of learning his duty to his Maker.  Here we see also a system of weekly offerings by the children, bestowed at the end of each of the church's year, upon some religious or missionary object.  These offerings for the year past, we understand, amount to about sixty dollars.  We learn that the festival this year is to be the same as in former years.  From the Christmas Tree is suspended the presents for each of the children, which are to be distributed during the evening.  Another interesting feature is to be added this year.  The superintendent presents three prizes to the 1st, 2d and 3d best scholars of the school, that is, the three which have attended the most regularly and recited the most and best lessons for the year.  We remember no more interesting occasion than the one of our attendance on this annual festival last year.  The regret is that only the congregation are invited to attend.  We wish all might see this model school and the bright, joyous, happy faces, as we have for the past disastrous [?] year.  It makes us wish we were a child again, and that our childhood had been spent in such scenes as these.
Watertown Democrat, 12 23 1858
The Watertown Transcript is the name of a new paper which Mr. M. Cullaton will commence publishing in this city every in January next.  The Transcript will furnish the Republican Party with what it has long been without in this county—a consistent, able and reliable organ.  Mr. Cullaton has the talent and experience necessary to publish such a paper as his political friends in particular, and the public generally, should give a liberal and willing support.  A city like Watertown—surrounded as it is by a fertile and flourishing country—ought to sustain well at least two good English papers.  We hope our friend will find his highest expectations realized in the result of his present undertaking.
↓  More on Watertown Transcript  ↓
Watertown Democrat, 01 13 1859
The first number of the Watertown Transcript is before us.  It is neatly printed, well edited, and if the Republicans do not come forward and give it a generous and willing support, they do not deserve to have so good and influential an advocate of their principles and measures as this paper promises to be if it is liberally sustained.
The Genesec Farmer is one of the oldest as well as the best agricultural publication in the country.  Its terms are low and reasonable.  [A weekly publication said to be one of the first agricultural periodicals written directly from the standpoint of practical experience.  Published between 1840 and 1911.]
↓  More on Watertown Transcript  ↓
Watertown Democrat, 03 24 1859
The Watertown Transcript, recently started in this city and ably edited by Mr. M. Cullaton, is no more and the Republican party of this city is without an English organ.   Finding that he was losing money, Mr. Cullaton, like the practical and sensible man he is, has taken his printing establishment to Waukesha where he will soon issue another paper, to be called the Freeman.  Since we have published the Democrat in this city we have witnessed the extinction of the Chronicle, the State Register, the Home Circle, The City Times, the Representative, and the Transcript—four out of the six being Republican journals.  We had no doubt that the last attempt would be entirely successful, but we suddenly found ourselves in possession of the field alone. We will do our best to so occupy it that it shall be properly filled.  To the citizens of Waukesha we cheerfully commend Mr. Cullaton as a gentleman of ability and enterprise, who has both the talent and experience necessary to furnish them such a newspaper as it would be for the interest of the people of any place to liberally sustain.  We hope he will receive that patronage and support, not only from the party whose principles he will advocate, but from the community whose prosperity he will seek to promote, which will render his residence there both pleasant and profitable.
Watertown Democrat, 12 23 1858
A new German Paper.  We learn that Mr. D. Blumenfeld has completed his arrangements for starting another German paper in this city, to be called the Weltburger.  It will be Democratic in politics and will no doubt receive the cordial support of the large and intelligent German population of this city and vicinity.  There is room here for a spirited, wide-awake German journal.  We hope this enterprise will be entirely successful.  For some time past, Democrats among the Germans have been without an organ, and now that they have an opportunity to secure one, they should see that it is adequately supported.
Watertown Democrat, 12 23 1858
Henry Parker was arrested in this city last Friday for horse stealing.  What led to the suspicion that the horse in his possession did not belong to him was his anxiety to sell it—first for a high price and then for anything he could get.  A knowledge of his movements having reached Sheriff Giles, that vigilant officer at once took measures to ascertain the truth of his conjectures.  He brought the lad before Police Justice Hadley and, after a short examination, confessed that he had taken the horse from a farmer residing in the town of Sugar Creek, Walworth County.  The thief was committed to jail in default of bail, to await his trial.
Watertown Daily Times, 10 11 1998
Anyone trying to contact Augie Magestro, owner of the new Perkins Restaurant, at lunchtime Monday was out of luck.  Even hours after the traditional lunch crowd, the eatery was still crowded.  Watertown welcomed the opening of its newest restaurant early Monday morning with a flag raising and ribbon cutting.  Restaurant employees, along with a band, color guard and local dignitaries, all cheered the opening of Perkins on South Church Street before getting down to business.
Augie's European Café and Old World Pub
The Market Specialty Shopping Mall
Watertown Daily Times, 09 16 2006
A new restaurant has recently opened in The Market Specialty Shopping Mall that gives customers a sense of eating at an outdoor European cafe even though it is located indoors.  "The whole concept was to create an outdoor alfresco-style European cafe, even though you are inside," said Augie Magestro, owner of Augie's European Café and Old World Pub.  "The real impact is going to come in the wintertime or when it rains."  The new restaurant, which has 43 employees, is located in the northern portion of The Market at 210 S. Water St.  To help add to the outdoor atmosphere, the restaurant has a cobblestone floor, street lamp posts and skylights.  There are also many pictures of European settings along the walls painted by local artist Barbara Beier.
Watertown Democrat, 12 23 1858
The Coleman Farm Mill.  We refer our readers to the advertisement of the Coleman Farm Mill in another column.  The question of the utility of Farm Mills is one of the settled questions among the intelligent farmers of the present day.  This Mill, we are informed, is efficient and durable and receives the highest commendations from those who are operating them and have daily experience of their value.  And of mills, as of everything else, experience, of course, is the best test.  We do not hesitate to say that if the Coleman Mill is found what it is represented to be, in commending it to their attention we are doing our agricultural friends a material service.
1858 Tax List
Watertown Democrat, 12 30 1858
Treasurer's Notice.  Notice is hereby given that the Tax List of the city of Watertown for the year 1858 has been delivered to me for collection, and that taxes on personal property must be paid within twenty days from the first publication of this notice, to wit: the 23d day of December instant, and taxes and assessments or real estate before the fourth Monday of January next and that all tracts and parcels of land specified in such tax list upon which the taxes and assessments shall not be paid by that day will be sold at the office of the City Treasurer on Second Street, in said city, commencing on Monday, the 24th day of January next, at 10 o'clock a.m., and continuing from day to day until all of said lands are sold.
D. S. Chadwick, City Treasurer
December 13, 1858.
"Uncle Gibbs"
Watertown Democrat, 12 30 1858
Once a year, at least, we make it a point to report the doings of the "old Trapper"—Luman Gibbs—among the "varmints."  He is a retired soldier, draws a pension from the Government of the United States for military services and wounds received in the last battle with England, which, with the proceeds of his hunting and basket-making, enables him to get along quite comfortably.  He belongs to a class of men which has nearly disappeared from this part of the West, and can now only be found among the valleys and streams of the Rocky Mountains—the hardy, daring, light-hearted, fearless, cunning voyageur, as the French call him.  As "Uncle Gibbs" is the only specimen of the kind left here we intend to take the best care of him while he manages to keep on the "mortal soil."  It will be seen from the following statement that there are a fewer "quadrupeds" now than there were when he entered upon his fall campaign, commenced camping out nights and began to set his traps in order to make the fur fly.  Game, he says, is getting scarcer and scarcer every year, but so far this season he has taken 413 muskrats, 6 minks, 1 lynx, 1 otter, and 7 coons, the latter of which could still sing tolerable well any 1840 log cabin song with all the variations.
Newspaper Carrier
Watertown Democrat, 12 30 1858
Bright and early on the morning of the New Year our carrier will present his best respects to the patrons to the Democrat and, "smiling all around," wish them all the happiness in the world as he hands them his Annual Address, and thankfully receives what they, in their liberty, choose to bestow.
Watertown Democrat, 12 30 1858
The New County Officers.  One the 1st of January, 1859, the new county officers will enter upon the discharge of their official duties. 
Their names are as follows: 
Sheriff—Joseph Giles;
Clerk of the Court—Charles T. Clothier;
Treasurer—Darius F. Jones;
Register—Gustavus Schnasse;
Clerk of the Board—Ira W. Bird;
District Attorney—Harlow Pease;
Surveyor—Levi P. Gilbert;
Coroner—George Foster.
So far as we are aware, the retiring officers surrender their trusts with the good will and confidence of the public generally, and especially of all who had business to transact with them.  Mr. Edward Rankin has been a vigilant and efficient Sheriff, though from the nature of the unpleasant duties devolving on all such officers, he has not wholly escaped complaint, yet an inquiry into his conduct resulted in his acquittal of intentional wrong.  Mr. Charles Stoppenbach has been Register of Deeds for four years and during that long term of service has fully justified the expectations of his many friends.  Mr. William Sanburn has been an honest and diligent Treasurer, which is all the position demands of anybody.  Mr. Daniel Hall, by the willing testimony of all, has won a high place among the best District Attorneys in that state—in this county he has never had a superior.  Able, fearless, independent, impartial, cautious, he has resolutely met every responsibility and set an example of devotion and industry that can be safely followed.  We can hardly wish a better thing for his successor than to express the hope that he will return to private life with not only the respect but also the "golden opinions" his predecessor carries with him.