website  watertownhistory.org
    ebook  History of Watertown, Wisconsin
Habhegger Cold Storage
104 Division St
John Habhegger, Jr
1844 - 1919
Royal Meats
Johnsonville Sausage, LLC
1981 - 2015
Founded in 1898
c.1897
12 22       COLD STORAGE SUPERSTRUCTURE
The contract for the superstructure of the Watertown Cold Storage building has been let to Ferdinand Behlke.  It must be ready for the reception of ice by January 15.      Watertown Republican, 12 22 1897
1898       HARTIG BREWERY ICE HOUSE became HABHEGGER COLD STORAGE
<![if !vml]>

<![endif]>     
Ice house behind the Hartig Brewery.  Later became the Habhegger Cold Storage plant.
1899
<![if !vml]>

<![endif]>     <![if !vml]>
<![endif]>
PAINTING BY JANETTE JOHNSON
<![if !vml]>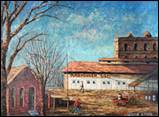 <![endif]>   
1902
<![if !vml]>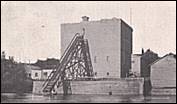 <![endif]>  
1903
04 11       HABHEGGER STORE ON SOUTH SECOND
Engages in Cheese Business - M. Fitzgerald of Neosho, who some time ago purchased the Habhegger store building at 110 Second Street (*), has taken possession of same and will occupy it as headquarters for his large cheese business, wholesale and retail.  Mr. Fitzgerald has moved his family here and occupies the residence at 702 Sixth Street which Mr. Fitzgerald recently purchased of John G. Conway.    WR
<![if !vml]>

<![endif]>
1899-1900 City Directory
(*) A week later (04 18) the Republican lists the transaction as involving "part of block 11, First ward" indicating that 110 is that of South Second.
   <![if !vml]>

<![endif]>     04 18 paper
1912
02 08       OFFICERS ELECTED
At a recent meeting of the Clyman Star cheese factory stockholders the following officers were elected for the year 1912:  James Caughlin, president; J. T. Walsh, secretary; John Langer, treasurer; Frank Klait, trustee for three years.  The patrons again sold their milk to John Habhegger, of Watertown, as they know when they are well taken care of.  The price of milk for the season will average $1.15 [per hundred].   WG
1914
02 19       MAY ERECT COLD STORAGE PLANT IN JUNEAU
At the meeting of the Northwestern Cheesemakers Fire Ins. Co. held at the city hall last Monday, Max Radloff, John Habhegger and Christ Indermuehle were elected directors for the term of three years.  The above named are among the largest manufacturers and wholesalers of cheese in this part of the state and it is reported that there is a possibility of erecting a large cold storage plant at the city of Juneau in the near future, which will be of great benefit to all our merchants and the surrounding country.
At a meeting of the Board of Directors the officers of 1913 were re-elected.  President — A. F. Westphal; Vice-Pres. — M. Fitzgerald; Treasurer — John Habhegger; Secretary and General Agent — George W. Morse.  The company starts out the new year with a prosperous outlook.   WG
c.1925
-- --           BUTTER, CHEESE, EGGS
<![if !vml]>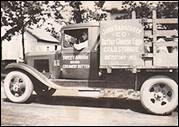 <![endif]>   
John Habhegger Co.    Sweet Auburn Brand Creamery Butter
<![if !vml]>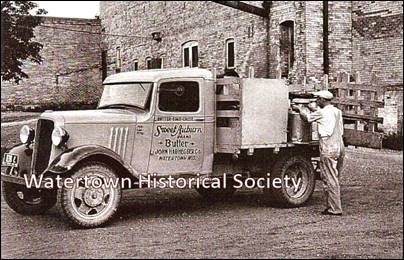 <![endif]>
John Habhegger Co., "Sweet Auburn Brand Butter" c1934, WHS_006 296
1951
<![if !vml]>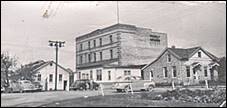 <![endif]>                <![if !vml]>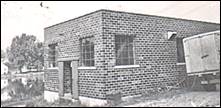 <![endif]>   
1952
07 12       COUNTY LINE CHEESE FACTORY CLOSED
The County Line Cheese factory, which has been in operation since Oct. 24, 1881, closed on July 1.  More new equipment was needed to continue in operation and a decision to close the factory was reached by officers after it was concluded that the cost of the equipment would run too high for the few dairymen who haul their milk to the factory.
Jacob Jossi was the first cheesemaker, serving in that capacity for four years. Mr. Jossi played an important part in Watertown's early history.  He built up a tremendous cheese business in this area.  His storage plant was located on North First Street, the building now occupied by the Marek Distributing company.
1953
11 10       DISTANT VIEW
<![if !vml]>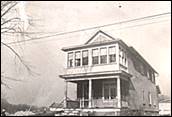 <![endif]>  
1954
06 26       THE PAST IS HISTORY . . . . WE'RE LOOKING TO THE FUTURE
<![if !vml]>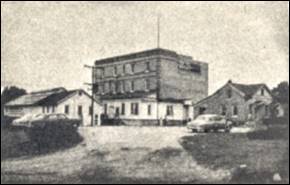 <![endif]>  
Habhagger Cold Storage
<![if !vml]>

<![endif]>  
Established in 1898 as the Watertown Cold Storage Co., this company's operations were confined to the storage and sale of eggs and dairy products until 1912, when it was incorporated under the name of John Habhegger Co.
Mr. Habhegger had long been a successful businessman and under his management the company expanded its operations and began producing "SWEET AUBURN BRAND" BUTTER, a high score sweet cream butter which soon gained wide acceptance because of its superior quality.
In 1939 the company again expanded its operations by being one of the first in Wisconsin to install a frozen food locker plant with complete service to patrons.  This proved to be a popular move and locker facilities and service have since been increased several times to accommodate the growing list of patrons.
1965
09 24       ALEX BAYERLEIN HOME
An office building of the Habhegger Co., Watertown cold storage concern, along the banks of the Rock River, is in two counties.  The north half is in Dodge county and the south half in Jefferson county.  The address is 104 Division Street, and Division Street divides the city into the two county area.  Years ago the building was the home of the Alex Bayerlein family.  Mr. Bayerlein was a brewer and was employed at the William Hartig Co. brewery, located on the site of the National Food Store in Cady Street.  The family slept in Jefferson County and had its meals in Dodge County.
01 11       PURCHASED BY LOWELL PRITCHARD
Lowell Pritchard, owner and operator of the Royal Meat Market, 405 East Main Street, announced today the purchase of the Habhegger Company cold storage plant at 104 Division Street from Max Faller of Mequon.  The plant is one of the city's oldest and most widely known business concerns.
Mr. Faller has been owner and operator of the plant for the past eight years, having purchased the facility from the late Omar L. Gaston, 413 South Fifth Street, who headed and managed the company for many years.
The purchase includes the four-story cold storage unit, a slaughter house, a completely equipped and modernized sausage kitchen and an office building.
Founded in 1897.  The late Mrs. Omar Gaston was a daughter of the late Mr. and Mrs. John Habhegger, her father having founded the business.
1973
Jan           ASSESSOR PHOTOS
<![if !vml]>

<![endif]>     ASSESSOR NOTE:  "This is a pistol to measure"
BOTTOM CENTER:  Alex Bayerlein home became office bldg of Habhegger Co
<![if !vml]>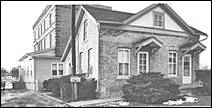 <![endif]>                 <![if !vml]>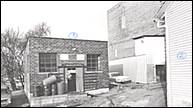 <![endif]>
1970's
  <![if !vml]>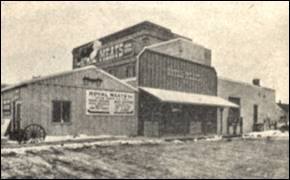 <![endif]>
Royal Meats slaughter house, retail butcher shop, 1970's
Current site of Johnsonville pig slaughter house
John Habhegger, Jr
Being one of the enterprising and progressive citizens of Watertown, John Habhegger, Jr, engaged in business as a member of Jossi & Habhegger, manufacturers of cheese. He is a native of the Canton of Bern, Switzerland, born April, 19, 1844, and is a son of John (Sr) and Anna (Znethi) Habhegger.
His parents immigrated to the United States in 1853 and took up their residence in Watertown.  The father engaged in farming for two years, after which he carried on merchandising in Watertown for some time. In 1877 he left that place and removed to Fort Atkinson, Wis., where he was engaged in the insurance business until his death, which occurred in 1890.
In his family were eleven children, eight of whom are yet living, four sons and four daughters: Ulrich, Mrs. E. Lehmann, Fred, Godfrey, Barbara, Margaret, John and Lena. All are now married.
The gentleman whose name heads this record was a lad of nine summers when, with his parents, he crossed the Atlantic.  Since that time he has been a resident of Jefferson County, and has become widely and favorably known.  His early education was acquired in the schools of his native land, and was supplemented by study in the public schools of this locality.  After coming to Wisconsin he aided his father in the cultivation of the farm, but subsequently learned the butchers' trade, which he followed until 1862.
In that year Mr. Habhegger laid aside all business pursuits to enter the service of his adopted country.  He joined the Union army, becoming a member of Company D, Twenty-third Wisconsin Infantry, and served until the close of the war with the rank of corporal.  He participated in the battles of Chickasaw Bayou, Arkansas Post, Greenville, Cyprus Bend, Grand Gulf, Port Gibson, Champion's Hill, Black River Bridge, the siege of Vicksburg and others.  At Vicksburg he was wounded by a gunshot.  He afterward participated in the battles of Jackson, Carrion Crow Bayou and Mansfield, La., and at the last named was again slightly wounded by a gunshot in his right side.  Among the last engagements with which he was connected were the siege and capture of Spanish Fort and Fort Blakeley.
On the 4th of July, 1865, he was honorably discharged at Mobile, Ala., having for three years, on many a Southern battle-field, faithfully followed the old flag which now floats triumphantly over a united nation.
After his return home Mr. Habhegger worked for his brother a short time, and in 1867 he embarked in merchandising in Watertown, continuing business along that line until 1892. In 1890 he became associated with Jacob Jossi (b. 1849, d. 1907) in the manufacture of cheese, and is now giving his entire time and attention to that enterprise.
Mr. Habhegger was married in 1868 to Miss Lena Schultz, a native of Watertown, and six children have been born of their union:  Emma, Charles J., Bertha, Hattie, Anna and Margaret.
Mr. Habhegger has led a busy and useful life, but has found time to devote to public interests, and has served as alderman and supervisor and was deputy-collector of internal revenue under President Cleveland's first administration.  He is now a member of the school board and is recognized as one of the leading and enterprising citizens of Watertown.  He holds membership with several civic societies and also belongs to the Grand Army of the Republic.
Memorial and Genealogical Record of Dodge and Jefferson Counties, Wisconsin, Chicago: Goodspeed Brothers, 1894
Buried in Oak Hill Cemetery.
Portrait not reproduced.
Portion derived from Memorial and Genealogical Record of Dodge and Jefferson Counties, Wisconsin, Chicago; Goodspeed Brothers, 1894.
HABHEGGER HOME
1981
04 17       ROYAL MEATS
Royal Meats, Inc., 104 Division Street, will close its slaughter, boning and store operations in the near future, according to Lowell and Marilyn Pritchard, owners.  Although the store has been successful, it accounts for only about 20 percent of the business.  The income there could not cover the losses from the other operations, Pritchard explained.  Royal was killing 300 to 400 head of cattle or about 160,000 pounds weekly.  This resulted in substantial weekly losses.  Because of extremely high fixed costs caused by government inspection and energy, it was impossible to keep the store operating while terminating the other portions of the business.   WDT
08 18       Royal Markets, Inc., 104 West Division Street, will reopen as a retail meat market on September 1.  The announcement was made by Ralph Stayer, president of Johnsonville Sausage, Inc., Johnsonville, Wis., and Merle Draves, manager of the local operation.  Royal was closed earlier this year by Lowell and Marilyn Pritchard after changes in market conditions caused heavy losses.  Stayer said the new operation will be under two corporations.  One will be Royal Markets, Inc., which will operate the retail business, and Bratco, Inc., which will operate the slaughtering business.  Stayer said one change will be that the new operation will no longer do custom slaughtering as had been the case with Royal in the past.   WDT
1983
11 15       The Royal Meats retail business will soon become part of Tom's United Foods, according to Tom and Lynn Frakes, owners of the food store.  Frakes said he has purchased the assets of the Royal Meats retail and wholesale operation and has also employed several members of the Royal staff.  Earlier this year the Royal Meats retail and wholesale operation was closed.  The business operated at 104 West Division Street, north of the Tom's United Foods Store.   WDT
2006
02 23       While obesity rates around the country are reaching epic proportions, Johnsonville Foods of Watertown is giving its nearly 100 employees and their families more options to live healthy lifestyles.  The local meat plant held its third annual Johnsonville Health and Wellness Fair in hopes of enticing its employees to take more responsibility with their health.  Brenda Cancel-Bratberg, human resources coordinator and safety business partner for Johnsonville, said the main focus of the fair, which is part of the company's wellness initiative, is to give employees the resources to take better care of their bodies.   WDT
2015
05 11       JOHNSONVILLE FOODS FIRE
<![if !vml]>

<![endif]> 
Firefighters responded at 12:57 a.m. on 05/10 to Johnsonville Sausage, 104 E. Division St., for a structure fire.  When firefighters arrived on the scene smoke was coming from the building and fire was seen on the roof.  The fire caused extensive damage inside the building.  The building was unoccupied at the time of the fire, and there were no injuries.  The blaze was under control in about an hour.
Johnsonville sausage makers use downtime productively  
10 16       JOHNSONVILLE BROKE GROUND FOR NEW FACILITY
Johnsonville Sausage, LLC broke ground at the site of its new Watertown facility at 1222 Perry Way Thursday morning.  The building is just a few miles from 104 E. Division St., where the company had operated a plant since 1981.  The East Division Street location suffered a fire that forced it to close its doors in May.
Johnsonville plans to expand the building on Perry Way to 117,000 total square feet and will also add 30 jobs.  Completion of the facility, which supports Johnsonville's fresh sausage business, is expected in spring 2016.     WDTimes story  
2016
11 01       JOHNSONVILLE SAUSAGE HAD A DISASTROUS FIRE BUT KEPT ITS EMPLOYEES WHOLE
"Johnsonville Sausage defined, followed and acted upon its organizational purpose.  Its mission is to make sausages for its customers, but not at the expense of disenfranchising Johnsonville employees or the communities it serves."     Online Forbes article  
2017
03 30       JOHNSONVILLE TAKES ITS EMPLOYEES ON A 'CULINARY ADVENTURE'
12 15       DEMOLITION OF FORMER JOHNSONVILLE PLANT
<![if !vml]>

<![endif]>         <![if !vml]>

<![endif]>        <![if !vml]>
<![endif]>  < Video clip       
Cross-References:
John Habhegger, 1902, Library formation committee member
John Habhegger's petition, 1908, that he be discharged as trustee of the John W Cole estate
Emil Doerr, printer, tinfoil cheese wrappers for the Jossi-Habhegger firm
Joseph Lindon, beef and pork packing establishment
OMAR GASTON, Sec-Treas-Mgr
<![if !vml]>

<![endif]>   c.1940 photo

History of Watertown, Wisconsin