This file part of www.watertownhistory.org website
Miscellaneous set
Watertown Gazette, 01 21 1910
Papers were filed with Clerk William H. Rohr on Monday in the case of Fred Schertenleib vs. William Wolf.  It is an action brought under the Co-Employee Act and Schertenleib sues Wolf for $5000 damages.  The plaintiff and defendant were at work on the construction of the [upper] dam at Watertown of the Milwaukee Light, Heat and Traction Company.  The plaintiff was sitting on a plank sawing and the defendant was to hold the plank.  He let go with the result that the plaintiff fell to the ground sustaining minor injuries and a permanent injury to the spine.  Mistele & Smith are attorneys for plaintiff and O. C. Hahn for the defendant.—[Jefferson Banner]
Catalog and Appliance Agency
Watertown Daily Times, 12 14 1984
Bill and Liz Mahoney of Watertown, new owners of the Montgomery Ward catalog and appliance agency at 102 Stimpson Street, said they expect to have a grand opening of their new store in the beginning of January.  They recently purchased the business, now called Mahoney Sales Agency, from Don and Ann Weinberg who operated the agency under the name of M and W.  The Weinbergs retain ownership of the building.  The Mahoneys, who have resided here for about six weeks, are from Des Plaines, Ill., where they lived for 19 years.  Both are originally from the Chicago area.  While in Des Plaines, she was employed in personnel and he was a plumbing supervisor.  Mrs. Mahoney said they had been looking for a business to buy for about four years before purchasing the Montgomery Ward agency.
New City Water Tower
Watertown Daily Times, 12 18 1984
Bids from two out of state companies were opened this morning for the 1985 construction of a new city water tower on West Street.  Na Con, Inc., of Plainfield, Ill., and Hydrostorage, Inc., of Des Moines, Iowa, submitted bids on four structures which are being considered by the Watertown Water Commission.  A single pedestal spheroid tower is a structure similar in shape to the city tower on Western Avenue.  A fluted structure is similar in shape to the water tower in the city of Jefferson.  The two current water towers in Watertown were both constructed by Chicago Bridge and Iron, now Na Con.
Rail Passenger Service Possibility
Watertown Daily Times, 12 18 1999
MADISON - The possibility of rail passenger service for Watertown received another boost Monday when an interim report by a task force was endorsed.  The task force says the Wisconsin Legislature should borrow up to $50 million to help develop a high-speed rail system linking Madison and Milwaukee.  Watertown is along that route and would likely be a stop if the proposal becomes a reality.  The tracks to Madison leave the main line of the Canadian Pacific Railroad in Watertown.
Fire Destroys Elevator at Richwood
Watertown Gazette, 07 09 1909
At 12 o'clock last Friday fire totally destroyed the elevator of the Farmers' Elevator Co. at Richwood.  Sparks from a railway locomotive is supposed to have caused the fire.  Help was asked for from Watertown and the Ahrens engine and No. 2 hose cart was sent out over the Milwaukee Road.  The people of Richwood dammed up the small creek there and used the water to keep adjoining property from burning, bringing into service every pail and bucket in the place, Cleveland Hall being one of the buildings saved in this manner.  On the arrival of the fire boys from Watertown streams of water were shortly playing on adjoining property and the fire kept from spreading.  The elevator was valued at $8,000 and was insured for $2,500 . . . But for the heroic work of all the people of Richwood, most of the buildings there no doubt would have been devoured by the flames.
↓  More on Richwood fire  ↓
Fire Boys Receive Check
Watertown Gazette, 01 28 1910
John Glaser, chief of the fire department, has received a check for $36 from E. M. Uehling, secretary of the Richwood Elevator Co., to be applied to the firemen's fund of this city.  The money was given in recognition of the good services of the Watertown Fire Department at Richwood when the Richwood Elevator Co.'s elevator burned, the boys doing much to prevent the fire from spreading.  Besides the Elevator Co., members of the German Social Society and other citizens of Richwood contributed to the amount sent the fire boys.
↓  More on Phoenix Fire Co  ↓
Phoenix Ball
Watertown Gazette, 01 21 1910
There will be some good music and a good time for everybody at the Phoenix Fire Co.'s ball on Saturday evening, January 29, 1910, at the Turner opera house.
Watertown Post Office
Watertown Daily Times, 01 02 2000
The Watertown Post Office will mark the retirement of two of its longtime employees later this month with a party for both.  Combined, they have 81 years of federal service under their belts.  Armin Genz and Wally Scheiber, both Watertown natives, have left their days as letter carriers behind as they find new ways to occupy themselves in retirement.  Both began their careers in Watertown, Postmaster Jeff Hoffmann said, and both served in the United States Navy as part of their federal service.  Genz said, with military service, he has been employed for 39 years and 10 months.  Most of the time as a letter carrier, he was employed in the 7th Ward, south of Main Street.
Watertown Gazette, 01 21 1910
[advertisement]  Goedoner [spelling] & Barber.  Dental Parlors.  Operation work by Dr. Barber.  Mechanical Work by Dr. Goedner [spelling].  105 Main St.
Watertown Gazette, 01 21 1910
[advertisement]  John T. Ryan.  Undertaker and Funeral Director.  Calls Day or Night Promptly Attended to.  6 Main St.  Residence 200 N. Church.
Watertown Gazette, 01 21 1910
Mrs. Gordon E. Bacon, North Church Street, pleasantly entertained the lady teachers of the Watertown High School and her Latin class of last year in the school, on last Thursday evening, Mrs. Bacon having been a Watertown High School teacher previous to her marriage last fall.  A most enjoyable evening was passed at Mrs. Bacon's beautiful home and all present voted her a charming hostess.
Watertown Gazette, 01 21 1910
A large crowd attended the card party given last Tuesday evening at St. Henry's Hall by the St. Philip Society of St. Henry's Church.  The following named parties were awarded the favors:  V. Pitterle, first prize, rug; Mrs. John Gessert, 2d prize, umbrella; Mr. Jos. J. Toussaint, 3d prize, one dozen gilt-edge cups and saucers; Miss A. Link, 4th prize, writing outfit; John Hertel, 5th prize, deck gilt-edge playing cards.
Watertown Gazette, 01 21 1910
"The Gay Morning Glories" will be the merry burlesque offering at the Turner on next Sunday evening.  The company comes to us with excellent endorsement and the standing room only sign has been much in evidence.  The play promises to be a little more than is usually understood by the term burlesque, the fact is that of late years the term has been misquoted.  Skits and vaudeville have been offered under a title which in past years was to be a brilliant satire on some popular story, set to music and replete with wit and humorous situations.  The management of "The Morning Glories" has returned to this quality and offers a real clean burlesque, well cast, handsomely mounted and brilliantly costumed.  In addition to this all the resources of electricity are commanded, making the ensemble equal to the Broadway musical comedies.  The first part is "The Strolling Players," a musical farce dealing with show life in the one night stands.  This, of course, will be treated humorously, still the picturesque atmosphere will all be there.  "My Neighbor's Wife" is the finale of the production.  Prices 25, 35, 60 and 75 cents.
The Men Girls Admire
Watertown Gazette, 01 21 1910
They admire the man who is always loving and respectful towards his parents and who shows his respect by unfailing courage and solicitude.
They admire the man who, although witty, is talented, is not conceited, or if so, he keeps it hidden; who is not egotistical, and takes an interest in other people's joys and sorrows besides his own.
They admire the man who is a perfect gentlemen; who knows how a lady should be treated, and never forgets to offer her his chair, open the door for her, and the hundred-and-one other little attentions which a girl so appreciates.
They admire the man who can keep his temper under control, and not descend to bad language should anything happen to displease him. 
They admire a man who can understand a hint, and has tact enough to see when his presence is undesirable.
They admire, above all, the man who is a true friend and a faithful lover; whose every action speaks of a noble nature to which the word "dishonor" is unknown.
Six City Carriers Employed
Watertown Gazette, 01 21 1910
. . . Six city carriers are employed to distribute and collect the mail in the city, one carrier was added to the force at the beginning of the year.  Nine rural routes emanate from the office and practically cover a circle of a diameter of 25 miles.
The clerks and salaries received are as follows . . .
Stamps, William F. Richards $900.
Mailing clerk, William L. Schlueter $1000.
Stamper, Arthur E. Jaeger $1000.
Mail clerk, Adolph Knaak, $1000.
City carriers:
               George J. Weber $1000.
               Frank Schulz $1000.
               John C. Calhoun $1000.
               Ary G. Keel $1100.
               George R. Henke $1100.
               Arthur R. Jaeger $600 (serving his first year)
Assist. Postmaster, Sidney F. Eberle $1300.
Postmaster H. T. Eberle $2600.
From reading the above it will be seen that the Watertown post office is quite an important one . . .
Postmaster Eberle was appointed by Ex-President Roosevelt on recommendation of the late H. C. Adams, congressman of this district at the time and that no mistake was made in the selection is very evident from the most excellent manner the Watertown post office has been conducted under Mr. Eberle's supervision.  Mr. Eberle has never been what could be considered an aggressive politician but always in the state, congressional and national elections supported the regular republican nominees, regardless of whether they were half-breeds, stalwarts, progressives, insurgents, or standpatters. 
The late Mr. Adams was what is now styled a standpatter, but when he recommended Mr. Eberle for appointment all he required to know was that he was a republican, a popular and honorable business man, and  a man fully capable of administering the affairs of the office to the satisfaction of the public as well as to the post office authorities at Washington.  This Mr. Eberle has done in every particular; he gives every detail of his office his personal supervision  and is courteous and affable to every patron of the office, and the result is that during his four years of service everything at the Watertown post office has progressed in such a manner that Mr. Eberle may well be classed as an ideal postmaster.  He was appointed to the office on February 20, 1906, and his term of office will expire on the 30th of next month.  He is a candidate for re-appointment . . .
Watertown Gazette, 01 21 1910
Elect Officers.  At the annual meeting of the Cigar Makers Benevolent Association the following officers were elected:
President—Ferd A. Krueger
Vice President—Albert Borchart
Secretary—Henry Moses
Financial Secretary—John Kuester
Treasurer—Gus Exner
Trustee three years—John Schlueter
Color Bearer—Fred Hinze
Watertown Gazette, 02 04 1910
The skat tourney was held last Monday evening at Carl Otto's place [100 E Madison, hotel, 1913].  The following awards were made:
First—R. W. Lueck, 19 good plays and 692 points.
Second—Otto R. Kreuger, 691 high points.
Third—Fred Bittner, grand against four matadors.
Fourth—Charles Miller, 18 good plays and 415 points.
↓  More on Skat Club  ↓
Meeting of Wisconsin Skat League in Watertown.
Watertown Gazette, 07 13 1911
Milwaukee, Wis., July 5, 1911.
To the Members: 
The summer tournament of the Wisconsin Skat League for the year 1911 will be held at Watertown, Wis., Sunday, July 30th, 1911.
The sum of $1000.00 has been appropriated by the Wisconsin Skat League and the further sum of $150.00 was given by the Watertown Skat Club, making in all $1150.00 for prizes, apportioned in the same manner as at the summer tournament of 1910.
The tournament will be held in two sessions, the first session will be called at 2:45 p.m. and the second session at 7:45 p.m.  Drawing of seats will be held at the Turner Hall, 4th Street, and will begin at 9 o'clock a.m. for the first session and 5:30 o'clock p.m. for the second session.
Tables 1 to 150 inclusive, will play at the Turner Hall and tables 151 to 300 inclusive, at Wegemann's Hall, North 2nd Street.
The admission to both sessions of the tournament will be $2.00, which includes membership card.
The rules of the North America Skat League will govern the tournament.  Players' attention is particularly called to have every solo against 5 or more matadores, every tourne' against 5 or more matadores, and every high play of 140 or more points, OK'd by a skat-meister.  Unless such plays are OK'd by a skat-meister, same will receive no consideration by the prize committee.
Great care should be exercised in filling out the score sheet, as general rules for congress tournaments will be strictly enforced.
Every player should see that his name and address is written correctly and legibly and that every claim for a prize is recorded on the back of score sheet under record of claims.  Be sure that every player signs the score sheet before leaving the table.
Within three days after the tournament the secretary will mail to each participant a certified copy of the official list of prize winners.
Within ten days after the tournament a check will be forwarded to each prize winner together with a certificate of prize award.
Oscar E. Sohwemer, Secretary, Milwaukee.
Watertown Daily Times, 01 05 1960
William V. Resneck last night was elected president of the Watertown Association of Commerce.  Ray Kern was elected vice president and Edgar J. Kellerman was named secretary.  Thomas Logan was named to the chairmanship of the association's retail division and Frank L. Hubrich was named chairman of the association's industrial division.
Niemann, Hibbard, Ullsvik and Neuberger
Watertown Daily Times, 01 05 1985
Attorney Carol Lorenz has been named a partner in the Watertown law firm of Niemann, Hibbard, Ullsvik and Neuberger, effective Jan. 1.  She has been associated with the firm for the past two years.  The name of the firm has been changed to Niemann, Hibbard, Ullsvik, Neuberger and Lorenz. Lorenz received her bachelor of arts degree from the University of Wisconsin-Whitewater in 1980, and received her law degree from the University of Wisconsin-Madison in 1982.
Watertown Police Department
Watertown Daily Times, 01 08 2010
A Watertown woman will be honored as Citizen of the Year by the Dodge County Executive Law Enforcement Association.  Angela Triana will receive the honor from Watertown Police Chief Tim Roets.  In late 2008, Triana introduced the Premise Alert System (PAS) to the Watertown Police Department.
The PAS streamlines communication between first responders and those families who care for individuals with special needs, the chief wrote in his nomination of Triana.  "This system provides families with a standardized way to educate first responders about any special needs a child or adult with autism, developmental delays, rare or complex medical issues or an Alzheimer patient."
The Watertown Police Department launched the new safety program in February of last year.  The PAS provides families with a uniform way to educate first responders about special needs that a child or adult living at a specific address may have, before they experience a crisis.  It may be a child or adult with autism, development delays, or cognitive disorders that may cause them to wander.
Full story on Watertown Daily Times website
Watertown Daily Times, 01 06 1960
The Badger Skating Club, which has completed its new clubhouse, will hold its grand opening on Sunday, Jan. 10.  The public is invited to visit the club.  Those with cars will be able to park them at the end of Neenah Street, near the Schurz School.  Skating will be available at the pond about a half block further away.  Club officials said they will be happy to have anyone visit the place and enjoy the skating facilities.
Cross Reference:
Watertown Republican, 12 11 1895
A meeting of all the young men of the city interested in the healthful sport of skating is hereby called to be held in the city hall, third floor, this evening, at 8 o'clock.  A scheme is on foot to maintain a large rink on the river during the winter.  Everybody interested in this matter is invited and urged to lend his presence and influence at the meeting.   THE COMMITTEE.
Watertown Daily Times, 01 06 1985
Joseph O. Rhodes, owner of GJ Graphics, Inc. today announced the promotion of the Richard J. Wagner to president of the firm. Wagner has been with the firm for 2 1/2 years as vice president.
His area of responsibility will be the direct day to day operations of the advertising and printing firm.  In making the announcement this morning, Rhodes stated he wants to devote more of his time to other divisions of his company, mainly, a newly formed menu company, Gold Crest Menu Creations and a Silk Screen operation now in production at the 411 Dayton Street plant.
Watertown Daily Times, 12 28 1959
The Aifantis property in West Main Street, which adjoins the Cole Memorial [Main Street] bridge, is due to be sold as one parcel and no consideration will be given to the recent offer of the city to purchase a strip of land leading from the bridge to the west side parking lot.  Attorney Joseph E. Schultz, representing the estate, said that the city's offer of $1,200 for the strip of land that would be required to provide access to the parking lot from the bridge is being rejected.  A previous offer of $1,000 by the city was turned down.
Watertown Daily Times, 09 19 1984 
The Miss Watertown Pageant, a part of the Watertown community since 1968, will not be staged this year, officials of the Watertown Jaycees have confirmed.  Normally at this time of year, pageant officials and the contestants are busy making preparations for the pageant, but no planning is underway this year.  Ray Wolfram, president of the Watertown Jaycees, sponsor of the pageant since its inception, said, "One of the biggest problems has been our inability to find interest from within our own membership.  Greg and Allyson Hayes and Jim and Lori Peterson have been active in the production for many years and I guess they are just burned out, and we just weren't able to get other people involved."  Hayes agreed finding people to operate the pageant is a big problem, but an even larger one is to find enough women who want to compete for Miss Watertown.
↓  More on Miss Watertown Pageant  ↓
Local Women Invited to Compete
Watertown Daily Times, 03 29 2010
In the absence of a Miss Watertown pageant, young women in the Watertown area who wish to compete in the Miss Wisconsin pageant (which is part of the Miss America Scholarship program) may compete in the third annual Miss South Central pageant to be held next month.  The pageant will be held April 10 in Beloit . . . The last Miss Watertown pageant crowned Rachel Lynn Quest, who later competed in the 1991 Miss Wisconsin pageant . . .
Watertown Daily Times, 09 19 1999 
The Watertown High School athletics program will continue to be run by an interim director through the 1999-2000 school year, under a plan supported by a school board committee.  Mike Knutson, who has served as interim director and an assistant principal since the beginning of the school year, has agreed to continue in that post through the spring.  The recommendation came from school administrators and was supported by the board's personnel committee. The entire school board will be asked to formally approve the plan in October.  Superintendent Dr. Suzanne Hotter said the recommendation was made to repost the vacant athletic director/assistant principal position in April, when the field of candidates is likely to broaden.  A committee had culled an initial field of about 16 candidates to three finalists and selected two of those for interviews.  Before interviews could take place, one candidate withdrew, Hotter said.
Mrs. John McGowan Injured
Watertown Gazette, 04 01 1910
Shortly after 12 o'clock noon on Sunday last Mrs. John McGowan was seriously injured by being run into by a locomotive as she was crossing the C.&N.W.Ry. track at the foot of Lafayette Street.  She was going to make a friendly call at the home of the Misses Brady and in one arm she carried a package whilst with her other hand she held on to her hat, the day being windy, and as she walked along with her head bent, unconscious of danger, she was hit by the locomotive as she reached the west rail and thrown into the street, sustaining a fracture of her shoulder and of several ribs.  She was also internally injured.  She is a sister of Mrs. Mary Burke, 424 Church Street, with whom she has made her home for some time past.  She is at present at St. Mary's Hospital and is being cared for by Dr. Kings.
Watertown Gazette, 04 01 1910
[advertisement]  Award has been made to this establishment for the exclusive sale of the time-tested Wearbettter Combination Suits, consisting of a double-breasted jacket and two pairs of Knickerbocker knee pants.  These suits are practically indestructible; the material will retain its new aspect and the garments will give good service until the boy outgrows them.  The Wearbetter Young Men's Suits and other styles of children's suits are on sale at Charles Fischer & Son Co., greater west side store.
Watertown Gazette, 04 01 1910
Gustav Hahn, 108 Green Street, died last Saturday evening of paralysis, with which he was afflicted about an hour before his death.  He had been enjoying the best of health up to Thursday evening when he complained of feeling unwell, but recovered from this feeling in a short time.
Mr. Hahn was born at Neuvitt, Prussia, February 24, 1837, and when a small child came to America with his parents, settling first in Baltimore and later in other eastern cities.  About 50 years ago the family came to Jefferson County and settled southwest of this city, Hahn's Lake being named after his father, near which his farm was located. 
Disposing of the old homestead there, the family removed to a farm near Jefferson and in 1899 the deceased came to Watertown and has since resided here.  February 8, 1861, he was married to Wilheimina Stuelke and he and his wife were planning to celebrate their golden wedding next February. 
For a number of years past he was employed by C. A. Feisst & Co. and was well and most favorably known in Watertown, all of his large acquaintance holding him in very high esteem, for he was a most excellent citizen and neighbor.
His wife and the following named children survive him:  Charles M Hahn of Los Angeles, California, R. M. Hahn of Watertown, I. J. Hahn of Milwaukee, Mrs. Hubert Haas of Columbus, and Mrs. Henry Scheidler of Madison.
Wednesday morning his funeral was held from St. Henry's Catholic Church, the interment being in St. Henry's Cemetery.
Present at the funeral from out of town were . . .
Watertown Gazette, 04 01 1910
The postal savings bank bill, which has already passed the senate and is now before the house for consideration, is designed to be of value in the crowded cities and in the isolated country districts.  In the former because it will cater to the poorer class of people who have never placed their confidence or their savings in the banks already existing.  In the latter because it will cater to the people who, living in small villages or hamlets, have had no banking facilities heretofore, but who may, after the bill becomes a law, deposit their savings on interest in the local post office.  The postal savings bank bill has become a political issue, but it is to be hoped that when it becomes a law it will be given a fair and impartial trial without regard to politics.  The last republican national convention favored unequivocally "the establishment of a postal savings bank system for the convenience of the people and the encouragement of thrift."
Watertown Gazette, 03 04 1910
To The Voters of Watertown.
Gentlemen and Friends:  Owing to a call of my friends, I have submitted to become a candidate for assessor of the city of Watertown.  I feel competent to fulfill the duties of the position, because I have been alderman of the Sixth ward for six years and president of the council two years; I have been supervisor 4 years; I have been a member on the board of review for two years and in this latter office I have had the chance of thoroughly familiarizing myself with the assessment work in Watertown.  I am a laborer by trade and have been in the employ of the G. B. Lewis Co. as shipping clerk for 27 years, which position I could not have held, if I were incompetent.  In all city offices I always tried to do my best and never have I allowed myself of any wrong doing.
If the people of Watertown will entrust to me the office of assessor I will strive to do what good judgment and your aid will prompt me to do, as the matter of assessing is a prominent office in city affairs.
I therefore ask all voters of Watertown to give me their support April 5th, 1910.  To my democratic friends, I will say I have always voted straight, and deserve the democratic vote.
Herman E. Krueger
↓  More on Herman Krueger  ↓
Praises Krueger
Reasons Why He Should be Elected City Assessor of Watertown
Watertown Gazette, 04 01 1910
[Juneau Telephone]  Citizens of Watertown would do well to elect Herman E. Krueger for assessor.  Herman has been a good, hardworking supervisor and has always had the interests of his community at heart.  All matters here he has given his fullest attention and the people of Watertown should award him the office for his earnest endeavor.  Several times he got a good appropriation from the county for his ward.  Just because he is only a laborer in that town, it should bring out the labor vote for him as a unit.  In his work as supervisor he has had a good schooling for the position . . . With the aid of Assessment Supervisor A. H. Bussewitz, who is a special friend of his, he would be in shape to get matters adjusted in a satisfactory manner to all. – A Former Bro. Supervisor of Dodge County.
Watertown Gazette, 047 13 1900
"The Bunch" held a meeting last Thursday evening at the home of Miss Edna Chadwick.  They talked of old times and discussed plans for future good times.  Their number was somewhat augmented since last summer, and there was one who was greatly missed, who was always with them a year ago.  There is a strong feeling of regret that Tom is not with them this summer.
↓  More on Edna Chadwick  ↓
Miss Edna Chadwick
Physical Culture Classes
Watertown Gazette, 04 01 1910
Miss Edna Chadwick's adult class in physical culture will meet in the Masonic Temple Hall every Tuesday evening from 8 to 9, beginning March 29.  This work is urgently recommended for girls and women who are employed during the day.  Tuition, $5 per term, payable in advance.
Saturday morning, April ninth, at half after ten o'clock, will be given the last lesson of the term of the children's class in physical culture.  Miss Chadwick feels that the children have made exceptionally good progress and will be very glad to have the parents and friends who are interested in the work present at this time.  As "a happy, healthy body, makes a happy, healthy mind," therefore it is most necessary that the little ones be taught early in life the essentials that go to make up a healthy body.
Lathrop Hall Opened
Watertown Gazette, 04 08 1910
"Lathrop Hall is a temple of the sound body," said Mrs. Florence Griswold Buckstaff of Oshkosh, in her speech at the ceremony incident to the dedication of that institution at Madison.  Mrs. Buckstaff was graduated with the class of 1886 and is a member of the board of regents.  "In our day we know the physical basis of civilization.  We have revolutionized philanthropy and legislation as well as education by our new ideals of the worth and fundamental importance of the physical.  Where charity once cast tracts we conduct cooking classes.  Where universities once studied only dead languages and dialectics, we breed corn, spray apples, conserve phosphates, play football!  Deep breathing, we say, helps deep thinking.  Wisconsin believes that it is a service to civilization to strengthen the weaker sex.  It cannot be doubted that physical education, including the new outdoor life, is giving us a stronger womanhood.  Increasing strength means increasing freedom.  Women must have increasing freedom if the race is to advance."
La Grippe, Influenza
Watertown Gazette, 04 08 1910
First Symtoms—Coryza, or nasal irritation or discharge, cough, sore throat, headache, backache, and general depression.  More Serious Symptoms—Pain in head, back, chest, or limbs, sometimes of sudden and prostrating neuralgic character, sometimes cerebral excitement, even delirium; extreme prostration, languor or debility; depression of mind, even after the first violence of the attack has passed away; bronchitis, or broncho-pneumonia may become serious complications.
Humphrey's Specific "Seventy-Seven" knocks out the Grip and breaks up colds which are obstinate, that "hang on" and do not yield to treatment.  Handy to carry, fits the vest pocket.  All Drug Stores, 25c.  Humphreys' Homeo Medicine Co., New York.
Watertown Gazette, 04 08 1910
We are surprised at the ridiculous statement concerning the history of the tramp question in Dodge County published in a Milwaukee paper and taken up by some of our Dodge County papers.  The tramp question was so well settled in the interests of the public by the establishment of a work home over 13 years ago, when Hon. Eugene O'Connor was chairman of the county board, that we are surprised that any of the older papers can even inadvertently publish unfounded statements relating thereto, as for instance the statement that the tramp nuisance was eradicated during the last four years.
During Mr. O'Connor's term as chairman of the county board, the expenses to the taxpayers on account of the tramp nuisance reached such alarming proportions that something had to be done, and the chairman and some of his followers went at it in the right way, meeting of course the opposition of the beneficiaries of this disgraceful system.  One of the first things done was to reduce the fees of officers and magistrates.  Then the work house was built.  On account of the tramp business the sheriff's jail account ran up to $10,000 each year for a number of years.  
In 1898, after a year's trial of the work house, the sheriff's jail account for all prisoners amounted to $909.69.  In 1899 the amount of such jail account was $419.  The success of the movement to solve the tramp issue cannot be brought to the attention of our people any too often, and men like Mr. O'Connor and those men who were members of the county board when he was chairman should not be forgotten when it comes to giving credit where credit is due.
Our old readers remember the stand of this paper during those times, and the tramp question and the work house proposition were merely parts of the great sheriff fee issue that was fought out at the time.
The sheriff's jail account in the past few years runs from $1500 to $2000.
- Juneau Independent.
Watertown Gazette, 04 08 1910
Died.  Herbert Breckenridge, one of Watertown's oldest and best-known residents, died at his home, 1096 Breckenridge Street [continuation of S Twelfth St from RR tracks to city limit], on Tuesday, April 6, 1910, of an acute attack of indigestion.  His death was a great shock to his family and friends, as he was downtown the previous afternoon, and apparently enjoying the best of health.  Deceased was 75 years of age, and leaves surviving him one son and two daughters, his son being Alderman George Breckenridge of the 7th ward.  Thursday his funeral took place from his late home and his remains were interred beside those of his wife in St. Bernard's Cemetery. 
Mr. Breckenridge for many years represented the 7th ward in the county board of supervisors and was well known throughout the county.  He had been a resident of Watertown for over 50 years, and during all that time he took an active part in the political and business interests of the city, and all our people honored him as a man of sturdy character and a neighbor whom they all prized to call their friend.  In his death our city loses a most worthy citizen, and our people mourn his departure sincerely.
↓  More  ↓
George Breckenridge
Father of Herbert?
Watertown Democrat, 04 12 1860
Death of an Old Settler
Dr. George Breckenridge, an old settler and physician of this city, died at his residence late Monday, in the 74th year of his age.  Dr. Breckenridge was among the early settlers of Jefferson County.  He located himself in the village of Fort Atkinson nearly eighteen years ago, but shortly afterwards moved to this city and engaged in the practice of his profession.  During the past few years he has lived a quiet and retired life on his well-cultivated farm, a short distance from this city.  The last public office he held was that of supervisor, having been chosen a year ago this spring to represent his ward at the County Board.  He was an upright and respected citizen—a member of the Congregational Church—and both deserved and enjoyed the confidence and esteem of all who knew him.
Watertown Gazette, 04 15 1910
Mrs. Amelia Meyer, aged 65 years, died at her home, 925 N. Fourth Street, on Monday, April 11, 1910.  Wednesday afternoon her remains were interred in Oak Hill Cemetery.
Meyer, Amalia, b. Mar 17, 1845, d. Apr 11, 1910
Watertown Gazette, 04 08 1910
Election day in Watertown was one of the quietest ever held here, only about one-half the voters coming out to vote.  Herman G. Grube (democrat) was elected mayor without opposition, receiving 1420 votes. Emil Tanck, democrat, was elected treasurer over John Brusenbach, democrat, by 139 majority.  Herman Krueger, democrat, was elected assessor by 17 plurality over David Schweiger, democrat, and John Thauer, republican.  In the Second ward Chas. Lutovsky, democrat, defeated R. H. Radtke, democrat, for alderman, by 97 majority and Albert Frattinger, republican, defeated Herman Zickert, democrat, by 50 majority.  In the Third ward, N. Murphy, democrat, defeated Wm. Lehmann, republican, by 40 majority.  In the Sixth ward, Chas A. Kohn, republican, defeated Fred A. Krueger, democrat by 64 votes . . .
Fatally Injured
Watertown Gazette, 04 08 1910
WILLIAM SMITH, whose home was at 406 Montgomery Street, this city, was fatally injured at Escanaba, Michigan, by falling a distance of 60 feet from an ore dock on which he was employed by the C.M.&St.P. Ry. Co.  Monday morning his funeral took place from his late home to St. Bernard's Church . . .
G. M. GAHLMANN has purchased Dr. R. B. Hoermann's fine residence property at 705 Fourth Street and will take possession of same May 15th.
L. S. NEWALD of Green Bay has purchased the O'Donnell property at the corner of West Main and North Washington streets, now occupied by Fred. M. Creuz.
Fire Dept
Watertown Gazette, 04 15 1910
Monday evening the trustees of the Watertown Fire Department met and divided the 2 per cent money received from the insurance companies doing business in this city, including $68 received from the Richwood Elevator Co. for assistance rendered when their elevator burned.  The amount divided was $863.63.  The Phoenix Company with 35 men, $280; Anchor Hose Company, 34 men, $272; Hook and Ladder Company, 33 men, $264.
Watertown Gazette, 04 15 1910
Next Friday, April 15th, will be visiting day at the public schools.  All are cordially invited to attend.  The daily program will be followed this year so that the regular work may be observed.  Those who do not find time to call on Friday will be welcome on any other school day.
W. P. Roseman, Supt.
New Wisconsin National Bank Vault
Watertown Gazette, 04 15 1910
The Wisconsin National Bank of this city has just entered into contract with the Diebold Safe and Lock Co. of Canton, Ohio, for the erection of an additional steel lined vault to be completed in about sixty days.
The new vault will be used mainly for the storage and safe keeping of bonds, mortgages and other valuables by the customers of the bank and others, the demand for a place of absolute security, wherein to keep valuables and securities, having become so great that the directors of the bank deemed it necessary to provide such facility to the public.
The vault will be fitted with safety deposit boxes, to which access can be had only by the owner of the box, thus insuring privacy and secrecy as to its contents.
Watertown Gazette, 04 15 1910
The concert given by the Lawrence [University] Glee Club at the Turner Hall last Friday evening met every expectation of the large audience present.  From the opening number "Hail to Our Alma Mater," to the concluding playette the interest was fully sustained.  Besides the above mentioned opening song the numbers were:  "Winter Song," "Until the Dawn," "This is the Moon of Roses," "Old Black Joe," "Tenting Tonight,'' "Hard Times," and "Kentucky Home."
The reading, "Initiating Ole", by Ben Sias of the Lawrence school of expression was a strong presentation.  The repeated encores of the audience indicated the unalloyed pleasure of the whole evening, as also the many expressions of hope for the return of the club next year.
Watertown Gazette, 04 15 1910
Rev. Father Thomas Hennessey, pastor of St. Bernard's Church, left on Wednesday for New York City, from where he will sail on Saturday for Ireland, where he will visit his parents at his old home at Kilmallock, county Limerick.  He intends to be absent about two months, and while abroad may visit in London and on the continent.  It is 14 years since Father Hennessey visited his parents, and of course there will be great joy at his parental home upon his arrival there.  The people of Watertown in general wish him a pleasant visit and a safe return home.  During his absence St. Bernard's congregation will be in charge of Rev. Father Phelan.
Watertown Gazette, 04 15 1910
Rev. H. A. Alwardt, for over 40 years pastor of the Immanuel Lutheran Church at Lebanon, Dodge County, died at Clintonville last Saturday, where he went the previous Tuesday to attend a conference.  He was 70 years of age and leaves surviving him his wife and 11 children.  His remains were interred at Lebanon.
Election of Officers
Watertown Daily Times, 01 12 1960
The Merchants National Bank last night held its annual election of officers.  There were no changes in either the officers or board of directors.  Officers re-elected are: A. W. Hilgendorf, president; Dr. L. H. Nowack and H. A. Beurhaus, vice presidents; C. A. Wallman, cashier.  The board of directors re-elected consists of: H. A. Beurhaus, Attorney H. M. Dakin, A. W. Hilgendorf, S. C. Northrop, Dr. L. H. Nowack, Dr. O. H. Moen and C. A. Wallman.
Watertown Daily Times, 01 12 1985
To perpetuate the memory of Wayne Strayer, who passed away on Jan. 2, a scholarship fund is being established to provide funds for deserving vocal music students to attend a summer music camp at one of Wisconsin's many university campuses.  Strayer was a former vocal teacher in the Watertown Public Schools for many years.
His gentle manner and a willing spirit to teach others will always be remembered by his friends and former students.  Arthur Turke, investment broker of Dean-Witter-Reynolds, Inc. of Watertown has agreed to serve as administrator of the scholarship fund.  Turke is a vocal soloist and former friend of Strayer's.
<![if !vml]>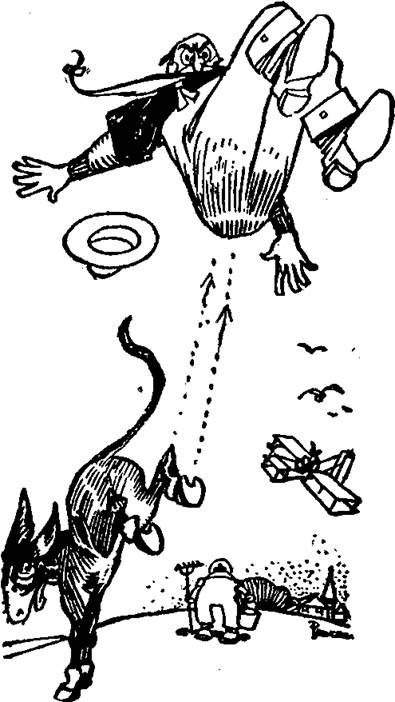 <![endif]>A Methodist Neighbor Who Tickled the Curriculum of a Mule
Watertown Gazette, 04 15 1910
A farm paper raises the interesting query, "Can a farmer raise mules and retain his church membership?"  It depends on what church he belongs to.  It is easy if he is an Episcopalian, but if he is a hard shell Baptist it is a little doubtful.  We had a Methodist neighbor who tickled the curriculum of a mule in a moment of playfulness and had both of his eyeteeth riveted to his collar button in reward, and when he came to the next day he rose to his feet, repeated the third chapter of Nebuchadnezzar backward, then swore a streak which blistered the lining out of a new steel range.  The man who can rear a family of mules from helpless infancy to maturity without a display of rough necked profanity is too good for any church.
Wisconsin Has Over 10,000 Autos
Secretary of State's Records Show Popularity of Machine
256 DEALERS IN THE STATE
Watertown Gazette, 04 22 1910
Estimated That a Million Dollars Has Been Invested in Automobiles in Wisconsin Since January 1—Many  Motorcycles
Madison—The growing popularity of the automobile in Wisconsin is evident in the records in the office of Secretary of State Frear, where licenses are issued according to law, not only to users of machines but to dealers as well.  Since January 1, 1910, there have been 1,085 automobile licenses issued as against 629 in the same time a year ago; this in spite of the fact that the license fee has been doubled, increased from one to two dollars, in the meantime.
In the same time the number of dealers registering has increased from 20 in 1909 to 47 in 1910; that is new dealers entering the field as sellers of auto machines.
The whole number of cars now registered in Wisconsin as revealed in the records is 10,918 and motorcycles 679, while the whole number of dealers in automobiles is 256 and motorcycle dealers six.
Dealers' licenses are for the protection of dealers and the fee is five dollars, which entitles the holder to four numbered plates to be used on cars for demonstration purposes . . .
Watertown Daily Times, 01 13 1985
The Watertown Water Commission Monday evening decided to recommend to the Watertown Common Council that a 500,000 gallon water tower be constructed at the city's new well site on West Road.  The commission recommendation will be formally presented to the council this evening.  If adopted by the council, construction is scheduled in early spring with completion in the fall of this year.  The commission accepted the low bid of Hydrostorage, Inc., of Des Moines, Iowa, for a 500,000 gallon fluted pedestal elevated water storage facility, one of eight bids offered by that firm and a second bidder, Na-Con Services, of Plainfield.  The recommended bid is the lowest of the eight offered.
↓  More on 500,000 gallon water tower  ↓
Pumping Capacity of City's Wells
Could Be Exhausted
Watertown Daily Times, 02 03 1985
The state Public Service Commission Tuesday approved Watertown's proposal to build a 500,000 gallon water tower on West Street.  The $412,350 structure will be built by Hydrostorage, Inc., of Plainfield, Ill., beginning this spring.  The city can now store 600,000 gallons but a study showed that the stored water and the pumping capacity of the city's wells could be exhausted if the fire department had to fight a four-hour fire and the largest of its five wells was out of service.  The PSC also determined that 77.5 percent of the city's water mains are too small to meet fire-fighting demands or to handle the volume on high-usage days.
Watertown Daily Times, 11 02 1997
Her love of writing and illustrating children's books has endured more than 30 years.  And this week, Watertown author Lorna Balian will be honored for her career's work by the Wisconsin Library Association.
Balian, a recipient of the Notable Wisconsin Author of the Year award, will be a guest of honor at a banquet Wednesday evening in Milwaukee and participate in a book signing Thursday afternoon.  She's authored and illustrated 17 books so far in her career and plans are in the works for other upcoming ventures.  Being named a Notable Author is similar to receiving a lifetime achievement award for Balian.  It's a long way from her beginnings in the early 1960s, when she would sketch in a notebook as she watched over her six children.
↓  More on Lorna Balian  ↓
Watertown Daily Times, 01 13 2000
A Watertown author and illustrator known throughout literary circles for her collection of children's stories is penning her final book.  Lorna Balian is planning to finish her nearly 40-year career with the completion of "Santa Klutz," the story of a bumbling Santa Claus.
The book will be the 18th she has written since the early 1960s, from "Humbug Witch" to "A Garden for Groundhog."  "This will be my last," she confirmed from her Tenth Street home.  "I've done this for so many years."  Monday morning, she found herself at Lebanon Elementary School where she instructed children on the process of writing and publishing a book.  Dressed in a baby blue sweatshirt, capri pants and matching tennis shoes, with her blonde hair pulled into a pony tail, she hardly looked like the grandmother of 16.
June 20, 1903
Section 1. No person shall keep for safe or for any other purpose, within the corporate limits of the City of Watertown, Wisconsin, any gunpowder, dynamite, nitro glycerin or any other substance of whatsoever name, which will explode from concussion or friction, or fire, except the same be kept in tin or metal canisters containing not to exceed five pounds each; and not more than five canisters all be kept in or about any one building or place within said limits at the same time.  Any person who shall keep or store more than five pounds of dynamite shall keep the same in a fire proof vault, located outside of any building, and which location must first be approved by the Common Council.  This section is not to be construed to prevent any person from keeping or selling any common matches.
Jefferson County Tavern League
Watertown Daily Times, 01 16 2000
Steve Hepp of Watertown was recently named the president of the Jefferson County Tavern League for 2000.  Hepp has 10 years of experience in the tavern business, with six years running the Four Of A Kind Bar and four years at the Silver Eagle Saloon.  He has operated Steve's Limousine Service for 15 years.  Hepp said his goal as president of the tavern league will be:  "To strengthen our membership.  We presently only have approximately 50 percent of our license holders as members of the Tavern League of Wisconsin and I feel that every license holder owes it to themselves and the industry to become involved."
Died
Watertown Gazette, 03 25 1910
Tuesday night Mrs. William Burger died suddenly at her late home, 223 North Water Street.  Wednesday morning one of her neighbors called at her home and no response being given.  An investigation led to the finding of her dead in her chair, needle in hand and articles she was sewing in her lap.  She evidently had been sewing and passed peacefully away without a struggle.  One of her nieces lived with her and attended school here, but this being vacation week she went to her home in the country and Mrs. Burger for a time was left alone.  Deceased was born in Germany February 15, 1841, and when 12 years of age came to this country and located in the town of Clyman, where she resided till the death of her husband about nine years ago, since which time she has resided in Watertown. 
Two children survive her, Mrs. Peter Thauer of Emmet, and John Burger of Clyman, also two brothers, William and August Keller of Hopper, Neb. 
Friday afternoon services will be held from her late home and her remains will be interred in the North Road cemetery beside those of her husband.  Deceased was well and most favorably known in Watertown and vicinity, and her large acquaintance mourn her death sincerely, for she was a most generous-hearted lady and a neighbor whom everybody liked and highly esteemed.  She strove at all times to lead a truly Christian life and now that she has passed from earth, she has certainly obtained that reward which God has promised the righteous.
Officers Elected
Watertown Gazette, 03 25 1910
At the annual meeting of the Plattdeutscher Verein held at Union Hall last week Friday evening the following officers were elected:
President—John Schatz
Vice President—Fred Bittner
Secretary—John J. Brusenbach
Treasurer—William Riebe
Trustee for 3 years—William Schultz
Lincoln School Teachers Entertain
Watertown Gazette, 02 25 1910
Last Monday evening the teachers of Lincoln School entertained the teachers of the public schools of this city and members of the school board at the new Lincoln School in a very hospitable manner.  The entertainment was certainly a very cordial housewarming, and all present enjoyed themselves thoroughly; being the eve of Washington's birthday, the school was decorated very prettily in honor of the event, the national colors predominating. 
The upper hallway was converted into a reception room, and the teachers of the school here graciously received their guests, after which they were ushered to the vacant room in the southwest corner of the upper story, which was fitted out in gorgeous decorations, and settees, easy chairs and tables gave it a very home-like appearance, and for an hour or more the teachers and school board whiled the time away pleasantly in social converse. 
At 10:30 o'clock, Miss Mamie Stacy, presiding at the piano, struck up the grand march and two by two those present formed in line and marched to the domestic science room in the basement which was arranged for dining purposes.  Here each one was obliged to find his own place at the table, by scanning the favors placed at the settings, each favor having the name of a guest written thereon.  The favors consisted of paper hatchets decorated with red. white and blue ribbon. 
The menu was excellently prepared, and was as follows:
Ham Sandwiches
Peanut Sandwiches
Potato Chips
Olives
Salted Almonds
Fruit Salad
Wafers
Coffee
Ice Cream
Cake
The luncheon was served in three courses by the Misses Hildegarte Zeitler, Ida Maas, Ella Wolf, Mathilda Griesbach, Leona Gest, Gladys Evans, Laura Riebe, Verna Glaser, Doris Schultze, Mary Wallace and Meta Huebner.  While seated at the tables after luncheon the guests indulged in a guessing contest, and it being difficult to solve who were entitled to the prizes, counting down was resorted to, and Miss Marie Killian and Mrs. Chas Frey proved the winners, the former being given a picture of George Washington and the latter one of Abraham Lincoln. 
Supt W. P. Roseman then thanked the teachers of Lincoln School on behalf of their guests for the delightful entertainment furnished and wished them all kinds of happiness in their new school.  All then ascended to the second story of the building, where an hour was passed in music, dancing and social chat, Miss Mamie Stacy presiding at the piano during the terpsichorian part of the program.
Those present were:  Messrs and Mesdames W. P. Roseman, B. E. McCormick, J. W. Martindill, J. W. Moore, C. E. Frey, F. B. Weber, C. R. Feld, Messrs. W. F. Voss, L. W. Wright, John Stuckert, Irving Kichner; Misses Marie Killian, Lillian Pomeroy, Margaret Donovan, Edna Voss, Louise Jaeger, Sophie Koehler, Anna Goecke, Matie Moran, Ida Barganz, Catherine Ryan, Mary Weise, Teckla Krebs, Alina Kirchoff, Anna Youngquist, Myrtle Huber, Lillian Habhegger, Mary Crangle, Ella Sipp, Leona Steinmann, Catherine Brasky, Emma Wittchow, Mamie Stacy, Anna Holland, Olive Gesley.
Observed by the Saturday Club
Watertown Gazette, 02 25 1910
The last regular meeting of the Saturday Club occurred on February 22d and it was decided to have an addition to the regular program in commemoration of the day.  The room in the public library where the meetings are held was appropriately decorated with the stars and stripes, candles in candlesticks over a hundred years old were on the mantle and the oft-quoted cherry tree and hatchet were in a conspicuous place on the table. 
After the regular program for the afternoon had been given, a screen was removed and a prettily set tea table was revealed.  Brought to the center of the room the members of the club formed a circle around it and tea with wafers were served.  After these viands sticks of mint and wintergreen candy and candy cherries were passed and all the time anecdotes concerning "The Father of Our Country" and kindred topics were recounted. 
The serving of tea was a happy surprise given by the president in memory of the celebrated Boston tea party of Revolutionary times, but this was of a much more quite nature.  It proved a very pleasant affair.
Observed by Northwestern University
Watertown Gazette, 02 25 1910
The students of the Northwestern University celebrated Washington's birthday by rendering a very appropriate program at the university last Tuesday evening.  The program was of a literary and musical character and was under the auspices of the Lyceum and Philomathian societies of the university.
Young People's Society Program
Watertown Gazette, 02 25 1910
Thursday evening of last week the Young People's Society of St. Mark's Lutheran Church celebrated at the choir rooms on Jones Street.  A very pleasant evening was passed, the program including vocal and instrumental music and refreshments.
Watertown Daily Times, 01 28 2000
Wisconsin Aviation, Inc., based in Watertown, has expanded its maintenance operations to accommodate its increasing business.  The state's largest fixed-base operator, Wisconsin Aviation has added key A&P technicians.  The additions allow the Watertown and Madison divisions to extend work days to 12- and 15-hours per day, respectively, with the ultimate goal of creating two full eight-hour shifts at both locations.  Two new hangars are near completion at the Watertown Municipal Airport, which will add almost 10,000 square feet at that facility.  Jeff Baum, president and chief executive officer of Wisconsin Aviation, said the ongoing development is necessary.
Watertown Gazette, 05 06 1910
Last Friday night burglars broke into the offices of several of our manufacturing institutions and are still at large.  At the Yawkey-Crowley lumber office they secured one cent in the cash drawer; at the Globe Milling Co. office they appropriated 75 cents; at the William Gorder Co. shoe store at West Milwaukee Street bridge they stole a chisel; at the Jahnke Creamery Co. office they took 85 cents, and at the Dornfeld-Kunert Co. office they were a little more fortunate and obtained $1.25.  They evidently put in a hard night's work and secured very little for all their labor.
Another burglary
Watertown Gazette, 05 06 1910
Joseph Robinson's café at the Junction was entered by burglars last Sunday night and the slot machines therein broken open and relieved of their contents.  A bull dog inside the café evidently was friendly to the thieves and was well acquainted with them, for he did not molest them in any way.
Watertown 17, Kosciuskos 7
Watertown Gazette, 05 06 1910
Last Sunday at Washington Park Watertown overwhelmed the Kosciuskos of Milwaukee and beat them to the tune of 17 to 7.  Boettcher started in the box for Watertown but was knocked out in the second, the Kosciuskos piling up seven runs in this short period.  It did not take long for the home team to get after Black, the Polish flinger, however, and he was chased to the woods.  Klinkewicz relieved him.
Baseball
Watertown Gazette, 05 06 1910
The Lincoln School second baseball team defeated the Sacred Heart College Minims by the score of 9 to 0 last Saturday.
Draining Horicon Marsh
Juneau Telephone, 05 13 1910
The Rock River Valley Land Co. have shipped dredging and ditching machinery to Oak Center preparatory to draining Horicon marsh, or at least that portion of it which the company owns.  It is estimated that it will take some two years to finish the work contemplated.  The work will be commenced between Chester and Oak Center and extend south to Horicon.  A large dredging machine will be operated on a scow that can be floated along as the excavating progresses.
Juneau Telephone, 05 13 1910
A Fox Lake farmer who has tried the plan with success sent the following:  Why don't the farmers get out on the roads and scrape them after every storm?  It would take about half an hour each time and then we would not need the road tax we now have.  The roads cannot be made by working once a year.  I think it would be a good thing if the town would furnish the people with the drag scraper and allow each one so much a mile.  In that way we could work our road tax with less than half the work and still have the roads 100 per cent better than at the present time.  And in doing this way we don't feel the time as we do when we are called out as at the present for three or four days when we should be working in our corn.  Brother farmers, think this over and get to work.  It's to your advantage to do so.  Another thing—people should drive in the middle of the road instead of in the ditch as a good many do.
"God Bless Our Dad?"
Watertown Gazette, 05 06 1910
We happened in a home the other night and across the room were the legends "What is Home Without a Mother?" and "God Bless Our Home."  Now what's the matter with "God Bless Our Dad?"  He gets up early, lights the fire.  If there is a noise during the night dad is kicked in the back and made to go downstairs to find the burglar and kill him.  Mother darns the socks, but dad bought the socks, and the needles and the yarn.  Dad buys the chickens for the Sunday dinner, carves them himself and draws the neck from the ruins after everyone else is served.  Dad, here's to you—you've got your faults—you may have lots of 'em—but you're all right, and we will miss you when you're gone.
Great Wisconsin Farm Paper
Juneau Telephone, 05 20 1910
No agricultural paper in the United States has made such remarkable progress during the past year as has been shown by the Wisconsin Farmer, published weekly at Madison.  Every department of the paper has been made brighter, fresher, more attractive, and more representative of the agricultural, dairying, stock raising and other farm interests of the great state of Wisconsin.  The Wisconsin Farmer is especially strong in its editorials, which cover every phase of farm life and thought in this state.  It has also a large corps of special contributors from the experimental stations of the northwest and among the successful farmers, dairymen and other specialists in agricultural and semi-agricultural lines.  It maintains departments devoted to dairying, horticulture, poultry, sheep, handy farm devices, farm law, veterinary matters, current events, home and Sunday school.
Come to Oshkosh
Juneau Telephone, 05 20 1910
[advertisement]  Oshkosh is the city of greatest opportunity for the workingman today.  You can find employment there at once.  Oshkosh has now over 300 prosperous manufacturing concerns.  Every one of them is in need of more help.  The majority of workmen own their own homes.  Churches of all denominations are thriving—stores carry large and complete stocks of all commodities.  Rents are low—property reasonable now but will rapidly increase in value.  Splendid street car service reaches all parts of the city—3 cent fare during time men are going and coming from work.  If you are under paid and find it hard to get along—hard to keep the family happy and comfortable—if you are an earnest, thinking man with an eye on the future and a keen appreciation of the present, we urge you to come to Oshkosh.
Red Arrow Drum and Bugle Corps
Watertown Daily Times, 01 27 1985
A new drum and bugle corps is being formed in the Watertown area.  The Red Arrow Drum and Bugle Corps held its first meeting and elected the board of directors.  The instructional staff was also introduced.  Officers and staff for the 1985 season are Jim Peterson, president of the board and corps director; Diane Nienow, treasurer; Tim Rehse, secretary; Gretchen Rehse, membership recruitment; Karl Hartwig, equipment manager; Lois Bly, instructor; Terry Krueger, instructor; Lea Reichart, instructor, and Kelly Schultz, instructor.
Police Department Space Problem
Watertown Daily Times, 01 27 2000
The public works committee on Tuesday went back to the drawing board with the help of Watertown residents to develop solutions for the police department's lack of space.  Two residents presented preliminary floor plans for a $2 million renovation of the municipal building and three police and fire precincts strategically located in the city costing an estimated $1 million each.  They hoped the option can be presented to residents in an April referendum.  Their plan will be looked at again when the committee meets Feb. 8, panel members said.  Taxpayers for Accountable Government president Dennis Schwartz said his organization would also present proposals to renovate the municipal building at that meeting.
Watertown Gazette, 05 06 1910
Mrs. J. McGowan, who has been at St. Mary's Hospital since Easter Sunday as the result of an accident at the Lafayette Street crossing of the C.&N.W. Ry., was removed last week to her home in Church Street.
Watertown Gazette, 05 06 1910
James P. Holland, editor of The Daily Times, is a candidate for renomination on the democratic ticket for county treasurer.  Mr. Holland has held the office for only one term, and as the salary was cut to only $600 a year just previous to his election, it would appear that about the right thing to do is to elect him.  The Gazette "seconds the motion" and hopes to see him once more nominated and elected.
Hustisford Journal Criticism
Juneau Telephone, 05 20 1910
The Hustisford Journal makes the following criticism relative to a game of ball played in Juneau between the Hustisford State Graded School team and the Juneau High School Freshmen:  "In a recent issue of the Independent was a notice about the Hustisford School Team being a bunch of Dutchies and classifying Hustisford as a Woodenshoe town . . . there are no girls in Hustisford that have such an amount of nerve as was displayed by some of the Juneau girls, at the time of our playing there."
We take it that no offense was intended and that the Juneau girls were only "rooting," as it is called, to help the home team along, but on this occasion there is evidence that they went to extremes and we sincerely hope that in the future they will not so far forget themselves as to make it seriously unpleasant for visiting teams and those who accompany them. – Juneau Telephone
The Comet
Watertown Gazette, 05 27 1910
Last Wednesday night from 8:30 till 10:30 Watertown people were privileged to see the comet at its best and thousands of our citizens gazed at it during that time as it sped its way through the sky in the west.  The sky was in perfect condition to view it—clear and not too bright.  As soon as the moon put in its appearance, however, the comet vanished.  It resembles a searchlight, as though someone in the heavens above had a searchlight out looking for one of the planets that had gone astray.
A Sensible Order
Juneau Telephone, 05 13 1910
The state railroad commission has issued an order to the effect that connections must be made at Dill Junction, a few miles west of Monroe.  Should either train be late, the other must wait at least 30 minutes to make connections.  Now, we wonder why a similar order should not be issued compelling the Northwestern and St. Paul roads to make connections at Minnesota Junction in the evening.  At present there is a difference of only a few minutes, and if one or the other passenger train is just a minute late, connections are out of the question.  Yes, we have experienced the unpleasantness, that the Milwaukee train halted on the east side of the crossing and the Northwestern train halted on its tracks south of the crossing, but before the former train had crossed the track the Northwestern left the station, leaving passengers for the south at the Junction.  Now this may be all right for the Juneau people, as they may take the bus down, but to the people living further south it is a most deplorable condition and ought to be remedied in some manner satisfactory to the public.
Killed by Kick
Juneau Telephone, 05 20 1910
Last Monday, just as the Catholic Benevolent Societies were forming in line to parade through the city, at Beaver Dam, a run-away horse came in from the country at a break-neck pace and turned into a yard or garden, near St. Peter's church hall, on James Street.  The horse had been scared by the operation of the big steam shovel operated by the Northwestern Railroad graders, south of the city, some three miles, had torn loose from the buggy and made the race of the entire distance, followed by two automobiles.  When the animal dashed into the yard several persons endeavored to catch him.  John Rau rushed up behind the excited animal and grabbed the dragging lines, when suddenly the horse kicked him in the stomach and he sank to the ground.
A Sunday Blaze
Juneau Telephone, 05 13 1910
Last Sunday afternoon fire was discovered on Wm. Ehmke's place, one-half mile west of the city limits of Juneau on the Beaver Dam road.  The smoke was seen by Mr. A. A. Goetsch, from his home on the Oak Grove road.  All who saw the fire hastened to the place and found the hay stacks and old straw burning briskly.  Mr. Ehmke, who lives alone, was away from home.  The barking of dogs in the barn, close to the fire, attracted the attention of the by-standers, who broke open the end of the building and released twenty two canines of all breeds and ages.  Ehmke makes a business of raising and selling dogs and his stock on hand that day inventoried at about twenty five.  It is said three or four dogs that were chained near the hay stacks were burned to death before any person reached the premises.  Later in the evening the [remaining] barn took fire from flying sparks and was burned.  Nothing in the shape of buildings, except the house, remains.
William F. Miller, for Senator
Juneau Telephone, 05 13 1910
The Watertown Daily Times said: "Ex-Sheriff William Miller of Juneau was in the city Tuesday and while here announced that he would be a candidate for state senator from the Dodge County district on the democratic ticket.  The announcement was made in other portions of the county before the present senator, Paul O. Husting, had become a candidate for re-election and Mr. Miller states that he will stay in the field and let the voters decide their choice at the primary election in September.  Mr. Miller was one of the most popular Sheriffs Dodge County ever elected and his popularity since he left the office has not been on the wane, but rather growing.  He is capable and will make a campaign which will let the people know that he is in the running."— Juneau Telephone
The Summer School
Juneau Telephone, 05 20 1910
The new law known at the Minimum Qualification Law, enacted by the last legislature, will probably have the effect to greatly increase the attendance at summer schools this year.  This law makes a six weeks' attendance at a professional school for teachers a necessary qualification for obtaining a third grade certificate, unless the applicant has taught successfully for at least eight months.  The Whitewater summer school will have model classes of children for the purpose of observation and several teachers will devote their time to the professional work of the school.  Special facilities will be offered for students pursuing the branches required for first, second and third grade county certificates and classes will be conducted in which Normal credits may be obtained.
Watertown Gazette, 05 06 1910
John Bremer and Edward Lemke have opened their new laundry in Third Street.  It is well equipped with all the latest up-to-date machinery.
L. Hilgendorf
The Furniture Man
Juneau Telephone, 05 20 1910
[advertisement] The So E-Z Vacuum Cleaner.  That great health, labor and money saver has arrived in our city and is awaiting your visit of welcome.  If you call and get acquainted you will form a friendship you'll never regret.  Operated by hand.  Cannot get out of order.  Gets all the dirt, saves carpets, rugs, curtains, furniture, money, health and strength.  No more worn out carpets, carpets to be beaten, house cleaning backache, dust to breath, germs to inhale, brooms to buy.  Price only $10.00.  For sale by L. Hilgendorf, The Furniture Man, Juneau, Wisconsin.
Catholics Buy Eckels Place
Watertown Gazette, 05 27 1910 
The beautiful Lac LaBelle home of the late James H. Eckels of Chicago, which shortly before his death Mr. Eckels built at a cost of over $100,000, was sold at administrator's sale which was held on the premises, for $33,000.  The sale was made to the Redemptorist Fathers at St. Louis, who were the only bidders for the property.  It is the purpose of the new owners to convert the residence into a theological institution to be occupied by their students, that is those who are in the last six years of their course.  It is hoped to have the place in readiness for this work by next September.  The institution will comprise about seventy-five members, including students and faculty.
Watertown Gazette, 05 06 1910
After a long illness, Mrs. Mary E. Boyd, aged 87 years, and wife of the late Rev. W. F. Boyd, former rector of St. Mathias Episcopal Church in Waukesha, died there Thursday evening.
The above notice was clipped from the Milwaukee Sentinel on April 19.  Mrs. Boyd had lived in Waukesha thirty-five years.  Before going there the family resided in Watertown several years, Dr. Boyd being rector of St. Paul's Episcopal Church [Rev. F. W. Boyd, 1871 to 1879].  Memory carries us back to the winter of 1873-74 which was extremely cold with great quantities of snow.  Being a native of Mississippi Mrs. Boyd felt the cold severely, but there was always a warm welcome and cheery smile, with true southern hospitality to all who came to her home.
<![if !vml]>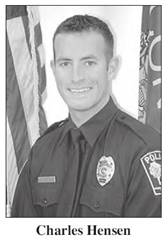 <![endif]>
Watertown Daily Times, 09 15 2009
The Watertown Police Department has hired Charles Hensen as a new police officer.  Hensen, 27, was hired to fill a vacancy in the department.  Hensen is enlisted in the Army National Guard and was on active duty with the Army prior to being employed by the Watertown Police Department.  A graduate of Horace Mann High School in North Fond du Lac, Hensen has an associate's degree in arts and science from the University of Wisconsin-Fond du Lac.
Hensen was hired in May of this year and had been attending the Basic Law Enforcement Academy at Waukesha County Technical College.  He graduated from the academy in August. 
Hensen is currently assigned to the department's field training program for four months.  After he successfully completes the field training program, Hensen will be assigned to one of the three shifts in the patrol division.
<![if !vml]>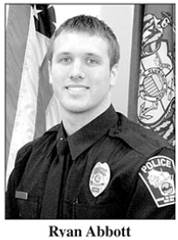 <![endif]>
Watertown Daily Times, 01 22 2010
The Watertown Police Department has filled a vacancy by hiring Ryan Abbott as a new police officer.
Abbott, 24, graduated from Hartford Union High School and previously worked for the city of Hartford Park and Recreation Department.  He received his bachelor's degree in criminal justice from Winona State University and graduated from Waukesha County Technical College's Basic Law Enforcement Academy in 2009.
Abbott will be assigned to the police department's field training program for four months.  After he successfully completes that program, Abbott will be assigned to one of the three shifts in the patrol division.
<![if !vml]>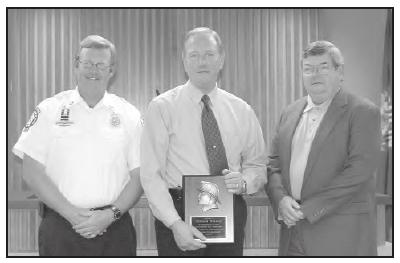 <![endif]>
Watertown Daily Times, 09 15 2009
Rich Nienow received a plaque at Tuesday's Watertown Common Council meeting honoring his 30 years of service as an auxiliary firefighter.  Pictured at the plaque ceremony, from left, are Watertown fire Chief Henry Butts, Nienow and Watertown Mayor Ron Krueger.
Watertown Daily Times, 01 25 1960
Dick Rohde, senior co-captain of the Watertown High football squad, has been named to the honorable mention list of the Prep All-American selected by sports writers across the nation.  A total of 6,006 gridders from the United States were nominated to the All-America team selected annually by the Wigwam Wisemen of America, Oklahoma City, Okla.  Rohde played end on defense and halfback on offense for the Watertown High 1959 squad and was an outstandingly aggressive performer each way.  Rohde will receive a certificate designating him as a member of the 1959 mythical All-America squad. Rohde was named previously to the United Press-International all-state squad.
Watertown Daily Times, 01 29 1960
Mrs. Evelyn Oestreich was installed as president of the Blue Star Mothers at a special ceremony held at the K. of C. Hall.  Other officers installed were:  Senior vice president, Mrs. Lillian Arndt; junior vice president, Mrs. Katherine Bongard; treasurer, Mrs. Gertrude Richart; secretary, Mrs. Elsie West; financial secretary, Mrs. Florence Beaudoin; patriotic instructor, Mrs. Elsie Mundt; historian, Mrs. Anna Vogelie; chaplain, Mrs. Selma Heller. Conductress, Mrs. Viola Stabenfeldt; assistant conductress, Mrs. Irma Tietz; color guards, Mrs. May Behling, Mrs. Vera Arndt, Mrs. V. Iwen, Mrs. Alfred Reinhardt, Mrs. Dora Wickert, Mrs. Lorine Radtke; door guard and hospital chairman, Mrs. Elizabeth Herro; ways and means chairman, Mrs. Elsie West, co-chairman, Mrs. Lillian Arndt; reporter, Mrs. Gertrude Richart.
Good Advice to Boys
Watertown Gazette, 03 11 1910
The Cass County, Iowa, Democrat gives the following good advice to boys:
"Boys, above all, don't by will or deed, add to the burden of your mother; remember that she loves you as deeply as when you were a clean, little babe, though you may now be a "tough kid" whom everybody dislikes.  She is not so strong as she once was; the hand of time, maybe, has touched her hair and left it grey and streaked where it was once beautiful and glossy.  Her step is slower than it used to be.  Be a man; respect her, live right, and when she dies, she who loves you more than any one will ever love you again, when the wasted, tired hands have been folded for unbroken sleep, there will go with you sweet and tender recollections like guardian angels along the rugged path of life.  Now is the time to begin to be a man—don't wait.
Watertown Daily Times, 01 25 1985
Rose Christian, who has worked the last 20 years as a residential aide, is among Bethesda Lutheran Home employees honored this week for longevity, A.L. Napolitano, executive director, announced.  Christian, of rural Watertown, began her employment on Jan. 20, 1965, as a ward parent (the term then used for residential aide) in the children's ward of the old Tetzlaff building, which has since been razed.  Awards for 10 years went to Arlene Buske, medical records clerk; Nana Pirkel, clinic clerk; Arlis Meske, clothing aide, and Ruth Seeber, residential aide.  All reside in Watertown.  Employees who completed five years of service were Nancy Klokow, clinic clerk; Ovella Mecalf, houseparent at Bethesda's training group home at 506 South Washington Street, and Faye Vokoun, registered nurse. All reside in Watertown.
Carver Show & Diving Horse Combination
Watertown Gazette, 05 27 1910
[advertisement] The Great Carver Show & Diving Horse Combination.  Two shows daily, 3 and 8 PM.  Greatest sensational show on earth.  Very amazing, educational in its character and unusual in its scope.  The fact that the people of this city are to have an opportunity of seeing the great diving horses of Carver makes it right that they should know something of the work of those almost human animals, and we quote from the St. Joseph Gazette:  The diving horses are so highly educated that they are willing to dive from a platform from forty to one hundred feet in height, risking their lives because of the love of their master.  They dive of their own volition.  40 foot plunge on horseback.  The company has its own lighting system and the fairgrounds will be as bright as day each evening.  Watertown Fair Grounds.  Street cars to the main gate.