This file part of www.watertownhistory.org website
Watertown history book
reissued in
eBook format
<![if !vml]>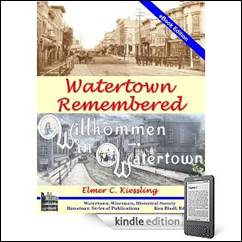 <![endif]>
The Watertown Historical Society announces the availability of the first local area history book in eBook format for eReaders such as the Amazon Kindle, the Barnes & Nobles Nook and associated eReader apps, including an app for the new Apple iPad.
The book "Watertown Remembered," authored by Elmer Kiessling, had been originally published in 1976 by the Watertown Historical Society.  In 2005 this out-of-print book was reformatted, reindexed and reprinted by society member Ken Riedl.
Ken has reformatted the book content once again, this time for the new eReader devices and "Watertown Remembered" is now available on the websites of both amazon.com and barnesandnoble.com as a digital eBook.  This new and evolving technology allows for wide availability at low cost.  The eBook version of "Watertown Remembered" lists for $2.99 and can be downloaded to eReaders and eReader apps in less than 60 seconds.
The digital format of this book is protected by Digital Rights Management (DRM) technology which is intended to inhibit unauthorized access to or copying of digital content files.
This eBook also becomes the first history of Watertown available as an audio book on devices such as the Kindle that feature text-to-speech capability.
Buy and download eBook from Amazon
<![if !vml]>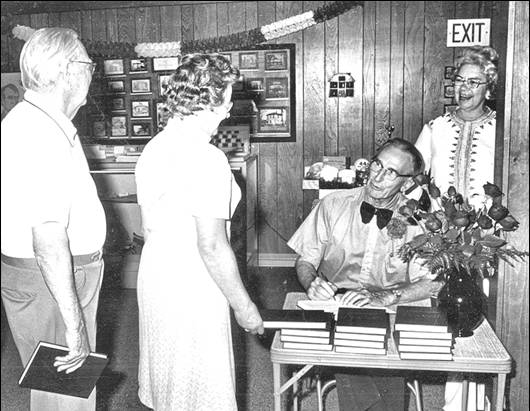 <![endif]>
Professor Elmer Kiessling signing
first edition Watertown Remembered books
1976
FORWARD
For several decades, many area people in general and the Watertown Historical Society in particular have wished for a printed record of Watertown's history.  To a degree this wish was realized in the 1940s when a son of Watertown, Ralph Blumenfeld, published his memoir, Home Town, which contained many chapters depicting an earlier Watertown.  But alas, the book was published in England in a very limited edition and few copies could be obtained here.  The demand continued largely unrequited.
Therefore in this [1976] , the nation's bicentennial year and the 140th year of Watertown's first settlement, we can take special pride in the publication of an authentic history of this community.  Watertown Remembered is a rich composite of factual history seasoned with a charming array of anecdote and folklore.  The capable blender of all this is the venerable E. C. Kiessling, to whom we shall ever be grateful.
Dr. Kiessling is a native son of Jefferson County and a long-time director of the Watertown Historical Society.  He was a professor of history and English at Northwestern College for 46 years, and continues as a book reviewer for the Milwaukee Journal.
Perhaps every community would like to boast of its heritage as worthy of written record, but from its river, which had somehow "overlooked something precious," through the amazing 48ers and others who came here by the thousands to make it the second biggest city in the state and the unforgettable characters who enlivened its past, to the solid, traditional town it is today, E. C. Kiessling has given us an especially vivid and indelible recollection for all to remember Watertown.
Lee Block
Director
Watertown Historical Society
1976