website  watertownhistory.org
 ebook  History of Watertown, Wisconsin
Dr. Elmer C. Kiessling
1895 - 1981
<![if !vml]>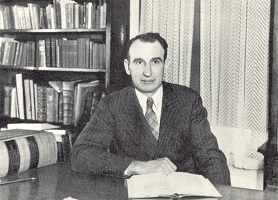 <![endif]>Dr. Elmer C. Kiessling, one of Watertown's most distinguished citizens and educators, was born in Jefferson on Sept. 21, 1895, son of Nicolas and Mary Miller Kiessling. He attended public and parochial schools in Jefferson. He was a 1917 graduate of Northwestern College in Watertown and a 1920 graduate of Wisconsin Lutheran Seminary, which was then located in Wauwatosa. Both schools were part of the pastor training program for the Wisconsin Evangelical Lutheran Synod.
After several years as pastor of a Lutheran church in Libertyville, IL, he accepted a call to teach English at Northwestern College in 1927, serving in that capacity for 46 Years until his retirement in 1973.
On Dec. 25, 1930, he was married to the former Esther Brockmann, daughter of Rev. Paul and Esther Wertheimer Brockmann.
He did graduate work at the University of Chicago where he was awarded his doctor of Philosophy degree in 1935.
Dr. Kiessling was a member of Trinity Evangelical Lutheran Church and the Watertown Historical Society. He also served for many years on the Watertown Free Public Library Board.
He was author of "Watertown Remembered" a history of Watertown which was published by the Watertown Historical Society in 1976, and "Centennial Memoir," the story of the Northwestern Alumni Society.  He wrote over 2,000 book reviews for the Milwaukee Journal and hundreds of articles, many of them under the pseudonym of Christopher Matthew.
One of his more noteworthy contributions to the society, and to the community, for that matter, is his history of Watertown, titled, "Watertown Remembered."  Dr. Kiessling wrote the book at the suggestion of the society, and in his usual thorough manner spent a very considerable amount of time in gathering information for the book, which is a literary gem, and a most authentic account of the history of our town.  The society, and the people of this community, are forever indebted to Dr. Kiessling for this most excellent book.  No one, other than Dr. Kiessling, could have handled this assignment.
In a forward to the book, written by Lee Block, a director of the society, he says that the book "is a rich composite of factual history seasoned with a charming array of anecdote and folklore.  The capable blender of all this is E. C. Kiessling, to whom we shall ever be grateful."  He concluded by saying that "E. C. Kiessling has given us an especially vivid and indelible recollection for all to remember Watertown."
[Editorial, Watertown Daily Times, 12 14 1981]
Dr. Kiessling had written the book as part of the city's contribution to the observance of the nation's bicentennial year. The year of its publication also was the 140th year of Watertown's first settlement.
Several years prior to his death, Dr. Kiessling was presented with an award of merit from the Wisconsin Council for Local History of Madison for his unique contributions to the Watertown Historical Society.
Dr. Elmer C. Kiessling, at age 86, living at 400 South Fourth Street and professor emeritus of Northwestern College, died Dec. 11, 1981, at Watertown Memorial Hospital. Following services at Trinity Lutheran Church, he was buried at Oak Hill Cemetery
KMR 06 01 2003
_________________________________________________________________
Esther Kiessling
1906 - 2006
FRANKLIN - Esther Emily Brockmann Kiessling, who would have been 100 years old on July 5, died on May 3, 2006, at St. Francis Hospital in West Allis. She entered the hospital on Thursday and was diagnosed with an inoperable abdominal cancer.
She was born in Fort Douglas, Utah, on July 5, 1906. She moved with her parents, the Rev. Paul and Esther (Wertheimer) Brockmann, to Waukesha in 1910, and attended grade schools and high schools in Waukesha and Delavan.
Esther attended Gallaudet University in Washington, D.C., and then took a position as a teacher at the Wisconsin School for the Deaf at Delavan. She remained on the staff there until her marriage in 1930 to Dr. Elmer C. Kiessling of Northwestern College.
Esther worked at the local Wisconsin Hearing Service office in the 1950s and taught at St. Mark's Lutheran School from 1960 to 1970. After retirement she introduced an American Sign Language course at Madison Area Technical College in Watertown and taught there for several years. She continued teaching students in American Sign Language until 2003. She served as a volunteer at the hospital, Red Cross Blood Bank and the Octagon House, and has been an active member in a local book club, the Friday Review.
In 1944 she edited a series of articles and book reviews that her late husband had written for the Milwaukee Journal from the 1940s to 1980 and published them in a paperback volume.
She had lived in Watertown until December 2003, when she moved to Franklin. In Franklin, she remained a member of Trinity Lutheran Church in Watertown.
She is survived by a son, Nicolas, a former professor of English at Washington State University, and his wife, Karen Harris Kiessling; a daughter, Karen, the wife of the Rev. Larry Pautz of Wind Lake; four grandchildren and four great-grandchildren.
A son, Dr. Paul Kiessling, died in 1972 and her husband, Elmer, died in 1981.
Esther was known for her elegance, intelligence and joy of life, and she entertained friends at her Franklin apartment on a regular basis until shortly before her death. She will be very much missed by her family and friends.
A private memorial service will be held for family members. The Church and Chapel Funeral Service of Brookfield is in charge of arrangements.
Memorials may be given to the E. C. Kiessling scholarship fund at Martin Luther College, 1995 Luther Court, New Ulm, Minn. 56703.