website  watertownhistory.org
    ebook  History of Watertown, Wisconsin
Francis A. Nimm
1920 - 2014
<![if !vml]>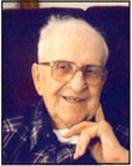 <![endif]>Francis A. Nimm, age 93, of Watertown, passed away on Wednesday, Jan. 29, 2014, at the Highland House.
He was born on Oct. 2, 1920, in Watertown, the son of Joseph and Adelaide (David) Nimm.  He went to St. Henry's grade school and attended high school.  Francis worked at Charles David's Sons paint store for over 60 years.  He would attend the EAA event in Oshkosh every year up until he no longer could.  Francis was also an avid fan of the Rock River Thresheree for old steam engines and tractors.  He had a gift for photography and enjoyed snapping photos of nature, airplanes, tractors and especially family.  Francis loved motorcycles and every chance he got he would take his bike for a ride.

Francis is survived by his brothers, Robert (Donna) Nimm and Gerald (Barbara) Nimm; many nieces and nephews; other relatives and friends.

He was preceded in death by his parents and siblings, Anna Stangler, George Nimm Sr., Lawrence Nimm and Donald Nimm.

A Mass of Christian burial will be held at St. Henry Catholic Church, Watertown, on Monday at 11 a.m. with Monsignor Daniel Ganshert presiding.  Burial to immediately follow at St. Henry Cemetery.  A visitation will be at church on Monday from 10 a.m. until the time of Mass.  

Memorial donations would be appreciated to St. Henry Catholic Church or to Rainbow Hospice.

The family would like to extend a special thank-you to the staff at Highland House and to Rainbow Hospice for their kind and considerate care that Francis received.

Schmutzler-Vick Funeral Home and Cremation Services 500 Welsh Road Watertown

History of Watertown, Wisconsin