website  watertownhistory.org
    ebook  History of Watertown, Wisconsin
Charles David's Sons
306 Madison Street
Founded 1897
Charles David, Sr
1873 - 1958
Four Generations of Community Service
1895
Quality lasts a long time—which is why Charles David's Sons, Inc. has been in business since 1895. For over a century generations of local families have depended on this mainstay business in the heart of downtown Watertown, Wisconsin. 
The store was originally established as a paint store and painting contractor by Charles David, grandfather of present owner John David.  Born in Watertown, John worked in his father's store as a teenager before leaving to attend Indiana University.  He taught U.S. history at Watertown High School for several years before joining the family business in 1972.  He also served as mayor of Watertown from 2001-2007.
1910
Dec             <![if !vml]>

<![endif]>  
1925
04 16       CHARLES DAVID SIGNAGE, AT TURNER HALL
<![if !vml]>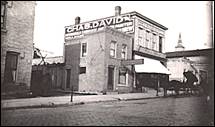 <![endif]>   
1950
  <![if !vml]>

<![endif]>  Curved windshields in stock
1958
11 17
Charles David, Sr., 85, founder of the Charles David's Sons paint and decorating store at 306 Madison Street, died at St. Mary's Hospital on November 17, 1958, after a brief illness.
Mr. David, who was one of the city's most widely known business men, founded the store 61 years ago and until recent years was active in its operation.  He was born in Watertown on October 22, 1873, a son of the late Mr. and Mrs. Joseph David.  He married Miss Anna Kalina in St. Henry's Catholic Church in 1897.  She preceded him in death in 1946.
Surviving are a daughter, Mrs. Harry Manning, route 2, Juneau; three sons, Alvin, Milwaukee, and Charles and Paul David who now operate the family business in Watertown.  There are 17 grandchildren and eight great-grandchildren.  There is one sister, Mrs. Joseph Nimm, Route 6.
He was preceded in death by a daughter, Mrs. Leona Manning, and a sister, Miss Mary David.  Mr. David was a member of St. Henry's Catholic Church, the Holy Name Society and the Plattdeutscher Verein.
As a business man Mr. David followed a high code of ethics.  He was a man of Christian principles and high ideals.  Despite his advancing years he continued to take an interest in the business and visited the store frequently.  He had many friends throughout the area.  He had numerous hobbies, among them nature and a love for the great outdoors.
The funeral will take place from the Boyle Funeral Home with services in St. Henry's Church, the Very Rev. A. J. Herrmann officiating.  Interment in St. Henry's Cemetery.
The parish and Ushers Society rosary will be said at the funeral home.  The Holy Name Society will join in the rosary Wednesday evening and will hold its regular meeting after that.   WDT
1963
MAUTZ RUBBER SATIN
<![if !vml]>

<![endif]>     Charles Jr. and Paul David
1997
04 10
Charles David's Sons Inc. will celebrate the grand opening of its remodeled facilities from Saturday, April 19, through Saturday, April 26.  Specials will be offered and door prizes will be given.  The business, located at 306 E. Madison St. for over 100 years, has been completely remodeled and enlarged to better serve its customers.  Convenient parking facilities have also been added.   WDT
2006
<![if !vml]>

<![endif]>
11 21          Charles David's Sons Inc has been named one of the top 100 art gallery and custom frame shop companies in the country by Decor Magazine.
Every year Decor, a major art and framing trade publication, hosts its Top 100 Art and Framing Retailers Award contest, which is sponsored by Tru Vue, the leading supplier of picture framing glass products. The contest is designed to recognize the most successful retailers in the art and framing industry.
This marks the first time Charles David's Sons received this honor, said Nora David, an employee with the company.  Besides David, Yvonne Werth and Jennifer Wolfe are the other employees who work in the framing department for Charles David's Sons. David has been a nationally certified picture framer for about 10 years.    WDT
Cross References:
Irene Michelt [1910-2003] had been employed as a bookkeeper at Charles David's Sons.
<![if !vml]>

<![endif]>
History of Watertown, Wisconsin