website  watertownhistory.org
    ebook  History of Watertown, Wisconsin
Leola "Ollie" I. Haberkorn
1921 - 2014

Watertown Daily Times
<![if !vml]>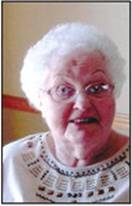 <![endif]>Leola "Ollie" I. Haberkorn, 93, of Watertown, was called to her heavenly home on the holiest of nights, Christmas Eve 2014, while surrounded by her loving family, at Watertown Regional Medical Center.
She was born on Feb. 20, 1921, in Richwood, the daughter of the late Otto and Bertha (Buedler) Schmidt. On Sept. 28, 1946, she married Francis B. Haberkorn at St. Henry Catholic Church, with whom she had four children.
Early in their marriage, Ollie worked at the shoe factory. After having children, she continued working outside of the home at Schuett's Drive-In, where she enjoyed serving their famous deep-fried foot-long hot dogs.
She was a former member of the Turners and the Christian Mothers of St. Henry's Catholic Church. She was a dedicated parishioner and faithfully attended Mass and Rosary. However, her most important role of all was being a homemaker and caring not only for her own children and grandchildren, but for many other children as well. She treasured spending time with her beloved family and cherished tea parties with her greatgranddaughters. Ollie loved being around people, wanting to spread her love of life and happiness. She always welcomed others into her home. She was not only "Grandma Ollie" to her family but also to many others.
She was one of the first residents of the Anna Nitschmann Apartments and earned the unofficial title of "greeter," always welcoming residents and visitors alike. She lived a simple life, not seeking earthly possessions. When life's challenges arose, she sought guidance through prayer. She was at peace her entire life.

Ollie is survived by her four children, Lynnette (Roy) Pooler of Watertown, Roger (Maribel) Haberkorn of Plantation, Fla.; Judy (Jim) Tyrer of Watertown and Gene Haberkorn of Watertown; six grandchildren, Jennie (Brian Zweifel) Staus, Gayle (Bryant) Ebert, Gunther Haberkorn, Rory Haberkorn, Emily (Travis) Hamann and Stephanie (Kyle Buss) Haberkorn; six great-grandchildren, Sierra, Mason, Evelyn, Sophia, Jackson and Gracie; brother, Robert (Carol) Schmidt of Watertown. She is also survived by a number of nieces, nephews, other relatives and friends.

She was preceded in death by her parents, her husband; her brothers, Marvin, Palmer and Adelbert Schmidt; and sisters, Malinda and Bertha in infancy.

The family would like to extend a special thank you to the staff of Marquardt Village and Watertown Regional Medical Center for their kindness and compassionate care.

A Mass of Christian burial will be at 11 a.m., on Tuesday at St. Henry Catholic Church, with the Father Scott Jablonski presiding. Visitation will be at the church from 9 a.m. until the time of service. Burial will take place at St. Henry Catholic Cemetery following the service.

Family ask that memorials be given to the Staff Appreciation Fund at Marquardt Village or St. Henry Catholic Church.

Pederson-Nowatka Funeral Home 213 S. Fifth St. Watertown

History of Watertown, Wisconsin