website  watertownhistory.org
    ebook  History of Watertown, Wisconsin
Schuett's
510 E Main
Forget the robin.
Schuett's opening every year was really the actual first sign of Spring!
Deep fried foot-long with the works - yum, yum.
<![if !vml]>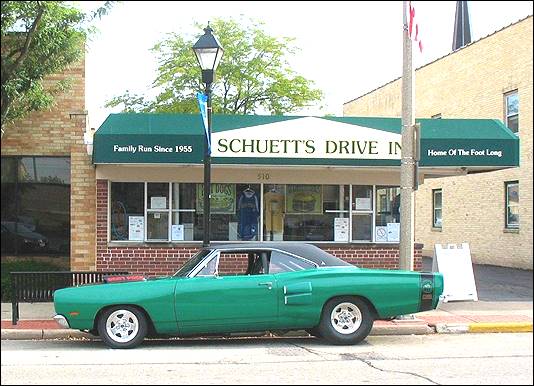 <![endif]>
The deep-fried foot-long hotdogs were a staple in this town for a long time
c.1970
<![if !vml]>

<![endif]>      Loved the pizza burgers!
1996
05 25       Drive-in restaurant owners have no need for a temperature gauge.  They don't have to look up from their sizzling burgers to know when spring has finally arrived.  All they have to do is eye the orders piling up.  Judy's and Schuett's, Watertown's only two seasonal drive-in restaurants, are usually busy in spring and early summer when warm weather entices people outdoors.  Mother Nature was not cooperative earlier this season, but climbing temperatures mean more traffic.  Both family restaurants have customers who have been coming back for years, as soon as the open sign appears in the window.  Good food has brought them back again and again.
2012
06 09       SCHUETT'S UNDER NEW OWNERSHIP
Schuett's Drive In opened this spring at 510 E. Main St., in downtown Watertown just as it has for the past 57 years, but this year was unique.  For the first time, the local eatery is owned and operated by someone not in the Schuett family.
After former owner Kalvin Schuett passed away last December, his brother Lonnie Schuett sold the business to Todd and Terry Schwefel, of Watertown, in February.
2014
<![if !vml]>

<![endif]>   
2017
MOON RABBIT REPLACES SCHUETT'S
<![if !vml]>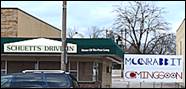 <![endif]>  
Cross Reference:
Leola "Ollie" I. Haberkorn, 1921-2014.  Worked at Schuett's Drive-In, where she enjoyed serving their famous deep-fried foot-long hot dogs.

History of Watertown, Wisconsin