website  watertownhistory.org
    ebook  History of Watertown, Wisconsin
Marshall Woodard
1830 - 1924
M. J. WOODARD, manufacturer; was born in New London, Merrimack Co., N. H., and came to Wisconsin in 1854, locating at Oak Grove, where he farmed for eight years; in March, 1865, he came to Watertown and started a retail bakery, in connection with his brother George, under the firm name of Woodard Bros., which continued for two years, when they commenced the manufacture of crackers, at first with a hand machine and after, as their business increased, added steam-power and put in improved machinery; this business is now being carried on with the most pleasing and profitable success.  Mr. Woodard was School Commissioner of the Fifth Ward about two terms, was also Alderman of said ward.  He married, in 1855, Mary Spaulding, of Maine, and has five children—Frank, Dura, Lottie, William and Myron. [C W Butterfield, History of Jefferson County, Wisconsin, 1869.
1864
Marshall J. Woodard was born in New Hampshire, came to Wisconsin in 1854, and to Watertown in 1864. He began the manufacture of crackers, at first rolled out by hand, but soon with new and improved machinery.   WDT  06 12 1976
Woodard & Stone
Later he was a partner in the firm of Woodard & Stone, as owners of the City Steam Bakery & Confectionary Store.
Woodard was active in civic affairs in Watertown, and served as a school commissioner for two terms. He is reported also to have had lumber interests on the west coast.
1893
07 26       PRIVATE FORTUNE PLEDGED in case of bank bankruptcy  
1899
05 09       SON DURA WOODARD NEW ALDERMAN
Alderman Dura Woodard made his first appearance as a member of the council at its last meeting.  Alderman Woodard is yet a young man, thoughtful in appearance, conservative in action, and has promise of making a most desirable member.   WR
10 10       DURA WOODARD MIGHT LEAVE CITY
Our people generally will regret to learn that Dura M. Woodard and family will in all probability soon leave Watertown.  Mr. Woodard has secured a thirty days' option on a half-interest in the candy manufactory of Kopp, Dreibus & Co., at Omaha, Neb., and the prospects are that he will purchase it, Mr. Dreibus retiring.  This business is in a very flourishing condition and Mr. Woodard considers that he has a splendid opportunity to go into business for himself.  He goes to Omaha next week to thoroughly investigate matters before consummating the deal.   WR
1902
04 15       Promoter of Free Public Library
1923
AT NEW MEMORIAL BRIDGE DEDICATION
<![if !vml]>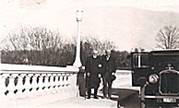 <![endif]>  
A feature of the dedication of the opening of Memorial bridge was the presence of Marshall J. Woodard, pioneer resident of this city, who forded the Rock River at the spot where Woodard, who is 93 years old, was the first man to drive across the new bridge.  He is one of the oldest and best known residents of this city and was one of the early day bankers in this city.
1924
OBITUARY
     Watertown Gazette, 09 29 1924 (Picture)
MARSHALL JOHN WOODARD
PASSES AWAY AFTER
LONG RESIDENCE HERE
Marshall John Woodard, pioneer resident, banker and for many years a prominent financier in Watertown passed away at the family home, 400 North Washington Street on Saturday afternoon at 5:30 o'clock.  Mr. Woodard lived to a ripe old age for on September 2 of this year he observed his ninety-fourth birth anniversary.
His death followed an illness of about ten days and he was confined to his bed for less than a week.  Pneumonia developed early during the illness and although there was a strong hope for his recovery by members of his family his end came peacefully and brought to a close a long and useful life.  His death will be learned with regret by all and especially by his close relatives as in the environment of his family home was his worth and kindness especially known.
Marshall John Woodard first saw the light of day in New London, New Hampshire, September 2, 1830.  He was a son of John King Woodard, who died here November 20, 1873.  His mother was Mehitable (Sargent) Woodard who died in Oak Grove on January 14, 1862.  Mr. Woodard came west to seek his fortune and located on a farm in the town of Oak Grove, Dodge County, in 1855.  He followed farming pursuits until the spring of 1864 when he came to Watertown where with his brothers, George and Stephen Woodard, he established a small bakery business in North Water street under the firm name of Woodard Brothers, which they continued until 1871, when the late Lieutenant Governor Jesse Stone entered the firm which was then called the Woodard Brothers & Stone and thereafter the business was conducted under the firm name of Woodard & Stone, which title it held until the business, which had grown to immense proportions, was sold to the National Biscuit company.  Mr. Woodard retiring from active business pursuits. 
Besides his many other business enterprises he has been one of the leading bankers in the city.  He entered the directorate of the Bank of Watertown in 1883 and for many years was the vice president of this financial institution, his sound judgment and good business qualifications making him a valued member of the directorate.  He retired from the vice presidency of the bank ten years ago. 
Mr. Woodard exemplified the type of a self made man.  By industrious methods and strict attention to business he rose rapidly in the commercial world and was looked upon as a man whose advice was well worth considering in business matters and it was eagerly sought and followed.  As a partner in the business firm which bore his name he had much to do with the rapid growth and development of this industry, its fame being known all over the middle west and even to more remote points.
Mr. Woodard was strictly a home man and there is where his loss will be felt the greatest, as his devotion to his wife and children was well known and on the latter will fall the heavy burden of his loss.  In his business life his word was as good as gold and his honesty was proverbial.  He began life as a farmer's boy and never allowed a legitimate opportunity for improvement to escape him, and following this line of action he honorably worked his way up and won the reward which follows a diligent exercise of the qualities of character made potent by the force of application, industry and integrity.  He goes to his Creator, hopeful of the reward of a well spent life.  His was a noble Christian character and when confined by sickness bore his suffering patiently, and when the end came was ready to meet it.
Mr. Woodard had been prominently identified with the material and social life of Watertown for more than half a century and his death is likened unto the severing of a link which united the present and the pioneer past.  He played well his part in promoting the industrial life of Watertown and he possessed the respect and esteem of all and won the warm regard of all with whom he came in contact.  He was a loyal citizen and a true friend.  He never aspired to office, although he held several local offices of trust and responsibility. He was school commissioner of the Fifth ward and also served as alderman of that ward.
Prominent Mason
He was a member of the Congregational Church and was also a member of several Masonic bodies, Watertown Lodge No. 49, F. A. and M.; Watertown Chapter No. 11, R. A. M.; Olivet Commandery No. 18, K. T.; Wisconsin Consistory; and the Mystic Shrine.
In all of those positions of trust and responsibility he was never found wanting and filled honorably and conscientiously every niche in which duty placed him.  He was the soul of integrity and always had consideration for his fellow man.  No mind was more fair or just and was distinctly a safe, patriotic gentleman and a model in every relation of life – at home, in business and in church.
Mr. Woodard was united in wedlock with Mary Spaulding, October 7, 1855.  She preceded him in death December 31, 1900.  He is survived by four sons and one daughter, F. E. Woodard of this city, D. M. Woodard of Los Angeles, Cal., W. H. Woodard of this city, M. C. Woodard of Portland, Ore., Mrs. W. L. Cheney of Milwaukee.  There are ten grandchildren.
The funeral will be held on Wednesday afternoon.  Services will be held at the home at 2:30 o'clock.  In the absence of the Rev. Earl W. Foster, Dr. Henry Faville of Lake Mills will officiate.  Burial will be in Oak Hill cemetery. Friends are asked to omit flowers.
2009
05 15       Mary Woodard Lasker Stamp Ceremony
Ceremony will be held on the front lawn of the Marshall Woodard home on N. Washington St where Mary Lasker was born and grew up.
____________________________________________________________________
Woodard Home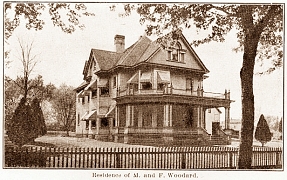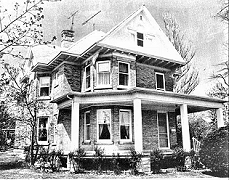 Early in his Watertown business career he built a large Watertown brick home at 400 North Washington Street (listed in directories of the late 60's as being at West Washington and the SW county line).
Many of the beautiful old homes in Watertown have fine woodwork and this is particularly evident in the Woodard home, now owned by Mrs. Robert E. Wills. Mrs. Wills tells of the different woods used in rooms of the home, one bedroom has birds-eye maple, another cherry wood, hardwood maple floors are throughout the home, and the large foyer is paneled in quarter sawn oak for a particularly fine grain. There are fitted shelves in the closets and cedar closets in the house. There are five stairways in the home, two up from the basement, two to the second floor, and one to the attic. Many of the bedrooms originally were fitted with marble sinks.
The Wills family retained the beautiful hardware used - brass and copper doorknobs and plate are on the doors in the home.
Mr. and Mrs. Wills bought the home in 1959.  Previous owners were the John Jayes and the Herbert Langes.  In 2007 Jonathan and Melissa Lampe became owners.
Built in 1894 for Marshall and Mary Woodard, this landmark residence retains many original elements from the time of its construction including high ceilings, brass hardware, stained glass windows, hardwood floors and an elaborate golden oak staircase.  The home also retains its original butler's pantry with a pass-through window to the dining area as well as two large built-in glass china cabinets.  Since purchasing the home in 2007, the Lampe's have installed several period light fixtures, refinished woodwork and have decorated the home to reflect its late Victorian style.
Much has been written about the life of Marshall Woodard and his family.  He was born in New Hampshire in 1830 and came west to seek his fortune arriving in Oak Grove, Dodge County, in 1855. In 1864 he moved to Watertown and began a cracker and confectionery business on North Water Street with his brothers George and Stephen.  In 1871, Jesse Stone (who later served as Wisconsin lieutenant governor) joined Woodard Bros. as a partner thus resulting in the firm's name change to Woodard & Stone.  Woodard & Stone became so successful that it caught the eye of the National Biscuit Company, to which it was later sold.
In addition to his business pursuits, Marshall Woodard served as a Watertown school commissioner and a city alderman and was both a director and vice president of the Bank of Watertown.
Marshall Woodard married Mary Spaulding of Maine in 1855 and together they had five children — Frank, Dura, Lottie, William and Myron.  Mary died at home on Dec. 31, 1900.  Upon her death, Frank, his wife, Sara, and their two daughters, Mary and Alice went on to live with Marshall in the family home until the late 1920s.  Marshall Woodard died at age 94 following a brief illness on Sept. 2, 1924.
Carriage House
The barn or carriage house is still on the property.  Woodard family carriages were kept there and handsome horses in the stable part, these carriages and horses were frequently on call for Watertown's big parades in those years.
1894      BY FAR THE FINEST HOUSE IN THE CITY
10 12       M. J. Woodard and family have moved into their new brick residence on North Washington Street. It is by far the finest house in the city.  The exterior presents a fine and imposing appearance, and the interior is a model of convenience and beauty.  All of the rooms are finished in hardwood; walnut, oak, birds-eye maple and yellow pine.  It is heated by hot water, and has every modern improvement.  The reception hall, parlors, dining room and library are so nicely arranged and fitted out that every good housekeeper cannot help growing envious on seeing them.  We know of no family that are more deserving of a beautiful home than they, and with their many friends we wish them long life and happiness in it.   WG
12 05       The new residence of Marshall J. Woodard, on North Washington Street, was the scene of a notable reunion on Thanksgiving Day, when were gathered together by bonds of consanguinity and marriage relatives to the number of twenty odd.  The families of the host and his brother, S. F. Woodard, of this city, participated, while from out of town the following were present:   Mr. and Mrs. G .S. Woodard and daughter, Mrs. C. H. Ferry and D. J. Woodard, of Appleton; the latter's son, H. B. Woodard, and Dr. and Mrs. C. J. Fellows of Chicago.  WR
2012 photo

Cross References:
1910c, Woodard Home, 400 N Washington
Marshall Woodward home, 400 N Washington
2005, WHS_005_234, 400 N Washington
2007, Birdseye, 400 N Washington
<![if !vml]>

<![endif]>
History of Watertown, Wisconsin