website  watertownhistory.org
     ebook  History of Watertown, Wisconsin
Woodard Lasker was a leading advocate of medical research for major diseases including cancer, heart disease and AIDS.  She, along with her husband, the late Albert Lasker, founded the Albert and Mary Lasker Foundation which in turn established the Albert Lasker Medical Research Awards, one of the most prestigious in the field of science.
Throughout her life, Mary Lasker fought to encourage funding for medical research for cancer, heart disease, stroke, mental illness, blindness, cerebral palsy, arthritis, osteoporosis, growth disorders, and AIDS.  She served on numerous public health advisory boards. Especially passionate about the fight against cancer, she led the reorganization and growth of the American Cancer Society and established its research program; advocated more aggressive applied cancer research, including chemotherapy; and became the driving force behind the National Cancer Act, which launched the national "war on cancer" in 1971.  As a result of her work, she became one of the most influential laywoman in medical research in the 20th century.
____________________________________________________________________________________
1900
-- --              MARY WOODARD BIO
Mary Woodard was born in Watertown on Nov. 30, 1900, daughter of Frank Elwin and Sara Johnson Woodard.  Her father was a prominent Watertown resident and served as president of the former Bank of Watertown, now known as M&I Bank of Watertown.  Her mother was a civic leader whose activism instilled in Mary a lifelong interest in urban beautification.  The family home stands today at 400 N. Washington St., Watertown.
Mary Woodard attended the University of Wisconsin at Madison and graduated cum laude in 1923 from Radcliffe College.  She then studied briefly at Oxford, settling in New York City, where she worked as an art dealer and began to build an impressive art collection of her own.  During the Great Depression, she also launched a successful dress pattern company.
In 1940, Mary Woodard married advertising mogul Albert Davis Lasker who led the world renowned firm of Lord & Thomas.  Committed to promoting his wife's passion for medical research, Albert Lasker sold the advertising firm, and in 1942 the Laskers created the Albert and Mary Lasker Foundation to advance medical research into the major causes of disability and death.  Skillfully coordinating the support of the media, medical experts, U.S. presidents, Congress, and other funders, Mary Lasker built a powerful lobby for medical research, especially directed at the expansion of the National Institutes of Health to include research centers concentrating on specific diseases. 
1942
-- --              LASKER FOUNDATION FOUNDED
The New York City-based Lasker Foundation was founded by Woodard Lasker and her husband in 1942 to increase widespread support for research by creating awareness of the public benefits of medical science.  The annual Lasker Awards are the centerpiece of the foundation's activities.  More than 300 Lasker Awards have been presented since the program's inception in 1945.  Seventy-six Lasker laureates have later received the Nobel Prize, including 28 in the last two decades.  The foundation is widely credited with inspiring U.S. presidents and Congress to greatly expand federal funding for medical research, particularly through the National Institutes of Health.
1944
06 19          SECRETARY, NATIONAL COMMITTEE FOR MENTAL HYGIENE
<![if !vml]>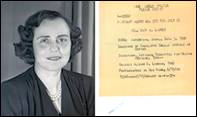 <![endif]>  
1957
01 20          ADLAI STEVENSON RUMOR
Washington and New York circles were buzzing today with reports that Adlai Stevenson, twice Democratic candidate for the Presidency, and former governor of Illinois, and Mrs. Mary Woodard Lasker are to be married in the spring.  Rumors to that effect have been heard for some time, but yesterday the Washington columnist, Drew Pearson, in a report from Washington brought the rumor into the open.  Mrs. Lasker is the former Mary Woodard of Watertown, daughter of the late Mr. and Mrs. Frank E. Woodard [son of Marshall Woodard].  Her father was for many years president of the Bank of Watertown.  The Woodard family home was at 400 North Washington Street.  Mrs. Lasker is the widow of A. D. Lasker, a leading advertising agency executive and patron of the arts and philanthropist.  She resides in New York.    WDT
1962
05 03          PRESIDENT'S COMMITTEE ON EMPLOYMENT OF THE HANDICAPPED
WASHINGTON - Mrs. Albert D. Lasker, a native of Watertown, Wis., where she was born Mary Woodard, was named Tuesday to receive the distinguished service award of the president's committee on employment of the handicapped.  Mrs. Lasker, who now lives in New York, was described by the committee as one of the world's leaders in the battle to eradicate disease and disability, and one of the nation's most active champions of rehabilitation and employment of the handicapped.    WDT
1965
04 08          SPIRIT OF ACHIEVEMENT AWARD
A former Watertown woman, Mrs. Mary Woodard Lasker, is one of three women who will receive Spirit of Achievement Awards on April 13 at the Waldorf-Astoria Hotel in New York.  Mrs. Lasker, widow of Albert D. Lasker and a member of Mrs. Lyndon B. Johnson's Committee for a More Beautiful Capital, recently donated 10,300 azalea plants to the city of Washington.  The plantings will border Pennsylvania Avenue from the foot of Capital Hill to within a block of the White House.  Mrs. Lasker pioneered New York City's Salute to Seasons, a project for the beautification, through flowers, trees and lighting, of that metropolis.  Her broad range of interests and activities all lead toward the goal of human betterment.   WDT
1966
07 27          APPOINTED TO NATIONAL ADVISORY COUNCIL
Mrs. Mary Woodard Lasker of New York, a native of Watertown, president of the Albert and Mary Lasker Foundation, has been appointed to a four-year term on the national advisory council of the National Institute of General Medical Sciences.  As a member of the council. Mrs. Lasker will review and make recommendations on the award of research grants, fellowships and research training grants supported by the National Institute of General Medical Sciences, one of the nine Nation-Institutes of Health.  This institute supports research in the sciences basic to medicine and biology and in certain clinical areas not within the responsibility of the other institutes.   WDT
1969      PRESIDENTIAL MEDAL OF FREEDOM
In 1969, President Lyndon Johnson awarded Mary Lasker the Presidential Medal of Freedom, the nation's highest civilian honor. In 1987 the U.S. Senate and House of Representatives authorized President George Bush to strike a special gold medal in her honor "in recognition of her humanitarian contributions in the areas of medical research and education, urban beautification and the fine arts.
She was the recipient of numerous honors and recognition, including the Radcliffe Achievement Award, the college's highest honor.  In 1987 she received an honorary doctor of humanities degree from Harvard University, and in 1989 the Harvard School of Public Health established the Mary Woodard Lasker professorship of health sciences.
She was recipient of more than 60 awards and medals including the Albert Schweitzer Gold Medal for Humanitarian Philanthropy from Johns Hopkins University in 1992.
1980s    PINK TULIP NAMED FOR MARY WOODARD LASKER
In addition to her advocacy of health care research and funding, she is remembered as a prominent patron of urban beautification.  She supported projects in New York and Washington, D.C., that included planting hundreds of thousands of trees and flowers, many of which she personally donated.  As a tribute to Mary Lasker's work, a pink tulip was named for her during the 1980s.
1988
04 26       SPECIAL GOLD MEDAL AWARDED
Mrs. Albert Lasker, a native of Watertown, and one of the greatest private benefactors in this country, has been awarded a special Gold Medal by the United States Congress for her humanitarian contributions in the areas of medical research and education, urban beautification and the fine arts.  Although the former Mary Woodard left Watertown many years ago for New York City, she is still well remembered by longtime residents of this city.  Her work and financial contributions to humanity are so great that Congress was moved to give her this high honor.  Mrs. Lasker has also received numerous other honors in the past, and in 1969 she was presented with the Medal of Freedom, the highest civilian honor bestowed by the United States government. She was presented with that award by then President Richard Nixon.
2009
Mary Woodard Lasker Stamp
<![if !vml]>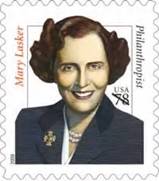 <![endif]>
2009
02 25          The late Mary Woodard Lasker, a Watertown native and a philanthropist in the field of medical research, will be immortalized on a U.S. postage stamp.
The United States Postal Service announced that it will release a Mary Lasker stamp on May 14 as part of its "Distinguished Americans" series.  Created by Mark Summers, the stamp artwork is based on an undated, black and white photograph.  Summers is noted for his scratchboard technique, a style distinguished by a dense network of lines etched with exquisite precision.
Release of the stamp coincides with a renewed federal commitment to biomedical research, including additional funding for the National Institutes of Health, which Mary Lasker helped build.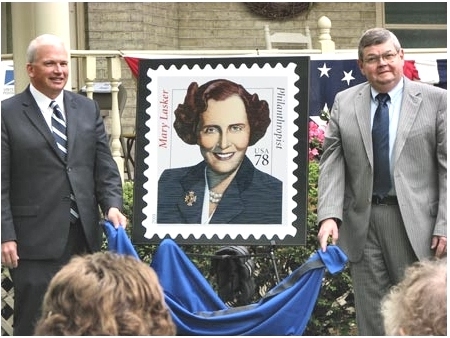 State Senator Scott Fitzgerald, 13th Senate District and Watertown Mayor Ron Krueger
05 15          MARY WOODARD LASKER STAMP CEREMONY
Friday, May 15, 2009.  Watertown, Wis.
"First-day" ceremonies are popular events with stamp collectors.  At the typical ceremony, the subject of the new stamp is discussed by speakers familiar with the person, place or event; dignitaries speak briefly; the stamp design is revealed; and those attending the event have an opportunity to obtain a first-day cancel.  For this stamp, the U.S. Postal Service plans a nationwide release of the new 78c stamp without an official first-day ceremony.  That gives us a chance to hold an unofficial ceremony in Mary Woodard Lasker's hometown, Watertown, Wis.
Coincidentally, the day of release is the day before "Planting Day" in Watertown, when resident volunteers help beautify the city with plantings in downtown planters.  Mary Lasker, besides the philanthropic work for which she is being honored, supported urban beautification on a grand scale in New York City and Washington, D.C.
The Wisconsin Federation of Stamp Clubs is a confederation of 30 clubs representing hundreds of stamp collectors across the state of Wisconsin.
With the cooperation and support of Watertown residents, we are planning a mid-morning ceremony that will draw attention to the city and its attractions, help mobilize cooperation in the volunteer planting effort, generate pride in the city's history, and create awareness of the hobby of stamp collecting.  Among the speakers will be William Jannke, Randy Roeseler, and the local post master.  The ceremony will be held on the front lawn of the Marshall Woodard home on N. Washington Street where Mary Lasker was born and grew up.  In the event of inclement weather the meeting will take place at the new city storage building on S. Second Street.
The WFSC will prepare a "cacheted cover" (illustrated envelope) appropriate to the Lasker stamp and design a pictorial cancel for use by the USPS.  The WFSC also will arrange for displays of other Wisconsin-related stamps (including the one for Carl Schurz, another former resident of Watertown), promotional material for the city and nearby stamp clubs, stamp-collecting kits for youth, and other material.  Watch the Watertown Daily Times for more information as it becomes available.
05 20          Editor, Daily Times:
On Friday the city played host to a U.S. Postal event honoring the late Mary Woodard Lasker, a Watertown native born in 1900.  The event was coordinated by local postal officials, along with the Main Street Program and the Watertown Area Chamber of Commerce.
We wish to acknowledge the following groups or persons who helped to make the event a success.  Often, their help is behind the scenes and is not noticed by the general public.
Thank you to the local park and rec department (Jon Steber, Jeff Doyle) for delivering benches, to the street department (Rick Schultz) for preparing a backup site in case of inclement weather, to Pederson Funeral Homes for use of chairs, to Glenn's Market and Catering for use of tables.
Thank you to Craft Castle (Leah Reese), ISB Community Bank, Hafemeister Funeral Home (Rich Nienow) and the Main Street Program (Palmer Draeger) for use of canopies, and to Palmer Draeger for delivering floral arrangements to help brighten the grounds.  Thank you to Jim Huhn of Best Sound Service for the discounted lease of a sound system.
Thank you to the Jonathon and Melissa Lampe family for hosting the event on the grounds of their home, the former residence of the Woodard family.  The setting lent itself very well to the occasion.  Thank you to Jean Kwapil for the gift of several dozen pink tulip shaped cookies for the reception.  Thank you to Maurice Wozniak of the Federation of Wisconsin Stamp Collectors for presenting a wonderful display of stamp collecting.
We also would like to thank participants in the event.  Thank you to Mayor Krueger, Bill Jannke and Maurice Wozniak for their presentations which helped to enrich the ceremony.
Special thanks to the honor guard supplied from the Pitterle-Beaudoin Post 189 of Watertown.  Their elegant, crisp presentation of the colors helped to get the event off to a terrific start.  We appreciated their willingness to break away from other duties to help us with this event.
Watertown has had two stamps created in honor of former citizens.  It is rare for a community to have even one stamp created — much less two. It is a unique experience for everyone involved.  The last commemorative stamp ceremony in Watertown was in 1983.  We certainly hope that if the situation avails itself again in the future, the people of Watertown will rise to the occasion and celebrate the honor.
Jeff Hoffman,
    Watertown postmaster
Susan Dascenzo, manager,
    Watertown Main Street Program
Randy Roeseler,
    executive director, Watertown Area Chamber of Commerce
Cross References:
Alice Woodard, sister of Mary
Columbia University reference set
Lasker is the second person from Watertown to be honored with a postage stamp.  On June 3, 1983, a stamp honoring Carl Schurz was released.
Contribution received:  "Mary Woodard was born in Watertown, Wisconsin, in 1900" (p. 108).  The Emperor of All Maladies: A Biography of Cancer, by Siddhartha Mukherjee.  Mukherjee's book won the Pulitzer Prize for General Nonfiction in 2011 (http://www.pulitzer.org/winners/siddhartha-mukherjee ). 
As it turns out, Woodard Lasker is a central figure in The Emperor, as noted early in the book.  On pages xvii-xviii it is noted:
"Two characters stand at the epicenter of this story . . . The first is Sidney Farber, the father of modern chemotherapy, who accidentally discovers a powerful anti-cancer chemical in a vitamin analogue and begins to dream of a universal cure for cancer.  The second is Mary Lasker, the Manhattan socialite of legendary social and political energy, who joins Farber in his decades-long journey."

History of Watertown, Wisconsin