This file portion of www.watertownhistory.org website
Tremont House
201 W Main
   Howard House, 1857 and earlier
      Lindon House, 1866 or earlier
         Tremont House, 1895, fire
1857      Howard House, 1857 and earlier
<![if !vml]>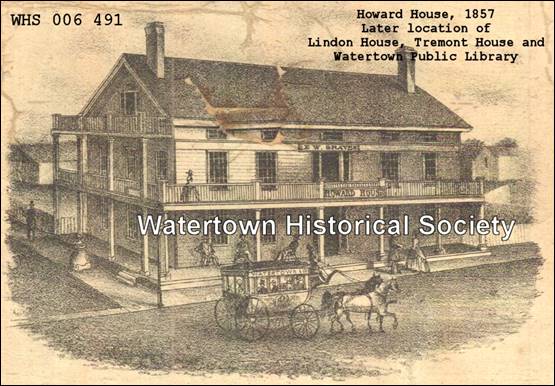 <![endif]>
1858
12 02       Lindon House, Joseph Lindon.  Known as the Mannegold or Old Lindon House property, at the corner of West Main and Water streets, became site for Carnegie library. 
Beef and Pork Packing establishment of Joseph Lindon.   WD
1859
01 27       Beef and Pork Packing establishment of Joseph Lindon   WD
c.1870   DISTANT VIEW OF
<![if !vml]>

<![endif]>  
1873
09 04          The Lindon House.--Sometime this week we understand, Mr. Joseph Lindon will withdraw from the management of the Lindon House, and be succeeded by Mr. A. C. Beaurup who was formerly its landlord, and won an enviable reputation for courtesy and liberality, and the success with which he promoted the convenience and comfort of his guests.  With his enterprise and civility, he will maintain the popularity and character of this hotel, and render, it as heretofore, a pleasant and favorite place of resort with the traveling public.    WD
1881

Tremont House Construction
               Tremont House, 1881, Snow storm of
1883      First Seager Barber Shop opened in the Tremont House.
1885
<![if !vml]>

<![endif]>  
1895
05 08          TREMONT A NUISANCE AND A MENACE
A petition was presented to the common council last evening setting forth that the Tremont house on the west side is a nuisance and a menace to adjacent property, and praying for its removal or that some means be taken to render it more safe.  The petition was referred to the Judiciary committee.   WR
09 11          FIRE AT THE TREMONT
At about 5:30 o'clock Sunday morning a fire was discovered in the south wing of the old Tremont house, on West Main Street, and the department was called out to extinguish it.  While work on the original fire was in progress, another blaze started in the main portion of the building, on one of the upper stories, which also commanded the attention of the firemen.  After some two hours' work both blazes were completely subdued.  All signs and circumstances connected with the fire strongly point to "incendiarism".  It is even said that different parties saw the blazes kindled and fed.  The building, as is well known, is unoccupied except by tramps and vandals, and it is supposed someone was quite anxious to see the rookery go up in smoke.  Since it occurred, the fire has been the subject of considerable comment, and no one doubts that it was of incendiary origin.  Acting on this opinion the owner of the building, Mrs. H. Mannegold, had dodgers distributed about the city Monday morning announcing a reward of $200 to, any one furnishing information that would lead to the arrest and conviction of the guilty party.
10 09          TREMONT HOUSE BEING DEMOLISHED
The Tremont house, which through its unsafe condition has been useless and vacant for several years, is being torn down.  Adolph Jaeger has the contract.  The lumber, doors, blinds and other salvage will be disposed of to the best advantage, and thus something saved from the wreck.  The disappearance of this old landmark will leave a handsome site for a substantial business block that would greatly improve the west side.   WR
1912
12 12          H. H. REINKE
Word has been received here of the death of H. H. Reinke at his home in Wittenberg, aged 72 years.  Mr. Reinke for several years conducted the Tremont house in Watertown and was a popular landlord.  WDT
1917
Tremont House, Watertown library citation
Cross References:
Tremont House  Center, former Lindon Hotel, now Watertown Library
Tremont House  Image
Tremont House  Image
Tremont House  Image