website  watertownhistory.org
    ebook  History of Watertown, Wisconsin
Dr. A. F. Solliday
Son of Colonel Albert A. Solliday
1898
06 29          ORDERED TO LEAVE FOR CUBA
Our townsmen, Lieutenant Col. A. Solliday and Assistant Surgeon F. C. Moulding, will soon be experiencing the grim fortunes of war on Cuban soil.  Their regiment — the Second Wisconsin Volunteers —- is included in the order issued Sunday by Major-General Brooke for an expeditionary force of fifteen regiments to prepare immediately to leave Chickamauga Park, Ga. for Santiago de Cuba, via Tampa.  This force is composed of the First division of the First Army corps and two other brigades of the same corps.  It is expected the troops will leave for Tampa today.  Lieutenant-Colonel Soiliday is at present in command of, the regiment.   WR
1899
HARVEST CARNIVAL
<![if !vml]>

<![endif]>  
The floral entry for Dr. Albert Solliday and his family.  image is taken on S. Church Street, in front of the Solliday home.
1905
08 15       Laying of cornerstone of the new Masonic Temple, A. F. Solliday acting as grand marshal.
1909
02 12       Dr. A. F. SOLLIDAY RETURNS TO WATERTOWN
Dr. A. F. Solliday has disposed of his automobile business in Milwaukee and will remove to this city with his family about the first of March and occupy the old Solliday homestead on Church Street.  He will again enter the practice of dentistry here.  All their old friends and neighbors will give the Doctor and his family a hearty reception.  WG
Cross reference:  Buy Solliday Motor Company.  The Solliday Motor Company has been sold . . . The company name will be changed to the Stephenson Motor company. [Milwaukee Sentinel, Feb. 9]
03 26          Dr. Albert Voss disposed of interest in Solliday & Voss to Dr. Solliday  WG
1914
<![if !vml]>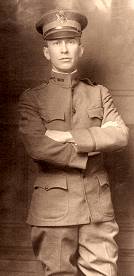 <![endif]>
click to enlarge
Dr. A. F. Solliday, Capt. Co. E, World War I, WWI began on 28 July 1914; ended 11 November 1918.
1919
Watertown American Legion began in 1919 with Dr. A. F. Soliday as first commander
1958
05 12       Dr. A. F. Solliday, 86, of 114 South Church Street, died late Saturday afternoon in St. Mary's Hospital after an illness of three weeks.  In recent years, however, failing health had greatly curtailed his activities and he had been at the hospital at various times.  Dr. Solliday was born in Watertown on Oct. 23, 1871, a son of the late Albert Solliday and the former Elizabeth Van Ness.  He was married to Miss Emma Habhegger, member of another old and widely known Watertown family, on June 23, 1897, the marriage being solemnized in St. Paul's Episcopal Church.  Mrs. Solliday died in 1947.  Dr. Solliday was educated in Lincoln School, St. John's Military Academy at Delafield, the Shattuck Military Academy in Faribault, Minn., and Northwestern University Dental College in Illinois.  He practiced dentistry here until 1931.  Later he became president of the Wisconsin National Bank, retiring from the bank some five years ago, having served as chairman of the board.   WL
1966
05 20       The Watertown Historical Society announced that a special feature exhibit has been arranged at the Octagon House dealing with World War I and that it will be on display there for an indefinite time.  The World War I exhibit contains many items from that period, including articles that belonged to the late Capt. A. F. Solliday who was in command of Watertown's Company E which was made up of Watertown men and served actively in the war, including the French sector.  There also are items from Ben Schmutzler and seeing this exhibit will recall fond memories for many older people and give younger people an insight into the World War I period.    WL
Cross Reference:
  <![if !vml]>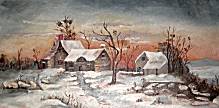 <![endif]>  Emma Habhegger Solliday painting,  Watertown Historical Society Collection  

History of Watertown, Wisconsin