website  watertownhistory.org
    ebook  History of Watertown, Wisconsin
Nowack Funeral Home (1873)
Pederson Funeral Home (1951)
Pederson-Nowatka Funeral Home (2001)
200 North Fourth Street
213 South Fifth Street
c.1911
CARL F. NOWACK / FURNITURE STORE AND FUNERAL HOME
<![if !vml]>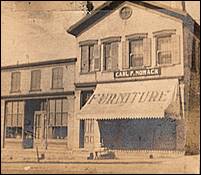 <![endif]>         <![if !vml]>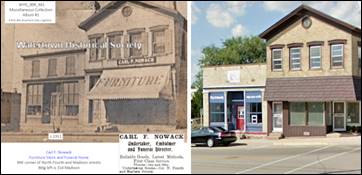 <![endif]>
NW corner of North Fourth and Madison streets
1929
09 16       HOME MOVED SO TO CONSTRUCT FUNERAL HOME
The house on the old Bieber property in Fifth Street is being moved from that location to Rockwell Street where it will be set up by Otto Paradies who purchased it from Carl F. Nowack who will use the site in Fifth Street for a modern funeral home.     WDem
-- --           NOWACK FUNERAL HOME CONSTRUCTED
<![if !vml]>

<![endif]>       213 S. Fifth St.
1932
08 13       FRANK W. NOWACK, 80th BIRTHDAY
<![if !vml]>

<![endif]>       1932:  Frank W. Nowack Celebrates First Birthday at 80.
Frank W. Nowack, for many years associated in the furniture and undertaking business here, look time off yesterday to celebrate his 80th birthday.  It was the first birthday in his long and busy life that Mr. Nowack set aside for a celebration.  He resides with Mrs. Nowack at 1137 Main Street.
Last night a number of friends and relatives gathered at the home for a surprise party and Mr. Nowack, despite his advanced age, was the leading spirit at the occasion.
He was born in Bernstein, Brandenburg, Germany, and came to this country when he was 18 years of age.  He settled in Watertown and took advantage of the evening school facilities here to secure his early education.   He worked in the shops of the Heinrich Chair and Bed factory, now extinct, and in harvest fields in this locality to earn his first money. 
ln 1873 he entered into the furniture and undertaking business with his brother, the late Carl Nowack, father of Carl F. Nowack under whose name the undertaking establishment is still carried on.  They bought out Heinrich & Jungmann.  The first business place was on the top floor of the building at Main and Third streets, later the site of the William F. Brandt & Son Co. store. 
Some time later they moved their store to Main and Fourth streets.  In 1875 they were joined by Edward Schmulzler and the business went under the name of Nowack & Schmulzler Co.  This continued until 1910.  In 1908 Carl Nowack died and his son, Carl F. Nowack took over the business in 1916 when Frank W. Nowack retired from actual association.  In all the years since then, however, he has assisted in the business quite actively. 
In 1931 Carl F. sold out the furniture interests and since then the establishment has been engaged in funeral work exclusively.  A handsome new funeral home was erected the past year
Among those present, at the celebration last night were Messers and Mesdames Herman T. Nowack, Carl F. Nowack, Herman Schmidt, Henry Krueger, Hilmer Krueger, Henry Hilbert, Mrs. T. B. Rau and Lewis Daugs.
Mr. and Mrs. Nowack are the parents of four children, Herman T. Nowack, former grocer, of this city, Mrs. Ida Zimdars of Milwaukee. Mrs. Ernest Mueller of La Crosse and Frank Nowack at present-at Wisconsin Dells.  There are two grandsons.  Mrs. Nowack was formerly Augusta Michaeles.
Members of the family are planning a reunion In September, when all the children will be present.
Members of the party last night tendered Mr. Nowack with a large basket of flowers.      WDT
1940       NOWACK FUNERAL HOME
                <![if !vml]>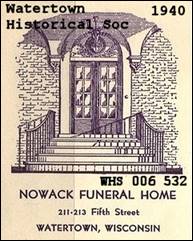 <![endif]>
1951
PEDERSON FUNERAL HOME
The funeral home remained in the Nowack family until 1951, when D.D. Pederson purchased the business from Carl F. Nowack.  David W. Pederson joined his father in business in 1973 and later purchased the business in 1978.  In 1983 David purchased the Jones Funeral Home Waterloo from Myron Jones.  In 2001 Ryan J. Nowatka joined David in business and later became co-owner in 2006.  In June 2011 Ryan purchased the remaining interest of the business from David.  The business is operated out of the building which was Watertown's first funeral home, built as a full service funeral home in 1930.
1954
<![if !vml]>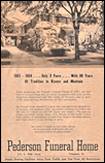 <![endif]>  
1983
02 07       EXPANSION TO WATERLOO
Dave Pederson of the Pederson Funeral Home in Watertown announces expanded services to families in Waterloo effective immediately.  Pederson has purchased the Jones Funeral Home in Waterloo and plans to refurbish the facility.  An open house at the Pederson Funeral Home, Waterloo, will be announced after remodeling is completed, but Pederson stresses the Pederson Funeral Home is ready to extend all its services to Waterloo families. Services through the firm include traditional funerals, irrevocable funeral trusts, prearrangement counseling, cremation, non-emergency medical transfer and home care supplies including hospital beds and other equipment.
09 02       DAVID W. PEDERSON, 1946- 2022
David W. Pederson (William), 76, of Watertown, WI. died on Friday, September 2, 2022, at the Watertown Regional Medical Center.
He was born on June 17, 1946, in Duluth, Minn. son of Delwyn and Geraldine (Stoltz) Pederson.  His family moved to Watertown, WI. in 1951 when his father purchased the former Nowack Funeral Home.
Dave had attended elementary and High School in Watertown graduating with the class of 1964.  He attended Univ. of Wisconsin Whitewater and graduated from Wisconsin Institute of Mortuary Science 1970.  He served in the U.S. Army 1967-69 serving one year in Vietnam (1968).  He returned to Watertown in 1973 and was employed by his father at the Pederson Funeral Home Watertown for five years.  He purchased the Pederson Funeral Home-Watertown from his parents in 1978, then in January of 1983 he purchased the former Jones Funeral Home-Waterloo, WI.  He also operated the Pederson Medical Transfer Service for many years.
Mr. Pederson was a member of Good Shepherd Lutheran Church where he had served as Vice President twice, Elder, Head usher, building committee, and was involved in several other committees.  He was a long-time member of the Watertown Rotary Club serving as President in 1995-96, also was membership chairman, and had been on the board of Directors.
He was a Member of the Watertown Memorial Hospital Board of Directors from 1990-1999, where he was Board Chairman for 3 years. Also, serving on the Executive committee, and was chairman of the planning committee. He is a member of the Watertown Area Community Foundation Board of Directors. He was a member of the first Board of Directors of the Rainbow Hospice. Was a member of the Watertown Area Chamber of Commerce and was an Ambassador of the Chamber for many yrs.
He was a member of the Watertown County Club, Watertown Historical Society, Watertown AgriBusiness Club-Vice President and scholarship Committee Chairman. Wethonkitha Club, Program chairman for the club. Watertown American Legion Post # 189, Watertown V.F.W. Post # 3709 and served as Quartermaster, Watertown Amvets Post # 35, Vietnam Vets of America, Chapter # 409, Ducks Unlimited-Waterloo Chapter, Waterloo Chamber of Commerce, The Maxwell Street Marching and Frogleg Society, Inc.
Past President of the South-Central Funeral Directors Assoc.  Member of the Wisconsin and National Funeral Director's Assoc. the Federated Funeral Directors of America, and the International Order of the Golden Rule (Funeral Home Assoc.)  Dave was one of the first Funeral Directors in the State of Wisconsin to be certified to do eye enucleation.
Was a member of the Watertown Fire Dept. Auxiliary for a number of years.  Was a member of the Board of Directors of The Watertown Family Aid for many years.
David is survived by his wife Bernice (Thiele) Pederson, son Jason Pederson, daughter Traci (Mark) Toms, 6 grandchildren: Jacob, Myah, Justin, Callie, Kayla and Finley. Sister Leigh (Jeff) Otto. 3 stepchildren: Clay Thiele, Jenifer (Andy) Wallman, and Kate (Tony) Trapp, and 3 step granddaughters: Madeline, Lucy, and Lilly.  He is also survived by a number of nieces, nephews, other relatives, and friends.  
He is preceded in death by his parents and brother Douglas.
A funeral service will be held at 11:00am on Friday, September 9, 2022, at Good Shepherd Lutheran Church with Rev. David Groth presiding.  Visitation will take place from 5:00pm until 7:00pm on Thursday, September 8, 2022, at the Pederson-Nowatka Funeral Home in Watertown, and at the church on Friday from 10:00am until the time of service.  Burial will follow the service at Oak Hill Cemetery in Watertown.
Pederson-Nowatka Funeral Home is caring for the family.

History of Watertown, Wisconsin