website  watertownhistory.org
    ebook  History of Watertown, Wisconsin
William F. Brandt & Son
301-303 E Main
c.1873
-- --           NOTE REGARDING THIS ADDRESS
ln 1873 Frank W. Nowack entered into the furniture and undertaking business with his brother, the late Carl Nowack, father of Carl F. Nowack.  They bought out Heinrich & Jungmann.  The first business place was on the top floor of the building at Main and Third streets, later the site of the William F. Brandt & Son Co. store.  Some time later they moved their store to Main and Fourth streets
1887
WILLIAM F. BRANDT STORE, street scene
<![if !vml]>

<![endif]>  
1901
07 12       HORSE PLUNGES THROUGH STORE WINDOW
Last week Wednesday evening while the Misses Sheehy and another young lady were driving a horse on North Third Street the animal became frightened and two of the young ladies jumped from the buggy attached, the other hung on to the lines as the horse darted madly down the street to the corner of Main Street, where he plunged through the large plate glass window in the store of Wm. F. Brandt & Son, smashing it into small pieces; he then turned and ran east on Main Street as far as Emil Seibel's store, and there he came to a sudden halt.  The young lady retained presence of mind all the while, and got out of the buggy, none the worst for her exciting experience.  The horse was very badly injured.  He was the property of B. Hildeman, West Road.  Where the horse plunged through the window a bicycle stood on the sidewalk to his left, which was also made a wreck of and on his right was a lady with a baby in a baby carriage.  Both escaped unhurt.  Miss Sheehy's escape from serious if not fatal injuries was considered miraculous.  The damage to the window was about $250.    WG
1902
<![if !vml]>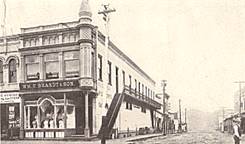 <![endif]>  
1907
Brandt, William F & Son, Dry Goods, 301-303 E Main, Children's Day (PC-069)    
1910
Brandt, William F & Son, 301-303 E Main, Inter County Fair
1912
02 01       BRANDT, MARY BERTRAM, b. 1856, d. 1912, dates for interment file
This week The Gazette is called on to announce the death of one of Watertown's most esteemed ladies and a member of Watertown's oldest and best families, in the death of Mrs. William F. Brandt [Mary Bertram], who died at her home, 111 Eighth Street, Saturday afternoon, January 27, 1912, the cause of her death being pneumonia, with which she had been ill just nine days.  Mrs. Brandt was a daughter of the late Henry Bertram, and was born in this city on January 2, 1855, and has resided here all her life.  She was one of the very best of women, and possessed a mild, sweet, charitable disposition and was ever striving to do good to others.  She was a former schoolmate of the editor of The Gazette, and during an acquaintance of nearly half a century with her, Mrs. Brandt was always of the kind, considerate, pleasing disposition that made her friends – as school girl, young lady, wife and mother.  Her loss is sincerely mourned here, and in their sadness the afflicted husband, son and daughter have the sincere sympathy of all our people.  Her husband, one son and one daughter survive her, the latter being William E. Brandt, Mrs. Arthur Thauer.  Two brothers, Fred and Henry Bertram, and one sister, Mrs. Henry Daub, also survive her.  Tuesday afternoon her funeral was held from her late home to Oak Hill Cemetery.   WG
1913
Brandt, William F & Son, 301-303 E Main, Clothing-Retail
1918
02 01       STORE IMPROVEMENTS
More Room Added to W. F. Brandt & Son Cos. Building.
Some extensive enlargements are being made in the store building of William F. Brandt & Son company.  A raised platform is being erected in the rear of the store in which to house the offices, while the room thus saved will be given over to the grocery department.  Other remodeling on the second floor will also give added space.   The Watertown News, February 01, 1918
11 29       EMPLOYEE THANKSGIVING DINNER
The employees of W. F. Brandt & Son Co. store were entertained at a Thanksgiving dinner at the home of Mr. and Mrs. James O'Brien in Oconomowoc on Thanksgiving evening.  Present were:  George Scheele, Thomas Roberts, Harry Miller, Misses Elsie Bruegger, Frieda Hinz, Ida Streich, Claudia Lehmann, Flora Hertel, Della Klingmann, Gertrude Lange.     Watertown News
1930
07 12       William Brandt attended Kading-Nelson Wedding  
1996
12 02       A new sports bar and dance club is opening with new management today.  Froggy's, located at the corner of Third and Main streets, will offer 10 big screen televisions for sports fans and an updated dance floor and sound system.  In addition to the disc jockeys, live music will be offered occasionally.  The business is being operated by three brothers, Boro, Rad and Zivko Buzdum.  John Kraus is an investor.  They have owned similar businesses in the Milwaukee area for the past 12 years, including two current businesses - Club Safari, a dance club in Sussex, and the Jail House Restaurant, a supper club in West Bend.  "Hopefully, our experience will help us here," Boro Buzdum said.  Initially, the kitchen will not be open at Froggys, Buzdum said.  It is scheduled to open on Jan. 6 and will offer appetizers, sandwiches, homemade pizzas and a Friday fish fry.

History of Watertown, Wisconsin