website  watertownhistory.org
    ebook  History of Watertown, Wisconsin
S. S. Kresge Company
207 E Main St
1944
<![if !vml]>

<![endif]>       Montgomery Ward, Kresge's and Penney's
c.1956
<![if !vml]>

<![endif]>        205-207 E Main
1957       KRESGE'S PURCHASED THE SCHEMPF/MONTGOMERY WARD BLDG.
08 07       <![if !vml]>

<![endif]>     < Artist's sketch
Enlargement and alterations to be completed in September.  The remodeled and enlarged Kresge's will be more than double its original size and will expand the merchandize assortments to include many nationally advertised items.
11 24       Modernization and expansion of the S. S. Kresge Store at 207-213 Main Street is well under way and the first section is scheduled for completion and opening on Friday, Nov. 29, it was announced by the store manager, Floyd J. Cole.  With the acquisition this past summer of the building which once housed Watertown's largest department store, the Schempf Bros. Co., and more recently was the Watertown outlet of Montgomery Ward and Co., the Kresges store here was more than doubled in size.  The newly acquired building adjoins the original Kresge store building in Main Street.  The new store covers 11,145 square feet and has a frontage of 111 feet.  Completion of the construction involved in the new store is scheduled for early next year and is being handled by the Selzer-Ornst Company of Milwaukee.   WDT
1958
02 23       Officials and staff of the S.S. Kresge Company store in Watertown made final preparations today for the grand opening of the newly enlarged store in Main Street which will be held Thursday, Friday and Saturday.  The store, which is the city's largest, completed its expansion program last autumn and has been in operation since but the grand opening was delayed until this weekend.  Announcement of the grand opening plans was made by Floyd J. Cole, manager of the store.   WDT
c.1959
<![if !vml]>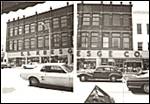 <![endif]> 
1959
03 04       A remodeling program which included new decorating, new fixtures, enlarging departments and increased office space has just been completed by the Watertown J. C. Penney Co. store.  A gain of 50 square feet of selling space was accomplished on the second floor by moving the office to vacant space in the Kresge building.  At the same time the maze of tubes centering in the cashier's office were removed and replaced with cash registers in each department.   WDT
1966
09 19       MONTGOMERY WARD CATALOG CENTER
The new Montgomery Ward catalog agency, located at No. 10 Milwaukee Street, began a three-day grand opening today and the public is invited to drop in and get acquainted with the many services it offers.  Lawrence Schwanke is the owner and manager.  The store features many grand opening specials for immediate delivery.  Mr. Schwanke said he is happy to offer this service to the public of the Watertown shopping area and invites the public to drop in and get acquainted.   WDT
KRESGE'S FIRE, 207 E Main
<![if !vml]>

<![endif]> 
08 08       NEW MANAGER
Pat Kennedy has taken up his duties here as manager of the S. S. Kresge Co. store, succeeding Leonard Sanders, presently on leave of absence.  Mr. Kennedy arrived in the city from Lincoln, Neb., when he managed a downtown store of Kresge's for one and one-half years.  He has been with Kresge for 37 years, having served as manager in Escanaba, Mich., or 15 years and in Ironwood, Mich., for two years before going to Lincoln.  WDT
1970
07 09       KRESGE EMPLOYEE HONORED
<![if !vml]>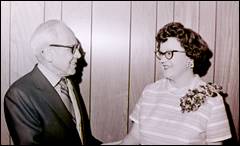 <![endif]>  
Miss Fern Weber, who has been an employee of the S. S. Kresge Company in Watertown for the past 21 years, was honored at a dinner held at the Legion Green Bowl.  Congratulations from the store manager, Patrick Kennedy.
07 29       MAXWELL STREET DAY
<![if !vml]>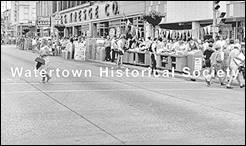 <![endif]>  
c.1970s
<![if !vml]>

<![endif]>        < Upper floors of Kresge's.  Part of an architectural display.
c.1975
<![if !vml]>

<![endif]>   
c.1982
<![if !vml]>

<![endif]>  
1983
04 16       KRESGE'S TO CLOSE
The S. S. Kresge store, 207 Main Street, a part of the downtown business community in Watertown for many years, will close on July 2.  Susan McKelvey, a member of the corporate staff of K-Mart Corporation, owner of the Kresge stores, said the decision to close the store was based on economic factors and not because of the Watertown community.  She said the store has suffered losses in recent years, and the decision to close the facility follows a corporate policy of discontinuing operations of those which are not profitable.  Many Kresge stores in the country have been closed as K-Mart Corporation continues to place more emphasis on its K-Mart and mini K-Mart stores.  Employees were told of the decision to close earlier this week, and corporate officials said every effort will be made to relocate employees in K-Mart stores in surrounding communities.   WDT
Cross Reference Note:  In 1977, nearly 95 percent of S. S. Kresge Company sales were generated by Kmart stores.  To reflect this dramatic impact, the company officially changed its name to Kmart Corporation.  Ten years later, Kmart sold the remaining Kresge stores to fully concentrate on discount merchandising.
1983
06 21       KLINE'S MOVE INTO FORMER KRESGE'S
Kline's, which has operated a store in downtown Watertown for 29 years, will move into the building now occupied by the S. S. Kresge variety store in early fall, manager Ralph J. Adams announced today.  A major renovation project, including a new front and completely redone interior, is planned.  Kline's takes possession of the building at 207 East Main Street July 5 and will continue at its current location until the renovation is complete.   WDT
1984
05 05       KLINE'S MOVE INTO FORMER KRESGE'S
Grand opening of Kline's, former Kresge and J C Penney store locations   WDT
Cross references:
Lunch counters.  Ruth Sellnow, longtime Watertown resident, has written a remembrance of growing up in Watertown:  Lunch counters, were once great places, to eat in downtown Watertown.  The counter at Woolworths had club sandwiches., BLTs and a multi-layered devil's food cake with a white sea-foam frosting, that were all favorites.  The Kresege store counter survived even longer with the usual staples of lunch counter fare and coffee.  It brought people together for food and conversation.
<![if !vml]>

<![endif]>
History of Watertown, Wisconsin