website  watertownhistory.org
    ebook  History of Watertown, Wisconsin
Kline's Dept Store
301-303 E Main
207-209 E Main
Kline's Tot & Teen
210 E Main
<![if !vml]>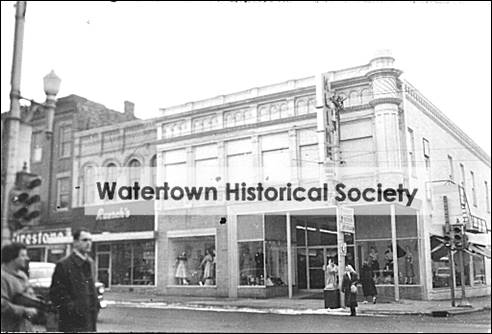 <![endif]>
c.1957, 301-303 E Main, 1950s-70s city assessor image, WHS_006_036b
1954
06 28       KLINES TO OCCUPY FORMER GAMBLES STORE
A change in the tenancy of one of Main Street's largest store buildings will take place next Thursday, July 1.  On June 30, Gambles, the present tenant, will vacate the building at 301 Main Street, to make way for the new tenant, Kline Bros, of New York City, who will open a department store at the location.  Gambles have operated a store in Watertown for at least 26 years, the last 10 of which have been in the present location.  The first store was located in the Tri-County Tobacco Company building in West Main Street.  The store also was located in Main Street in the building now occupied in Siegel's Economy Store, 113 Main Street, for many years.  Kline Bros, operates 22 department stores, mostly in the Middle West.  There also are a number of associate stores.  The Watertown store will be the first Kline store in Wisconsin.
07 05       KLINES OPENS AT 301 E. MAIN
<![if !vml]>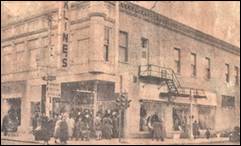 <![endif]>  
Beautiful new modern front with an attractive aluminum trim.  Interior modernized with new lighting, floor and color treatments, new stair arrangement.
1966
03 21       GRAND OPENING:  REMODELED AND GREATLY EXPANDED
Plans for the grand opening of the newly remodeled and greatly expanded Kline's Department Store, which has been operating in Watertown since 1954, were announced.  The dates are Thursday, Friday and Saturday, March 24, 25 and 26.  For the past several months there has been intense activity at the store, located at Main and South Third Streets.  The remodeling includes a new downstairs section utilizing space which formerly was a stockroom area.  The main floor has been completely revamped.  The second floor, an important area of the business, was left intact.
1967
04 12       EXPANSION TO THE EAST
Kline's Department Store, Main and South Third Streets, which celebrated a greatly expanded and remodeling business place in March of 1966, today announced its grand opening to mark another milestone in its operation here, the completion of another major expansion which has added another 3,600 square feet of floor space to its place of business, bringing the total of selling space to approximately 10,000 square feet.  Kline's has taken over the store quarters directly east of their original place of business and has completely remodeled the first and second floors.  It houses on the first floor Kline's boys and men's departments. Formerly Kline's had only a junior boys department.  The new quarters on the first floor include departments for juniors, preps and men's clothing and each offers a great variety of goods.  The second floor in the new section has been stocked with clothing for girls and infants.
1968
09 07       RALPH ADAMS, MGR.
Ralph Adams, manager of Kline's, addressed the Watertown Rotary Club at its meeting this week, held at the Legion Green Bowl.  He told the club that he was named manager of Kline's, after having been the assistant manager of the Kline store at Sterling, Ill., for three years.  He and his wife, Jennie, he said, have four children — Karen, 19; Annette, 16; Julie, 12; and Randy, 10.
1975
KLINES' TOT & TEEN
<![if !vml]>

<![endif]>       Klines' Tot & Teen, 210 E Main, WHS_005_276
1980
-- --           301-305 East Main Street
<![if !vml]>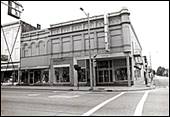 <![endif]>  
1983
06 21       Kline's, which has operated a store in downtown Watertown for 29 years, will move into the building now occupied by the S. S. Kresge variety store in early fall, manager Ralph J. Adams announced today.  A major renovation project, including a new front and completely redone interior, is planned.  Kline's takes possession of the building at 207 East Main Street July 5 and will continue at its current location until the renovation is complete.   WDT
10 25       OPEN AT 207-209 EAST MAIN
Kline's Department Store holds ribbon cutting ceremonies at 8 a.m. Thursday to officially open its new facility at 207-209 East Main Street.  Invited to the festivities are city and business officials, Downtown Development Committee members and special guest Harold Inlow, who managed Kline's in Watertown until 1968 and took over as company president in 1980.  The ribbon, made from $1 bills, will be donated to the United Way.  Ribbon cutting kicks off four days of grand opening sales at both the new store and the old facility at 301 Main Street.  In addition to discounts on a wide range of merchandise, numerous prizes will be awarded.   WDT
1984
05 05       NEW STORE ENCOMPASSES LOCATIONS OF FORMER PENNEY AND KRESGE STORES
Ralph Adams, manager of Kline's Department Store in Watertown since 1968, has retired, and is being succeeded by Norman Weirick, a member of the Kline's management team for the past 18 years. The firm also announced that on Thursday, Friday, Saturday and Sunday of this week a special grand opening sale will be held at the store, heralding completion of the remodeled and expanded store at its new location. The new store, completely remodeled and redecorated, now encompasses the entire locations of the former J C Penney Store and the S S Kresge Store. Kresge's has left the city and Penney's is now located in the ShopKo building complex.
The former Penny's store became the Men's Department on the ground floor level of Klines.
1987
12 08       EXPANSION INTO BASEMENT LEVEL
CHILDREN'S DEPARTMENT
MEN'S CLOTHING AND LADIES' SPORTSWEAR LINES
Changes are in the offing for three Watertown businesses located downtown:  Increased retail sales have led Kline's Department Store, 207 East Main Street to expand its store space into the lower level of the building, according to Manager Jeff Becker.  The lower level, currently used for storage, has about 3,500 square feet of space, which will be added to the current store area of nearly 15,000 square feet.  Once the remodeling project is completed, Becker said, the store will move its domestics and home furnishing departments from the second floor to the lower level.  Once the upper level is vacated, Kline's children's department will be moved into that space, opening up more display area on the main floor.  Becker said men's clothing and ladies' sportswear lines will be expanded into the additional space.
<![if !vml]>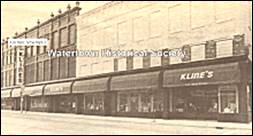 <![endif]>            <![if !vml]>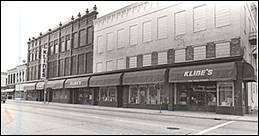 <![endif]>          <![if !vml]>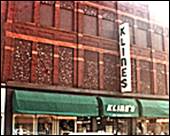 <![endif]>     
1987 photo:  Kline's opened in Watertown in 1959 and expanded several times before locating at 207-209 E Main St in October of 1983.  Kline's moved into the former Kresge's location (Schempf Building) and its presence was made known by use of adjacent awnings and display windows.
c.1992
RESTROOM SIGNAGE ON SECOND FLOOR
<![if !vml]>

<![endif]>  
10 31       HERTEL NAMED MANAGER
Bonnie K. Hertel of Watertown has been named manager of the new Watertown Super 8 motel, which is scheduled to open in mid-November.  Hertel previously worked at the Watertown Kline's Department Store, where she was assistant manager since 1986. She had transferred from the Mexico, Mo., store to Watertown in 1985. Hertel received a bachelor of arts degree in fashion merchandising and business from Columbia College in Columbia, Mo. She left Kline's on Oct. 3 to work for Super 8 in Watertown. Hertel trained at the Super 8 locations in Dodgeville and Whitewater and received seven days of training in Aberdeen, S.D.
1993
03 30       KLINE'S TO CLOSE PERMANENTLY
Kline's Department Store, 207 E. Main St., will close its doors permanently in June, according to Bill Acklin, store manager.  The retailer has been one of the primary anchors in downtown Watertown since it was first opened in October of 1954.  Acklin said the Watertown store's 20 employees were told of the decision after the close of business Monday evening.  He said, "Watertown's store has been successful over the years but the last several have been difficult."  As a result, the company determined it would be in best interests to close.  Acklin said, "We will do business as usual through Saturday, April 10.  The store will then be closed through April 14.  We will be putting competitive pricing on all of the merchandise during this time and then will reopen on April 15 at 10 a.m."
06 15       KLINES CLOSES
                <![if !vml]>

<![endif]>       Klines closed its doors after being in Watertown since 1954
09 01       BUILDING PURCHASED BY DONALD GRINWALD
The Kline's Department Store building, 207 E. Main St., one of the largest parcels of real estate in downtown Watertown, is being purchased by a Watertown investor.  Donald Grinwald has reached agreement with Kline Bros. Co. of Cleveland, Ohio, owners of the building, to purchase the property.  Closing on the property is expected in the coming weeks.  Grinwald said he and his wife, Nerina, are purchasing the building and have formed a company called "The N Grinwald Corporation" which will hold title to the property.
12 12       MINI-MALL PLANS RUN INTO A SNAG
Plans by a Watertown investor to turn the former Kline's Department Store in the 200 block of East Main Street into a mini-mall have run into a snag.  Donald Grinwald said, "The basic problem is that the state is requiring more renovations than is financially feasible for a project of this type."  He has been working with architects and contractors and has found that the needed renovations will cost between $500,000 and $1 million.  He said, "That's simply a prohibitive cost for a project of this type in the city of Watertown.  The rent would have to be so high that no one could afford to sign a lease."  At the present time Grinwald said he is planning three retail stores and four offices in the building.  He anticipated seven different stores had the renovation been feasible.
Cross References: 
Evelyn Kritz pursued career in fashion merchandising with Kline's
1957c, 301-303 E Main, 1950s-70s city assessor form, WHS_006_036a
1971, 301 E Main
1993, 205 E Main
<![if !vml]>

<![endif]>
History of Watertown, Wisconsin