website† watertownhistory.org
††† ebook† History of Watertown, Wisconsin
Kehr Bros.
est. 1906
111 S. 5th Street
A century ago, Frank and Emil Kehr opened the door of Kehr Bros., at 111 S. 5th Street in Watertown [currently located at W4631 Hwy 19].† They began taking orders for steamfitting, boiler and gas piping projects using a pad of paper and pencil. Customers at that time who had telephones could call in for service by dialing 168.
Following the death of Emil in 1936 his son Donald E. Kehr became a partner with Frank Kehr and they started selling and installing gravity furnaces and oil fired forced air furnaces.
Following the death of Frank Kehr in 1951 his son Robert T. Kehr became a partner with Donald E. Kehr. †At that time they began selling and installing refrigerated air conditioners.
Upon Donald E. Kehr's retirement in 1969, Robert T. Kehr then purchased his share of the business.
1906
May††††††††† KEHR BROTHERíS HEATING / 111 South Fifth St
<![if !vml]>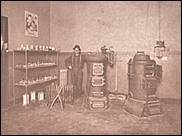 <![endif]>††
Frank Kehr inside the shop, owned by brothers Frank & Emil Kehr
1910
-- --†††††††† CONTRACT FOR NEUMANN BLDG
Kehr Bros awarded the contract for installing a heating system in the building being erected on Second Street by Gustave [Gustav] Neumann.
Domestic engineering and the journal of mechanical contracting, Volume 51, 04 02 1910 issue
1915
11 04†††††† NEW HIGH SCHOOL HEATING CONTRACT
On Monday evening the contract for putting in the Kewaunee smokeless heating plant in the new high school building was awarded to Kehr Bros. of this city.†
Following were the bids submitted:
Thomas Heating Co., Racine, $9392
H. Kelly & Co., Minneapolis, 9830
Otto Biefeld & Co., Watertown, 9786
Kehr Bros., Watertown, 9265
Gen. Heating & Ventilating Co., Milwaukee, 9560
Ind. Heating & Eng. Co., Milwaukee, 9640
Downey Heating Co., Milwaukee, 9575
Healey Plumbing and Heating Co., St. Paul, 11,670†††††††††††††† WG
Cross References:
Kehr, Donald 1915, Sleigh ride, upper grades
Kehr, Donald 1941, Grades 1 and 2
Kehr, Donald 1943, Grades 3 and 4
Kehr, Frank, 1951, Obit
Kehr, Robert 1941, Grades 1 and 2
Kehr, Robert 1943, Grades 3 and 4
Kehr, Robert 1949, Graduation

History of Watertown, Wisconsin