website  watertownhistory.org
    ebook  History of Watertown, Wisconsin
Bittner and Tetzlaff
Drug Store
1914       SCHEMPF DRUG SELLS OUT TO MAX TETZLAFF
04 23       The Schempf Drug Co. has disposed of its business interests to Max Tetzlaff, son of Ex-Alderman Herman Tetzlaff, and Erwin T. Bittner, son of William Bittner.  Both young men have been engaged in the drug business in Racine a number of years and are well qualified to conduct a drug business.  Hosts of friends here wish them success.  John W. Schempf, the former proprietor of the business, may decide to locate in the west.   WG
1915
Ad, Rexall Drug Store, Ansco Films, 202 E Main
Postcard published by Bittner & Tetzlaff [1915 is approx date]
1917
08 18       POSTCARD SENT TO Mrs. ED HOELTER NEE EUGENIA BITTNER
Bittner & Tetzlaff Pharmacy postcard (WHS_002_PC_366_2  ) sent to Mrs. Ed Hoelter nee Eugenia Bittner in Chicago  (1881-1932).
1930
06 10       OCCUPANCIES ON SECOND FLOOR (116 ½)
Dr. E. H. Cook, who for over 20 years had his office in the Hoffman- Kelly Co. building, occupies a suite of rooms in the front of the building.  A. J. Tanck, has the next suite and the rooms farther back are occupied by District Attorney Harold W. Hartwig who was formerly in the Woolworth building, Dr. J. J. O'Connell, who for 18 years had his office above the Hinzmann Barber Shop, N. 2nd Street, and First Church of Christ, Scientists. 
In the rooms that Dr. O'Connell now occupies hundreds of old circus and theatrical programs dating from 25 to 30 years back were posted over the walls.
1934
08 02       BITTNER & TETZLAFF DISPLAYS QUINTUPLETS' PHOTOGRAPH
Bittner & Tetzlaff's Drug Store has placed in its show window a picture of the quintuplets born here to Mr. and Mrs. E. M. Kanouse on February 12, 1875.  The picture was taken by C. W. Rundlett, who had a studio above the present John E. Heisman grocery store.  It was secured from Mrs. A. Cox of Green Bay, a granddaughter of the photographer, who has presented it to the Watertown Historical society.   WG
1943
THIRD WAR LOAN DRIVE / Erwin Bittner
<![if !vml]>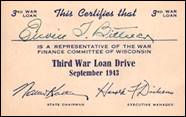 <![endif]>  
1944       ERWIN T. BITTNER, b. 1887, d. 1944
   Erwin T. Bitttner, Druggist, is Dead / Heart Attack Fatal
Erwin T. Bittner, a widely known Watertown businessman, died last night at his home, 305 Milwaukee Street.  His death was due to a heart ailment from which he had been suffering for a long time.  Since December, 1943, he had not been active in his business and had been at home, under the care of a physician.  He had improved sufficiently to be permitted to come to the business section in recent weeks and he paid his last visit to his store about three or four weeks ago.  Since then his condition had again taken a turn for the worse and he died last night.
His death breaks a 30 year partnership with Max Tetzlaff in the Bittner and Tetzlaff drug store.  The two men took over the old John Schempf drug store in Main Street in 1914, just 30 years ago.  They operated on the same site until 1928 when they purchased the present building at North Second and Main streets and since then, with the exception of ten years during which he worked as a druggist in Milwaukee and Racine, Mr. Bittner had lived in Watertown.  He was married on Nov 25, 1915 to Miss Esther Nicolaus of Fort Atkinson.  His wife survives, as does one son, Erwin Bittner of Chicago.  There are three sisters, Mrs. A. D. Miller, Chicago; Miss Theodora Bittner, Rock Island, Ill., and Mrs. Eugenia Gotsch, Fort Wayne, Ind.
Cross reference:  Family Tree  
1946       FIRE
December 18, 1946
<![if !vml]>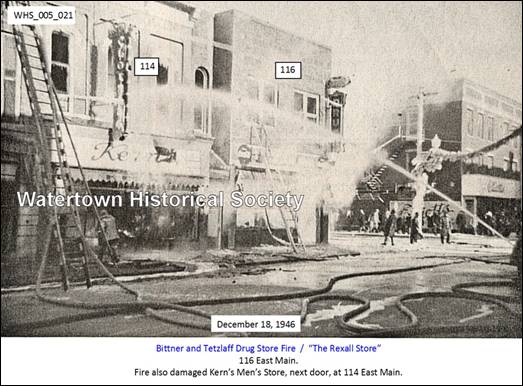 <![endif]>
The Bittner and Tetzlaff Drug Store was located at 116 East Main, on the corner of Second and Main.  Known as "The Rexall Store," it was the location of one of the biggest fires in Watertown.  The fire also damaged Kern's Men's Store, next door at 114 East Main.
<![if !vml]>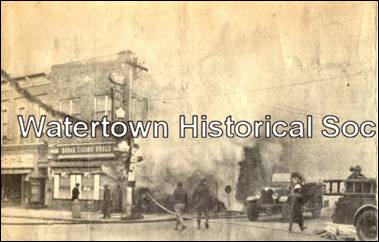 <![endif]>
1964
01 06       DEATH OF MAX TETZLAFF
Max H. Tetzlaff, 75, Dies of Heart Attack  /  Pharmacist for 50 Years
Max H. Tetzlaff, 324 Elizabeth Street, widely known Watertown business man, died of a heart attack this morning. He would have been 76 years of age on Friday.
Mr. Tetzlaff had left his home at the usual time this morning for the Tetzlaff Rexall Pharmacy, of which he was head and which he operated with his son, Louis M. Teztlaff.  He apparently suffered the heart attack soon after his arrival at the business place, 116 Main Street.  He was found by an employee who arrived shortly before 8 o'clock.  The first aid squad of the fire department was summoned to administer oxygen after which Mr. Tetzlaff was taken to St. Mary's Hospital by the Meyer Ambulance Service.  He died enroute, being pronounced dead f upon arrival at the hospital.
<![if !vml]>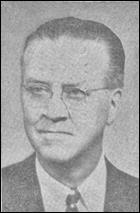 <![endif]>Mr. Tetzlaff had suffered a heart attack in 1955 but recovered and was able to continue his daily work and activities.
He had been in business in Watertown since 1914, except for two years when he worked at the Red Cross Pharmacy in Racine.  Plans were underway here to observe his 76th birthday on Friday and also to commemorate his half century as a pharmacist.
He was born in Watertown on Jan. 10, 1888, a son of the late Mr. and Mrs. Herman Tetzlaff.  He was educated in St. John's Parochial School, Watertown High School and the College of Pharmacy, Marquette University, Milwaukee.
He was married in Racine on Sept. 23, 1914 to Miss Ella Schoenlieber.  She preceded him in death, also from a heart attack, on Feb. 11, 1960.
Mr. Tetzlaff is survived by a daughter, Miss Doris Tetzlaff, who is presently teaching in Dayton, Ohio, and a son, Louis M. Tetzlaff of Watertown who is associated in the family business.  There are two granddaughters.
Mr. Tetzlaff was the last member of his immediate family, three sisters and a brother having preceded him in death.
He was a member of St. John's Lutheran Church, the Wethonkitha Club, the Watertown Rotary Club and held memberships in the Jefferson County, the Wisconsin State and the National Pharmaceutical Associations.
He had served on the old Watertown Board of Park Commissioners and for many years was a member of the Bethesda Lutheran Home Board.
Had Many Interests
Mr. Tetzlaff had many interests and they represented a variety of activities and purposes.  He was a broadminded man who could and did readily grasp the other person's viewpoint and his long association with business and community affairs, aided by a retentive memory, made him an excellent source for material on Watertown's past.
He liked people and was friendly and sociable. His likeable qualities were many and he brought these into his daily dealings with his customers and the public.
It can truly be said there is genuine regret throughout the community at his passing.
The funeral services will be conducted at St. John's Church at 1:30 p.m. on Thursday.  Interment will be in the Lutheran Cemetery.
Friends may pay their respects j at the Pederson Funeral Home on Wednesday from 3 to 9 p.m. and until 11 a.m. Thursday and at the church beginning Thursday noon.
The Rev. Dr. C. F. Golisch, executive director of Bethesda Lutheran Home, will conduct the funeral services.
Note:  At one time there was a Tetzlaff building on the campus of Bethesda Lutheran Home.
1965
08 02       LEWIS AND CLARK APOTHECARY SOLD
The Lewis and Clark Apothecary at 116 Main Street, which for many years was the Tetzlaff Pharmacy, will be taken over by one of the two partners who are presently operating the business.  Louis M. Tetzlaff, 324 Elizabeth Street, has sold his share in the business to Clark Rhinesmith, 120 Kansas Street, who will take over the business on Jan. 1.  Mr. Tetzlaff told the Times this morning that he plans to continue living in Watertown and will continue to work at the pharmacy.  WDT
Cross References:
Erwin T. Bittner buried in Oak Hill Cemetery
Dr. Edward Johnson, Watertown's first druggist

History of Watertown, Wisconsin