website† watertownhistory.org
††† ebook† History of Watertown, Wisconsin
Dr. Edward Johnson
1822 - 1910
The Doerr Drug Store was originally established by Dr. Edward Johnson in 1844.
A soda fountain was installed one year later and was the first in Wisconsin.
ďThe Cradle of the Soda Fountain in Wisconsin, 1845,
A drug store four years before Wisconsin became a stateĒ [Doerr stationary}
1850-51
Shanty was built on Main Street bridge, in the winter of 1850-51, Henry Maes having purchased the right to build of the then owner on the [river] bank, Dr. Edward Johnson, for the sum of $40, the owners on the bank claiming a superior right on a non-navigable stream to the middle.†
1900
12 07†††††† "OLD BILLY"
"Old Billy," the family horse of Dr. E. Johnson for the past to 27 years, was chloroformed by Jas. Roy on Sunday and his existence ended.† The horse did service faithfully in the doctorís family nearly all his life, the doctor having purchased him from his brother, the late Doctor Johnson of Milwaukee.† He was over 40 years old, and was a horse of almost human intelligence.††† WG
1901
01 18†††††† PEW-HOLDER AT ST. BERNARDíS
Dr. Edw. Johnson has been a pew-holder in St. Bernardís church 55 years, having paid for an entire pew at St. Bernardís during all of that time, besides contributing thousands of dollars for the benefit of that church and congregation.† He paid his yearly pew rent for the 55th time last Saturday.† He has given very generously of his means not only in this respect, but he has been very charitable in extending aid, sympathy and assistance in a substantial way to many others.†† WG
1910
FOUND DEAD IN HIS HOME
SHORTLY BEFORE 7 O'CLOCK MONDAY EVENING
Watertown Gazette, 06 03 1910
Our community was shocked early Monday evening, May 30, 1910, to learn that Dr. Edward Johnson was found dead in his home in West Main Street, and for a time the news could not be credited, for the doctor was downtown during the afternoon and was apparently in his usual good health.† During the noon hour on that day he ate a hearty meal at the home of his nephew, Edward M. Stapleton, and joked and conversed with the family on several of the important events of the day chronicled in the morning papers of that day, and during the afternoon he walked downtown and was last seen alive about 4 o'clock.†
Not having arrived at the usual time for his supper at Mr. Stapleton's home, the latter sent his daughter Laura over to Dr. Johnson's home, which she found locked, but on peering through the window she saw him stretched in his chair and ran back to her home and told her father Uncle Ed. was dead.† The latter ran to the doctor's home and not being able to get in also peered through the window and saw the doctor cold in death.
He called Dr. Masterson and Chief of Police Block; the latter forced a window and gained entrance to the home.† Dr. Masterson made a hurried examination of Dr. Johnson and gave it as his opinion that he died of heart disease and had been dead about one-half hour, it being then about 7 o'clock.
Watertown's first druggist
Dr. Johnson was a native of Killaloe, County Clare, Ireland, where he was born July 21, 1822.† He came to America in 1836, locating in New York City, and for a time was employed in Ohio, Louisiana and Alabama.† In 1843 he came to Watertown and shortly after went to Milwaukee, and again returned here in 1844 and engaged in the drug business, he being Watertown's first druggist.†
In 1851 he made an overland trip to California with a number of other Watertown people during the great gold excitement times and left his business here in charge of others.† He returned the following year and resumed his drug business, which he continued till November 1, 1873, when he sold out to G & H. T. Eberle.
In 1846 he was married to Mary Crowley, daughter of the late Daniel Crowley, who resided just east of this city on the Milwaukee road.† His wife died February 14, 1904.
Dr. Johnson was a self made man, and learned the drug business in a thorough manner by hard study and strict attention to business, and there was no better posted or more efficient druggist anywhere to be found, hence the result was that he enjoyed a large patronage and by the time he reached middle life he retired from active business on a well-earned competency.
Land League
He always took an active interest in the welfare of our city and in fact in the entire country.† In early days he held several offices of trust, among those which he held being alderman and supervisor.† Aside from being a patriotic American citizen he took great interest in the welfare of his native country and early in its struggle for home rule identified himself with the land league and was its vice-president.† At the first great convention of the league held in St. Louis he contributed $1000 to the land league fund, being the first and largest subscriber at the time.† All through life he kept up this interest, and sent thousands of dollars to Ireland for the cause which was so dear to his heart.†
At the time of his death he was a stockholder in the Wisconsin National Bank and for a number of years was one of its directors.† Silently he distributed his means in all lines of charitable work, taking special pride and interest in aiding the poor and needy.† He founded a scholarship at Notre Dame, Indiana, and gave largely of his means toward the support of St. Bernard's Church.† Most of the fine statuary in the church was donated by him, and he also presented to the church a number of costly sacred articles used in connection with the Catholic services.
His most munificent manifestation of the interest he took in education was the erection by him of the fine school in West Main Street, now the property of St. Bernard's congregation.
Dr. Johnson's life was certainly an honorable and most worthy one, and though not what is now days considered a rich man, he gave away during his lifetime to our own personal knowledge about $40,000 for educational and charitable purposes, which speaks volumes for the high character of the man whom is now so sincerely mourned.
He was the last member of his family to die, his only surviving relatives being nieces and nephews, among them being Edward M. Stapleton of this city; Mrs. Louisa Ungers, Faribault, Minn; Mrs. Demaire, Brooklyn, N. Y.; Mrs. Hattan, Canada; Sister Benedicta, New York; James Johnson, Oakland, Cal; Edward L. Johnson, Denver.
His funeral will be held Friday morning at 9 o'clock from St. Bernard's Church, and his remains will be placed in the family vault in St. Bernard's cemetery.
Early days in Watertown
Speaking of the early days in Watertown Dr. Johnson recently said:
When I stood on the hill near where my house stands (approximately near West Main and Washington streets), I counted twenty-five roofs, including barns, in the little settlement.† The hill was much higher then, before so much grading and filling had been done, and you could see all over the town.† Watertown was then called Johnson's Rapids, after Timothy Johnson, who was the first settler here.
When I came here there were but three houses on this (west) side of the river; all log structures.† In fact, one of the buildings which stood behind the drug store down by the river, which I conducted for years, was the town hall, the school and church combined. †The town grew apace for ten years or so and then came the Civil War and it stood still.† I well remember the Indians coming through here after the Black Hawk war in scattered parties.† Frequently I found Indians asleep on the porch of the store when I opened the door in the morning.† The troops were then running them down and sending them west to a reservation.
In the early days of my life in Watertown it was no trick at all to take your rifle in the morning and kill a deer, and you could always take your pick, as they were so numerous that you would see a number of them together down by the river.
A man by the name of Goodhue built the first dam here and ran a sawmill.† He bought the water power from Timothy Johnson, and sawed basswood, elm and oak, finding a ready market for the product of his mill with the settlers.† There was then no large settlement near here.† The principal settlement between here and Milwaukee was Waukesha, which was then called PrairievilIe.† Oconomowoc was then only a place where we watered our horses on the road.† There was one building there, a little tavern where we sometimes used to stop while going or coming between Milwaukee and Watertown.
In the years of which I speak the trip (to Milwaukee) used to take four days each way, although once in awhile we covered it in a week.† The road could be hardly called a road.† It was about as nature made it, and as we had more rain those days, it was a common thing for us to have to stop and unload our goods in crossing some of the swales and then pull the wagon out of the mud, carrying the goods to it across the swale.
<![if !vml]>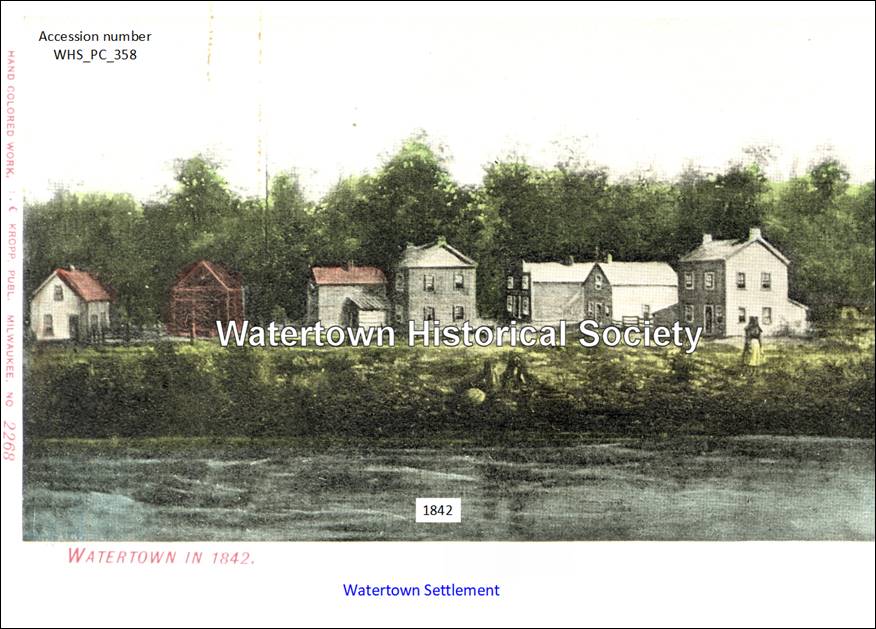 <![endif]>
Cross References:
†††† Johnson, Edward, Dr
1852, Journey to Calif in search of gold
1905, Daniel Jones funeral, pallbearer
1908, Donation to St. Bernardís school

History of Watertown, Wisconsin