website  watertownhistory.org
    ebook  History of Watertown, Wisconsin
Achtenhagen & Borchardt
<![if !vml]>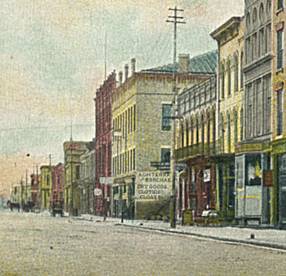 <![endif]>
1905     click to enlarge
1894
Watertown Gazette, 03 16 1894
ACHTENHAGEN & BORCHARDT OPENED at 201 E Main in 1894
R. Achtenhagen's opening at his place of business in Cole's block last Monday was a grand success in every respect.  The place was crowded with anxious buyers from morning until late in the evening, and all admired the elegant stock and especially the low prices at which it was offered for sale.  The fine display in the show window was very attractive, and was admired by everyone who saw it.  Mr. Achtenhagen is certainly a subject for congratulations on the success of his opening, and a beginning so successful is a fine indication of a good business career to follow.
1901
1901, compared to 1909, 201 E Main, WHS_006_992b
1905
1905, General Merchandise, 201 E Main
c.1906
1906c, 201 E Main, WHS_006_950
1908
1908, General Merchandise, 201 E Main, WHS_005_114
1909
1913
1913, 201 E Main, general store
1915
WG, 10 07 1915
NOTICE:
ACHTENHAGEN & BORCHARDT CLOSING OUT
The doors of the store are closed and the stock has been turned over to J. C. Pirath & Co. of Chicago, who are to rush the selling off of everything, including fixtures, as quick as possible. 
LOW CUT PRICES.
The orders to the sales manager are no half measures, but are empathic and leave no doubt as to the extent of price cutting in order to dispose of everything during the next two weeks.
Selling begins Monday, Oct. 11, 8:30 Sharp
Large double-page circulars are being mailed to every house for miles around – if you have not received one call up the store and one will be mailed at once.  The circulars quote the prices from all lines and will show you just the amounts you can save.
Be sure and tell your friends about it, you will do them a favor, and you will also meet friends here from miles around.
25 Extra Sales People Wanted.   Apply at Once.
Cross Reference:

History of Watertown, Wisconsin