website  watertownhistory.org
    ebook  History of Watertown, Wisconsin
Cole's Hall
Cole's Block
Cole Building
201-205 East Main
1854       CONSTRUCTION OF
Built for J. W. Cole to provide larger quarters for his general merchandize trade.
1858
08 12       FALL OF CEILING
Last Sunday evening a space of ceiling, nearly forty feet square, in Cole's Hall, came crashing down on the third floor with a heavy noise, and materially injuring the roof of that large block.  The cause of the break was the giving away of one of the main beams, the point where the break occurred being rotten.  Mr. Cole is now engaged in repairing the damage caused by this fall.  He intends to make the hall and everything about the building substantial and safe, and strengthen the whole in such a way as to prevent the occurrence of another break down like the present.   WD
1860
COLE BUILDING USED FOR EARLY MEETINGS OF WATERTOWN TURNERS
Watertown Turners, originally named the Independent Gymnastic Society of Watertown, was formed on Aug. 21, 1860.  Early meetings were held in the old Cole building at the corner of South Second and Main streets.  Within a year, the Turners had put on their first theatrical performance.  By 1869, the original Turner Hall was constructed at 301 S. Fourth St.
1861
08 15       THE BOYS are in for it
            — the [Civil War] military ball to be given at Cole's Hall, Wednesday evening next, by the Zouaves.   WD
1863
05 02       CONCERT IN COLE'S HALL, under direction of E. C. Gaebler
<![if !vml]>

<![endif]>  
1864
01 21       GRAND MASQUERADE AND FANCY DRESS BALL
      at Cole's Hall on Carnival Tuesday, February the 9th.
Parties or private clubs wishing to perform special quadrilles or dances will please notify Capt. Jaehrling or Mr. Emil Rothe in time to have the music arranged.  During the ball the program of dances will not be changed and rules, order and decorum are to be strictly observed.  Dressing rooms for ladies and gentlemen will be provided.  The ball will commence at half past 8.  At 12 the unmasking will take place and a splendid supper be served in the lower hall.  The committee of arrangements will endeavor to make the entertainment in every respect satisfactory to the public and worthy of general patronage.   WD
01 21       FIREMEN'S BALL
Monday evening Engine Company No. 1 will give their annual ball at Cole's Hall.  They propose to devote the proceeds of the entertainment to the relief of the suffering and destitute in this city.  The organization deserves well of our citizens and we hope a large and gay assembly will be present.  All who attend will not only be able to pass a pleasant evening but will at the same time contribute to a benevolent object.   WD
02 17       McALLISTER THE YOUNGER
Extraordinary Attraction <> McAllister the Younger, the celebrated and unrivaled Ambi-Dextrous Prestigious Comedian, will perform his wonderful slight-of-hand feats at Cole's Hall, in this city, next Saturday evening.  He has a world-renowned reputation as the Arch-Illusionist, and the way in which he deceives the senses of the audience by his magic skill is truly marvelous. 
His system of operation is entirely new and original and far superior to anything of the kind ever before practiced.  He will perform but one night, so all who wish to witness his attractive and brilliant displays should attend.  His entertainments are always amusing and full of interest and refined humor.
1865
11 30       FENIAN BALL, COLE'S HALL
Next Tuesday evening, December 5th, "The Tara Hall Circle" will give a grand ball at Cole's Hall in this city.  Great preparations have been made to make this a brilliant affair and we have no doubt that it will be successful in all respects.  There is every reason to believe that the ample rooms in Cole Block will be crowded with those who delight in this kind of social and public entertainment.  All who take any interest in the Fenian movement will be sure to attend and by their presence show their favor towards a cause which has for its object the freedom and liberation of Ireland.  All fond of music, a good supper and a happy time generally should attend.   WD
Cross Reference:  Online citation 1     Online citation 2
1866
June
<![if !vml]>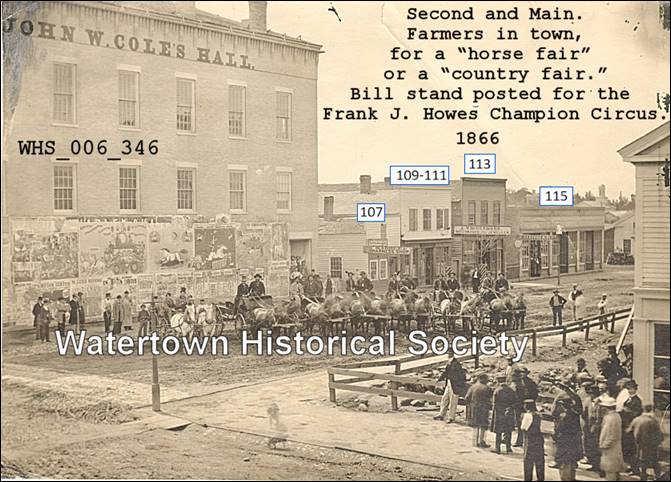 <![endif]>
WHS_006_346
Second and Main, looking south on Second, showing farmers in town, possibly for a "horse fair" or a "country fair."
Cole's Hall, Eiffler Harness, A Wiggenhorn, C Geschke
Bill stand posted for the Frank J. Howes Champion Circus
(Mention of Howes Champion Circus)
1880-1885
<![if !vml]>

<![endif]>  
Note the woman on the balcony.  This may have been Mrs. John W. Cole (Eliza Fisk Cole), who resided in an apartment on the second floor of the building at one time.
1887
09 13       COLE BUILDING, COLE HALL, street scene
Later occupied by Achtenhagen & Borchardt
<![if !vml]>

<![endif]>  
1894
09 13       ACHTENHAGEN DRY GOODS STORE, opening of, "Cole's Block," 201 E Main
Reinhard Achtenhagen's opening at his place of business in Cole's block last Monday was a grand success in every respect. The place was crowded with anxious buyers from morning until late in the evening, and all admired the elegant stock and especially the low prices at which it was offered for sale. The fine display of foods in the show window was very attractive, and was admired by everyone who saw it. Mr. Achtenhagen is certainly a subject for congratulations on the success of his opening, and a beginning so successful is a fine indication of a good business career to follow.    Watertown Gazette, 03 16 1894
1895
July          ACHTENHAGEN TOOK HENRY HEILMANN INTO PARTNERSHIP
ACHTENHAGEN & HEILMANN
At the same time Gustave C. Borchardt resigned his position as a clerk with William Trachte, dry goods merchant at Main and Third streets, and accepted a clerkship with Achtenhagen & Heilmann.    (1897 ad)
1901
ACHTENHAGEN & BORCHARDT FORMED
After a service of six years for this firm, Mr. Borchardt purchased Mr. Heilmann's interests and the firm name was changed to Achtenhagen & Borchardt, and when the firm closes out the remaining stock, which is now being auctioned, they will pass out of commercial existence. 
1905
09 13       CONDITION OF SIDEWALK
Two weeks ago the Republican referred to the condition of the sidewalk along the Cole building north of Main on Second streets, and called the attention of the committee on streets and bridges to the same.  At the last regular meeting of the council the following order was authorized: "Sidewalks around the Cole building at Main and North Second streets and at the Henry Breunig's place in North Second Street were declared unsafe and the board of public works ordered to see that walks were constructed within ten days of the publication of the action."   WR
1908
1908, Achtenhagen & Borchardt, General Merchandise, WHS_005_114, 201 E Main
1915
11 16       ACHTENHAGEN & BORCHARDT WILL CLOSE  /  PIONEER FIRM RETIRES
Within a few weeks the dry goods house of Achtenhagen & Borchardt, Main and Second streets, will have disposed of their stock, and one of Watertown's pioneer business houses will pass to commercial history. 
The establishment opened its doors for business by Reinhard Achtenhagen twenty-one years ago (1894) last March, and in July of the following year (1895) he took into partnership Henry Heilmann. 
At the same time Gustave C. Borchardt resigned his position as a clerk with William Trachte, dry goods merchant at Main and Third streets, and accepted a clerkship with Achtenhagen & Heilmann.
After a service of six years for this firm, Mr. Borchardt purchased Mr. Heilmann's interests and the firm name was changed to Achtenhagen & Borchardt, and when the firm closes out the remaining stock, which is now being auctioned, they will pass out of commercial existence. 
Mr. Achtenhagen intends to retire and pass the remainder of his days enjoying the good the world provides or those who have been provident.
Mr. Borchardt, yet a comparatively young man, feels that he does not care to cease the activities of life, and while he has some good propositions, any one of which he can accept, has not yet finally determined just what his future will be.   Watertown Weekly Leader., November 16, 1915
1915
NOTICE:
ACHTENHAGEN & BORCHARDT CLOSING OUT
The doors of the store are closed and the stock has been turned over to J. C. Pirath & Co. of Chicago, who are to rush the selling off of everything, including fixtures, as quick as possible. 
LOW CUT PRICES.
The orders to the sales manager are no half measures, but are empathic and leave no doubt as to the extent of price cutting in order to dispose of everything during the next two weeks.
Selling begins Monday, Oct. 11, 8:30 Sharp
Large double-page circulars are being mailed to every house for miles around – if you have not received one call up the store and one will be mailed at once.  The circulars quote the prices from all lines and will show you just the amounts you can save.
Be sure and tell your friends about it, you will do them a favor, and you will also meet friends here from miles around.
25 Extra Sales People Wanted.   Apply at Once.    WG, 10 07 1915
1927
-- --           RENOVATION FOR PENNEY'S STORE
<![if !vml]>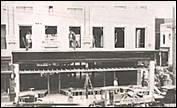 <![endif]>          201-203 E. Main
Renovation in preparation of J. C. Penney relocating from 117 E. Main across Second St. to 201-203 E. Main.  A Maas Brothers project, 1927.
1998
10 06       COLE BUILDING PURCHASED
      by Jim Baade and Carol Bohlman  /  Perspective by Jim Baade
Jim Baade and Carol Bohlman purchased the former J. W. Cole/J. C. Penney's building October 6, 1998 in its partially condemned state and invested $1.3 million to bring it to its current state.  The building has been registered on both the state and national historic registers.
During the late summer of 1998 Carol and I became aware that the J. W. Cole building at 201, 203 and 205 had become structurally condemned.  At that time we were deeply involved in applying for a Main Street Program grant.  It soon became evident that if Watertown was to win that grant a request allowing the destruction of the Cole building and the permanent loss of all that history would strongly be in our disfavor.  Carol and I would not let that happen. 
We made an offer to purchase and closed on the sale October 6, 1998.  We promptly registered the building on both the State and National historic records.  An architectural and engineering firm were promptly hired. A one million three budget was established for the structural repairs and finished space, restrooms, etc., on the first floor.  The scope of repairs included tear off and redecking for the new roof, installation of 40-year shingles, 8 feet of copper on the perimeter of the roof, copper gutters, scuppers, downspouts and duplicating 7 crumbling chimneys.
As of May 1, 2015, a submission has been made to the State of Wisconsin attempting to secure a 20% state tax credit for finishing the restoration.  Upon securing state approval the application will be forwarded to the National Parks Dept for final approval of the 20% Federal Tax Credit.
Our projection for future use will be an ADA required five-step two-way elevator.  The second floor will be a full-service restaurant with bar and kitchen and two restrooms.  Mid-level "mezzanine" level will be used as an addition to the party room and as a second party room. 
The third floor ballroom will be serviced via elevator from the second floor and sized to ultimate capacity with a special event dining area with wet bar storage room with coolers.  The third floor will require two restrooms (men's and women's) sized
The flat roof area is for a proposed deck with high back bench booth seating, trellis wall, planter boxes with honeysuckle, trumpet vines and wisteria.  The exterior will require substantial tuck pointing and repair/replacement of thirty-four second and third floor windows.
The addition of 18-20 full and part time employees will be required.  There will of course be substantial increase in assessed value for property tax purposes and additional state county sales taxes.
We feel that these improvements will add substantially to making Watertown a more attractive destination point.  It will provide a place of wedding receptions, parties, business meetings, plays, musicals and other events.
The purchase was prompted due to having spent 3-4 months prior in pursuing an application for the Main Street Program Grant award for the City of Watertown.  We were informed that the Cole Building had been structurally condemned and that the owner at that time had been informed of the problems and the City gave him ninety days to correct the defects.  He stated he would not be investing the money necessary to comply.  He was given the alternative of fixing the problems or the City would tear down the building at his expense, credit the land value, and replace the building with a sixteen to twenty car parking lot. 
We researched the building's history and found it to have been built in 1850.  The structure is 26,800 square feet.  The third floor has a 22-foot-high ballroom with rounded corners, coved tray ceiling in which the first State of Wisconsin Grand Military Ball was held on January 10th of 1854, six years prior to the Civil War.  In attendance were 155 officers and their ladies.
Other notable events included a speech by influential New York Tribune editor Horace Greeley  (orator who was famous for his "Go West, Young Man" phrase, and by Aldo Leopold American ecologist, forester, environmentalist and the author of "Sand County Almanac," a landmark in the American conservation movement.
The work that was done to correct the structural problems and prepare for first floor tenants took fifteen months and included duplicating seven missing chimneys as originally built, redecking the roof and removing two layers of shingles and what was left of the original tin roof.  A 40-year architectural shingle was chosen.  Copper gutters, scuppers and down spouts were added as well as eight feet of copper around the entire roof perimeter.
The attic is a barn truss system composed of five 9-in by 14-in white oak beams spanning the width of the building, which is 82-ft.  They are dovetailed in the middle and rest on 5 courses of the 7-course brick walls.  Because the roof and flashing had failed water found its way into the brick and over the years through a freezing and thawing process, deteriorating the brick, water rotting the beams ends.  One beam had rotted 2 feet back from the beam pocket and thus fell 13 inches, putting enough torque on the third beam in the middle of the ballroom and breaking it in half, pulling apart about three inches.  The only remedy for this situation was to jack up the entire building with 84 jacks, from the basement to the ballroom ceiling.  This process included lifting the joists of the entire second floor ceiling joists which had sagged 2-plus inches.  The procedure involved sistering 134 microlams on all of the sagged joists in two equal places, so that their energy would not eventually cause the microlams to sag.
  <![if !vml]>

<![endif]>   Image Portfolio   

History of Watertown, Wisconsin