website  watertownhistory.org
 ebook  History of Watertown, Wisconsin
Otto Schott
1871 - 1952
One of Watertown's most widely known men, Otto G. Schott, 209 South Fourth Street, died at his home May 20, 1952, after an illness of several weeks.  He was 81.
He had been at St. Mary's Hospital for a short time and then returned to his home.  Mr. Schott was for many years a cafe and restaurant owner here and retired some years ago.  As a host he became one of the most widely known men in this part of the state and his restaurant attracted tourists from nearly every state in the Union.  His last establishment was located at 214 East Main Street, adjoining the Gas and Electric building, and its specialty was sauerbraten which became its most widely known and most popular dish.  So many tourists asked how it was made that Mr. Schott had the recipe printed on the back of his business cards and ever the years distributed thousands of them to callers and visitors to his eating place.
<![if !vml]>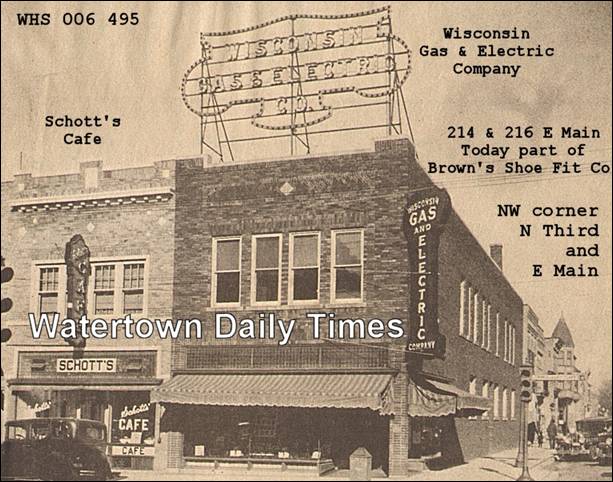 <![endif]>
He was a familiar figure in the community and enjoyed his daily walks about the city.  At one time he covered mile upon mile in his walks every day.  No matter how pressing his work at the cafe was he managed to get in his daily walk.  He always said it was one of the things that helped maintain his health.
Mr. Schott had a likeable personality and was a "greeter" in every sense of the word.  He knew more men in all parts of the country by name than almost any person here.  And he remembered their names and could greet them by, name long after their previous visits.  He had a keen sense of humor and was an entertaining conversationalist.  He knew the late John L. Sullivan who used to visit Madison when Schott operated a business there.  He also saw the late Carrie Nation in action during one of her Madison visits and used to tell about both these colorful personalities (Watertown Daily Times, 05 21 1952).
Throughout his life Mr. Schott maintained an interest in sports, notably boxing and wrestling and attended many such sports in other cities.  He saw the Dempsey-Tunney fight.
Mr. Schott was born in Highland, Wis., and before coming to Watertown lived in Madison.  He was a resident of Watertown for the 60 years before his death.  In 1900 he married Miss Mildred Steinberg in St. Bernard's Church.  She survived. There also are a number of nieces and nephews. Mr. Schott was the last member of his immediate family.
He was a member of St. Henry's Church.  He also held membership in the Plattdeutscher Verein.
The funeral took place from the Boyle Funeral Home with services in St. Henry's Church. The Rev. A. J. Herrmann officiated.  Interment was in Oak Hill Cemetery (Schott, Otto G., b. Apr 5, 1871, d. May 20, 1952, Sec 20).
The rosary was recited at the funeral home the evening prior to the funeral. Members of the Plattdeutscher Verein met at their club the same evening to go from there to the funeral home to pay their respects.
Remember Sauerkraut?
c1971
What has happened to all the families, at least one in each neighborhood, that owned a cabbage cutter?  It was a device that was used for cutting cabbages for sauerkraut and it was passed along throughout the neighborhood until the sauerkraut making season was over when it went back to the owners to be stored until the next season.
In those days the cabbage was salted and put in huge jars, with a huge place on top on which a heavy stone was placed so that it could properly ferment and turn into sauerkraut.
These days sauerkraut is still relished by many people and the late Otto G. Schott, of Scott's Café here, used to tell us that whenever he featured sauerkraut and pork hocks or frankfurters on the menu he would sell out, so popular was it with his regular clients as well as traveling salesmen who could not get the dish at most hotels they used to stop at those days.
Today, housewives hardly ever make their own sauerkraut but rely on the canned variety which is good too, but not quite as good as the old home-made kind.