website  watertownhistory.org
    ebook  History of Watertown, Wisconsin
Rev. Julius Klingmann
1865 - 1944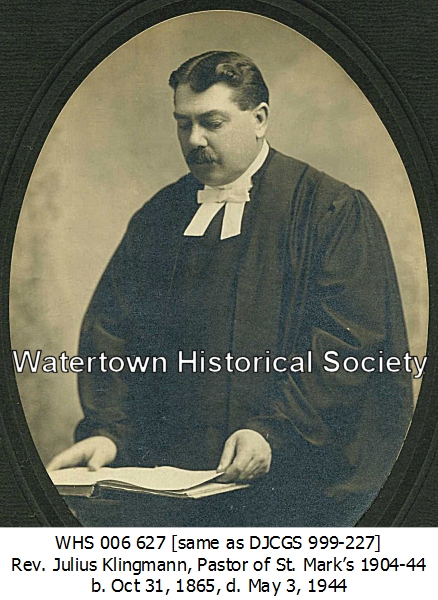 Rev. Klingmann Dies; Funeral to be Saturday
St. Mark's Pastor is Stricken Last
Night At Neenah Hospital
05 04 1944
    [ article contains image ]
The Rev. Julius Klingmann, 78, of 304 South Seventh Street, pastor of St. Mark's Lutheran Church, died at 6 o'clock last night in the Theda Clark Memorial Hospital, Neenah, where he had been a patient for the past ten days.  He died of a heart ailment from which he had suffered for some time. 
His daughter, Miss Esther Klingmann, is superintendent of the hospital at Neenah and he was taken there for treatment and care.  His death last evening was peaceful and came as he slept.  Members of the family were at the bedside.
Rev. Klingmann was pastor of St. Mark's Church here for 40 years on April 15 of this year.
His wife and six children survive.
Members of the family said today that other details would be announced tomorrow, after additional members of the family reach Watertown.
The body is at the Hafemeister Funeral Home.
Services Saturday
The funeral will be held Saturday afternoon at 3 o'clock in St. Mark's Church and burial will be in Oak Hill Cemetery.
On Saturday morning at 10 o'clock there will be a private service at the funeral home after which the body will be taken to the church to lie in state from 11 a.m. until the time of the funeral.
At the funeral home friends may call to pay their respects on Friday from 3 until 9 p.m.
Held in High Regard
Rev. Klingmann was held in the highest esteem and regard by people of every faith represented in Watertown.  He was a man of many friends and numbered them in every walk of life, Catholic as well as Protestant.
As a spiritual leader of his flock he commanded respect and admiration, and his leadership was firm and convincing; he was a man who lived by principle and stood for the highest ideals of Christian living and good citizenship.
He was public spirited and able and his goodness was genuine and sincere.  He was one of the most beloved pastors any congregation ever had in Watertown.  His influence has been far reaching and his record as a minister here is one that will long stand among the in the community.
Klingmann, Julius, b. Oct 31, 1865, d. May 3, 1944

History of Watertown, Wisconsin