website  watertownhistory.org
    ebook  History of Watertown, Wisconsin
Amanda Jacobi Herrmann
1859 - 1941
Member of Pioneer Family
Mrs. Amanda Herrmann, widow of Fredrick Herrmann, died Tuesday evening at her home, 812 South Seventh Street, death being due to infirmities of age.
She was the former Amanda Jacobi, a daughter of Charles and Clara Jacobi, who settled here as a pioneer family.  Mr. Jacobi was one of the "Forty Fighters" who left Germany about the time Carl Schurz came to the United States.
Mrs. Herrmann had lived in Watertown most of her life, having been born on July 2, 1859.  She was a resident of Plattsmouth, Neb. for a time after her marriage to Mr. Herrmann which took place in 1880 in Watertown.
Upon his death, she returned to Watertown with her daughter, Miss Claire Herrmann, former member of the library staff here.  The daughter is the only survivor.  A brother, C. Hugo Jacobi, died in 1925 and a sister, Lena, died in 1927.  Mrs. Herrmann was the last member of the Jacobi family.
Mrs. Herrmann was a gentlewoman in the true sense of the word and all who came to know her could not help but respect and esteem her.  She was a woman who lived a rather retired life and who took great interest in her home.
The funeral will be held from the residence, the Rev. C. W. Pinkney of the First Congregational Church officiating.
Burial will be in Oak Hill Cemetery.
The Nowack Funeral Home is in charge of the arrangements.
c.1875
THE GOLDEN VASE - A MINIATURE GIFT
<![if !vml]>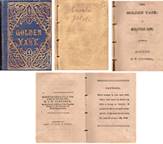 <![endif]>        Amanda Herrmann inscribed
The Golden Vase, a Miniature Gift / Hardcover
2" x 3"  96 pages  /  Publisher: Boston: G.W.Cottrell, 1851; First Edition (1851), by J. M. Fletcher

History of Watertown, Wisconsin