This file part of www.watertownhistory.org website
Benjamin Zoelle, Sr
1840 - 1923
Death of Benjamin Zoelle
One of Watertown's Best Known Civil War Veterans
Watertown Gazette, 03 08 1923
Last Friday afternoon Benjamin Zoelle died of general debility at the family home, 200 Monroe Street.  Mr. Zoelle had been ill 10 months previous to his death, and gradually his life ebbed away till death claimed him.
March 27, 1840, he was born in Alsace-Lorraine, France, son of the late John Martin Zoelle and Magdalene Zoelle, who came to America from that country in 1853 and located on a farm in the town of Milford.  In early life Mr. Zoelle learned the butcher business and located in Illinois. 
At the beginning of the Civil War he enlisted in the 13th Illinois Infantry on May 24, 1861, and served till mustered out in 1864.  He took part in many of the important battles of that war, including Vicksburg, Memphis and Tuscumbia campaigns.  June 21, 1864, he received his discharge and he located in Watertown, where he made his home till his death.  For many years till his health failed him he was engaged in the dray business here.
November 21, 1864, he was married to Miss Mary Jane Ford, a native of Rochester, N. Y., at St. Bernard's Catholic Church in this city by Rev. Father Pettit, and to them were born ten children, eight of whom survive, being Frank J. Zoelle, general agent for the Northwestern Railway Co. in Madison; Benjamin Zoelle [Jr], Cheyenne, Wyoming, Edward Zoelle, Mankato, Minn.; Mrs. Louis Schrank of this city; Mrs. William F. Londre, Fond du Lac; Ray Zoelle, Milwaukee; Alderman Harry Zoelle, and Mrs. Charles J. McKeigue, of this city.  One sister, Mrs. John Hansen, of Milwaukee, also survives, and eleven grandchildren.
His funeral services took place Monday morning from St. Bernard's Catholic Church and the interment was in St. Bernard's cemetery, military honors being accorded him, he being a member since its organization of the O. D. Pease Post G. A. R. of this city.  Solemn High Mass was celebrated by Rev. Father Mahoney assisted by Rev Father Schwinn and Rev. Father Glassauar.  Details of the G. A. R., the American Legion and the Woman's Relief Corps attended in a body.  At the grave prayers for the dead were read by Rev. Father Mahoney, the G.A.R. service was read and a squad of the American Legion fired three volleys over his grave. 
<![if !vml]>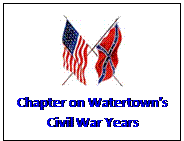 <![endif]>
It was the editor's pleasure to have known Mr. Zoelle ever since he resided in Watertown, and we can truthfully say we have never known a better man.  One great characteristic of his life could be followed by many people today who lay greater claim to be good Christians than did I Mr. Zoelle, that no matter what the provocation, he never said an unkind word of any one, and in his quiet, unassuming manner he strove to dispense good for evil at all time, and never failed to take the part of the good Samaritan when occasion arose. 
Another splendid trait of Mr. Zoelle was his patriotism to his adopted country, which he not only gave an example of in shouldering a musket in its defense, but in after years in every way possible by action and speech defended her.  He was a loyal man in every respect, true to his adopted country, to his family and friends, to every obligation of citizenship and of honorable manhood, generous and kindly, good will toward all and not a spark of enmity toward his fellow man, hence in passing from earth this good man has the prayers of all who knew him for a happy home on the shore from which no one has ever returned.