website  watertownhistory.org
    ebook  History of Watertown, Wisconsin
Herman Wertheimer
1848 – 1935
<![if !vml]>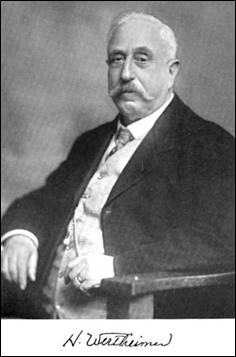 <![endif]>
click to enlarge
HERMAN WERTHEIMER, Mayor
After disposing of his milling interests Fred Miller entered the grain business here with the late Henry Pritzlaff and upon the death of the latter continued with H. Wertheimer in 1888 and retired from active business pursuits a few years later.
HERMAN WERTHEIMER
Article from Jefferson County, Wisconsin and Its People: A Record of Settlement, Organization, Progress and Achievement, Volume 2, John Henry Ott, S. J. Clarke Publishing, 1917.
The story of enterprise and progress in Watertown would be incomplete and unsatisfactory were there failure to make prominent reference to Herman Wertheimer, who, through the steps in his orderly progression, has reached a position among the substantial and leading men of the city, yet whose financial interest and activities have constituted but one phase in his career.  He has ever recognized his duties and obligations to his fellowmen, and as the years have passed has rendered most efficient service in upholding municipal standards and in advancing municipal interests.  Indeed Watertown owes much to him and honors him as one of her foremost residents.
Mr. Wertheimer is a native of Austria.  He was born on the 28th of August, 1849, of the marriage of Leopols and Helena Morawetz Wertheimer who spent their entire lives in Austria.  It was there that their son Herman pursued his education, but in 1868 he left his native land, attracted by the opportunities offered in the new world.  He was then a youth of nineteen years.  He had no capital to bring with him to his new home but he possessed energy and ambition and was willing to perform any labor that would bring to him an honest living.
He made his way at once to Wisconsin and entered the employ of Frank Sipp, at that time a commission merchant of Watertown.  Necessity demanded that he secure employment at once and his employer found him capable, industrious and diligent.  He spent two years with Mr. Sipp and afterward was employed by Hall McMillan. 
He afterward became connected with William Buchheit, a leading commission merchant of Watertown, and was by him advanced to the place of manager.  His business association with Mr. Buchheit continued for sixteen years and was then dissolved that he might engage in business on his own account.  He entered into partnership with Frederick Miller in 1888 and they operated successfully as grain merchants finally merging their interests with the Watertown Grain Company.
When the connection with Mr. Miller was discontinued Mr. Wertheimer carried on the business under the same name and has been joined by his son Oscar C. in the development of a business which now overtops that of any other grain firm of Watertown.  There is no phase of the grain trade with which Mr. Wertheimer is not thoroughly familiar and he keeps in close touch with market conditions.  The splendid business qualifications which he has manifested in developing and controlling his own interests naturally led to his cooperation being sought in other fields and he has made wise and judicious investments along commercial and financial lines.  He is now president of the Watertown Canning Association, is president of the Farmers & Citizens Bank and has for many years been a stockholder in the Wisconsin National Bank of Watertown. 
On the 16th of July, 1872, Mr. Wertheimer was united in marriage to Miss Emily Birk, a native of this city, and a daughter of Mathias Birk.  They have become the parents of four children:  Esther, the wife of Rev. P. T. Brockman of Waukesha; O. C., who is associated with his father in the grain trade; one who died in infancy; and Zayda, the wife of E. W .Arbogast of St. Louis. 
Mr. Wertheimer is prominently known in various fraternal connections having membership with the Masons, the Odd Fellows and the Elks, while in his life he exemplifies the beneficent spirit upon which those organizations are founded.  He is president of the Oak Hill Cemetery Association and has been identified with various interests of a public and semi-public character.  His political allegiance is given to the Republican Party and upon this ticket he has been elected on various occasions a member of the board of aldermen.  He was also chosen mayor of the city for a term covering 1902 and 1903 and his administration was characterized by many needed reforms and improvements his progressive work doing much for the city's benefit.  He has also been chosen president of the Watertown Advancement Company and has cooperated in all its well defined plans and measures for extending the industrial and commercial interests of the city.  He has ever been actuated by devotion to the general good and even the conduct of his private business interests has constituted a factor in public improvement. 
He is a man of unfaltering integrity and honor in office and in private life and in fact his entire career has been actuated by high principles such as command confidence and respect in every land and clime.
_____________________________
1896
05 13       WERTHEIMER BARN FIRE
Shortly after midnight last night the barn on Alderman H. Wertheimer's place, 217 North Fifth Street, was destroyed by fire.  The fire department was out and prevented the flames from spreading to adjoining property.  The barn was insured for $100.  The origin of the fire is unknown.                       The Watertown News, 13 May 1896
c.1897
HERMAN WERTHEIMER HOME
<![if !vml]>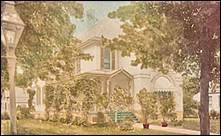 <![endif]>       207 North Fifth Street
1899
PRIZE-WINNING FLOAT NEXT TO WATERTOWN GRAIN EXCHANGE
<![if !vml]>

<![endif]>       412 East Main, H. Wertheimer, mgr.
<![if !vml]>

<![endif]>
1899-1900 Watertown City Directory
c.1900
HERMAN WERTHEIMER, MORITZ BLUMENFELD AND CARL MANZ
<![if !vml]>

<![endif]>  
1901
03 08       DEPOT AND ELEVATOR FIRE AT CLYMAN
Last Tuesday fire destroyed the C. & N. W. Ry. Depot and the elevator at Clyman, 9 miles north of this city.  Considerable freight in the depot at the time was also destroyed.  About 10,000 bushels of barley stored in the elevator, owned by the Watertown Elevator Co., of this city, of which H. Wertheimer of this city is the principal owner, was also consumed.  There was an insurance of $4000 in the grain.  There was a gasoline engine and other machinery in the building which was not insured.  The net loss will be between $1000 and $1500.
At one time during the fire it was thought that it would extend to the business portion of Clyman, and aid was telegraphed for to this city, and the hook and ladder truck and company were at the depot in readiness to proceed to Clyman when word was received not to come, that the place was out of danger . A high wind prevailed at the time, but it blew from the northwest, the business portion of Clyman being in that direction from the buildings on fire, which no doubt saved the destruction of considerable more property.   WG
1904
12 20       PURCHASED STUFFED GEESE
A large quantity of stuffed geese has been purchased here during the week.  H. Wertheimer paid over $2600 last Saturday for stuffed geese.  Fred Albrecht, a resident of the town of Milford sold 80 to him, for which he received a check for $386, and Mr. Albrecht says this is only about half of his product this year.  This firm also buys other lines of poultry, and on Tuesday had on sale a 23 pound turkey, which was raised by Charles Gillis of the town of Watertown.  Landlord Brandenburg of the New Commercial purchased it and will serve it on Christmas day to his guests.
1908
ELEVATOR MOVED
H. Wertheimer will remove his elevator in a few days from West Main Street near the Northwestern depot to the vicinity of the sidetrack [spur] of the Northwestern railway just north of S. M. Eaton's & Son's factory in North Water Street.     July 31 WG
1909
09 03       60th BIRTHDAY ANNIVERSARY, Ex-Mayor Herman Wertheimer Banqueted WG
In honor of his 60th birthday anniversary Ex-Mayor Herman Wertheimer was the guest of honor at a banquet given last Saturday evening at the New Commercial Hotel by H. W. Heinrichs, vice-president of the M. D. Wells Shoe Co., complimentary to his efforts in the interest of a greater Watertown. Mr. Heinrichs and his sister, Miss C. Heinrichs of Milwaukee, assisted by Mrs. H. Wertheimer, received the guests in the hotel parlor.
Those present were: Mr. and Mrs. W. D. Sproesser, Mr. and Mrs. William F. Voss, Mr. and Mrs. Fred A. Hoffman, Mr. and Mrs. F. W. Woodard, Mr. and Mrs. Oscar Wertheimer, Mr. and Mrs. W. H. Woodard, Mr. and Mrs. H. Wertheimer, Mrs. L. Brandenburg, Miss C. Heinrichs, Milwaukee, Joseph Terbrueggen, Fred Kusel, John Schmahl, Edward Broennimann, New York City.
The menu served was as follows:
Dry Martini
Salted Almonds
Iced Cantaloupe
Celery
Olives
Boullion
St. Julian
Individual Planked Whitefish
Potatoes Border
Sweetbread Patties
Squab in Casserolle
Moet and Clandon White Seal
Parsley Potatoes
Cauliflower
Stuffed Tomato Mayonaisse
Harlequin Ice Cream
Cake
Newchattle Cheese
Coffee
Toaster Wafers
Crème de Menthe
Cigars
The menu was well served and the management of the New Commercial was complimented on all sides for its excellence. Mr. Heinrichs officiated as the toastmaster and paid a fine compliment to Watertown and its citizens and to the management of the New Commercial Hotel. Many happy responses were given to the toasts and a very pleasant feature of the evening's program was the presentation of a gold-headed cane by citizens of Watertown to Mr. Wertheimer, Mr. Heinrichs delivering the presentation speech.
The following letter accompanied the gift:
Hon. Herman Wertheimer, President, Watertown Advancement Association.
Dear Friend:
We, the undersigned citizens and business men of Watertown, do hereby petition your acceptance of the accompanied gift as a slight token of our esteem for you as an associate and our appreciation of your praiseworthy efforts for the advancement of the business interests of our city.
The gift was cordially accepted by Mr. Wertheimer in a few happy words that told very effectively how highly he appreciated the compliment extended him. At about 10 o'clock that evening the Watertown Military Band serenaded Mr. Wertheimer and the other guests at the banquet. Mr. Wertheimer is one of Watertown's most progressive citizens—he is president of the Watertown Advancement Association, of the Inter-County Fair Association, Out-Door Art Association, and Home-Coming Club. His time and money have always been most generously given to advance the interests of this city, hence the compliment extended him last Saturday evening was most worthily bestowed.
____________ More on Herman Wertheimer Recognition ____________
Thanks for Remembrance
Watertown Gazette, 09 03 1909
Editor Gazette—I wish to express through the columns of The Gazette my grateful thanks for the kind remembrance by the citizens and businessmen of Watertown on the occasion of my birthday anniversary and to express to them the most kindly feeling for their appreciation of my efforts in conjunction with the other officers of the Watertown Advancement Association for a greater industrial Watertown and I assure them that it will always be my aim to merit their approval in like matters in the future. With the aid and assistance of the people in the future, so generously given in the past, there seems no good reason why Watertown should not take front rank with her sister cities in Wisconsin.
Again thanking you, I am
Herman Werthheimer
1910
03 18       WITHDRAWS AS CANDIDATE FOR MAYOR
Herman Wertheimer has issued the following letter announcing his withdrawal as a candidate for mayor:
When it was apparent at the opening of the spring campaign that there was a likelihood that the office of mayor of the city would be without a candidate, I decided to announce myself as a candidate for the place.  This action was taken when it was known that no party nominations would be made, as no primary election could be held under the law, no action looking toward such election having been taken.  In view of what has since occurred, I have decided to withdraw my name as a candidate for the office, and so far as I am concerned, leave the field clear for the other candidate.
I have been honored by the citizens of Watertown in the past with the mayoralty and have served in the city council, where my record is open to the public.  In many other ways while a resident of Watertown I have always done my share to help in the city's betterment, and I take occasion at this time to thank all my friends who have stood loyally by me in other campaigns, as well as the one which I recently entered.
It seems hardly necessary to deny the charges made that I was put up as a republican candidate.  That is not true, as I entered the field of my own volition and leave it in the same manner.
I have carefully considered the matter from all points of view, and while I may be censured by some for my action, I will have the satisfaction of knowing that I have been influenced in my decision by myself alone.  When I announced my candidacy I did so with the thought that someone should do so.  The history of the past four years shows that the office went begging, and it was an extremely hard matter to find anyone who would consent to run.  Knowing that such a condition had existed, my candidacy followed, with the intention, if elected, of serving the people of the city in a business-like manner and for the good of the whole community, and I believe that my record while a citizen and public official of Watertown will show that all my acts have been in the interests of the people and to make Watertown a bigger and better city. 
This and this only was my object in announcing the candidacy from which I now withdraw, hoping that my loyal Watertown friends will uphold me in this decision, which is final on my part.
Again thanking my many friends in Watertown for their words of encouragement and support, I remain
Yours truly, Herman Wertheimer.     WG
1914
02 50       Proposed STATE Home for Feeble Minded in Watertown
c.1915-1920
WATERTOWN GRAIN CO. ELEVATOR, distant view of
<![if !vml]>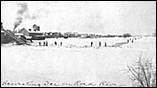 <![endif]>   Ice Harvesting photo
This building was originally located on West Main Street near the C & NW depot and was moved intact to North Water Street (today near site of Fannie Lewis park).
1916       WATERTOWN GRAIN COMPANY    
<![if !vml]>

<![endif]>
1918
12 04       CHAIRMAN OF RECEPTION COMMITTEE FOR COMPANY E
To the Common Council and Citizens of Watertown:
As the boys are returning from the front and the camps it will be necessary to receive them.  I herewith appoint Ex-Mayor Wertheimer as chairman of the reception committee, he to appoint his own aides.  I also appoint every man, woman and child in the city of Watertown as a member of the reception committee and, if parents who know of a wounded or sick soldier coming to town will notify Mr. Wertheimer or myself, we will be glad to go and receive the soldier with an auto and take him to his home.
Later on, possibly in February—and I would suggest February 22nd, Washington's birthday—Watertown ought to give a monster celebration to the returned soldiers, showing our appreciation of their services.
Company E will undoubtedly come back in a body.  When they do we will notify all citizens and I trust that everybody will be at the depot to receive them.  I am therefore also having a resolution introduced appropriating two hundred dollars as the city's part in defraying the expenses of receiving the boys and to help with the celebration.
Dated December 2, 1918. Charles Mulberger, Mayor.       The Watertown news
1921       WATERTOWN CANNING COMPANY OFFICER  
The Watertown Canning Company was established and incorporated in 1913.  The 1921 officers included H. Wertheimer, President.
1947       BURIED IN OAK HILL CEMETERY
Wertheimer, Oscar C., b. 1874, d. 1947, Sec 25
Cross References:
<![if !vml]>

<![endif]>    Portrait of young girls praying, full color with flowers and walnut frame donated by Mrs. Herman Wertheimer.
04 09 2023 <>A couple years ago, I came across a gold cane. It was very old but in excellent condition.  On one side of the handle was the name H. Wertheimer with the date of April 25/86.  On the other is written "From his Employees". It also has writing of 16K and smaller letters which I can't quite make out.  I'm guessing this may have belonged to the H. Wertheimer as was written up on your website.  As of now, I'm not planning on selling it any time soon. It holds a prominent place in my collection of vintage pieces.  Could the H. Wertheimer be one and the same?  Respectfully yours, Jeff Kyle

History of Watertown, Wisconsin