website  watertownhistory.org
    ebook  History of Watertown, Wisconsin
Watertown Square
NW corner, Church and Bernard streets
1979-2009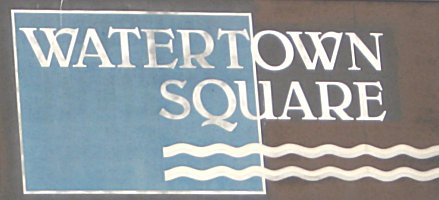 Portion of image WHS_005_858
<![if !vml]>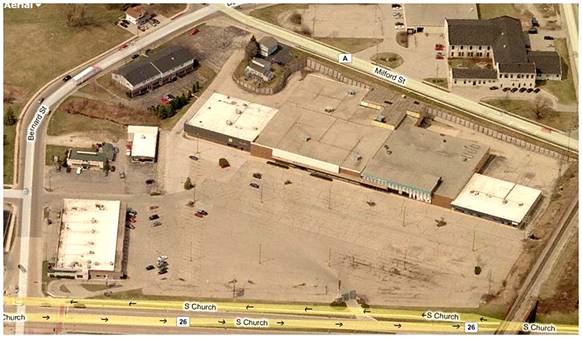 <![endif]>
Aerial view of, 2007, prior to demolition in 2009.
1965
03 03       KOHLS FOOD STORE PLANNED
Kohls Food Stores today announced that it will launch the largest expansion program in its history this year, including a new food store in Watertown in connection with the west side shopping center, which was announced in the Times some months ago.  Approximately 12 million dollars will be invested in the various expansion products and 1,000 employees will be added to the 2,500 now employed by the company, according to Max Kohl, founder and president of Wisconsin's largest independently owned food stores.  WDT
1979       CONSTRUCTION OF
<![if !vml]>

<![endif]>  
Originally constructed in 1979, the Watertown Square Shopping Center was formerly anchored by a Kohl's Department Store, a Kohl's Food Store and a Walgreens.
1999
04 07       KOHL'S CLOSES
A grocery store which has operated nearly 20 years in Watertown has announced the doors will close in two weeks.  Kohl's Food Store, located in the Watertown Square shopping center along South Church Street, will close its doors permanently at 6 p.m., April 24.  The closing is the result of a corporate initiative.  The local store's 23 full- and part-time employees were told Wednesday about the closing, although speculation had been circulating prior to the formal announcement.  Those employees, some of whom have worked there since the store's opening in 1980, have been offered jobs at other stores.   WDT
2002
Most of the existing complex has been vacant since April of 2002 when the Kohl's Department Store closed and a new location was constructed just south of Interstate 94 on state Highway 26 in Johnson Creek.  The Kohl's Food Store has been closed since March of 2001.
2006
10 27       HOLIDAY INN PROPOSED
The Watertown Square complex at the northwest corner of Church and Bernard streets may become a hotel and convention center as early as next year, according to Mark Adrian, a developer of local food and lodging businesses.  Adrian met with Mayor John David on Wednesday regarding the plans for the property.  Adrian told the Daily Times today that he has an accepted offer on the 10.7 acre parcel of property.  The property is owned by E. J. Plesko & Associates of Madison.  The hotel will have approximately 90 rooms and will also have a convention center of about 6,500 square feet.  It will be branded as a full service Holiday Inn.
2008
08 17       This section derived in part from Watertown Daily Times:
The Watertown Square site slipped dramatically some years ago when Kohl's Food Stores closed and then a couple years later the Kohl's Department Store moved to much larger quarters in the new retail development at the intersection of state Highway 26 and Interstate 94 in Johnson Creek.  Without that big retail attraction, some of the smaller businesses immediately felt the loss of the traffic and some closures followed.
At one time Church Street was a quiet city street that dead-ended at Milwaukee Street.  There was just an open field gradually rising to the railroad tracks.  Somewhere in the early 1960s a decision was made to make the extension of Church Street the new location for state Highway 26 and major resculpting of the hill got under way. That opened the land on the south side of the railroad for development.
Originally the Kohl's site was the home of a small department store chain called Value Village.  That lasted a few years and then the building was razed and everything was started over for the Kohl's food and department stores. 
Since the present buildings were constructed in the mid-1980s, there had been a host of retailers that have operated in one of the buildings.  Among them:  Adventureland Video, The Barbers, Boy Blue, Burger King, Como Photo/Video, Groundwater, Joann Fabrics, Kohl's Department Store, Kohl's Food Store, Mimi's Hallmark, Payless Shoes, Professional Cleaners, The Pool Guy, Walgreens, Cost Cutters, Wales Pets, Maxwell Street, Video Towne, Eye Care Optical, Video Town USA, Radio Shack, World of Pets, Nutri-Systems, George Webb, Jefferson Tile Company, Drive-In Movies, Play It Again Sports, Carlson Travel, Oasis Creations, Stein Optical, Watertown Medical Center, On the Road Liquidators and Pay Day USA.  And, we've probably missed a few as well.
12 31       Watertown Square Plans Outlined
The Watertown Common Council Tuesday delayed taking action on a developer's agreement for the former Watertown Square property because the documents were presented minutes after the meeting started, but city officials gave an update on the proposed development plans for the approximately 10.5-acre site on the corner of South Church and Bernard streets.
Pick 'n Save on the east side of South Church Street will move to a new 60,000-square-foot building at the Watertown Square parcel, which is owned by E J Plesko & Associates in Madison. Plans also include a 500-square-foot building that will house a Bank of Lake Mills.
The current structures that were the former locations of Mimi's Hallmark and Walgreens will remain on the property and be refurbished.
Completion date and plans to be up and operating are in April of 2010.
Because the Watertown Square parcel is located within a tax incremental financing district, the city will provide E J Plesko & Associates with approximately $3 million if the property reaches a construction value of $16 million. The property is currently assessed at about $3.5 million.
Originally constructed in 1979, the Watertown Square Shopping Center was formerly anchored by a Kohl's Department Store, a Kohl's Food Store and a Walgreens.
Most of the existing complex has been vacant since April of 2002 when the Kohl's Department Store closed and a new location was constructed just south of Interstate 94 on state Highway 26 in Johnson Creek. The Kohl's Food Store has been closed since March of 2001.   Watertown Daily Times, 12 31 2008
2009
03 20       PROPOSED REDEVELOPMENT APPROVED
The Watertown Site Plan Review Committee unanimously approved the proposed redevelopment plans for the former Watertown Square property on the corner of South Church and Bernard streets.  The proposed site plans call for Pick 'n Save to move from its current location east of South Church Street into a 60,000-square-foot building on the Watertown Square site.  Project Director Joe Malucha of MSI General Corp. said the grocery store will have a pharmacy with a drive-through window.  Plans also include a 10,500-square-foot facility on the southeast corner of the parcel that will house a Bank of Lake Mills.     WDT
04 28       PERMITS APPROVED
Conditional use permits for the Watertown Square shopping center on the corner of South Church and Bernard streets were approved by the Watertown Plan Commission.  The proposed site plans for the property call for Pick 'n Save to move from its current location east of South Church Street into a 60,000-square-foot building on the Watertown Square site that is owned by E J Plesko & Associates in Madison.  Plans also include a 10,500-square-foot facility on the southeast corner of the parcel that will house a Bank of Lake Mills.  The Bank of Lake Mills will initially occupy approximately 6,000 square feet of the building and one other tenant will rent out the remaining space.  The current 15,000-square-foot structure that is the former location of Mimi's Hallmark and 10,600 square feet of building space on the northern edge of the property will be restored and used by multiple tenants.  All of the other buildings on the parcel will be razed.   WDT
Set of images prior to demolition / Click upon to enlarge:

Cross References:
<![if !vml]>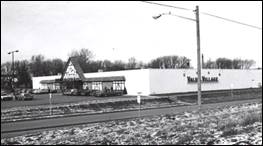 <![endif]>
History of Watertown, Wisconsin