website  watertownhistory.org
    ebook  History of Watertown, Wisconsin
Watertown-Portland Plank Road
The building of roads to open the country for settlement and military purposes was one of the first concerns of the settlers and the government.  Following old Indian trails, a Milwaukee-Watertown wagon road was constructed in 1837. 
<![if !vml]>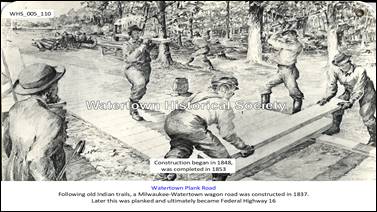 <![endif]>
1852
04 14       The Watertown and Milwaukee Plank Road Company has declared another dividend of 3 per cent, making 10 per cent since the first of January.  Think of this, ye who_?_ 40 per cent annually for the use of your money; and then act like wise men - purchase stock in the Watertown, Hubbleville, Portland and Waterloo road.   WC
1854
11 16       Meeting of the City Council, November 13th, 1854... Resolved, That the Street Commissioners of the 3rd and 4th wards be, and they are hereby authorized and directed to procure 8000 feet oak plank, for the purpose of finishing up the Plank Road, on West Avenue Street to where the Watertown and Portland Plank Road commences, and that the expenses of the same be paid out of the City General Fund.   WD
1863
09 17       Ald. McHugh presented the following report:  The Committee on Streets and Bridges, to which was referred the resolution to locate West Avenue [West Main St.] to the city limits would respectfully report that they have examined said street and find it is not advisable to make any change for the present as it would be too much expense on the wards and Plank Road Co. has abandoned said road for a public highway.  Your committee is of the opinion it is sufficient to accommodate the public for the present. 
Ald. McHugh introduced the following resolution:  Resolved, that the Marshall is hereby directed within five days from the passage of this resolution, to remove all obstructions on West Avenue and Watertown & Portland Plank Road within the city limits.  Adopted.   Common Council Proceedings.     WD
Cross References:
No 1:  Daniel Jones was one of the originators of the Plank Road, between Portland and Oconomowoc, and it was a good investment until the railroads came through.  They ruined the business and I lost what I had in the enterprise.
No 2:  1871 note on road condition:  On the Watertown road but it is quite sticky.
No 3:  Mud Tavern hostelry on Watertown-Portland Plank Road
No. 4:  1998, Covered wagons once again rumbling down the old Watertown Plank Road.
<![if !vml]>

<![endif]>
History of Watertown, Wisconsin