website  watertownhistory.org
    ebook  History of Watertown, Wisconsin
Watertown Dye Works
110 S Second Street
207 N Second Street
104 E Main Street
<![if !vml]>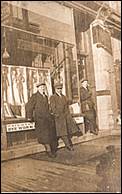 <![endif]>
c.1914
click to enlarge
1911
11 09       The proprietors of the Watertown Dye Works are now ready for business and invite the public when in need of any work in their line to give them a call.  They have a well equipped dye works at the west end of Cady Street bridge and offices at 207 North Second Street.  William Bergen, an old Richwood boy, is manager, and P. Davy, of Madison, is proprietor.  Both are experienced and honorable men and our people will find that work entrusted to them will be turned out in a first class manner.   WG
11 30       207 NORTH SECOND STREET
Watertown Dye Works.  207 North Second Street.  Telephone 488-x.
Cleaning, Dyeing, Pressing and Repairing.
Have your old suit cleaned and pressed and make it look like new.
William Bergen, Manager.   WG
06 08       VIEW AT TIME OF BAND CONVENTION
<![if !vml]>

<![endif]>        <![if !vml]>

<![endif]>
Northwestern College Band and Military Company
1912
<![if !vml]>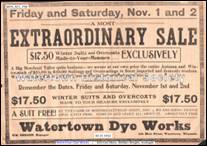 <![endif]>  
c.1912
06 08       1912c, 104 E Main, night view
1913
1913, 104 E Main, dyers & scourers
1914
01 15       CLEANERS AND DYERS
Watertown Dye Works, 104 Main Street, Cleaners and Dyers.
We clean and dye white kid gloves and shoes, ostrich and willow plumes, corsets and sweaters.  In fact, anything you may have to be changed in color or matched in color.  Out of town orders receive our prompt attention.  Telephone 294-x      WG
1918
08 30       110 S. SECOND STREET
<![if !vml]>

<![endif]>      Michael Davy propr.
1925

History of Watertown, Wisconsin