This file portion of www.watertownhistory.org website
United Cooperative
815 N Church St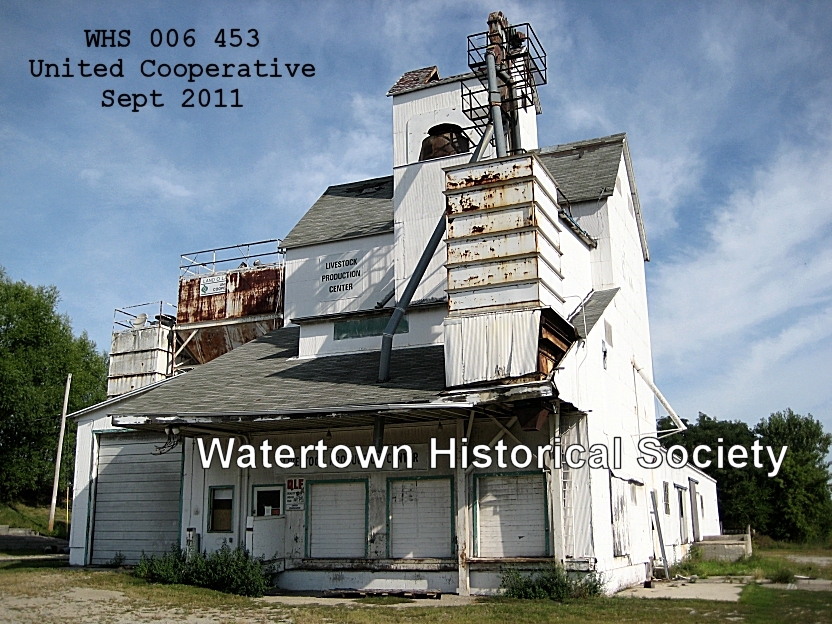 2011
1957
Ad, Rock River Consumers Coop, 1957
2010
Aug. 24, 2010
Dear Watertown feed customer:
We would like to take this opportunity to thank you for your business and to inform you of our future plans to continue serving you. As you probably know, our Watertown feed location has struggled with outdated facilities. After careful evaluation, we've decided the best way to serve our customers, provide the best return on investment for our members, and better utilize our state-of-the-art feed mills in Hartford and Beaver Dam is to close the Watertown feed facility.
United Cooperative will continue to service the Watertown area with quality Land O'Lakes Purina feed products and technical expertise. Brian O'Rourke, Matt Homan, Dan Jensema, Eric Onan, and the rest of United Cooperative's knowledgeable nutrition staff are ready to handle all your herd's nutrition needs.  Whether it is bulk feed, custom mineral, bagged feed, liquid feed, or other important necessities like water softener salt and feed stabilizers, United Cooperative has the staff and equipment to serve your needs.
We want to make this transition as convenient as possible for you. Feel free to pick up bagged products at any one of our feed locations. Our most popular bagged products will also be available for purchase at our Watertown Cenex convenience store; there will be a special area constructed at the store and designated to these items. We can deliver up to 20 bags of bagged products with your bulk feed deliveries at no additional charge; and with a minimum one-ten bagged order, we can deliver your order-to you with our new and popular scheduled delivery system (SDS).
You'll be pleased to know Jeff Fortmann and Rick Guderian from the Watertown feed mill will both continue working for United Cooperative.  Jeff Fortmann is the new assistant feed mill manager at our Hartford feed location, and Rick Guderian will be working at our Randolph feed location.
The Watertown facility will officially close for businessmen Friday, Sept. 10, 2010.
2011