website  watertownhistory.org
    ebook  History of Watertown, Wisconsin
Strauss & Sette
1916 note: Built by Ferdinand Behlke, General Contractor  
1898       SIGNAGE NOTED
<![if !vml]>

<![endif]>  
1908
05 09       The firm of Strauss & Sette, dry goods merchants, will soon make an expansion in their business.  They have given notice to the tenants in their building at the corner of Main and Second streets to vacate by the first of July, at which time they will begin the remodeling of the structure for their own occupancy, which they expect will be about the first of September when they will remove from the O'Malley building on the north side of Main street near the corner of Second.  It will be remembered that Strauss & Sette made the purchase of the building into which they will move about two years ago from the Nowack estate . . .  The firm of Strauss & Sette have worked up a remarkably good business and are giving evidence of prosperity.    WL
07 24       Strauss & Setts have commenced the remodeling of their store building at the corner of Main and Second streets, and when the alterations are completed thereon they will have one of the very best store buildings in the state.   WG
10 30       Move from 114 East Main Street, to new store at 117 E Main Street, the southwest corner of Main and Second   WG
July of 1908     Laying of interurban tracks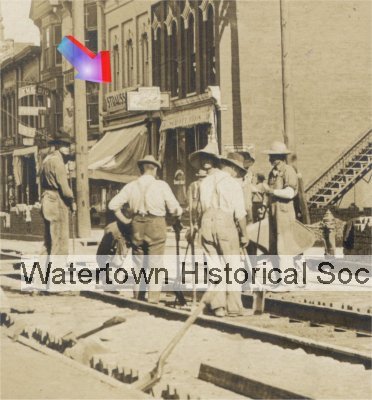 Above is portion of image WHS_PC_034
Strauss & Sette at new location, 114 E Main
1909       Strauss & Sette, 1909, 117 E Main, dry goods
1914
04 09       E. W. SCHUETTE purchased interest in Strauss & Sette
Ernest Schuette has purchased the interest of D. C. Gile in the mercantile business of Strauss & Sette at Watertown, taking possession April 1.  The family will move to Watertown May 15.  Mr. Schuette is one of the most highly respected business men of this village, where he has lived all his life.  He began his business career in the employ of Frank Fiebiger, where he remained for six years.  In 1897 he took a position with C. Failinger and for the past seventeen years has been a faithful employee of that firm.  He possesses qualities that hold friends and he is a man of exemplary habits.  The editor of The Democrat, who was a boyhood friend, joins is wishing Mr. and Mrs. Schuette continued prosperity at Watertown. — Waterloo Democrat.    WG
1915
06 03       STRAUSS & SETTE BANKRUPT
Notice:  The Strauss-Sette Company being now bankrupt, the accounts of this company are payable to the Trustee, Otto A. Wegemann, and have been left at the office of the undersigned attorneys, where the same are now payable.  All persons knowing themselves indebted to the Strauss-Sette company will call at the office or the undersigned and pay the same before the 15th of June, 1915.  
Skinner &Thauer, Attorneys for Trustee.   WG
07 01       STRAUSS & SETTE GOODS SOLD
Last Thursday afternoon the bankrupt sale of stock and fixtures of the Strauss & Sette store took place, Otto A. Wegemann the trustee, knocking down the entire outfit to Young Bros. of Sheboygan for $3685.   WG
07 15       CLOSING OUT SALE
<![if !vml]>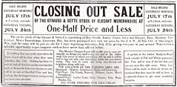 <![endif]>  
1916
03 24       "The Golden Rule," the J. C. Penney Co. store, opened in the Strauss and Sette building.

History of Watertown, Wisconsin