This file part of www.watertownhistory.org website
   Chapter on Watertown Police Department
City Police Carrying New Weapons
12 10 1998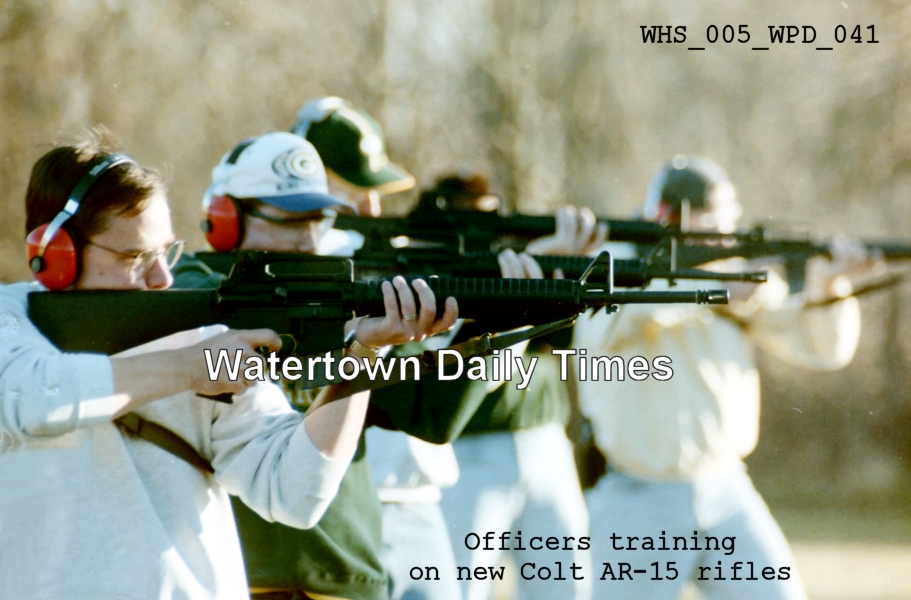 Watertown police officers take aim during training on new Colt AR-15 rifles,
purchased for use in the city's squad cars.
The rifles will provide better shot accuracy and increased standoff distance.
Watertown police squad cars are carrying new automatic weapons this week, now that most officers have completed the training process.
Eight Colt AR-15 rifles were purchased, which will provide shot accountability and increased standoff distance.
The Watertown Police Department had conducted an extensive study on determining what squad gun should be placed in our cars.
The majority of officers have completed a familiarization and qualification course, taught by the department's two state-certified tactical rifle instructors, Sgt. Leon Ruder and Det. Ken Severn.
The weapons are an improvement over what they used to have, Marlin Camp 9mm rifles purchased nine years ago and 12-gauge shotguns.  When requesting the new weapons, patrol officers said they had a complete lack of confidence in the Marlin Camp 9 carbine.
The new weapons cost $5,038, and ammunition, slings and butt plates for the rifles cost $2,718.  The rifles and shotguns which are being replaced will be sold for an anticipated $1,200.