website  watertownhistory.org
    ebook  History of Watertown, Wisconsin
Bramer Family
Bramer Building
[ Piccadilly Building ]
406 East Main Street
Bramer (alternative spellings:  Braemer, Brämer)
<![if !vml]>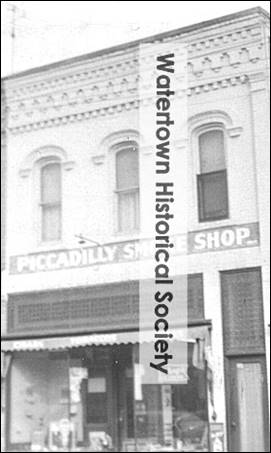 <![endif]>
Bramer Building
The building at 406 East Main Street, which housed the Watertown Main Street office in 2001, was built in 1884 by John F. Bramer.  The distinctive brick building has raised brick cornices, and Italianate arched window heads and originally had a refractive glass transom on the store front window.
Bramer and his brother, Charles, were in partnership in a farm implement business.  The shop was connected to 408 East Main and sold buggies, cutters, wagons, sewing machines, etc. according to the 1892 city directory.  The Bramers made their home on the second floor.
By 1909, John's brother, Frank, was running a piano tuning business from the location.  Frank was violinist and was well known in the city.
The Bramer family owned the building until 1919, when it was sold to Robert Kulm.  In 1921, it was the site of Vogue Cleaners [Reinhold Budewitz], and by 1928, it was the home of Stuebe Floral Co.  The William J. Stuebe family would operate their floral business in the building until 1933. 
In 1934, Clara and Winifred Harrigan opened the Golden Lantern Gift Shop from the building.
1933:  Golden Lantern Gift Shop
<![if !vml]>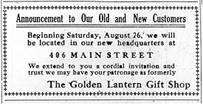 <![endif]>     
By 1941, 406 East Main was The Smart Shop.  Then in 1945, Alex Dimitros opened The Smoke Shop and sold cigars and tobacco products.  By 1950, the name had changed to The Piccadilly Smoke Shop and the name stayed the same through several owners when it finally closed in the 1990s.
Dawn Rafel ran The Old Towne Doll Shoppe until 1966.
The building was owned by Ron Ziwisky in 2001.
_________________________________
1929
02 26       NEW STORE FRONT FOR ALEX DIMITOR
      Remodel of 406 East Main store front, first floor of "The Bramer Building."
<![if !vml]>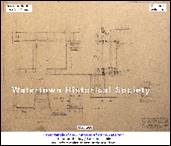 <![endif]>          <![if !vml]>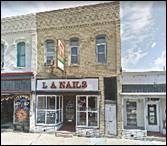 <![endif]>   
NB <> refractive glass transom on the store front.
1937
08 20       AARON BRAMER JOINS ORCHESTRA
Aaron H. Bramer, son of Mr. and Mrs. Frank Bramer, North Church Street, left today to rejoin the Ray Williams orchestra at Summit Heights, Long Lake, Flint, Mich., after spending a vacation here.  After the orchestra concludes its engagement at Flint it will open at the Rainbow Gardens ballroom at Waldemeer Beach Park, Erie, Penn., rated as one of the foremost and most beautiful ballrooms on the shores of Lake Erie.      WDT
1964
07 18       CHANGED OWNERSHIP
One of Watertown's old business establishments — The Piccadilly Smoke Shop at 406 Main Street — has changed ownership, it was announced today. The new owners and operators are Mr. and Mrs. Charles Arndt, formerly of Fort Atkinson. They have purchased the business from Mr. and Mrs. Donald G. Reynolds. Mrs. Arndt is the former Freda Voges of Watertown.
_________________________________
A long-time business in Watertown has closed its doors for the last time.  The Piccadilly Smoke Shop has been the place to purchase everything from magazines to smoking products, from comics to penny candy, but the increasing pressures from big business spelled its demise.  Piccadilly was one place all kids knew and patronized.  But the smoke shop also offered newspapers, magazines, tobacco products and just about everything else for adults.
The shop had been operated by Carol and Dawn Schumacher since 1978 when they purchased it from Frieda Arndt.  The business was called the Piccadilly for about 62 years, and before that it operated under a different name for at least a dozen years, making it at least 75 years old when it closed.
1975
<![if !vml]>

<![endif]>      Bramer Bldg, 1975
________________________________________________
Bramer Family
Henry E. Bramer of Hustisford   and   Emelie (nee Krueger) Bramer
Frank Bramer (son of Henry and Emelie)            Brother of John (Frank's older brother)
Frank's mother Emelie (nee Krueger) Bramer died very early.  Frank's father Henry Bramer of Hustisford remarried a couple of years later and moved to Beaver Dam. 
Frank/Franz lived with his Grandmother Maria Krueger for several years, then after her passing moved in with his brother John Bramer in Watertown.  John had the farm implementation business on Main Street and they lived above the store.
When referencing John, it was Frank's older brother.  Bramer pdf file.
1887       J. F. & C. H. BRAMER, Agricultural Implements
An undertaking of magnitude and increasing importance is the well-stocked store of Messrs. J. F. & C. H. Bramer, dealers in flour, feed, hay, and straw, as well as a complete line of fine manufactures in the way of farming machinery and agricultural implements of all kinds.  A large and commodious store with a fine frontage of forty and depth of eighty feet is occupied by this extensive establishment, which is commodiously fitted with all trade requirements.  The feed and provisions dealt in are of the best and purest quality, and are guaranteed wholesome and healthful.  In farming machinery the productions of leading manufacturers are shown, including ploughs, land-cultivators, scythes, harrows, and agricultural tools of all kinds.  Messrs. Bramer are practical business men of wide experience.  Mr. J. F., the senior member of the firm, was originally engaged in the implements business, but on locating his enterprise in Watertown added the grain and feed business, thus enlarging his patronage in a marked manner.  His brother, Mr. C. H. Bramer, is a native of Wisconsin, and has been associated with the undertaking since 1885.   – Historical review of the state of Wisconsin: its industrial and commercial resources, Historical Publishing Company, 1887
1894
<![if !vml]>

<![endif]>     J F Bramer, 408 East Main [connected to 406]
1900
01 09       CARRIAGES AND PHAETONS
<![if !vml]>

<![endif]>  
12 26       CARRIAGES AND PHAETONS
Nothing Sells Like the Dust-Proof Interchangeable Axle-Box Buggy . . . When you want to buy the best Baggies, Wagons, Binders, Reapers Mowers, Fanning Mills, Etc., call and see John F. Bramer, 406 Main St.  Pumps, Tanks, Repairs, always in stock Lowest prices guaranteed.  No. 1 Windmills a specialty.   Watertown Republican, December 26, 1900.  
1910
<![if !vml]>

<![endif]>       <![if !vml]>

<![endif]>      Bramer & Wolff
<![if !vml]>

<![endif]>     Frank Bramer, undated print
1912
03 16       <![if !vml]>

<![endif]>  
1914       Frank Bramer, music teacher, 300 Main, h.302 Main (1913-14 Watertown City Dir)
1914
02 12         <![if !vml]>

<![endif]>  C. Herman Bramer (109 N Third))
09 03       Mrs. William Sproesser, Clyman Street, entertained about seventy-five ladies at a reception from 3 to 6 o'clock last Saturday afternoon.  In the receiving line beside Mrs. Sproesser were Mrs. Max Rohr, the Misses Minna and Louise Sproesser and Mrs. Alan Yorhies of New Orleans.  Music was furnished by Mr. and Mrs. Frank Bramer.  The dining room was presided over by the Misses Elsie and Margaret Sproesser.  The afternoon was a most pleasant one for all.   WG
<![if !vml]>

<![endif]>   unk date
1915
01 21       Watertown Symphony Orchestra
When enumerating the things for which Watertown is conspicuous, do not fail to mention along with the stuffed geese, manufacturing plants, banks and stores, our own Watertown Symphony Orchestra of thirty-five pieces.  That you may know just how many adjectives to use in "cracking up" this worthy institution, make up your mind to treat yourself to one or more tickets for this our first concert to be held at Turner Opera house February 15.  Seat sale at Bittner & Tetzlaff drug store at 9 a. m., February 8. Paste these dates in your hat.
That this concert will be of a high order is guaranteed by the fact that Mr. Henke, Mr. Sproesser and Mr. Bramer will assist the orchestra with solos.  The program will not be a long drawn out affair as there will be no attempt on the part of the orchestra to play its entire repertoire at this time — our aim being quality rather than quantity.
In view of the fact that fifteen years have elapsed since the appearance of the Apollo orchestra, and in view of the fact that Watertown needs an orchestra of this type badly, we sincerely hope that by February 15 every seat will have been sold.  Our aim is to give Watertown frequent concerts at popular prices and we sincerely hope that the extent of your patronage on February 15 will demonstrate that your wishes also run in this direction.
Decide now to attend this concert and tell your friends you're going — rain, hail, sleet or snow – and we will be very grateful indeed, as you will in this way show your appreciation of our efforts.
Watertown Symphony Orchestra, L. W. Parks, Librarian.    WG
1927
12 03       ELKS MEMORIAL SERVICE SATURDAY OPEN TO PUBLIC
The memory of 38 departed members of the Watertown Lodge of Elks will be honored at the annual memorial service of the order . . . .  The Watertown Elks chorus, under the direction of Edward L. Schempf, will sing and Frank Bramer, violinist, and Mrs. Bramer, pianist, will render two selections.  The ritual will be in charge of the officers of the lodge, headed by F. W. Koenig, exalted ruler.  Mr. Bramer will offer the "Andantino" by Lully-Brown, and "An Old Air" by Haesche as his part of the program. 
1945       Frank Bramer (Edna E), Piano service – tuning repairing, specializing in players, 310 N. Church, (1945 Watertown City Dir)
Mrs. Edna Bramer, music teacher, 310 N. Church (1945 Watertown City Dir)
Cross Reference:
Frank Bramer was one of the best violin pupils of Richard Hardege.
Bill Lindborg note: my Grandfather Frank live there with his family on Main Street after his Grandmother died in Hustisford.

History of Watertown, Wisconsin