website† watertownhistory.org
††† ebook† History of Watertown, Wisconsin
Pagel's Bakery
114 W Main
<![if !vml]>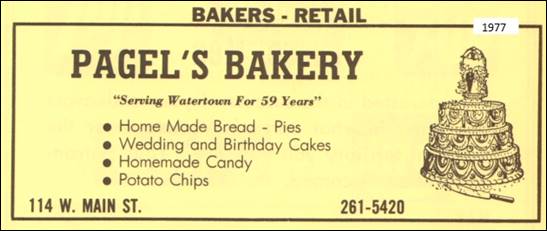 <![endif]>
1921
01 22†††††† ASSISTED AFTER FIRE AT KOSERíS
The Koser bakery had to suspend baking in its plant after a fire, but through Herbert Pagel of the West Side bakery, they were able to turn out barely enough to keep up with the trade.
1955
10 10†††††† FEATURED IN ARTICLE
Watertown popcorn products, turned out by Pagel's Popcorn products, operated in connection with Pagel's Bakery, today came in for national publicity when the October issue of the National Candy Wholesaler magazine carried an article dealing with novelty products. The article is entitled ĒParade of Fall merchandise.ď The magazine is known as ĒThe Voice of the Jobber.ď It has national distribution among all important candy and confection houses and manufacturers.
At an earlier time one could have enjoyed a potato chip junkie's treat:† Pagel's Bakery cooked up a few chips every day and packaged them in a hand-stapled wax snack bag. One could buy a 25-cent bag of Pagel's not only at the bakery, but at the malt shop next door as well !
1962
01 05†††††† KOSERíS CLOSED Ė EQUIPMENT BOUGHT BY PAGELíS
Koserís Bakery, 111 South Second Street, has closed its doors and the last owner and operator, Ernst Stellbrink, has gone out of business.† The bakery, one of the oldest and most widely known of its kind, was founded by the late Mr. and Mrs. Frank J. Koser, who operated it for many years.† Both died here.† It was taken over by the family and the last family owner and operator, Miss Florence Koser, sold the business to Mr. Stellbrink who came here from Marshfield and has operated it for the past 12 years, continuing the fine quality baked goods for which it was known.† Equipment in the bakery has been purchased by Pagelís Bakery of 114 West Main Street.†† WDT
1969
Dec††††††††† PAGELíS TOM & JERRY BATTER
<![if !vml]>

<![endif]>††
1981
PAGEL'S BAKERY IS SOLD† TO MILWAUKEE BAKERS
OLD WORLD BAKERY Opens
<![if !vml]>

<![endif]>
Pagelís Bakery, a family operation for 64 years, has been sold and will be known as Old World Bakery.
The new owners, Adolf and Bonnie Winkler and Horst and Rita Walcher, took over the business on Monday.†
The men were formerly employed by Hartter Bakery, 5513 West North Avenue, Milwaukee, Walcher as yeast dough supervisor and Winkler as pastry manager.†
Both learned their trade in their former countries.† Walcher moved to the United States from Austria 10 years ago and Winkler lived in Canada for eight years before moving to the United States 14 years ago.
Old World Bakery will specialize in wedding cakes, French pastry, whipped cream items, tortes, sour dough rye bread, and salt sticks, in addition to the Pagelís bakery items.
Hubert B. Pagel, father of John, started the bakery in 1917.† John and his two brothers, Foster and Robert, took over the operation of the business in 1946 when their father became ill.†
They officially bought the bakery in 1950. John and his wife, Arlene, have been operating the business themselves since 1960.
1984
04 13†††††† Adolf Winkler / Baker of the Month
Watertown baker Adolf Winkler has been named Baker of the Month by The Master Baker, a monthly publication of the Wisconsin Bakers Association. He and his wife, Bonnie, own and operate Old World Bakery, 114 W. Main St. The couple was honored in the April issue which includes several pictures of Winkler and his family along with a feature story. Winkler had a three-year apprenticeship in Hanover, Germany. He was employed for four years with in-store bakeries for Canada's Dominion and Safeway food store chain. He was with Federal Bakeries in the United States for one year and with Crestwood Bakery, Milwaukee, for 12 years. He was employed at Hartter's Bakery, Milwaukee, before coming to Watertown.†† WDT
Cross References:
Former location (114 W Main) of Krahmerís Bakery (1913)
<![if !vml]>

<![endif]>
History of Watertown, Wisconsin