website  watertownhistory.org
    ebook  History of Watertown, Wisconsin
Noffz Funeral Home
400 S. Third
Max L Noffz
1907-1983
1955
<![if !vml]>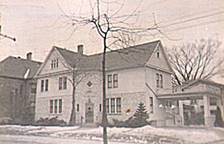 <![endif]>  
1983
Max L. Noffz, 76, 400 South Third Street, a former Watertown businessman and funeral director, died Tuesday afternoon at Watertown Memorial Hospital following a brief illness.
Funeral services are at 2 p.m. Friday at St. Mark's Lutheran Church with Rev. Myron Kell officiating.  Burial takes place in Lutheran Cemetery.
Friends and relatives may call to pay their respects at the Hafemeister Funeral Home from 4 to 9 p.m. Thursday and at the church from 9 a.m. until the time of the service Friday.
Noffz was born Jan. 24,1907 in Watertown, son of Frank and Emelie Noffz.  On Nov. 1, 1930 he married the former Ella Kottmann at St. Mark's Lutheran Church in Watertown.  He was a member of St. Mark's Lutheran Church and a funeral director in Watertown for over 50 years.  He was a Watertown High School graduate and a graduate of the Goodman College of Embalming in Milwaukee.
Kohls and Knaack Funeral Home
Hafemeister Funeral Home
Noffz Funeral Home
He was employed at the Kohls and Knaack Funeral Home in Watertown, which was later the Hafemeister Funeral Home.  He owned and operated the Noffz Funeral Home from 1947 to 1972.
He was a member of the Wisconsin Funeral Directors Association, the National Funeral Directors Association, a former member of the Watertown Police Reserve and a 55-year member of the Plattdeutscher Verein.  He also served as secretary, treasurer and house chairman for the Verein and was awarded a life membership in the organization.
Survivors include his wife, two daughters, Mrs. Harold (Barbara) Oswald of Appleton, Mrs. Robert (Beverly) Webster of Watertown, five grandchildren, five great-grandsons, nieces, nephews and other relatives.  He was the last member of his immediate family.
He was preceded in death by one granddaughter, one sister and one brother.
CONTRIBUTED INFO:
Henry J Krier began the Noffz funeral home.  Before Max Noffz owned the funeral home on 3rd Street, it was owned by a number of others including August & Emma (Heubner) Kieck (August b 1878-1947; Emma 1881-1960).
The family lived on 4th Street and had one daughter: Bernice. (1916-2008).
Bernice married Harold (Ole) Olson and they lived on Dewey Ave.  (Bernie recalled helping her father in the funeral home).
The Olson's had a son Steve and a daughter Margaret.  (The kids recalled playing the casket room).

History of Watertown, Wisconsin