website  watertownhistory.org
    ebook  History of Watertown, Wisconsin
Nack's Market
621 E Main
Walter A. Nack
1881-1963
<![if !vml]>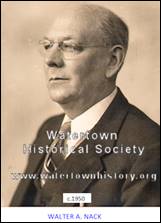 <![endif]>
click to enlarge
1915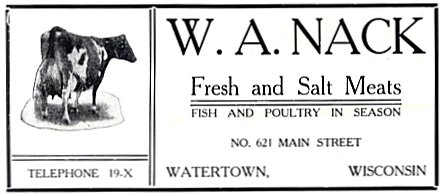 1915 ad
<![if !vml]>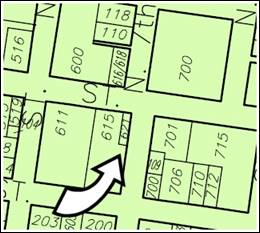 <![endif]>
TOM NACK AND MOTHER, HORSE from Seibel Brothers
<![if !vml]>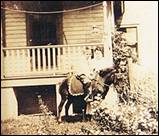 <![endif]>
1918
12 13       MAN IS WANTED WHO ELOPED WITH LIZZIE
The Watertown police began a search Wednesday evening for the man or men who eloped with "lizzie" at the corner of Main and Seventh streets.
Walter A. Nack, who conducts a meat market at that corner, left his Ford car there while he attended to business in the shop and when he went to get the car it had disappeared.
The car number is 17144, with demountable wheels.  Carries one spare wheel on side.  Lizzie's right fender is broken.              Watertown News, 12 13 1918
1943
03 02       NACK'S MARKET TO CLOSE DUE TO WAR
Curtailment of supplies of meat forces move; Opened in 1911
Mayor Walter A. Nack, who in private life operates the Nack Meat Market at Main and South Seventh streets, announced that because of war-time restrictions and inability to obtain supplies of meat and meat products he is closing his place of business.  It was also reported today that several other meat markets here would be forced to close shortly.
Mr. Nack said that he has been unable to obtain only very limited supplies of meat and that with meat rationing about to start there was nothing to do but to reach a definite decision and that he had decided to close his market.  He has operated at the same location since 1911.
While his stock of meat and supplies has been about exhausted, he will nevertheless be at his shop for the balance of this week to close accounts and other matters pertaining to the business.
Asked if he planned to reopen his shop after the war, the mayor said that any such plan is indefinite.
Last year some government authorities in Washington estimated that one result of the war on the home front would be the closing of 300,000 small, independent businesses.  In many communities meat markets are already among the hardest hit.   WDT
1963
03 01       EX-MAYOR NACK DIES
       Served City as Its Executive from 1940 to 1946
Walter A. Nack, 82, of 504 South Eighth Street, three times mayor of Watertown, died at St. Mary's Hospital yesterday afternoon following a brief illness.
Mr. Nack, who was born in Oconomowoc on Feb. 11, 1881 and who had lived in Watertown the past 57 years, owned and operated Nack's Market at Main and South Seventh streets for 32 years prior to his retirement.  His parents were the late Mr. and Mrs. August Nack.
He was first elected mayor in 1940 and served until 1946.
On June 1, 1905 he married the former Clara Goetsch.  Theirs was a long and happy marriage and her death in 1943 (while mayor) was a severe blow to Mr. Nack.
Surviving him are one daughter, Miss Eleanor A. Nack, and a son Thomas W. Nack, both of Watertown.  There is one grandchild.  Other survivors are two sisters, Mrs. Herbert Hastings,
Oconomowoc, Mrs. William Jones, Ixonia; three brothers, Erwin, Arthur and Herman Nack, all of Oconomowoc.
Mr. Nack was preceded in death by one son and a brother.
He was a member of the Advent Christian Church, the Plattdeutscher Verein and had also been a member of the former Company M of Oconomowoc.
The funeral will take place Monday at 2 p.m. at the Advent Christian Church, South Eighth Street, the Rev. W. Weldon Holland officiating.  Interment will be in Oak Hill Cemetery.
Friends may pay their respects at the Schmutzler Funeral Home Sunday from 3 to 9 p.m. and on Monday until 10 a.m. and at the church beginning at 11 a.m.
Had Many Friends
Mr. Nack was a man who served this community well over the many years he was a resident and when it became his privilege to serve as mayor he helped bring about a stabilizing influence in community governmental affairs after some previous years of turmoil and dissension.
A man with a strict sense of duty, he nevertheless could carry on his duties with a rare sense of humor.  He had the ability to obtain cooperation from various factions and his judgment was respected.
Mr. Nack's circle of friends ranged far and wide. He was respected and well liked.  His death has removed a figure whose friendship and association had been cherished by all who knew him.
Cross References:
findagrave.com link:  Nack, Walter, b. Feb 11, 1881, d. Mar 1, 1963
The Walter Nack Home and
What Happened to One of the Seibel Ponies
Tale about the Seibel pony that was purchased by
local butcher Walter A. Nack for his children
The Nack's lived at 504 S. Eighth Street, across from the old Watertown Senior High School.
<![if !vml]>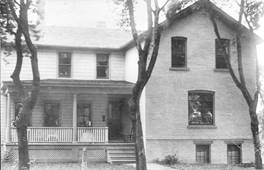 <![endif]>
Nack home at 504 S. Eighth Street
Just after the Seibel Bros. Dog and Pony Show broke up, Walter Nack purchased one of the trick ponies for his children, Tom and Eleanore.  This particular pony's trick was its ability to walk upstairs.  Now knowing this, Tom had to see it in action.
So, one Sunday, just after services at the Advent Church on Eighth Street, where the family attended services regularly, Tom and his cousins Ray Goetsch and Milton Rabenhorst ran ahead to the Nack home and got the horse.  They somehow managed to get it inside and led it upstairs.  And, by golly, it did walk upstairs, much to the boys' delight.  However, when it came time to get the horse out, they found, to their horror, that while the horse could go upstairs, it had an inability to walk downstairs.
By the time Eleanore and her parents arrived, there was a crowd assembled in front of their home, and staring forlornly out of one of the bedroom windows was the horse!

History of Watertown, Wisconsin