website  watertownhistory.org
    ebook  History of Watertown, Wisconsin
Miscellaneous set
Organize for a Beet Sugar Factory    1891
Watertown Republican, 03 01 1899
There seems to be excellent ground for believing that Watertown stands a good chance of having a beet sugar plant.  W. H. Wheeler, of Beloit, who addressed a meeting held here in that interest a couple of weeks ago, was in the city again Monday.  He feels certain that if $100,000 is subscribed here he can get outside parties to invest $100,000, and thus practically make it an assured success.  Several gentlemen of this city are-anxious to invest their capital in this enterprise, and if a few more will only come forward and put their shoulders to the wheel there is no possibility of failure.
↓  More on sugar beets  ↓
Watertown Republican, 03 08 1899
The question of a beet sugar plant having become one of engrossing interest to our citizens, we deemed it advisable to interview the gentlemen of the Watertown delegation, headed by out energetic and enterprising young mayor, Henry Mulberger, who left here last Thursday morning for Bay City, Mich., to inspect the beet sugar at this point, and are enabled to lay before our readers a most comprehensive and interesting statement of what they saw
↓  More on sugar beets  ↓
Watertown Republican, 03 22 1899
The beet sugar fever has proven to be very contagious.  All our citizens are taking the liveliest interest in the matter, and there does not seem to be any good reason to anticipate a failure of the project.  Farmers coming to town are on the alert for information in regard to it, and we judge from their expressions in its favor that the least trouble to apprehend will be in securing sufficient acreage.
↓  More on sugar beets  ↓
Watertown Gazette, 03 27 1891
Interested parties have been talking for some time past of taking steps to organize a company to build a factory for the purpose of manufacturing beet sugar in this city, and as a preliminary move in the matter, have interested quite a number of farmers hereabouts who have agreed to devote a portion of their farm the coming summer to the cultivation of sugar beets.  Beet seed has arrived here from Washington and is now in the hands of Postmaster Moak.
Julius Schoechert, a gentleman well posted on this industry, informs us that before another year rolls round he believes we will have a good-paying beet sugar factory here. 
He wishes us to inform our readers that on Thursday afternoon, April 2d, at 2 o'clock p. m. a meeting will be held in Temperance hall over Mike Began's store on the west side.
↓  More on sugar beets  ↓
Watertown Republican, 11 07 1899
Samples of sugar beets grown by Julius Schoechert, a well-known farmer on the Plank Road who has been experimenting with this product for several years, was sent to the Wisconsin Experimental station at Madison and tested by the government chemist, F. W. Woll.  The result is given as follows: Weight of beets, 1.22 pounds; sugar in the juice, per cent, 16.31; coefficient of purity (meaning the percentage of sugar in the solid matter in solution in the juice), 85.2 . . . The chemist says the samples are excellent in quality, the tests being very high.  Mr. Schoechert is very confident that this section can produce sugar beets profitably and hopes to see a beet sugar factory established here.
↓  More on sugar beets  ↓
Watertown Gazette, 05 31 1901
On Tuesday E. Salich, of Chicago, was in the city looking over the situation here regarding the establishment of a sugar-beet factory.  Mr. Salich visited our city two years ago for the same purpose.  He is an expert in the beet sugar line and is evidently keeping interested in Watertown, believing this is a very desirable place to successfully conduct a beet sugar factory.  While here in company with Simon Molzahn he made a visit to the tract of land on the Howard farm west of the city that our business men have under beet cultivation, and stated that the crop looked most favorable, and if the beets average 16 per cent, sugar when delivered at the factory, that there would be no trouble in getting capital interested in building a factory here.
↓  More on sugar beets  ↓
Watertown Gazette, 10 11 1901
Through the intercession of Wm. Buchheit the C.M.&St. P. Ry. Co. has decide to put in a sidetrack on the Madison branch of their road just south of the beet sugar field west of this city for the accommodation of Watertown business men who are interested in shipping the beet products to Menominee Falls.
↓  More on sugar beets  ↓
Sugar Beets    1962
Watertown Daily Times, 03 22 1962
Enthusiasm ran high yesterday at a Watertown meeting of farmers interested in the growth of sugar beets, in this area, putting a bit of "silver lining" in the cloud which has hung over the industry.  A film was shown to acquaint those attending with the operations of the Great Western Sugar Company in other states.  Great Western is the company interested in taking over the Green Bay plant.  Representatives of Great Western answered questions and discussed briefly the result of research which has brought about better seed, to raise sugar content and improved methods of cultivation to increase the tons produced per acre.
Rick Parish
Watertown Daily Times, 09 26 1986
When Floyd Wilder decided to hang up the scissors and hang out a sign explaining his barbering business was up for sale, he didn't expect a one-time competitor to walk in just hours later and buy him out.  But, that's exactly what Rick Parish did, ending what he calls his 11-year "vacation" from barbering.
Today is the opening day of "Rico's," Parish's new endeavor at the longtime location of Floyd's Barber Shop, 115 South First Street. Parish is the former owner of The Razor's Edge, a barbershop that operated in the late 1960s and early mid '70s at locations on South First Street and on Sixth Street.
However, 12 years ago, Parish decided to give up his barbering and enter private business.  He most recently was in a management position at Resource Recovery Inc.
J. L. Kube
Watertown Democrat, 08 17 1876
"Chief Justice" J. L. Kube, who was arrested some weeks ago on a charge of obtaining money fraudulently, was examined before a Justice Court at Juneau, on Saturday, 5th, and discharged.  As soon as released for the first offense, he was immediately arrested on a charge of felony.  His examination for the last offense was continued until the October term of the Circuit Court, the prisoner giving bail in the amount of two hundred dollars to insure his appearance.
Winter Wheat
Watertown Democrat, 10 25 1855
A large breadth of winter wheat has been sowed about this vicinity this fall, and has come up finely.  The fields look green and thrifty, and promise an abundant yield.  As winter wheat commands a higher price in market than spring, it should be more generally cultivated.  Experience has demonstrated the fact that it can be as cheaply and safely grown as any other.  Our farmers are more generally putting it in than they did a few years ago when failures were more common.
Kehoe Bros. Saloon
Watertown Gazette, 08 10 1911
Kehoe Bros. have opened their new saloon at 216 West Main Street.  The building has been recently remodeled and they have it stocked with everything first class in their line.
Heavy Rain Storm
Watertown Gazette, 08 17 1911
Monday evening the heaviest rain storm of the year set in here and the rain came down in torrents, for over an hour.  Corn, potatoes, pastures and vegetables have taken a new start, and the probabilities now are that large crops of that class of vegetables will be harvested this fall.  During the storm a startling clap of thunder and flash of lightening struck terror into nearly everyone in the city.  The telephone wires near A. D. [Abraham] Liebermann's home, 501 North Church Street, were struck and the lightening entered Mr. Liebermann's home, giving Mr. Liebermann a severe shock, necessitating the services of a doctor.  Considerable plaster in the house was also knocked down.
Connor & Spigelhoff Dissolved
Watertown Gazette, 08 10 1911
The real estate firm of Connor & Spigelhoff [Connor & Spiegelhoff] has dissolved partnership.  The latter will continue in business at the old stand.
Hauling Logs to Saw Mills
Watertown Democrat, 01 03 1861
Hauling logs to the saw mills is a business many farmers are attending to while the sleighing remains.  Our valuable forests are not yet stripped of all the material for manufacturing lumber, though the best portions are rapidly disappearing.
A Badger Boy in Trouble
Watertown Democrat, 02 16 1860
We find in the Wisconsin the following story of a young man from Farmington, in this county, who gave his name as Frederick Hilkee.  He appeared at the Marshal's office in Chicago two or three weeks ago and stated that a few days before a man whom he did not know accosted him, stating that he was [a] conductor on the Ohio & Mississippi Railroad and that if Fred would go with him to St. Louis he would give him a situation on his train.  Fred agreed to go, and taking $22, started with his friend, elated with the prospect of seeing the great world.  On the way the pseudo conductor borrowed $10 of the boy's money and his watch and on arriving at Chicago borrowed the rest of the boy's money and made himself scarce, since when the boy has not seen him.  We think the youth was decidedly verdant and that he hadn't lived long in Wisconsin.
Holsteins for New Zealand
Watertown Gazette, 08 17 1911
S. B. Jones & Son shipped a carload of Holstein cattle to New Zealand last week.  The New Zealand government has commissioned this firm to buy $10,000 worth of Holstein cattle for it.
Duck Hunting
Watertown Democrat, 10 25 1855
The lovers of wild ducks have now a rare opportunity to gratify their tastes and indulge in the manly amusement of hunting.  They have only to step on board the cars, take a pleasant ride -- or what will be a pleasant ride when the Railroad is in proper working order --- and visit, Pine, Nagowicka, Pewaukee or any of the small sheets of water in the vicinity of this route -- and find thousands of ducks "ready and waiting" to be shot and eaten, for if they are not there for that purpose, we should like to know what they are there for in such large numbers, and within the tempting observation of all who can appreciate the fine qualities of mallard and teal.  The surface of the small bodies of water in this portion of the state are alive with waterfowl at the present season.  Experienced hunters can easily kill large numbers of them, and they generally find eager purchasers in our cities and villages, both at home and abroad.  At the east where wild game is scarcer, a few thousand might be sold at good prices, and it would not be a bad speculation for some good marksman to try the experiment.  Here in Wisconsin, where every body and everything must pay, there is [no] good reason why the myriads of wild ducks that fatten on the wild rice and tender roots of aquatic plants should be exempted from the doom of their domesticated relatives.
Arthur Thauer
Watertown Gazette, 08 17 1911
Arthur Thauer has purchased the grocery business of Theo. Liedtke in [905 E] Main Street.
      Note:  Later became Bentzin's:  1915, Bentzin Grocery
<![if !vml]>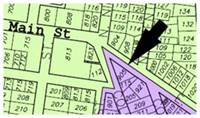 <![endif]>
G. P. Jones
The New Branch Store
Watertown Democrat, 09 19 1861
G. P. Jones [Gorham P. Jones], agent of the New Branch Store on Main Street, is now displaying his stock of new fall goods.  The latest styles of dress, fancy and substantial articles will be sold at the lowest cash prices.  The greatest care has been taken to select the best in market and furnish customers with a large variety from which to choose.
↓  More on Jones store  ↓
Removal
Watertown Democrat, 11 21 1861
G. P. Jones has removed his dry goods store to Cole's Block, on the corner of Main and Second streets, where his customers will find a large and splendid stock of goods, at almost any price they choose to pay.
↓  More on Jones store  ↓
The New Store
Watertown Democrat, 05 12 1864
G. P. Jones, who is at the head of I. E. Person's store in this city, is now receiving his stock of new and fashionable spring and summer goods.  Any thing and every thing can now be purchased at that establishment, with large varieties to select from, as will be seen by referring to his advertisement in this paper.
Mr. A. Baylies
Commercial School
Watertown Democrat, 11 01 1855
Mr. A. Baylies Jr. is now in our city, making efforts to establish a commercial school, which will embrace such a course of instruction as may be necessary to complete a good practical commercial education---one that will qualify those who attend to enter any branch of mercantile business, so far as study and thorough instruction can do so.  We hope our citizens will extend to this enterprise all the encouragement that will be required to ensure its success.  Such a school could not fail to be very useful to all who might attend, and be a decided advantage to our place.
↓  More on Baylies School  ↓
Watertown Democrat, 11 08 1855
The Commercial School, it will be seen by an advertisement in this paper, will commence next Monday.  Mr. Baylies is a well qualified teacher, and it is hoped that the large class of youth in our place who might be so greatly benefited by his instruction, will make the most of the opportunity they now have to receive instruction in these practical branches of study necessary to constitute a good business education, such every member of a free community should possess.
Otto Pieritz
Watertown Gazette, 02 02 1894
While out hunting last Friday afternoon Otto Pieritz, who conducted a saloon and grocery store at the old Hilgendorf stand in the 2d ward in company with his brother, was fatally injured by being shot in the right leg below the knee.
He and John Rogler were returning home at about 4 o'clock from hunting, walking on the road behind a load of straw, and when near the old Bentert farm east of this city, Pieritz's gun, which he had stuck muzzle forward into the load of straw, slipped to the ground and whirled backward, and as it hit the ground it discharged its contents into Mr. pieritz's limb.  As soon as possible Drs. Whyte and Feld were called, and they found amputation necessary.  The limb was amputated, but so severe and painful had, the injury been that it caused his death at about 2 o'clock the following morning at the home of Herman Kuhkan, near where the accident happened.  The unfortunate man leaves a wife and one child.  On Tuesday his remains were interred at Hustisford.  He was quite popular here, and his sudden death is greatly regretted by all our citizens.
Town of Transit
Watertown Democrat, 09 12 1861
The Madison Patriot of the 7th has the following:  Andrew Kentzler, the well known livery stable keeper of this city, tells us that during the storm of last Sunday the lightning struck a barn in the town of Transit, Jefferson County, about 21 miles from here.  Three Norwegian children, who were in the barn, and two horses, were instantly killed, and one was severely injured.
Harper's Magazine
Watertown Democrat, 08 29 1861
Harper's Magazine for September has been received by Harberger at the post office.  It contains a large and choice variety of articles, some of which are graphically illustrated.  All are well written and interesting.  The Harpers spare no cost or care to make their monthly worthy of its wide-spread popularity.  Harberger has also received Godey's Lady's Book for September.  It is rich in superb steel plates and finely illustrative woodcuts, besides being filled with its usual amount of attractive and instructive reading.  Daily papers from Milwaukee and Chicago and the most popular illustrated weeklies may always be found at the post office.
Withdrawn
Watertown Democrat, 09 12 1861
Gov. Randall has addressed a letter to the Madison Journal, declining to be a candidate before the Republican Convention for re-nomination for Governor.  He says:  "I shall not, under any circumstances, be a candidate for re-election to this office.  I am entirely indifferent about who my successor shall be, [just] so he is a good man, true to the Constitution and Union, and a man who holds the preservation of our government of more importance than the success of individuals or of parties."
Heretofore the Governor has always withdrawn his name on the eve of the meeting of a nominating Convention, but has always been a candidate.  He may be in earnest this time.  If so, the field is clear for the patriots who wish to succeed him.
War will not prevent a sharp rivalry for nominations among the candidates for office – that's certain.
A "Big Ingin" Scare
Watertown Democrat, 08 29 1861
Last Monday wild rumors came flying from the vicinity of Horicon that a band of a thousand Indians were burning, desolating and massacring the whole population of Kekoskee, in Dodge County.  Forty families had been slaughtered and a hundred houses wrapped in flames.  All was excitement.  Every old gun was in brisk demand.  Volunteers by the score offered to go and arrest the outbreak of savage passion.  Soon a company was organized and ready to go march.  About that time the number of sufferers began to lessen and the leaders . . . [began] to shrewdly suspect that a grand hoax was being played on their patriotic feelings.
The band of brave men melted away as the news came that a party of Pottawatomies had been seen in some grove quietly cooking their scanty dinner – and if trouble had arisen it was caused by meddling white folks.  If the few Indians that yet linger here around the homes of their fathers are let alone, they will be sure to mind their own business and disturb no one.  The glaring exaggerations of the telegraph are most significantly portrayed in the last report, which is as follows:  "Only one family was murdered, as an act of retaliation for shooting a pony belonging to the Indians."
Notwithstanding the startling telegraphic reports in the Milwaukee and Chicago dailies, the Indian pony, when last seen, the pony was quietly grazing on a small prairie, and the murdered family were about as usual, unconscious of the sad fate that had befallen them.
Mrs. Isabella Potter
Wife of Gen. James Potter, Jr.
In Memoriam
Watertown Democrat, 08 22 1861
Sincere regret will be keenly felt by many of our readers as they learn that Mrs. Isabella Potter, wife of Gen. James Potter, Jr., is no more.  She died on the 17th of June, 1861, in McVeytown, Pa., at the residence of her father, Judge Chiswell, in the 43d year of her age.
During her residence here, her many amiable and estimable qualities warmly endeared her to all who enjoyed the privilege of her acquaintance and the favor of her friendship and confidence.  It is no mere formal tribute, but the simple expression of a universal sentiment to repeat what in reality was the truth — that as "None knew her but to love her" — so now that she has gone will any "name her but to praise."
All will remember her as a humble and devoted Christian, whose profession of religion was the least part of her claims to be regarded as a disciple of the Savior — as a kind-hearted and genial neighbor, who was ready to fulfill every social obligation — as an intelligent and beloved lady, whose ever-welcome presence threw an additional charm around the circle in which she moved — as a mother, watching over the welfare of her children with sleepless and disinterested solicitude — as a woman, true to every relation in life, meeting every reverse of fortune with uncomplaining trust and unfailing hopefulness.
Though the news of her death was not unexpected, her loss will be nonetheless lamented on that account.  She left here some months since in feeble health.  There were then sad forebodings that "Ere June's sweet roses bloomed and faded," she would pass through the "eternal gates."  Her relatives and friends can cherish the thought that the mid-summer beauty and promise on which she closed her eyes are only fit emblems of the brightness and glory on which they now gaze in the "Heavenly City."
Minning Liquor Company
Watertown Daily Times, 08 08 1961
One of this area's widely known liquor concerns, the Minning Liquor Company is now located in its new building, erected at 1201 North Fourth Street, the area being the junction of highway 100 and the new highway 16 by-pass.  The company will hold "open house" and invites the public to drop in on Friday from 8 a.m. to 9 p.m.  There will be prizes.  The company was founded in 1933 by Arthur A. Minning and R.A. Backus, with operations starting from the Hansen Bonded Warehouse in Milwaukee.  The first shipment of liquor sent into Wisconsin after repeal of prohibition was distributed by Minning and Backus.  In 1934, Watertown was established as the central point of company distribution, and it opened a warehouse in the Scholl building in North Third Street.
Myra MacInnis
Watertown Daily Times, 08 08 1986
Retired Watertown High School history teacher Myra MacInnis has been chosen by the clergy roundtable to have her name given to the Main Street bridge in the annual Name the Bridge contest today as part of the River Days celebration.  MacInnis taught history for 48 years at Watertown High School.  She was nominated by the Saturday Club for her "integrity, character, humor, and love of people."  The club, affiliated with the General Federation of Women's Clubs, also stressed her continued interest in community affairs, pointing out her activity in the Saturday Club as well as other organizations.
Condemned to Death
Watertown Gazette, 10 19 1911
In the November Woman's Home Companion a contributor raises the following question:  "I confess to a little of the same puzzle now when a fellow creature is condemned to death by law and judicially slain.  There, too, is a great waste.  Why should the state kill a man because he has already killed another?  Why not let him pay his penalty in imprisonment and work, and why should not the fruits of his labor accrue in part to the support of the murdered man's family, if they are in need?
University of Hard Knocks
Watertown Gazette, 10 26 1911
High School Lecture.  An audience that filled the High School assembly room listened with intense interest to Ralph Parlette in his lecture on the "University of Hard Knocks" last evening.  Mr. Parlette presented some good, sound sense and some wholesome suggestions on how to become really educated . . .  He said that too much of modern education is superficial and nonusable and did not stay with the student.  The kind of education that really educated was gained only through hard knocks, that of overcoming difficulties, that the whole purpose of this life was the overcoming of difficulties in order to strengthen the individual and make new difficulties.
Mr. Parlette's lecture was the first number of the high school entertainment course and the only number which is not musical.  The next number, the famous Fisher-Shipp Concert Company, will be here December 5th.
Watertown Daily Times, 08 24 1986
Domino's Pizza opened its doors today at 109 West Main Street.  A ribbon cutting ceremony attended by city dignitaries was held this morning to officially welcome the new business to the city.  The pizza place offers takeout and delivery services for 12- and 16-inch pizzas.  Trademark of the pizza chain is free delivery within 30 minutes or within 10 minutes if the pizza is picked up.  The pizzas are offered with thick or thin crust and 11 toppings are available.
Fred Kaut
Watertown Gazette, 10 05 1911
Fred Kaut attended the Dodge County Fair at Beaver Dam on Thursday of last week.  He says it was the only day's vacation he has had in ten years and he enjoyed every minute of it, and says Beaver Dam is the "boss" town to have a good time in.
Helen Schatz
Watertown Gazette, 10 05 1911
Helen Schatz of Milwaukee Normal School was a welcome visitor Saturday and Sunday, not only at her home here, but among her many friends and acquaintances.  Helen is quite a favorite among her schoolmates, also of the patrons of Baumann's Ice Cream Parlor, where she served ice cream and candy to the multitude during the two summer vacations past.
Real Estate
Watertown Gazette, 10 05 1911
John Poefke has sold his 40-acre farm west of Richwood to James Dowd, consideration $3200.  Mr. Dowd will raise feed on the farm for his livery horses.  Mr. Poefke and his family will move to Watertown.
Number of Spoken Languages
Watertown Democrat, 10 31 1861
The number of languages spoken in the world amounts to 8,064 - 587 in Europe, 896 In Asia, 276 in Africa, and 1,264 In America.  The inhabitants of the globe profess more than 1,000 different religions.  The number of men is about equal to the number of women.  The average of human life is about 28 years - One-quarter die previous to the age of 7 years; one-half before reaching 17; and those who pass this age enjoy a felicity which is refused to one-half the human species.  The married are longer-lived than the single, and, above all, those who observe a sober and industrious conduct.  Tall men live longer than short ones.  Woman have more chances of life in their favor, previous to being fifty years of age, than men have, but fewer afterwards.  The number of marriages is in proportion of 75 to every 1,000 individuals.  Marriages are more frequent after the equinoxes - that is during the months of June and December.  Those born in the Spring are generally more robust than others.  Births and deaths are more frequent by night than by day. 
The number of men capable of bearing arms is calculated at one fourth of the population
Raise More Barley
Watertown Democrat, 11 14 1861
It has been a matter of surprise why farmers do not raise more barley.  It is more profitable than wheat, being nearly thrice as productive, and more productive than oats or rye.  Its market price ranges higher than oats, and as high as rye; and the profit per acre over wheat, is from three to eight dollars — and merely as an article of feed it is more profitable than oats.  It is better food for horses than corn, and they will do one-half more work than when fed on corn.  It is more nutritious than oats; and when ground and fed to horses and cattle, nothing excels it; and as feed for hogs, it is better than oats or rye — they will fatten on it sooner.
Another strong argument in favor of raising barley is that it gives a farmer a chance for a rotation of crops.  Wheat sown after barley produces a better crop — barley being an early crop (at least two or three weeks earlier than wheat), it gives the weeds a chance to grow, which when turned under, make a fine coat of manure.
Watertown Democrat, 12 19 1861
A band of Gypsies are on a visit to our city.  It is not well to be cheated by them a great deal.  They will beg for bread when they have plenty of it, and ask the privilege of mending pieces of china which they will never return, no matter how choice the fractured article may be as a keepsake.  To speak plainly, they are incurable thieves and liars, and unless really destitute, which is hard to find out, are entitled to no sympathy.
This World of Changes
Watertown Democrat, 11 28 1861
Thus it is in this world of changes.  The objects most dear are snatched away.  We are oft-times deprived of the friends we most love, and our cherished home is made desolate.  "Passing away" is engraved on all earthly things; but there is a Home that knows no change — where separation is unknown — where those afflicted ones of this world may obtain relief for all their griefs, and where the sighs and tears of earth are exchanged for joys unending.
In the shadowy past there is one sweet thought which the storms of life can never wither — It is the recollection of home.  Yes, and in the visioned future there is a star whose golden luster never fades; it is given to the good ones of this earth — it is the hope of home — a home beyond the skies.
Oiling of Harness
The Wisconsin Farmer, Volume 14, 1862
More damage is done to harness during the rainy weather of early and late winter than during all the rest of the year.  Saturated with water, covered with mud, and often frozen stiff so as to almost break when bent, unusual care should be taken to keep it well oiled and hung up in proper shape when not in use.  Thus treated, it will not only last many times longer, but look infinitely better than when neglected.  As to the kind of oil, we know of nothing better than neat's-foot. To give the black color characteristic of new leather, a little lampblack may be added, without detriment.  Before putting on the oil, however, there are two important conditions which must be observed — cleanness and dampness.  The necessity of the first is obvious, and the last is not less important, since the oil cannot penetrate the leather and make it soft and pliable if put on when it is dry and hard.  One of the best ways to give to the leather the requisite degree of moisture is to wrap up the several parts of the harness in wet cloth a few hours previous to oiling.  But this trouble is unnecessary where washing has been resorted to for cleaning, as the oil may then be applied before the leather is entirely dry.  Let the application of oil be as frequent as needed, not once a year, as is the rule with some, or almost never, as is the practice of many.
An Easy Way to Dissolve Bones
The Wisconsin Farmer, Volume 14, 1862
James S. Grennell, Esq., of Greenfield, practices dissolving bones by a method which seems worthy of notice for its simplicity and convenience.  Casks having each but one head are provided; a layer of bones six or seven inches thick is placed on the bottom; then strong, unleached wood ashes are spread over the bones, to the thickness of two inches or more.  The casks are filled in this way, taking care to have a pretty good thickness of ashes at the top to prevent the exhalation of ammonia.  The process of thus packing the bones goes on through the season, or as ashes accumulate in the house, and they remain in the casks till spring, when the casks are emptied, and the bones are found to be generally well pulverized, or so soft that they can easily be broken as fine as desired.
The mixed bones and ashes are excellent manure for most crops, and especially for fruit crops.
A Two-story Milking Stool
The Wisconsin Farmer, Volume 14, 1862
"Something new under the sun," in the shape of a milking-stool for kicking and unruly cows, is described by a correspondent of the Iowa Homestead.  The stool can be made of inch boards, and has many advantages over the old-fashioned one.  First procure a piece of board of sufficient size to accommodate the milker, and have in addition, room for the milk pail.  This may be put on legs of about eight inches in height.  Then upon this, erect another seat or stool, covering half the space of the bottom one, for the milker to sit, thereby giving him a chance in front to let the pail remain firm and steady, not liable to get kicked over, and by being up from the ground kept free from dirt and mud, and so close to the udder as to prevent loss from milking over, etc.  If a cow is in the habit of kicking, the milker by using a stool of this description, can have both hands to prevent her heels from coming in contact with the pail which sets firm upon the front part of the stool, steadied by his knees.  He could in a short time effectually break a cow of the habit of kicking while being milked.
Basketball
Watertown Gazette, 12 30 1910
The Watertown team that played Co. F's "stay at homes" at the armory Monday night, looked as if they had been caught in a whirlwind when they started to mix on the floor.  The "Junction City" team was simply swept from the floor, the scoreboard showing 100 to 22 when the timekeeper's whistle sounded a welcome relief to the boys of the stuffed geese town.  The crowd at the game was fair sized and the contest demonstrated that Portage has material even though the "big ones" are away. — Portage Register
Football Player Killed
Watertown Gazette, 11 09 1911
Oconomowoc—Thomas Higgins, aged 16 years, son of Mr. and Mrs. Edward Higgins of this city, died early Wednesday morning as the result of a fractured skull, received during football practice on Tuesday.  Young Higgins was a member of the high school team and was preparing with the others of his school for a game to be played Saturday afternoon.  During one of the rushes a companion hit him on the head with his knee and Higgins fell on the field unconscious.  He died without recovering consciousness. 
Deceased is well known in Watertown.  He is a nephew of Mrs. Emil Tanck, and his father was a former resident.
Hosts of friends here extend their heartfelt sympathy to the bereaved parents.
Two Sad Deaths in Alderman Russell's Family
His Son Harold Dies Sunday at 9 o'clock and on Monday
His Wife Passes Away at 8:30 p.m.
Watertown Gazette, 10 12 1911
This week dealt doubly severe with the family of Alderman G. J. Higgins, and in their terrible affliction they have the heartfelt sympathy of the citizens of Watertown.  Harold Russell, aged 17 years, youngest son of Mr. Russell, last week was one of the liveliest and most promising boys in the junior class of the Watertown High School, full of life and fun and casting rays of sunshine wherever he appeared.  Friday morning he complained to his mother of feeling unwell and she prevailed on him not to go to school.  He remained at home but during the afternoon walked down town and pleasantly greeted friends.  Saturday he grew worse and a doctor was called in who pronounced his case serious, he being ill with diabetes, which resulted in death at about 9 o'clock Sunday morning, October 8, 1911 . . .
The suddenness of his death fell particularly hard on his mother and the shock killed her.  As soon as Harold died, his mother was prostrated, and she suffered terribly in mind up to within an hour of her death, when the family succeeded in cheering her somewhat and hopes were entertained that she would survive the shock of her boy's death, but shortly after 8 o'clock Monday evening a change for the worse set in and she died of a broken heart . . .
Services at St. Bernard's Catholic Church were attended by the junior class of the high school, the mayor and city council and other city officials.  Interment at Calvary Cemetery, Milwaukee.
Slot Machines Ordered Out
Watertown Gazette, 10 12 1911
Mayor Grube has ordered all slot machines out of the saloons, barber shops, etc., to take effect October 15, 1911.
<![if !vml]>

<![endif]> 
Watertown Gazette, 10 12 1911
New Garment Store.  The new store building at 318 [East] Main Street, in the Miller block, has been occupied by the Model Outer Garment Shop [same as The Model, 320 Main, 1913-14?], where may be found the latest in ladies' and children's garments.  They are now showing a large line which will be supplemented by more in a few days.  Everything in ladies and children's outer garments are shown and some beautiful creations are on exhibition.
Watertown Daily Times, 09 12 1961
Dr. William H. Reed, a surgeon who has been residing at Skokie, Ill., has taken over the practice of the late Dr. R. P. Welbourne.  His office is located in the quarters which had been occupied by Dr. Welbourne at 113 North Third Street.  Dr. Reed is a native of Albuquerque, N.M., where he attended the public schools.  He is a 1954 graduate of the medical school of Northwestern College at Evanston.  He interned for one year at the Cook County Hospital following his graduation and for the past four years has been a resident in surgery at the hospital.
Lecture on Tuberculosis
Watertown Gazette, 09 14 1911
Friday evening at 8 o'clock there will be a lecture on tuberculosis at the Watertown High School building.  The public is cordially invited.
Off to the Harvest
Watertown Democrat, 08 08 1861
Every day sons of the soil, with their budget of clothing swung across the shoulder on a stick, are plodding through town toward the waving prairies of grain north and west of here.  This city has sent off scores to aid in gathering the bountiful crops.  From $2 to $2.50 per day is freely paid to obtain harvest hands.
Whitewash for Roofs
Limewash as a preservative for shingles
Watertown Democrat, 11 07 1861
Farmers who are about to new shingle their houses, sheds, or barns, will do well to have the shingles dipped in whitewash with a little salt put in. Let the mixture be hot — that is to say, make your wash with boiling water, dip immediately, and lay the shingles the next day, or after drying a little.
This wash is also a preventive against fire. To do any great good it should be used in the manner described, rather than put on after the roof is covered.
December as Pleasant as May
Watertown Democrat, 12 19 1861
December as Pleasant as May – We have never known more genial fall and winter weather than we have experienced this season.  The traces of neither ice nor snow are any where to be seen.  The river sparkles and flows on as freely as if the suns of April were shining over it.  Even the fields have a tinge of green, and today we have plucked a cluster of violets as bright and smiling as ever spring presented.  But how long will this "halcyon hour" last?  Even as we write a change may be approaching.  Well, let it come.  It is winter, after all, and we are willing to take its storms, frost and snows.
New Christmas Decorations
Watertown Daily Times, 09 25 1961
Watertown's new Christmas decorations for Main, West Main and parts of business side streets have arrived in the city.  The decorations will go up the week of Nov. 20 and be ready for the Thanksgiving Day weekend.  Cost is being borne by Watertown business places, each of which is receiving a letter and sum allotment payable over a two year period.  The Watertown Association of Commerce is sponsoring the decorations.  They will be attached to the new downtown light standards.
Dr. O. H. Moen
Watertown Daily Times, 11 12 1960
Dr. O. H. Moen, Watertown dentist, was honored by members of the Jefferson County Dental Society at a Ladies night program Thursday at Club 26, Fort Atkinson.  A gift of an oil painting of Dr. Moen was presented to him by the society in recognition of his services to dentistry and mankind.  A citation, which accompanied the gift, was signed by the officers of the society.  They are:  Dr. H. F. Peternell, Fort Atkinson, president; Dr. R. L. Hetzer, Jefferson, vice president; Dr. Arthur Grosnick, Watertown, secretary-treasurer; Dr. C. H. Bardenwerper, Fort Atkinson, Dr. C. L. Bergmann, and Dr. G. E. Sanquist, Watertown, all trustees.
Railroad Accident
Watertown Democrat, 11 07 1861
Last Saturday, the 2nd, as the night freight train on the Chicago & Northwestern Railroad was leaving Juneau, H. W. Bowers, a brakeman, slipped and fell from the top of one of the freight cars on the track, the remainder of the train passing over him, severing one leg from his body and so crushing and breaking his whole frame that he died within three hours after the accident.  A singular and affecting circumstance connected with this sad casualty was that this was Mr. Bowers' last trip on the road and he had made arrangements to leave at the Minnesota Junction.  His wife and brother were there with a carriage to take him to his residence at Horicon, but instead of meeting him alive and well, as they expected, were surprised and shocked with the painful intelligence of the fatal calamity that had befallen him, and compelled to carry with them the lifeless remains of the one they had come to welcome home once more.  Notwithstanding the terrible manner in which he was mangled, he retained his consciousness to the last and gave a clear statement of the way in which he was hurt.  For a year he lived in this city [Watertown] and was well known to a portion of our citizens.
A Run Away
Watertown Democrat, 11 14 1861
During the Fair on Tuesday, a span of houses became frightened, furiously dashed through Main Street, breaking the wagon into fragments, knocking down and running over a German, breaking her limber limbs and severely bruising her.  At first her injuries were supposed fatal, but we understand she is now likely to recover.
Hitch Your Teams
Watertown Democrat, 07 07 1864 
Runaway teams are getting so common as to be no longer a novelty and have ceased to create much excitement.  Most every day they go rushing and clattering through our streets, frightening men, women and children, breaking posts, smashing lamps, turning over wagons, scattering loads, and doing damage generally.  In nearly every instance these frequently expensive and troublesome occurrences result from the carelessness of owners or drivers in letting their teams stand loose "just a minute," that is, just long enough for them to fly off.  Where there are so many causes to scare and start horses on the run, they should not be left alone untied for an instant and those who take such unnecessary risks ought to be made to pay all the loss and injury others may suffer on account of such a heedless want of proper caution in this respect.
Watertown Daily Times, 10 24 1986
Buds Decore of Nature will open Nov. 1 at 102 Stimpson Street.  The new business is located at the former site of Montgomery Ward Catalog Store.  The grand opening will be celebrated Nov. 13 through 15.  Bud Grulke of Watertown and Bud Lincks of Lake Mills own and operate Buds Decore of Nature which offers unique accents and gifts for inside and outside the home.
Watertown Daily Times, 10 04 1986
The Miller Brewing Company is seriously considering building a hops processing plant in Watertown and city officials are trying their hardest to sway the major brewery.  "It is too premature to comment, but Watertown is seriously being considered.  And your people (city officials) are doing everything they can.  They're doing all the right things," said Edith Bordon, an economic development consultant with the state Department of Development.  The plant is not a brewery, emphasized Mayor Kenneth Thiel, who said he was first contacted by Miller three weeks ago through the Wisconsin Department of Development.  Miller officials are looking at two 20-acre locations for the plant, both of which are now owned by the city, the mayor said.  One of the parcels is on West Street, just west of the water tower.  The second possible location is in the city's industrial park on Alvoss Drive.
Watertown Gazette, 12 07 1911
A new $10,000 Carnegie library was dedicated here this afternoon, Secretary of State James A. Frear and M. S. Dugeon, secretary of the state library commission, were the principal speakers.
The new building is one story high over a full basement and is finished in red brick and Bedford stone.  The interior is mission style.  A debt of $850 which rested on the city for work done on the building aside from that already paid for was cancelled by subscriptions taken in a few minutes during the afternoon.
= Assistant Librarian Resigns =
Watertown Gazette, 12 14 1911
Miss Lillian E. Mundt has resigned as assistant librarian at the public library and on Tuesday evening Miss Corinne A. Bartlett was appointed her successor.  Miss Mundt is at present in Pasadena, Cal., and on her return in a short time will fill the position of librarian at the new public library at Jefferson.  Miss Mundt is a most efficient librarian and we congratulate Jefferson on securing so able a person to preside in their new library.
Civil Defense Booklet
Watertown Daily Times, 10 06 1961
Copies of the Civil Defense booklet on the construction of fallout shelters still are available at the office of City Clerk Glenn Ferry.  The booklet covers 32 pages, and contains detailed information, together with illustrations, on the construction of fallout shelters.  "Adequate shielding is the only way of effective means of preventing radiation casualties," the booklet emphasizes.  The booklet first was issued in 1959, and because of the great demand, more copies were reprinted last month.
Watertown Democrat, 12 19 1861
Dr. James Johnson of Milwaukee purposes to resume the practice of the medical profession, so far as regards a certain class of diseases, to which he intends to devote his attention.  Dr. Johnson is favorably known in this community and needs no recommendation from us as a faithful, skillful and successful physician, who never fails to devote all his resources and experience to the restoration of those who place themselves under his care.
Viewed by a Janesville [Recorder] Editor
Watertown Gazette, 10 05 1911
"Besides those who will go on the train to the fair many more will make the trip in automobiles.  Several enthusiasts are planning to take parties in their automobiles to Fort Atkinson and join the citizens of that place in journeying overland to the fair at Watertown.  On account of the sharp rivalry between Jefferson and Fort Atkinson, both of which are in the same county, the people of Fort Atkinson have been "knocking" Jefferson.  Their plan is to form an automobile procession which, with the number who will come by automobile from Janesville and other cities, it is hoped to be of considerable length.  With banners announcing that they are on their way to the great fair at Watertown, the contingent of automobiles will pass right through the city of Jefferson in order to show the citizens of that place in a most emphatic way that they are opposed to the ambitions of their neighbor and will not deign to give it any patronage that they can just as well give to another neighboring city.
"The Jefferson fair has been conducted for many years past but the Watertown fair has been in existence for only four years.  The demonstration of the Fort Atkinson automobilists aided by those from other towns will in all probability sharpen the animosity now existing between that town and Jefferson."  WG
Twilight Club
Watertown Gazette, 01 04 1912
Thursday evening, December 28, 1911, the Twilight Club assembled at the New Commercial Hotel and indulged in its first annual banquet, which proved a great success.  The members assembled at 8 o'clock and it was midnight when the program was completed and good nights were said.  Wheeler's orchestra furnished an excellent musical program for the occasion.  First on the evening program was the banquet, which was all that the inner man could care for and it was most excellently served . . . Most of the members of the Twilight Club are business men.  It was formerly known as the "Booster Club," and matters of discussion in the club usually pertain to the good of the city – politically, educationally, morally and in a business way.  The first annual banquet of the club was a pronounced success and it no doubt will be an annual event of much interest to its members.
↓  More on Twilight Club  ↓
Miss Alice Curtis Speaks on Woman Suffrage
Watertown Gazette, 05 02 1912
Monday evening Miss Alice Curtis, county organizer of the Wisconsin Equality League, spoke before the Twilight Club at the New Commercial Hotel and at 8:30 o'clock the same evening she spoke to a large audience composed of ladies and gentlemen at the public library.  She is a fine talker and delivered an interesting address, presenting a good argument for woman suffrage, among other things saying that responsibility and self government develops everybody.  It develops the men and it will develop the women.  Also that there are over seven million women in the United States who are wage workers and their health and that of our future citizens are often endangered by evil working conditions that can only be remedied by their votes and that the working women can only bring about better conditions by the ballot.
Miss Curtis said that women of leisure who attempt to serve the public welfare should be able to support their advice by their votes.  That women pay taxes just as men do, thus supporting the government, and women suffer from bad government just as men do, therefore they should vote equally with men.  Mothers can only make surroundings of their children better by having the ballot, therefore they should have it.
Notice of Examination
Watertown Gazette, 01 04 1912
The State Civil Service Commission will hold a competitive examination for the position of city sealer of weights and measures for the city of Watertown on Saturday, January 20, 1912.  Position open to male residents.  Minimum age 21 years.  Preferred ages 21 to 45 years.
Copies of the law and instructions have been placed with the mayor, local examiner and the city library for distribution to applicants.
Retraction
Watertown Democrat, 01 02 1862
I do hereby declare than any slanderous words or expressions which I may have used against the character of W. Buss of Dodge County have been based upon erroneous supposition on my side, and I hereby revoke them.  Carl Schneider.
Strayed
Watertown Democrat, 01 02 1862
Strayed from the premises of the subscriber in the town of Rubicon, Dodge County, a light sorrel [light reddish-brown coat] mare colt, coming two years old, with a large white star on the forehead, one white hind foot, with a silvery mane, and very large for her age.  Whoever will return said colt or give information where she may be found shall be liberally rewarded for his trouble.  C. H. Ryson, Rubicon
No end to the making of laws
Watertown Democrat, 01 09 1862
The Legislature assembled at Madison last Tuesday.  There appears to be no end to the making of laws.  Unless the quality of our legislation is materially improved, the less we have the better.  Badly drawn and conflicting acts now fill our statute books, in ascertaining the meaning of which even the lawyers get inextricably lost and bewildered.  Every year adds to the mass of absurdity, making confusion compounded.  All laws necessary for the protection of the rights, person and property of the citizen should be made and enforced, but they should be plain, clear and intelligible.  This endless and expensive special legislation, intended for the individual benefit of John Doe, Richard Roe, Tom, Dick and Harry, is a humbug and nuisance.
Circuit Court of Jefferson County
Watertown Democrat, 01 23 1862
The Circuit Court of Jefferson County, Hon. Harlow S. Orton, presiding, will commence in the village of Jefferson on Tuesday, the 17th of February, 1862.  Sheriff Smith has kindly furnished us with the names of the Grand Jurors:
J. C. Leonardson, N. C. Hurlbert, Chas. P. Philips, Enos Salsich, John Ridley, Oliver Bennett, Walter Davidson, Abel Whitney, Daniel Pierce, N. P. Wood, C. Curtis, Robert Moore, H. A. Carlton, James Larkin, Lamberth Ruth, John Q. Hull, H. B. Collins.
Watertown Gazette, 02 01 1912
John Likar, a shoemaker by trade, a resident of 1012 Third Street, was hit by a freight train at the Third Street crossing last Monday and fatally injured.  He was taken to his home after being injured and died in a short time.  It is said that he was picking coal on the railway right of way at the time.  He was 62 years of age and leaves a wife and several children.
Watertown Gazette, 02 01 1912
On February 1st the Hilltop cheese factory on the Milford road started making cheese.  It will be operated by the farmers in that vicinity.
Blessing of Throats
Watertown Gazette, 02 01 1912
Saturday is St. Blaesius day and the blessing of throats will take place at St. Bernard's and St. Henry's churches after the 8 o'clock Mass on that morning and also at 3 o'clock in the afternoon at St. Bernard's church.
Watertown Gazette, 02 01 1912
Louis A. Knick has disposed of this grocery business in West Main Street to Charles Pfeifer, who will continue the business at the old stand.
Watertown Gazette, 02 01 1912
Saturday morning the two and one-half-year old son of William Krause and wife, 1010 Oak Street, was seriously scalded by falling backward into a tub of hot water his mother left on the floor while she was washing.  Dr. Shinnick was called and the little one is doing well under his care.
Watertown Democrat, 01 09 1862
The proprietor of the Home, on the north side of Main Street Bridge, respectfully announces that he has fitted up his establishment in an elegant style, and has now all the facilities for entertaining customers in the best manner.  Fresh oysters, cooked or raw, sardines, pickled Holland fish, all varieties of cheese and most anything that may be desired can be furnished in the shortest notice.  The finest Rhenish wines, the choicest liquors and lager beer kept constantly on hand.  H. R. Sommer.
Watertown Daily Times, 10 05 1986
Cornerstone Gift Shoppe at 14 East Main Street will celebrate its grand opening Friday and Saturday.  Cookbooks will be given to the first 75 visitors.  Specialty of Cornerstone is Christian books and the store carries a wide variety of inspirational reading materials.  Greeting cards are also available.  Owner Betty Eiler said the store now offers family films, Bible study and cartoons.  The store carries 25 videos at one time on a rotating basis from a selection of 200 films.  A limited selection of records and tapes is also offered.  Videos and records and tapes can be specially ordered.
Watertown Gazette, 01 20 1899
There was a large crowd present at the Watertown Farmer's ball last Friday night at Turner Opera house, and all had a thoroughly good time.  Lunch was served in the lower hall.  The best of music was furnished by Blaesius orchestra.  The management, as usual at these balls, was first-class, and "everything went merry as a marriage bell" and the Watertown Farmers' Club scored one more triumph on the matter of giving balls that are noted for being pleasant in all respects.
__________________ more on Watertown Farmers' Club __________________
Watertown Gazette, 01 17 1902
A large crowd attended the 12th annual ball of the Watertown Farmers' Club at Turner opera house last Friday night and as usual all had a splendid time.  Blaesius' orchestra furnished delightful dancing music, which added greatly to the pleasure of the evening.  The management of the affair deserves much credit for a successful outcome.
Tramps
Watertown Gazette, 01 17 1902
Last Friday night tramps entered the caboose on the south-bound stock train passing through this city and stole three coats and a cap, the property of the train crew.  The train crew did not discover their loss until the arrival of the train at Jefferson Junction.  The police here were notified, who recovered the goods from parties to whom tramps had sold them for a small amount of money.  The guilty ones, however, escaped.  Several tramps were arrested, but no proof could be obtained as to which, if any of them, were the thieves.
Wife Selling
Watertown Gazette, 01 10 1902
A century or so ago wife selling was not an uncommon event in England, as the following item, which appeared in the London News of Nov. 21, 1801 , would show:
"On Friday a coal porter exhibited his wife in Smithfield, with a halter round her neck, for sale.  He demanded a guinea for her, but she hung on hand for some time, until a man of good appearance made the purchase, and packing her, halter and all, into a hackney coach drove for Blackfriars bridge, amid the huzzas of the mob."
Watertown Gazette, 01 10 1902
George Weber took first prize on a Barred Plymouth Rock Cockerel at the poultry show at Ft. Atkinson this week.
Watertown Gazette, 02 14 1902
Last week in the poultry show held at Oshkosh several of the Watertown breeders took prizes. Geo. W. Weber was awarded first prize on a barred Plymouth Rock pullet; second prize on Plymouth Rock cockerel, and first on Light Brahma cock; Wm. C. Radtke took first and second prize on Buff cochin bantams, and Jos. Robinson first on White Rock cock, and first on Light Brahma cock. Watertown breeders of this class of poultry are capturing prizes wherever they exhibit, which speaks well for their stock. The poultry show next year will be held in this city, and it is expected that it will be one of the very best ever held,
Oconomowoc High School Fire
Watertown Gazette, 01 24 1902
Fire destroyed the Oconomowoc High School building yesterday afternoon, January 23, damaging it to the extent of nearly $10,000 and leaving little but the lower walls.  The blaze is thought to have started in the chemical laboratory.  The 300 pupils who attend the school saved a few of their books, and will attend classes at the city hall and churches until some other provision is made.
Oile Casta
Watertown Gazette, 01 24 1902
Oile Casta, a Polish resident of Kenosha, had his nose knocked from his face because he objected to the brand of whisky being served in a saloon.  Casta went into the saloon and asked for a glass of whisky.  The brand failed to suit him and he then poured the whisky on the floor.  The action of Casta so enraged the bartender that he seized a beer bottle from the bar and struck the Polander in the face.  The bottle was broken and Casta's nose was severed by the broken glass.
Small Pox
Watertown Gazette, 01 24 1902
At a meeting of the state board of health at Madison it was decided to take vigorous steps to suppress the spread of small pox.  Secretary Wingate reported about 500 cases in the state at the present time.  During 1901 there were 4,425 cases and twenty-two deaths reported to the state board from 446 places.
Watertown Gazette, 01 31 1902
It was rumored last week that there was a case of small pox in the First ward, but such is not the case.  In regard to the case Dr. J. M. Steicher, health commissioner, issued the following statement for publication:
The patient, who is sick at the residence of Mr. F. A. Cooley, is not suffering from small pox or any other contagious disease as was at first supposed to result.  He is suffering from papuler erythena. J. M. Steicher, M.D., Commissioner of Public Health.
Watertown Gazette, 01 24 1902
At the first regular meeting of the city council in February the city council must fix the amount of salary which shall be received by every officer entitled to a salary who may be elected or appointed in the city during the ensuing year.  As only one regular meeting of the aldermen intervenes, the question of whether or not the aldermen should receive some pay for their services is one which is likely to come up and be discussed when the members meet in caucus before the regular meeting.  The impression is gaining ground that the mayor and aldermen should receive some pay for the work they do, and it is pointed out that in such case they will attend meetings more regularly and in every way give better satisfaction to the taxpayers.
Watertown Gazette, 01 24 1902
Mrs. Anton Wolfram very pleasantly entertained a number of her friends at her home in the North Washington Street last Monday evening in honor of her 40th birthday.  Luncheon was served and amusements of various kinds were indulged in.
Watertown Gazette, 02 07 1902
This was the statement made by G. H. Stanchfield, city engineer of Watertown:  "With no more expenditure of money and effort than is now put on country roads, ballasting with burnt day would produced in a dozen years a system of highways equal to any of the those for which France has so long been famous..
Watertown Daily Times, 01 17 2002
Two entrepreneurs have come full circle in pursuit of a successful business venture.  Friends Kari Barnes of Watertown and Wendy Sallam of Dousman cooked up a business scheme three years ago in Barnes' kitchen.  Their Hat Creek Candles can now be found tucked on shelves in small gift stores coast to coast.  As the hobby-turned-business grew, it was soon moved to the basement of Barnes' father in Oconomowoc where it was located for about six months.
Watertown Gazette, 02 14 1902
AI. Griswald, son-in-law of John Mclaughlin and his wife, residence in Lafayette Street, this city, was accidentally killed in Beaumont, Texas, last Friday.  His wife and one son survive.  The widow was formerly Miss Mary Mclaughlin of this city.  Mr. Griswald, resided here about 23 years ago, and is well known to many of our citizens.  His death was learned of here with regret. His wife and son have the sympathy of our people in their sadness.
Father and Daughter
Watertown Democrat, 01 23 1862
There is no prettier picture in life than that of a daughter reading to her aged father.  The old man, while listening to her silvery notes, goes back to other times when another one sat by his side, and whispered words he never will hear again; nor does he wish to do, for, in soft evening light, he sees her image reflected in her child, and, as one by one gentle emotions steal over him, he veils his face, and the daughter, thinking him asleep, goes noiselessly in search of other employment. 
Virgin innocence watching over the cares and little wants of old age is a spectacle fit for angels.  It is one of the links between earth and heaven, and takes from the face of the necessarily hard and selfish world many of its harshest features.
Brazilian Coffee
Watertown Gazette, 01 11 1912
[advertisement]  The United States consumes more Brazilian coffee than does the rest of the world.  We are the best customers of Brazil, and Brazil buys little from us.  Now Brazil is promoting, financing and maintaining a trust designed, and working effectively for the purpose, to compel American consumers to pay an exorbitant price for the coffee they use.
POSTUM is a pure food drink made of the field grains with a pleasing flavor not unlike high-grade Java.  A big package, about 1 ¼ lbs., costs 25 cents at grocers.  Economy to one's purse is not the main reason for using Postum.  It is absolutely free from any harmful substance, such as caffeine (the drug in coffee), to which so much of the nervousness, biliousness and indigestion of today are due.  Thousands of former coffee drinkers now use Postum because they know from experience the harm that coffee drinking causes.
Watertown Democrat, 02 14 1862
On the 6th inst., Mr. Joseph Birch was frozen to death as he was returning to his home.  He was supposed to have been so completely under the influence of liquor as to be powerless.  He had an ox team and sled with him, and when within two miles of his residence, fell off into the snow, and being unable to help himself, was chilled through and was found by his neighbors the next morning lying dead by the road side.  When he first fell he raised a cry for help, but those who heard it, thinking he was only making a noise for his own diversion, did not take any notice of his calls.  He managed to roll himself over and drag himself along some four or five rods from the spot where he first struck the ground, being unable to get up.  He is said to have got his liquor at the Richwood Saw Mill, about three miles west from this city.  Aside from his habit of drinking too much, he was a hard-working and industrious farmer, and belonged to a very respectable family.  Of course, such an accident resulting from such a cause will be regretted by all; but it is extremely doubtful whether anybody but the victims themselves will be materially affected by a thousand more such fatal incidents, and they would probably be in a condition not the most favorable for being benefited by their own warning example.   WD
The Law of the Road
Watertown Gazette, 11 18 1910
Judging from their actions, a good many people are ignorant of the requirements of the law in regard to the use of the road with teams or vehicles of any kind.  This is clearly seen in their action when a person desires to pass them.  The law requires that the team ahead shall turn out to the right and give half of the road if another person desires to pass.
We have seen many instances where the driver of the team ahead would do what he could to hinder another from passing; in some cases crossing the road back and forth to prevent him.
We once made it cost a Smart Aleck a fine of $20 and costs for a caper of this kind, as we were trying to reach a railroad station in a hurry to take a train.  We missed the train and he paid for his fun.
Some persons have an idea that a loaded wagon has the right to the center of the track in meeting another team, but the law gives the loaded team no such privilege.
It is well to remember that the law has made it very plain what course to pursue in the meeting or passing of teams or automobiles.  The courts have decided that the latter have all the rights on the public highway that other vehicles have but no more.  Some drivers of automobiles as well as drivers of teams act as if they owned the whole road.  If we adhere to the rule of common courtesy we will have no trouble either with people or the law.
Watertown Gazette, 01 11 1912
Paul Thom will give a leap year party at Masonic Temple Hall on Friday evening of this week.  It promises to be the finest event of the season.
The Loafer
Watertown Gazette, 11 11 1910
A farmer friend of The Gazette says:  Every time I go to town there are from a dozen to twenty fellows who are always on the Ioaf.  Sometimes I go to other towns, and about that many loafers are seen there.  I presume its the same in every town.  How such fellows make their living is more than I know, but they seem able to do it without work, at least without very much work.  Not long ago one of the above mentioned class rode a ways out of town with me.  He was going out to work for a farmer, providing the farmer would give him the right wages and would not work him longer than a certain time each day.  His idea of the length of day was short and of wages it was long.  He confided to me, too, that if he didn't get what he wanted he would not work, for so he said, "I don't have to work to make a living."  I knew the young chap was "dead broke," and if he didn't have to work for a living he would have to steal.
Watertown Democrat, 05 29 1856
We received a call the other day from Mr. C. C. Sholes of Kenosha, who made a short visit to our city for the purpose of interesting our citizens in the construction of a telegraph to this place.  Provided the necessary amount of material aid can be secured, the Wisconsin State Telegraph Company propose to build a substantial line of telegraph from Milwaukee to Watertown and have it ready for use by the first of September next.  The completion of such an enterprise would be a great convenience to our businessmen, and all others who may avail themselves of telegraphic communication.  We hope the company will receive sufficient encouragement to induce them to carry out their plan in this respect.
Watertown Daily Times, 01 13 1987
Schultz Save-O Foods plans to spend $500,000 to expand its Piggly Wiggly Store in Watertown, the firm's chief executive officer said today.  Howard Dickelman, also board chairman for Schultz Save-O Foods, told the Daily Times the firm has purchased the home at 812 Market Street and plans to begin a 4,000 square foot addition in April.  "We plan to begin construction in April and have our grand opening in August," Dickelman said.  The chief executive officer said the larger building will bring 25 to 30 more employees to Watertown's Piggly Wiggly, located at 813 Main Street.
Watertown Daily Times, 05 11 1987
Construction of a delicatessen, pizza shop and an in-store made bakery at the Piggly Wiggly grocery store in Watertown is under way, according to Paul Godin, store manager.  In January, Schultz Sav-0 Stores Inc., owners of the Piggly Wiggly food store chain, announced it had purchased a house at 812 Market Street as part of its expansion plans.  The house has since been razed to make room for the 5,000 square foot addition to the store at 813 Main Street.  Most of the added space will be used for the bakery and deli appliances and storage.
Watertown Daily Times, 09 25 2003
Employees at Watertown's Piggly Wiggly were informed Tuesday the East Main Street store could close as soon as the end of this year.  Tom Kuester, assistant store manager, said no exact date was given as to when that might occur."  They told us we're closing it and that's it," he said.  "Other than that, they didn't tell us anything."  The store has been operating in the city since 1974.  It is a corporate owned facility which leases the land from another entity. "We were told closing the store is a possibility," Al Detjens, store manager, said.
Watertown Republican, 10 26 1870
M. Blanchard & Co. have shipped from their brick yard in this city, the present season, 1,250,000 bricks.
Watertown Republican, 10 05 1870
About 500 barrels of sour kraut will be manufactured and shipped from this city the present season.
Watertown Republican, 10 05 1870
FATAL SICKNESS -- The family of Mr. Allen Welcher, living 10 miles south-east of here, in the town of Concord, has been sadly afflicted of late.  Out of six prostrated by disease, four -- the mother and three children -- have died within a period of five weeks, and two others, both children are still quite ill.  Their disease is typhoid fever, accompanied with spinal meningitis.

History of Watertown, Wisconsin