website  watertownhistory.org
    ebook  History of Watertown, Wisconsin
Al Rippe New Owner of Meyers' Studio
Established 1946
<![if !vml]><![endif]>
A. R. Meyers /

 Image WHS_014_415
1917
07 16       MEMBERS NATIONAL GUARD Co. E PHOTOGRAPHED
<![if !vml]>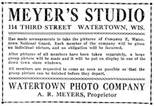 <![endif]>        
1919

 
                    

Sponsorship, Orbit
                    

<![if !vml]><![endif]>

          

114 S. Third
1920

 
                    

Sponsorship, Orbit
<![if !vml]><![endif]>

         

114 S. Third
c.1957
                    

113 SOUTH SECOND
                    

<![if !vml]><![endif]>

   

Bldg removed in 1984 for expansion of Plattdeutscher bldg. 
Al Rippe
Meyers Studio at 112-1/2 South Third Street, one of the city's old business institutions, has changed hands.  The business has been acquired by Al Rippe who will operate it under the name of Al Rippe's Studio.
A. R. Meyers who has operated the business for many years has sold out and will retire as an active photographer, though he expects to do commercial photography.
Mr. Rippe, who was born in Watertown, has been associated with Marv Helgesen, nationally known photographer, where he worked for eight years as assistant cameraman and retoucher and did commercial and aerial photography.
He was also associated with John E. Platz, Milwaukee, where Mr. Platz, formerly of Watertown, now operates three studios in one of the most successful photographic businesses in that city. Mr. Rippe was head retoucher in charge of the retouching department for Mr. Platz.
Mr. Rippe attended the Winona School of Photography, Winona Lake, Indiana.  He has studied under Victor Keppler, nationally known color photographer.  He has gained statewide recognition as a retoucher.
In addition to-his other work and preparation, he studied portraiture and portrait painting at the Layton School of Art, Milwaukee.
He is arranging the studio for his opening next week having installed new carpeting and new furniture and bringing his own equipment to make it one of the best equipped studios in this area.
Mr. Rippe is married to the former Arlene Seefeldt of this city.  They have one daughter, Sherry, and have taken up residence at 206 North Church Street.
A. R. Meyers
Mr. Meyers took up photography as a young man, going to work for the late Henry Donner whose place of business - Donner's Gallery - was located in West Main Street (1). Later the business moved to 203 Main Street and some time later Mr. Meyers went into the business for himself, and has operated in South Third Street for many years. He became associated with Mr. Donner in 1900.
Mr. Meyers has been one of the most widely known photographers in this section for many years and has enjoyed a wide clientele from neighboring cities and communities. He has photographed many confirmation classes for churches and his work in taking wedding pictures was widespread.
In addition to his studio work, he has also done much commercial photography and plans to keep that line of work up, operating from his home at 206 North Washington Street.
1968
08 15       RIPPE STUDIO SOLD
Al Rippe, Watertown photographer, has sold his studio and business to Gerald Rogers, 48, a photographer of long training and experience.  Mr. Rippe and his wife will remain here for a short time, later going to California which they have visited several times and where they plan to take up residence.  They have a married daughter there.
1969
06 04       ORBIT DEDICATED TO AL RIPPE
The 1969 edition of the Orbit, which is the senior class publication of Watertown Senior High School, was issued to subscribers this week.  This year's theme is "Turn of the Wheel."  This issue, which is the 57th edition of the annual publication, is dedicated to Al Rippe, former Watertown photographer who recently sold his studio here and moved to La Crescenta, Calif.  The dedication reads "The Orbit Staff of 1969 dedicates its Orbit to Mr. Al Rippe, a well-known photographer in Watertown for many years.  Through his efforts and countless hours of hard work, patience, and understanding, he has enabled Watertown High students to capture memories through pictures in the Orbit."
06 24       LETTER FROM AI RIPPE, in light of Orbit dedication
<![if !vml]>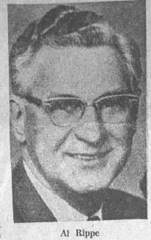 <![endif]>
The Times recently received a letter from AI Rippe, former Watertown photographer.  This year's high school Orbit was dedicated to him.  This came as a complete surprise to him.  Al now lives in La Crescenta, Calif.  He and his wife, Arlene, moved out there to be near their only child a daughter, Sherry, and her family.  Al recently visited Watertown.  He had been called back to identify pictures he had taken, and which were being used in a circuit court case. 
His letter follows:
It was with pleasure indeed that I read the article in the Daily Times reporting that the 1969 Orbit had been dedicated to me.  It was also a very complete surprise. Arlene and Sherry had known about it for a long time but they are masters at keeping secrets and never [said]  a word.
You have no idea of how I feel about this - through the last 20 years I have been lucky enough to win awards etc. at print exhibits of our state and national conventions.
One of the highlights was the "Meritorious Service" Award from the State Association a few years ago.  At the time I received them I certainly was proud of them, but now they fade into the background as a sort of earned, mechanical thing.
The Orbit dedication, I'm sure, will forever be the highest spot in my photographing career because it came from the hearts of those people whom I worked with in taking the Orbit pictures.
I think it even goes deeper than that, for it has given me a much greater feeling of gratitude and thanks to all the wonderful people in Watertown who we were able to serve.
When I say "we" I must include Arlene who must share this honor, for she was the whole backup in our studio crew.
We again want to thank our customers for their faith in our ability as photographers, because it was they who made our studio successful.  We think of them often and still read about many of them in the Times as we get the paper every day, even though it is a few days late.
Father Also Honored
One thing about the Orbit dedication which affected me emotionally was the fact that it turned out to be a father and son honor.  You see, the Orbit had been dedicated to my dad sometime in the mid 20's.  He was the custodian of high school at that time and evidently was pretty well liked.  I remember him telling how he would sneak the boys into the boiler room during the half time at basketball games, so they could have a smoke.
At that time you wouldn't dare have a cigarette within a block of the school.  I know he liked the students and they liked him. 
I'm sorry too that I missed seeing you when I was home.  It was a flying trip, literally!  As I got in on Monday morning and left Wednesday afternoon.  There really wasn't much time to visit.  Arlene, Sherry and her family will all be coming to Watertown during the last week in June.  Sherry has a class reunion, Gene has to make some business calls in Milwaukee and Arlene will do the visiting.  This time I'll have to stay here and take care of the dog and canary.
I've got a pretty good job with Spectra Color Labs in Burbank.  Just a few weeks ago I got a promotion to manager of the Customer Service Department.  Our lab does color processing and printing for studios and commercial photographers.
We have our home lab here in Burbank and a branch lab in New York.  Whereas I'm no longer taking pictures I still have my fingers in it.
My photography is confined to taking pictures of the grandchildren.  Lisa is now three years old and Jeffrey is six months.  I'm sure you'll see them when they are in Watertown.
We bought a nice little home up here in La Crescenta.  It's just a two bedroom affair, just big enough for two "old" people.  We're in the foothills of the mountains and our elevation is about 2,300 feet.  It's a very nice, friendly neighborhood and only eight blocks from the kids.
It's surprising how many Wisconsin people one meets out here.  The neighbor through our back yard came from Madison about five years ago and the car salesman who sold us Arlene's car used to haul a milk truck through Watertown on his way to Chicago.  In our church, we met a man who used to live in Johnson Creek and he is a cousin of Wayne Saniter.  Wayne's wife, Bev, worked for us.  It really is a small world.
Cross-References:
Footnote 1:  Donner Bros, Henry and Lawrence, Furniture and Photographers, 209-211 W Main.  Henry Donner lived next door (204 N Church) to the home bought by Al Rippe (206 N Church).
Donner Home.  In Their New Home.  Henry Donner and family are now occupying their new home in North Church Street [204 N Church].  It is one of the finest in the city, equipped with all modern improvements and everything arranged with a view of comfort and convenience.  Their many friends wish them long life and happiness in their new home.  Watertown Gazette, 04 23 1909
<![if !vml]>

<![endif]>
History of Watertown, Wisconsin