website  watertownhistory.org
    ebook  History of Watertown, Wisconsin
Masonic Temple Building [later]
106 E Madison St
City's Community Church purchases downtown building
<![if !vml]>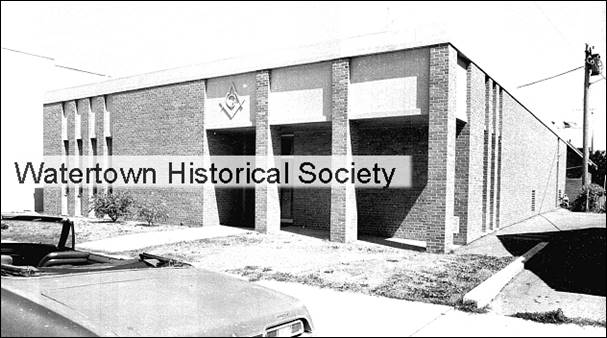 <![endif]>
1966
01 23       PLANS FOR NEW TEMPLE
Plans for a new Masonic Temple in Watertown were announced last evening following the completion of transactions by which the Masons have purchased the property at 106 Madison Street which has been used as a parking lot by the Bank of Watertown for its customers.  The property lies directly between Otto's Inn and Powers' Tavern.  The Masons hope to break ground by May or June and that an architect is being engaged in the next few days to prepare plans for the building which will consist of a full basement and the main floor.  The basement will include recreational and other facilities while the main floor will consist of the lodge room proper and other related facilities.
02 02       PLANS FOR NEW TEMPLE
By a vote of 13 to 1, the common council last night adopted a resolution expressing its desire to secure from the Watertown Masonic Lodge the property in Madison Street which the lodge purchased last week as a site for a new Masonic Temple.  The plan was pushed by Alderman Charles Yeomans who said at Monday night's council committee meeting that he was surprised when he read in the Daily Times, which first broke the news, that the Bank of Watertown had sold the property to the Masons when its officers were aware that the proposed site for the new temple lies within the block square area which has been designated in the City Master Plan for a future civic center.
09 26       NEW TEMPLE UNDER CONSTRUCTION
Construction of a new Masonic Temple, plans for which were announced months ago, is due to get underway shortly.  It will be constructed on a site in Madison Street, just east of Otto's Inn.  The Masons purchased the site at the time the Daily Times announced the plans for the new building.  It was disclosed today that a building permit has been issued for the new temple.  The estimated cost of construction, as listed in the permit, is $77,790.  Furnishings and equipment will be extra.  Sale of the present Masonic Temple to the Chas. Fischer and Sons Co. department store, which has for many years occupied the major portion of the building, was announced earlier.
1967
11 11       DEDICATION
New building dedicated November 11.  Contractor was H. F. Mallow and Son Co., Watertown.
2001
05 04       WATERTOWN COMMUNITY CHURCH PURCHASE
Watertown Community Church (WCC) has purchased a building located at 106 E. Madison St., the former Masonic Temple building.  The building will be used to hold services and special events in the large basement.  The plan is to offer as many opportunities for outreach in the community as possible. WCC is a seeker-sensitive church with a goal of making newcomers feel comfortable no matter where they are in their spiritual walk, whether they are looking for a home church or come to simply check out a service.
Cross Reference:
     Early building designated as Masonic Temple

History of Watertown, Wisconsin