website  watertownhistory.org
    ebook  History of Watertown, Wisconsin
Kellermann & Vaughan
216 South Third Street
08 29 1903, Watertown Republican
IMPLEMENT FIRM OF KELLERMANN & VAUGHAN
YOUNG BUT PROSPEROUS CONCERN
Any enterprising city enjoying to a considerable extent the patronage of the surrounding farming community strives to add to those lines of traffic which offer an inducement to the farmer trade, well knowing that there is no better class of customers than the sound and energetic sons of the soil.
The city of Watertown enjoys an enviable trade among the farming community and it is greatly owing to the facilities offered in those commodities so necessary for use in the rural districts.  We have in our midst many old and well-established lines of business which have earned and long enjoyed an immense patronage among the farmers of the locality.  Prominent among the lines which attract the farmer are the large and well-equipped farm implement establishments found within our borders.
Although in this as well as other lines, the majority of the city's business places have been long established, still there is within our borders a thriving business, which though but a few months old has already established a reputation for high business principles and high class stock which ranks in the same grade with the older concerns.  The concern referred to is the agricultural and farm implement house of Kellermann & Vaughan in Third Street.
Although this is a comparatively new business concern, still the men are not unknown to the city and neighboring farmers, but on the contrary both gentlemen enjoy a wide acquaintance throughout both counties.
Mr. Vaughan is a Wisconsin man having been born at Merton, Waukesha county.  He has spent many years as a farmer and consequently knows something of the material in which he deals.  He left this state when 20 years of age and took up farming in Kansas where he remained 10 years.  He then returned to Wisconsin and came to the town of Watertown and engaged extensively in farming and stock raising, which business he carried on in a most successful manner for 13 years.  Mr. Vaughan still owns a fine farm in this town, consisting of 320 acres.
Mr. Kellermann, the other member of the firm, is also well known, having been born in this place and spent the most of his life here.  For 9 years previous to his engaging in the present business in company with Mr. Vaughan, he conducted a blacksmith shop in this city.  While engaged in this business he enjoyed a large and prosperous trade gained by the high grade of work turned out by him and by straightforward dealing.  As a consequence a large share of these old customers naturally come to him to have their wants in the machinery line supplied as well.
The implement house of Kellermann & Vaughan is located at 216 South Third Street where a commodious building is well filled with a large and carefully selected stock.  Here the farmer may have his wants supplied in the most satisfactory manner.  They carry in stock the Case threshing machine outfits, Appleton corn buskers, Sharpie's cream separators, sulky plows, La Crosse walking plows, and in fact a full line of machinery such as is used on the average farm of today.  The Milwaukee corn harvester is one of their leader and occupies a rank in its class second to none.
<![if !vml]>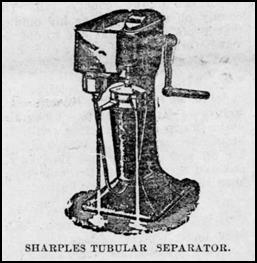 <![endif]>    <![if !vml]>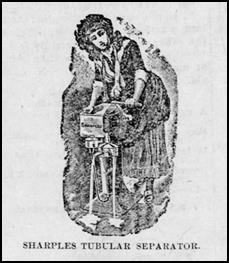 <![endif]>
In addition to these various lines of machinery the firm carries in stock and deals extensively in all kinds of vehicles, such as light and heavy buggies, Studebaker, Racine and Jackson wagons and most any kind of high grade vehicles.  In addition to these numerous lines, a full line of repairs is always on hand and any part for machinery which is not in stock will be promptly secured for any desirous of such service.
One of the articles on which Kellermann & Vaughan are making a special point is the Sharples Cream separator for which there is much demand in this great dairy country and a number of orders for which they have recently placed.  The Sharples tubular steam separator is probably the leading appliance of its kind to be found on the market today.  In nineteen challenge tests during the past year this machine has carried off the medals in every place where it was on exhibition.  The work which it accomplishes speaks plainer than words as to the value of the machine and that its great merit is universally appreciated is amply attested by testimonials from experienced dairy people from all parts of the world.  
In all other departments of their large stock Kellermann & Vaughan have nothing but the highest grades to offer.  This care in the selection of goods and the courteous treatment accorded to all who may be so fortunate as to be numbered among their patrons is what accounts in large measure for the wonderful growth of this business which has been established but a few months.  
Notwithstanding the brief period of its existence the farm implement establishment of Kellerman & Vaughan has come to be numbered among the sound business establishments of Watertown, the proprietors of which enjoy a reputation far and wide as gentlemen of the strictest business integrity and as being numbered among the city's most enterprising businessmen.
Anyone giving them a share of their patronage in this line will find that all business dealings with this firm are of the most pleasant and satisfactory nature

History of Watertown, Wisconsin