website† watertownhistory.org
††† ebook† History of Watertown, Wisconsin
August Jaeger
1859 - 1948
Jaeger Mill
512 - 518 S First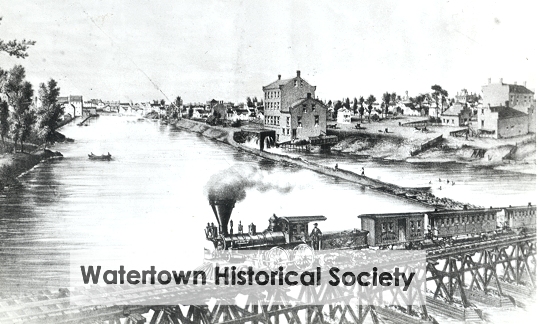 Globe Mill East, center; destroyed by fire, 1894
C M & St P Railroad Bridge, original, south of Milwaukee St, looking north†††† WHS_005_104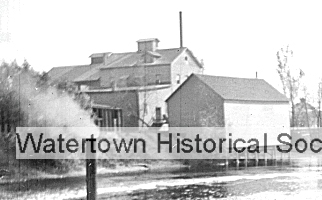 Koenig Mill
Portion of image# KR031 of the societyís Kreitzman collection:
Taken from the west bank of the river looking east, former Koenig Mill, later Jaeger, destroyed by fire in 1923;
today the Watertown Senior and Community Center. †Image dates to 1903.
<![if !vml]>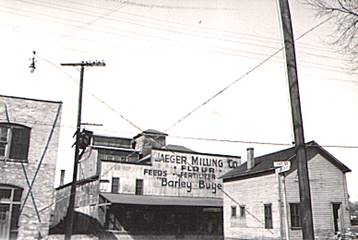 <![endif]>
1951††††††††††††††††††††††††††† WHS_013_123
Jaeger Milling Company (former Koenig Mill)
514 South First Street
Buildings removed in 1972 (assessor note)
60 YEARS ON JOB, THAT'S RECORD OF A. C. JAEGER
†† Watertown Daily Times, 11 14 1941
When August C Jaeger, 401 S Seventh Street, went to the Jaeger Milling company mill at 512 to 518 South First St today he wound up 60 years as a miller.
At 82, he was that on October 29, he is perhaps the oldest active business man in the city and is at the mill daily.
"I do it to keep active and because I have no other place to go" he said last night at his home when a reporter visited him.† Being at the mill has become a habit hard to shake and so he goes down to the plant every day, even if he only sits around the office, as he says.
As for directing the business, he knows that it is in the capable hands of town of his sons, Mr. Jaeger is president of the mill, his son Alex T Jaeger, is vice president, while the other son, Herbert E Jaeger, is secretary and treasurer.† Another son, Arthur E Jaeger, is also a stockholder in the mill, although he does not work there, being a clerk at the post office.
At 82 years, Mr. Jaeger belies his age.† He is much more active than some men who are a good deal younger.
Since 1921 when he bought the business, the mill has been known as the Jaeger Milling Company.† Before than it was known as R. P. Koenig and company.† Mr. Jaeger went to work for that company.† He began his career as a miller at a small mill in Pipersville when he was a young man.† He remained there about 2 years, then came here to work for what is the Globe Milling Company, remaining there only a short time.† Then went to work at the Koenig mill.† In those early days the Globe Mill was also known at the May's Mill.† There were also other mills here in the early days.† Mr. Jaeger recalled, one was the Rough and Ready mill another was known as Blanchard's mill there was a Brick mill there was also one known as Boomer's mill.† Now there are only two, Jaeger's and the Globe mill.
The Jaeger Milling Company suffered loss along about 1922 a year or so after he took over.† It was destroyed by fire.† The problem then was to decide what the family would do and it was agreed to rebuild.† This was done and the present plant is the result.
Since the new mill was constructed the company has not ground flour.† "I am kind of glad that we decided against flour at that time," Mr. Jaeger said.† "It would have meant an enormous investment and since we are not in a wheat area and the changing business conditions all have been factors that have made me realize many times since that our decision was a wise one."
The mill now deals in rations of all kinds, feeds, and custom work for farmers.† Mr. Jaeger said that some farm families in this area have dealt with the mill for several generations.† There are many old customers, he declared, who date from the days way back.
The mill employs at the present time a staff of about 8.† Of these William Schultz is the oldest in point service, having been with the concern for some 40 years, Mrs. Jaeger said.† Mr. Jaeger has seen many changes in the business of milling.† "Itís all been progress though"† he declares, for he is a great believer in progressive methods and says that whether one likes it or not things do move along and that while the changes that result may not always be appreciated at the moment on the whole they spell progress in the end.
Always a staunch supporter of Watertown.† Mr. Jaeger said he hadn't taken many trips- although he was to California once for a visit- and he thinks Watertown is a good all around town and it has fine citizens.
As for running the business, he said, "I really am not much good around the place anymore and I know the business is in capable hands with my sons in charge, but I still like to drop around to see what's going on and to greet old customers who call.† And then too, I don't want to sit around the house all day, so I go to the mill and sort of putter around.† It keeps me occupied and out of mischief," he added with a twinkle in his eye.
And that's the reason Mr. Jaeger was at the mill as usual today, even though it was his 60th anniversary there.
†
The mill was destroyed by fire in the late 1960's.
August Jaeger Obit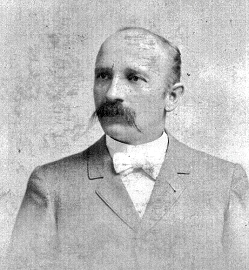 WHS_005_356
†† Watertown Daily Times, 01 28 1948
August C Jaeger, veteran miller of city dies, age 88 of 401 S 7th Street.† Senior member of the Jaeger Milling Co, died at his home at yesterday afternoon.† Death was due to cerebral hemorrhage which he suffered January 20.† Mr. Jaeger was born on a farm five miles east of Watertown on 20 October 1859 and had lived in this region all his life.†
He was married to Miss Elise Ruehlow at Ixonia on 13 January 1883, she survives.† Surviving are 1 daughter and 4 sons Miss Esther Jaeger at home; Arthur E, Los Angeles, Alexander T and Herbert this city, and Ernest Jaeger, Milwaukee.† There are 5 grandchildren and 2 great-grandchildren.† There are two sisters, Mrs. Bertha Pautz, Watertown, and Mrs. Ida Pynn, Wausau.†
One half-brother Herman Borchardt of Iona died 2 years ago.
Long identified with the milling business in Watertown.† Mr. Jaeger had worked at the same plant since 1884 when it was known as Koenig Milling Co.† Since 1920 when it was taken over, it became Jaeger Milling Co. in which he was a senior partner.† Mr. Jaeger retired from active service 1942 but was at the mill office almost daily until 10 days before his death.†
Funeral Saturday with burial at Oak Hill.
_____________________________________________________________________
Elise E Jaeger
1863 - 1948
Jaeger, Elise, b. Oct 31, 1863, d. Apr 23, 1948
OBIT - 23 April 1848, Watertown Daily Times
Elise E Jaeger widow of August C Jaeger, 401 S 7th Street died in St Mary's Hospital early today. She had suffered a cerebral hemorrhage.†
Mrs. Jaeger was the former Elise Ruehlow and was born in German 31 October 1863.† A daughter of Mr. and Mrs. Ferdinand Ruehlow.† She came to the U.S. when a child and had lived in this community for the past 79 years.†
She was married at Ixonia to Mr. Jaeger who preceded her death last January 27. He had been a miller here, and was the senior member of the Jaeger Milling Company.†
Surviving is 1 daughter and 4 sons, Miss Esther Jaeger at home, Arthur E of Los Angeles, Alex T and Herbert of this city and Ernest of Milwaukee.† There are 5 grandchildren and 2 great-grandchildren.† There are 2 sisters, Mrs. Lydia Tietz this city, Mrs. Mary Christian Lebanon, and a brother Julius Ruehlow of this city.
Mrs. Jaeger was a member of St Mark's Lutheran Church.† The funeral will be held Monday from Nowak Funeral Home.† Burial at Oak Hill.
1958
07 02†††††† Effect proposed Rock River water diversion would have on milling concerns.††† WDT
2001
08 31††††††††† Construction on the $1.3 million expansion at the Watertown Senior and Community Center is temporarily delayed.† After a few days into construction, workers began uncovering old foundations, thought to be a remainder of the Jaeger Mill Co. or the R.P. Koening and Co., a flour mill that used to occupy the site.† A black substance, indefinable, also surfaced.†† WDT

History of Watertown, Wisconsin