website  watertownhistory.org
    ebook  History of Watertown, Wisconsin
William Jaedecke
1890
06 18       MEAT MARKET OPENED
<![if !vml]>

<![endif]>  
Wm. Jaedecke is in the field with a new meat market, which he has opened on the corner of Main and Seventh streets, First ward.  He will be glad to see old friends at his new stand and guarantees them satisfaction in his line.  See "ad" in another column.     WR
1893
<![if !vml]>

<![endif]>
1893 Watertown City Directory
Cross reference:  Jaedecke home (1953 assessor image)
1895
<![if !vml]>

<![endif]>         <![if !vml]>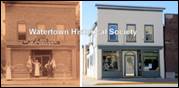 <![endif]>
HOME OF WILLIAM JAEDECKE
<![if !vml]>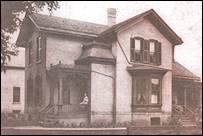 <![endif]>  
09 11       CASE OF PATERNAL BRUTALITY WITNESSED
A case of paternal brutality, which might have resulted in serious injury to a 14-year-old girl, was discovered by William Jaedecke, Robert Abele and Will Berbin on their return from a hunt at Hahn's lake Sunday afternoon. When near the railroad crossing south of the Junction they were attracted by the cries of a child, and hastening toward the spot found Ferdinand Maas, who lives on the Pease farm in the Third ward, abusing his daughter Emilie in a frightful manner. Maas was compelled to cease his attack, after which the gentlemen hastened to town and swore out a warrant for his arrest. A hearing was called in Justice Stacy's court on a charge of assault and battery Monday afternoon, but was adjourned to September 14.    WR
1895
<![if !vml]>

<![endif]>
Above from the book Watertown Fire Department, 1857-2007, Ken Riedl, p 147.
<![if !vml]>

<![endif]>
1895 Watertown City Directory
1896
11 13       OBITUARY 
William Jaedecke, one of Watertown's best-known residents, died on Tuesday morning, November 10, 1896, of quick consumption.  Mr. Jaedecke had been in poor health since the spring of 1894 [1895?], at which time his building burned down, at which burning he contracted a cold, from which he never recovered, being effected with hoarseness and throat trouble ever since. 
He was born in Watertown on July 25, 1858, and has resided here ever since.  Up to about two months ago he conducted a meat market at 621 Main Street, being compelled to go out of business on account of his health.
In 1882 he married Miss Martha Staats, who survives him with four children.
As a business man and citizen there was none better – honest and pleasant in all his transactions, and as a husband and father, he was kind and indulgent, hence his death is not only a source of great relief to his family but to all out citizens as well.
He was a member of the Sons of Herman, Modern Woodmen, Ancient Order of United Workmen, and the I.O.O.F., all of which societies will attend his funeral in a body on Friday afternoon.    WG
Is buried in Oak Hill cemetery 

History of Watertown, Wisconsin